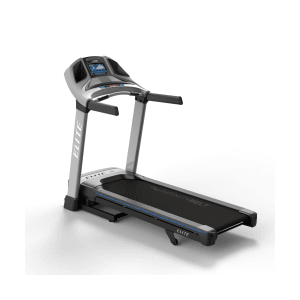 Horizon Elite T7 Coupon:
Use coupon code TREADKIT for a free fitness equipment mat and 3-pk of silicone lubricant.
Horizon Elite T7
Rating: 5
Reviewed by TreadmillReviews.com
The Horizon Elite T7 is one of the higher end treadmills in the Horizon line up. It is very elegant looking and you can clearly see it was built with high quality components. Just from the looks, you can tell it is very sturdy and stable. The price tag is a clear indicator too that the Elite T7 was built to withstand enduring workouts and last for a lifetime. This is definitely a great treadmill to invest in and it comes with some great features to top it all off.
The Horizon Elite T7 uses a 2.75 CHP motor, which is one of the higher motors in the Horizon line up. The Johnson Drive™ System was built well, and Horizon warranties the motor for life because of it. The Elite T7 uses a lengthy 20″ x 60″ tread belt so it is comfortable to users of all shapes and sizes. The incline range on this treadmill is extremely impressive. You can change incline from 0-15% and these inclines are utilized in some of the workout programs.
The features are the most impressive aspect to this treadmill. The Elite T7 comes with a lot of workout programs. To give you a comparison, most treadmills in this price range include about 30 programs. The Elite T7 comes with 42 workout programs! These are broken down into specific programs including: manual, 9 calorie, 12 distance, 4 interval, 3 performance, 10 step, and 2 custom. It will take the user years to get bored of these and they will aid you in reaching your fitness goals fast. Other features on this machine include: ViaFit™ Connectivity, Contact Grips, Polar® Wireless receiver, Free Polar® chest strap, Passport Ready™, built-in speakers, reading rack, fan, bottle holder, and more.
Conclusion
The Horizon Elite T7 is quite the treadmill for its price. It has a considerable amount of features that make it completely stand out from its competitors. One of the best aspects to this treadmill and other Horizon treadmills alike, is the excellent warranty that comes with the parts. That alone is enough reason to purchase from Horizon. Overall, any of the Horizon treadmills are going to be a good fit for you, but this machine in particular is really impressive and will not disappoint.