LIVESTRONG LS10.0T Review & Ratings
Share our review of the

LIVESTRONG LS10.0T

treadmill
Overview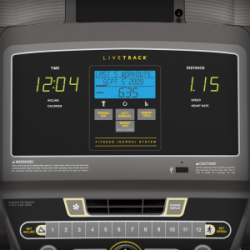 The Livestrong LS10.0 T features a well designed 2.75 CHP motor (large enough to accomodate a fast running pace), a music port with speakers, a CoolFit™ fitness fan, MaxComfort™ cushioning system, 12 training programs, a large 20" x 55" deck, a 12% deck incline, a lifetime motor and frame warranty, 3-year parts, and 1-year in-home labor. At a MSRP of $1,999, this treadmill doesn't have all the features we would expect, and truthfully, we'd pass it up at that price. LIVESTRONG, however, has discounted the LS10.0T over $1,000, making it a recommended buy.

In comparison to our other treadmill reviews of similar priced models, this treadmill looks more impressive than ever. The soft cushioning system makes this treadmill comfortable and quiet. The features on the console, including the Livetrack progress tracking, the excellent workouts, and the easy to use interface, make this a favorite among many. The Livetrack program uses a USB drive to record your workout for uploading to the LiveStrong MyPlate website. The USB device also allows you to download new workout programs from LiveStrong to upload to your treadmill and use. This is a pretty nifty idea and can help keep your treadmill current.

Difference
The LS10 may not have as good of specs (weaker motor, smaller running belt, and shorter warranty) as the LS13 but the LS10 is so much cheaper. There is a price difference of $400 between the LS13 and LS10. The LS10 has some differences with the LS8.0 as well. The LS8.0 uses an adjustable shock absorption deck, has a smaller motor, less workout programs, and a shorter warranty for parts.


Conclusion
Overall the LS10 is a great valued buy. The price difference between the LS10 and LS13 might be a little too high for what improvements were made, making the LS10 the choice pick. The LS8.0 is $100 dollars cheaper, but may or may not be worth it because of its weaker motor.
| | |
| --- | --- |
| Price: | $999.00 |
| Walking Area: | 8.50 |
| Power: | 8.00 |
| Cushioning: | 7.75 |
| Reliability: | 7.25 |
| Noise Level: | 7.00 |
| Quality: | 8.00 |
| Value: | 9.00 |
| Warranty: | 8.50 |
| Overall Rating: | 8.0 |
Editor's Note:

Click on the link below to receive free shipping and free inside delivery on your Livestrong LS 10.0T
Discounts will be applied at checkout
Product Features
Livestrong LS 10.0T
Motor: 2.75 HP
Treadbelt: 20" x 55"
Speed: 12MPH
Incline: 12%
Display: LCD Blue
Heart Rate Monitor: Hand Pulse Grips
Weight Capacity: 325 lbs
Folding: Yes
Fan:Yes
Ipod/Mp3 Connect w/Speakers: Yes
Warranty: Lifetime Frame and Motor, 3 year parts, 1 year labor
Brand
Price
FOLDING
MOTOR HP
TOP REVIEW
Thousands of people just like you visit our site each month. We see which reviews are read the most, and our most popular treadmill review is of the NordicTrack C900 Pro.
FOLLOW US