Nordictrack C 700 Treadmill Review
A great entry level treadmill with cool features.
Click our coupon link below and a $40 discount will automatically appear in your shopping cart!
Click Here To Save $40 On The C 700 Now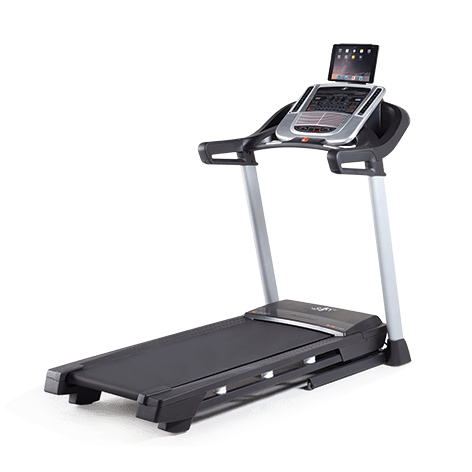 More Nordictrack Treadmill Reviews
Nordictrack C700 Treadmill
Rating: 3 stars –

Reviewed by TreadmillReviews.com
The NordicTrack C770 is full of cool features and specs for its low price. And when I say low price, I mean extremely low! This treadmill is a steal of a deal considering its current price tag. I would jump on this offer why you still can. With that said, this treadmill is definitely not for everyone. With only a 2.75 CHP motor, a 20″ x 60″ tread belt, and a 350 lbs user weight capacity, this treadmill most likely will only impress beginners. It is a perfect little treadmill to get you started and it will handle usage, as long as it's not too much. This machine is also convenient considering the SpaceSaver Design that allows you to fold up the deck of the treadmill. Despite the base line specs on the C 700, this treadmill has pretty decent features to offer. Considering this treadmill is priced extremely low and the specs are pretty simple, the features are not lacking at all. This treadmill is iFit Compatible, meaning if you purchase the iFit membership and module, you can begin using the amazing program instantly! Even without iFit, this treadmill will keep the user entertained. There are 24 workout apps included that target calorie burning, incline, speed, and intensity goals. You can also plug in your iPod for a bass pumping, intense workout of your own. The C 700 is just a step down from the NordicTrack C 990. For the most part, these two treadmills are pretty similar. There are just a few specs that were simplified even more. All in all, the C 700 seems to be a promising deal. Overall, the C 700 is a pretty basic treadmill. I'd say it is a great treadmill for beginners, but anyone beyond that level or anyone who is slightly heavier or taller should definitely rethink this purchase, because you will not be comfortable. The specs are pretty basic on this treadmill, but they will get the job done. Also, the features for this treadmill are pretty decent and will keep the user entertained.