Nordictrack C900 Pro Review & Ratings
Share our review of the

Nordictrack C900 Pro

treadmill
THERE ARE NO CURRENT
SPECIALS FOR NORDICTRACK
PLEASE CHECK BACK SOON.
Overview
The Nordictrack C900 Pro is Nordictrack's new model of the regular C900. It is almost an exact replica but with a few improvements. This treadmill has several great features that separate it from other treadmills in the ~$1,000 price range.


The treadmill uses an air based, shock absorbing cushioning system called the Quadflex system. This cushioning system along with the treadmills moderately powerful 3.0 CHP Durx Commercial motor gives a steady and sturdy workout that supports up to 350 lbs. One thing I must say that I love about this treadmill is the 15% incline that it is capable of. Most treadmills under $1,000 stop at 10%, but the C900 goes the extra mile on this feature. Incline is an important factor when considering a good workout as it can nearly double the calories you burn on a treadmill.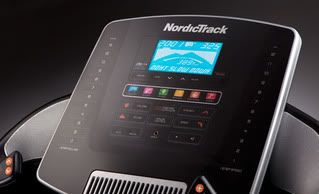 The C900 Pro has an extra extended tread belt (20" x 60") that allows for greater, longer strides that you just cannot achieve on other similar treadmills. The console also features a 7" Oversized backlit display which makes it that much easier to see the screen and progress as you are running on the treadmill. The treadmill is capable of going up to 12 mph which is fast enough and will require you to be pretty much sprinting to keep up with. A great thing about these inclines and speeds is that they are both on a 1-touch control. This means you can be going 1 mph and press just 1 button and be going 12 mph in just a few seconds.


The warranty given to the C900 Pro is a very welcoming sight. The warranty covers lifetime frame AND motor, three years parts, and one year labor. The fact of the motor being covered for lifetime really shows that NordicTrack puts a lot of trust into their machine.


Difference
The C900 Pro and C900 are two similar but slightly different machines that have differing prices during sale times. As of right now the C900 Pro costs about $100 more than the regular C900. The big differences between them are that the C900 Pro model comes with 32 workout apps (12 more than the regular C900) and the Wireless Chest Pulse that gives more accurate readings on your heart rate. Both models are still compatible with iFit Live and both have the same warranty coverage.


Conclusion
The better choice between these two is a matter of preference. Both treadmills offer great features for a very fair price. If you like the idea of having more workout apps to run with and would like an accurate reading for your heart rate, definitely go with the C900 Pro. If you do not care so much about those, look into getting the regular C900. Be aware though in the past the C900 Pro has been on sale cheaper than the regular C900 which makes the Pro a better value by far.
| | |
| --- | --- |
| Price: | $999.00 |
| Walking Area: | 9.25 |
| Power: | 8.50 |
| Cushioning: | 8.75 |
| Reliability: | 8.75 |
| Noise Level: | 8.25 |
| Quality: | 9.00 |
| Value: | 9.25 |
| Warranty: | 8.75 |
| Overall Rating: | 8.81 |
Editor's Note:

Product Features
Nordictrack C900 Pro
Motor: 3.0 CHP
Incline: 15%
Weight Capacity: 350lbs
Walking Area: 20" x 60"
Max Speed: 12MPH
Cushioning: Quadflex Cushioning
Prebuilt-workouts: 32
Display: 7" backlit display
Ifit Live: Yes
Folding: Yes with easy lift assist
Heart rate monitor: Yes with wireless chest pulse
Workout Fan: Yes
Ipod/Mp3 port: Yes
Speakers: Intermix Acoustics 3.0
Warranty: Lifetime Frame and Motor, 3 year parts, 1 year labor
Brand
Price
FOLDING
MOTOR HP
TOP REVIEW
Thousands of people just like you visit our site each month. We see which reviews are read the most, and our most popular treadmill review is the NordicTrack X9i.
FOLLOW US