Nordictrack Incline Trainer X9i Review & Ratings
Share our review of the

Nordictrack Incline Trainer X9i

treadmill
Overview
The Nordictrack Incline Trainer X9i is a new model for 2012 and is designed to blow every other incline trainer out there out of the water. This amazing treadmill has all the features and more to create a powerful workout machine. One thing you will notice off the bat will be the machine's Reflex cushioning system. This system works so well in the x9i. Coupled with the x9i's 40% incline you can be running quickly uphill and still feel the machine responding smoothly to you. It really is a comfortable experience within a heavy workout routine.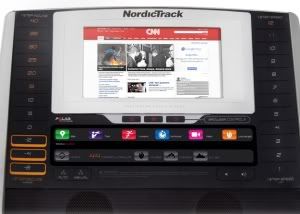 The features on this workout machine are what really shine however. Each machine comes with 44 workout apps, the Wireless Chest Pulse heart rate monitor in ADDITION to their standard CardioGrip heart monitor, two built in workout fans, a 10" iFit Tablet powered by Android, and the iFit set-a-goal workout center. The NordicTrack x9i seems to be built for using iFit Live in the most remarkable way. If you pick a trail that has steep hills and valleys the x9i is capable of inclining to 40% and also declining to -6% making the most realistic experience over any other treadmill.

Difference
The Nordictrack X7i used to be the most popular, but with the release of the x9i, there is a new and better alternative. The X9i basically picks up where the X7i left off. The short tread belt was lengthened all the way to a 20" x 62" area. The console was upgraded and now has the new Ifit Tablet on it. The warranty was dramatically improved from one year parts and labor to five years parts and two years labor. You really can't beat that, and it really shows Nordictrack's confidence in this thing's durability. Also just recently NordicTrack has released the NordicTrack x11i Incline Trainer, which continues to improve upon these qualities. The x11i may cost more, but it is by far the most powerful, sturdiest, and best incline trainer out there today!
Conclusion
The strong 40% incline takes running to a new world. If you run on this at full incline you can burn 5x more calories than at normal incline. You also build and tone your calves, thighs, and gluteus like crazy. The only drawback to incline trainers in the past was that they either cost an arm and a leg for a decent one, or the affordable ones were so compromised, it was more practical to get a regular treadmill. Now that Nordictrack's been upping the standard, the X9i is the first incline trainer that we would consider as good as or better than a normal treadmill at the same price. The only part lacking is the motor is a tad smaller than you would usually find on treadmills this size. Everything else about this machine is superb. We highly recommend this trainer. In all our treadmill reviews, the NordicTrack x9i ranks the highest among incline training treadmills.
| | |
| --- | --- |
| Price: | $2999.00 |
| Walking Area: | 10.00 |
| Power: | 8.25 |
| Cushioning: | 9.25 |
| Reliability: | 9.25 |
| Noise Level: | 8.50 |
| Quality: | 9.25 |
| Value: | 9.50 |
| Warranty: | 9.50 |
| Overall Rating: | 9.19 |
Editor's Note:

The link below will redirect you to NordicTrack.com. The $120 coupon will appear in your shopping cart.
Discounts will be applied at checkout
Product Features
Nordictrack Incline Trainer X9i
Motor: 3.0 CHP
Incline: -6 - 40%
Weight Capacity: 350lbs
Walking Area: 20" x 62"
Max Speed: 12MPH
Cushioning: Reflex Cushioning
Prebuilt-workouts: 30
Display: 10" Full color web browser touch screen. Ifit Tablet
Ifit Live: Yes
Folding: No
Heart rate monitor: Yes with wireless chest pulse
Workout Fan: Yes 8"
Ipod/Mp3 port: Yes
Speakers: Intermix Acoustics 3.0
Warranty: Lifetime Frame and Motor, 5 year parts, 2 year labor
Brand
Price
FOLDING
MOTOR HP
TOP REVIEW
Thousands of people just like you visit our site each month. We see which reviews are read the most, and our most popular treadmill review is the NordicTrack X9i.
FOLLOW US