NordicTrack T5.5 Review & Ratings
Share our review of the

NordicTrack T5.5

treadmill
THERE ARE NO CURRENT
SPECIALS FOR NORDICTRACK
PLEASE CHECK BACK SOON.
Overview
The NordicTrack T5.5 is very much like a copycat to the T5.7. It still has all the good features that make a great treadmill, like the dual shox cushioning, 1-touch incline and speed controls, a 6" backlit display, space savor design, iFit Live compatibility, iPod port, and 20 workout apps. Just like the T5.7 the motor this treadmill runs on is a 2.5 CHP Durx motor. While this motor could use more power, the motor does at least run consistently, smoothly, and quietly. As you will see in many of our other treadmill reviews, the 20" x 55" tread belt or walking area is fairly typical in this price range and is large enough to accommodate long strides.


Difference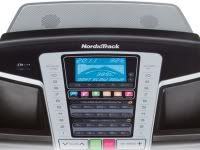 The difference between the T5.5 and 5.7 lies in the style design of the console, a 10% incline instead of the 5.7's 12%, and a RaceTrack display instead of the Scrolling Crosstrainer display. The main difference between the Racetrack display and the Scrolling Crosstrainer display is that the Crosstrainer is a little more interactive in that it provides the user tips on when to switch up your workout routine. The warranty used to be different between the two models but NordicTrack did remedy that problem and they are the same lifetime frame, 25-year motor, and one year parts and labor warranties now.

Conclusion
The T5.5 does look a little smaller than the T5.7, but both the T5.7 and the T5.5 are $599. If the T5.5 and T5.7 are going to be priced the same then it would probably be best to go with the T5.7 as it comes with more incline and the Scrolling Crosstrainer display. If the T5.5 were to go on sale for cheaper than the T5.7 then this deal would definitely be something to consider.

Still, the T5.7 and T5.5 are both good models that come fairly cheap and would make a great treadmill for 1st timer treadmill users!
| | |
| --- | --- |
| Price: | $599.00 |
| Walking Area: | 7.50 |
| Power: | 7.25 |
| Cushioning: | 7.75 |
| Reliability: | 7.50 |
| Noise Level: | 7.75 |
| Quality: | 8.25 |
| Value: | 8.00 |
| Warranty: | 9.50 |
| Overall Rating: | 7.94 |
Editor's Note:

Product Features
NordicTrack T5.5
Motor: 2.5 CHP
Incline: 0-10%
Weight Capacity: 325lbs.
Walking Area: 20"x55"
Max Speed: 10mph
Cushioning: Dual Shox
Prebuilt Workouts: 20
Display: 6" backlight display +RaceTrack Display
iFit Live Compatibility: Yes
Folding: Yes
iPod Port: Yes
Warranty: 25 year motor warranty, 1 year parts and labor warranty
Brand
Price
FOLDING
MOTOR HP
TOP REVIEW
Thousands of people just like you visit our site each month. We see which reviews are read the most, and our most popular treadmill review is the NordicTrack X9i.
FOLLOW US