ProForm Pro 7500 Treadmill Review
One of the best deals for a high performance treadmill.
Click our coupon link below and a 5% discount will automatically appear in your shopping cart!
Click Here To Save 5% On The Pro 7500 Now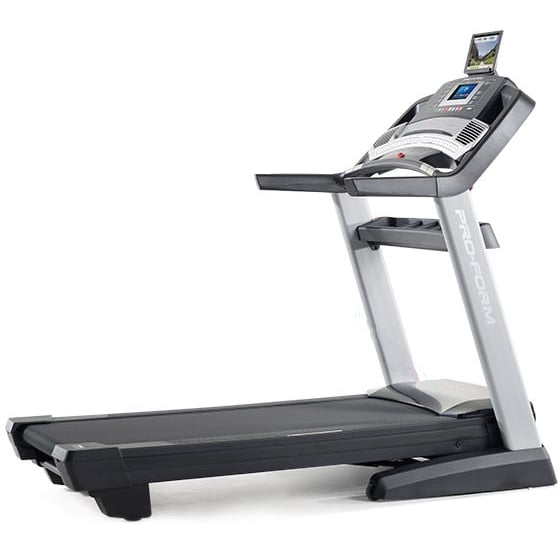 ProForm Pro 7500 Treadmill
Rating: 5 stars –

Reviewed by TreadmillReviews.com
The ProForm 7500 is one of the most excellent treadmills that ProForm currently offers, especially when you consider the low price tag. The Pro Series is one of the best series in the ProForm lineup, and you really just can't go wrong with any of them. The Pro 7500 is definitely one of the top selections though with its top of the line features and specifications. The features are so great on this machine. You don't find these amazing features on just any treadmill. There are so many features that we could talk about, but the top features are the 34 workout apps, the ProShox™ Cushioning system, and the 7″ Full-Color Touchscreen. Basically, you can enjoy entertainment while working out on your comfortable treadmill and get a hardcore workout from a personal trainer all at the same time. The specs on the Pro 7500 are outstanding. You usually won't get these high quality specs on a treadmill at this price. The Pro 7500 comes with a powerful 4.0 CHP motor, a large 22″ x 60″ tread belt, a -3-15% incline, and a high max speed of 12 mph. This treadmill is built to maintain its structure for years. The ProForm Pro 7500 is one of the best treadmills currently on the market. This is one of the best deals we have seen in quite some time. You honestly just don't find these features and specs on treadmills in this price range. The price is very generous, but if it is still a little too high for your liking, I'd suggest looking at other treadmills in the Pro Series, since they hold such a good reputation. You won't be disappointed with any of them.