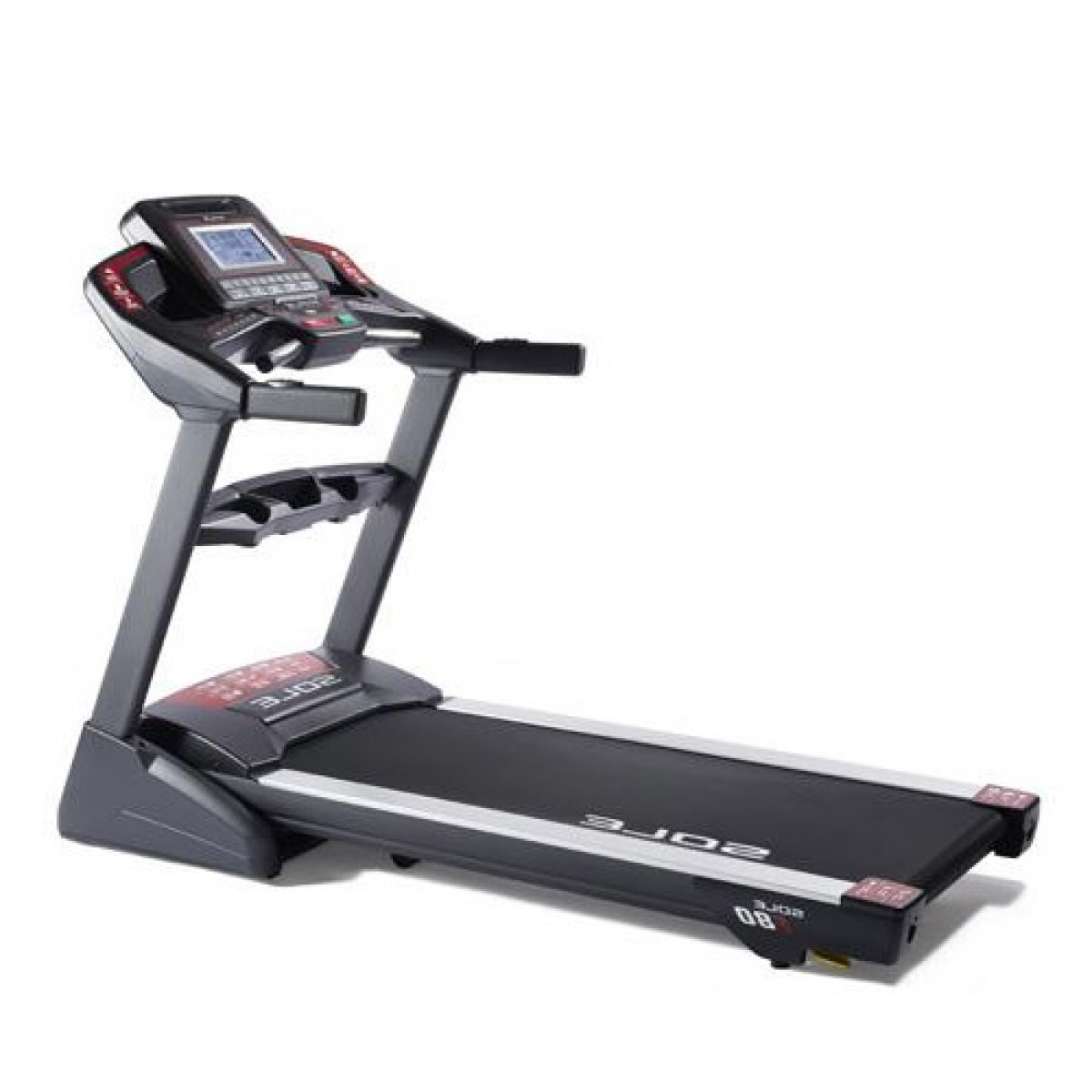 Thanks to a tip on Runner's World, one of my most favorite folding treadmills of all time, the Sole F80 is on sale right now for more than half off!!

The Sole regularly retails for $2,500 but is on sale right now $1,074.99. What a steal! This is easily the best treadmill buy for 1000 dollars right now. The Sole F80 has been seen on sale for $1200 but they're now cutting down the price even further. I don't know how long this sale is expected to go on but I do know it is a hot buy.
Quick reviews of the Sole F80
Expert Review
"The Sole F80 Treadmill gets solid reviews for offering quality components at a moderate price. It has been a standard of excellence for years, and has received "Best Buy" ratings from a number of reputable sources." –Fred Waters (Sole Fitness Expert)
User Review
"This is my first treadmill ever, and I was nervous to spend so much money, but all the reviews everywhere (here and on Consumer Reports) said that this one was the best at-home treadmill you could buy. Why buy a cheaper one that will break in a year? You can't beat the awesome warranty on frame, parts, and even labor. So with peace of mind, I took the plunge and placed my order.
First off it is VERY HEAVY and even my weight-lifting husband had trouble dragging it into the garage. But once, in place, it assembled fairly easily–the trickiest part was the plastic cover pieces–it's nearly impossible to reach or see the screw holes in some areas–but those are really for looks anyway. I just took my first run on it and I am TRULY IMPRESSED–I have run on treadmills at the gym before, and this is definitely comparable. It is solidly constructed, very stable, has a smooth tread, the interface is nice, and has all the basics you need–speed, incline, time, calorie count, mileage, cup holders galore, plus a few extras like heart monitor handles(and separate chest transmitter), a fan, and the ability to be folded up and rolled away.
There are a few slight downsides if you are used to professional-grade treadmills at gyms, but IMO these don't take away from the product AT ALL:
-The speakers truly suck, but hey, do you really need speakers on a treadmill? I have an iHome for my iPod and a tv with DVD player nearby, and now a treadmill–what more could I ask for?
-It is a little slower to speed up/slow down and to raise/lower the bed than models I've experienced at the gym–but only barely–and there are preset levels for both incline and speed so you can more quickly jump up/down
I am just so happy to own my very own treadmill to keep me going, and I very much look forward to maintaining my running regime over the harsh upstate New York winter, for once. Thanks Sole for making such a great product!" –Amazon.com Customer
Read more reviews of the Sole F80 here.
About The Author
Treadmill Review Guru is an expert on all things related to treadmills and running. He is a former cross country runner and soccer player and hopes to soon be able to run a marathon. He loves training on his treadmill whenever he gets the chance. Check out his recommendations and see what he thinks are the best treadmills.