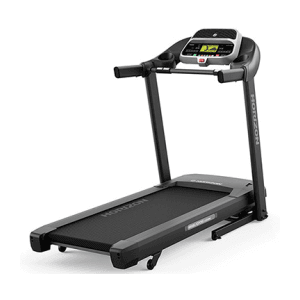 Horizon Adventure 3 Coupon:
Use coupon code TREADKIT for a free fitness equipment mat and 3-pk of silicone lubricant.
Horizon Adventure 3
Rating: 3
Reviewed by TreadmillReviews.com
The Horizon Adventure 3 is one of Horizon's newer machines and it happens to be one of the lower priced machines, too. It is a great option for those who do not want to spend a lot of money on a treadmill, but they still want a treadmill better than a base model. For being at such a low price, the Adventure 3 has a lot of cool features that make it appealing. One great thing about this machine is that it has an elegant folding design, so you can save space in your home.
The Adventure 3 uses a 2.5 CHP Johnson Drive™ motor system, which is not the most powerful you will find on the market, but it is enough to get a light workout in. The frame supports 300 lbs and will incline from 0-12%. The cushioning system on this treadmill is pretty impressive. Horizon has given it a Variable Response Cushioning™ system, which has cushioning in three-zones and gives the user the ideal amount of support.
The features are what make this machine the most enticing and sets it apart from the rest. The Adventure 3 comes equipped with 30 workout programs. It comes with manual programs, 6 calorie, 10 step, 10 distance, and 3 interval. That is a lot of workout apps for a treadmill in this price category. Another excellent feature that Horizon has included is the ViaFit™ Connectivity, which allows the user to send workouts from home to fitness apps and tools so you can share them to the communities you're apart of.
Conclusion
Overall, the Horizon Adventure 3 is a pretty solid deal. The aspect that makes it stand out most from its competitors are the features such as the workout programs and ViaFit™. The one downfall to this machine is the weak motor. With a weak motor, you really won't be able to push your workouts as hard as you would like. The motor can only handle light weight exercise, and that may be a huge hinderance for the user. So, if you are looking for something a little powerful, I would check out the higher priced machines.