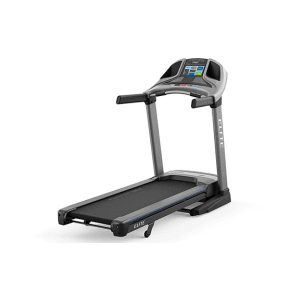 Horizon Elite T9 Coupon:
Use coupon code TREADKIT for a free fitness equipment mat and 3-pk of silicone lubricant.
Horizon Elite T9
Rating: 5
Reviewed by TreadmillReviews.com
The Horizon Elite T9 is the most expensive treadmill in the Horizon line up, meaning it is also the most high quality and feature packed treadmill of the bunch. If you are looking for a treadmill in this budget, this is the only Horizon treadmill I'd consider, because it is definitely worth every penny. It has all the same great features as the other treadmills, but even more.
The Horizon Elite T9 uses a powerful 2.75 CHP Johnson Drive™ motor system that has a lifetime warranty. So, even if the motor doesn't seem sufficient enough to you, I wouldn't worry because you can replace it at any time, worry free. The T9 uses a lengthy 20″ x 60″ tread belt, which is pretty standard in this price category. The incline is a 0-15%, which is a little disappointing when comparing it to competitors that offer a -3 decline usually.
As far as features go, the Elite T9 has it all. It comes equipped with a workout tracking calendar and 44 workout programs that include: manual, calorie burning, distance, performance, interval, step, custom, and Virtual Active™. The T9 also comes with the wi-fi enabled ViaFit™ Connectivity that lets you connect to your fitness apps and share your stuff with the communities you're apart of. Other awesome features that come with the T9 are the Variable Response Cushioning system, the Energy Saver™ mode, built-in speakers, reading rack, bottle holder, workout calendar, and more.
Conclusion
The Horizon Elite T9 is the high end treadmill in the Horizon line up. It is clearly the best of the best. If you are wanting a luxurious treadmill with a lot of features and high quality specs, this machine will work best for you. Some aspects that make this treadmill stand out are the Feather Light™ folding design and the excellent warranty. The reason I point out the folding design is because you usually don't find a treadmill this price that has that folding capability. They are usually too big and bulky, so that is one thing to point out. And the warranty is obviously mention worthy, because Horizon has stepped it up and added an excellent warranty to all Horizon treadmills.