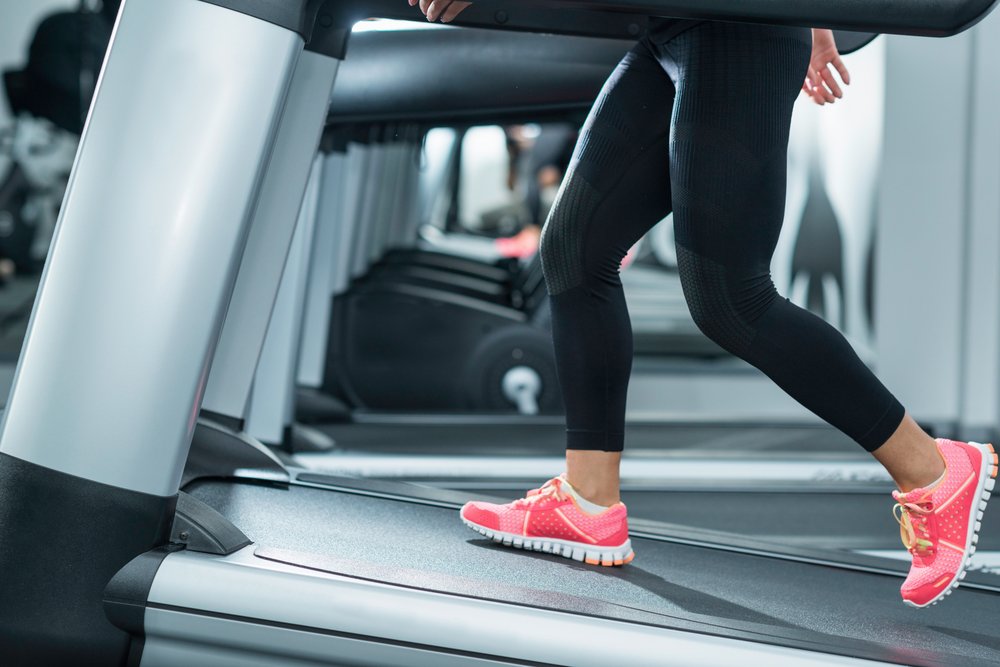 You read that right—you can train for hiking on your treadmill, particularly if you have a good treadmill with a wide incline range. With your treadmill training to fortify you for your future hikes, you won't be on the fifth mile of a fourteen-mile hike wishing that you could go home.
Since our group of treadmill enthusiasts here at Treadmill Reviews want to help you make the most of your home treadmill, we're here to help you learn how to use your treadmill for hiking workouts and even give you a few workout routines to try!
Training For Hiking On A Treadmill
Some people buy a home treadmill but never explore beyond the manual setting. So, if you are looking to get more out of your treadmill and use it for hiking workouts, here are some things you can do to maximize your treadmill exercises.
Utilize Incline Range
Naturally, one of the first tools you should use on your treadmill is the incline range. This feature can give you a greater challenge, whether you are walking or running, and it is a great way to train your muscles to endure hiking at an incline.
The average treadmill will generally have a 0% to 10% incline range, which can be enough for those who consistently train. However, if you want a greater incline range, the best treadmills will often come with the ability to decline to -3% and up to 15%, which gives you more realistic workouts.
If you have a serious hike coming up, you may want to invest in one of NordicTrack's incline trainer treadmills. These incline trainer treadmills have a massive incline range of -6% to 40% incline, letting you pack in the most realistic hill workouts.
Also, you get a free year of iFit Coach when you buy a new NordicTrack incline trainer, which comes with hiking videos that are filmed at iconic spots in the Alps, Machu Picchu, and more. Even better, the iFit trainer will control your speed and incline so that you can get in a realistic hiking workout.
Add HIIT Exercises
High-intensity interval training (HIIT) is a key part of training on your treadmill for hiking. Because you will not be able to maintain the exact same speed your entire hike, you should simulate the differences when you are on your home treadmill.
You can use one of our hiking HIIT workouts below or build out your own by changing the speed and incline every couple of minutes. A good rule of thumb is the higher the intensity, the shorter that interval should be. Try not to make your high-speed intervals longer than 2 minutes.
Train Wearing Hiking Gear
It can feel a little silly to be decked out in your hiking gear—minus poles—but with a treadmill at home, no one except family has to see you kitted out for a hike on your treadmill. But yes, if you can, you should do at least a couple of your hiking workouts a week with your hiking gear on.
For one thing, it will help you get accustomed to carrying your pack, which can add a good 10-20 pounds to your hike, depending on what you are packing. If all your training is unencumbered, you may be unpleasantly surprised when you head out on your hike.
Also, if there are areas where your gear bunches up or your hiking boots pinch and cause blisters, it is good to know these things before you go on your hike. That way, you can address the problems before heading out on the trails.
Hiking Workouts On A Treadmill
One of the resources we like to recommend if you are looking for a wide variety of workouts is iFit Coach. This subscription-based personal training program comes with thousands of exercise programs—many with stunning video or using Google Maps—and allows you to easily pick from the plethora of hiking workouts to help you prepare. Also, many ProForm and NordicTrack machines come with a free year membership to iFit Coach, so you can try before you start paying a membership fee. However, if that isn't in the cards for you, here are a couple of hiking treadmill workouts you can try!
Beginner Treadmill Hiking Workout
When you first start hiking on your treadmill, you should start off easy. That way, you can get a good baseline for your tolerance for incline combined with speed.
| Time (min) | Speed (MPH) | Incline (%) |
| --- | --- | --- |
| 0-3 min | 2.5 MPH | 3.5% |
| 3-5 min | 3.0 MPH | 4% |
| 5-8 min | 3.0 MPH | 6.5% |
| 8-10 min | 3.5 MPH | 6.5% |
| 10-13 min | 3.0 MPH | 7% |
| 13-15 min | 3.0 MPH | 7.5% |
| 15-17 min | 2.5 MPH | 8.5% |
| 17-20 min | 2.5 MPH | 10% |
| 20-25 min | 2.5 MPH | 2% |
HIIT Hiking Treadmill Workout
To push yourself and your fitness level, HIIT workouts are excellent. With this hiking workout, you will alternate between steady walking and powerwalking, all at varying incline levels.
| Time (min) | Speed (MPH) | Incline (%) |
| --- | --- | --- |
| 0-4 min | 2.5 MPH | 3% |
| 4-5 min | 4 MPH | 3.5% |
| 5-7 min | 3 MPH | 5% |
| 7-8 min | 4 MPH | 5% |
| 8-10 min | 2 MPH | 8% |
| 10-11 min | 4 MPH | 8% |
| 11-13 min | 2 MPH | 4% |
| 13-14 min | 4.5 MPH | 4% |
| 14-16 min | 3 MPH | 6% |
| 16-17 min | 4 MPH | 6% |
| 17-19 min | 2 MPH | 10% |
| 19-20 min | 4 MPH | 10% |
| 20-25 min | 2.5 MPH | 3% |
We hope that with these tools, you can be ready for whatever upcoming hikes you are planning on. If you need a treadmill that can keep up with you, be sure to use one of our exclusive coupons to help you save on your next machine.