Last Update: September 8, 2023
Treadmills have only gone up in price (as has everything else). Exercise should be affordable and accessible to everyone, so we have highlighted our best picks for treadmills under $1000. These treadmills won't be a waste of your money as other bargain treadmills might. These treadmills provide great short-term savings and long-term investment! Even trusted brands like Horizon, ProForm, and NordicTrack have picks below the $1k threshold. Most treadmills in this category are ideal for walking, but a few are suitable for shorter, occasional running. Read on to learn more about these great bargain treadmills and who they are best suited to.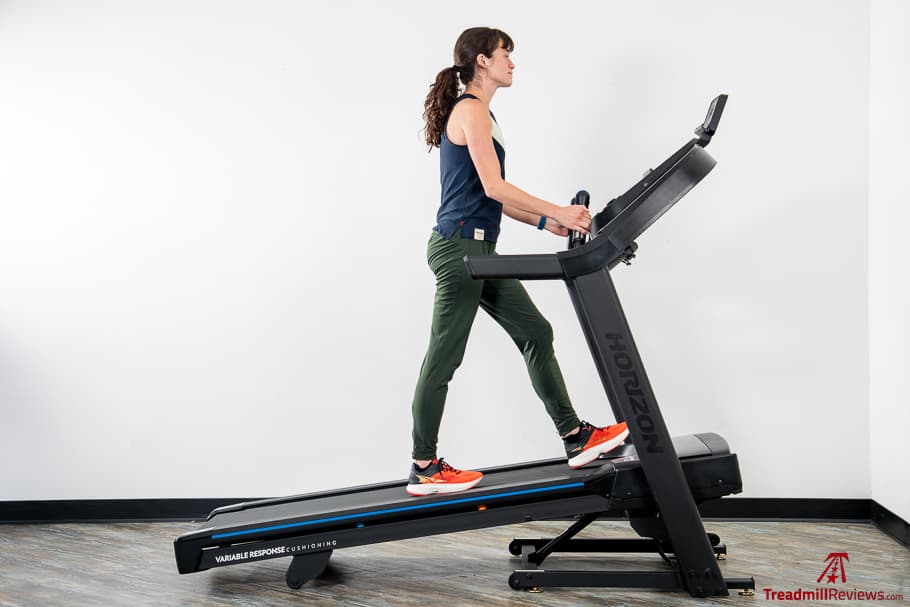 Here's Our List Of The Best Treadmills Under $1000 for 2023
Best Treadmill Under $1000: Horizon 7.0 AT Treadmill
The Horizon 7.0 AT outclasses other treadmills in the under $1000 category. Horizon has stayed true to its pricing while continuing to make better, upgraded treadmills. The 7.0 AT is from their Studio series, meant for running. The 7.0 AT has a spacious deck, great features, and a lifetime warranty on the frame and motor.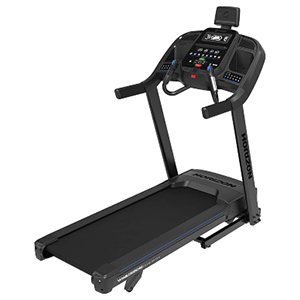 Train without limits on the Horizon 7.0 AT with the fast speed and incline changes. The 7.0 AT supports running or walking with its category-winning features and specs.
Quality is one of the biggest concerns buyers run into when searching for affordable exercise equipment. With the Horizon 7.0 AT, you can put your concerns aside. Lifetime warranties cover the motor and frame. The Horizon 7.0 AT has a 20" by 60" deck to accommodate running strides. Many other treadmills in this category will sacrifice the deck length for a more affordable build, but not Horizon! There is plenty of room to walk or run. The low step-up height of 8.6" is more convenient for users with mobility concerns. The user weight capacity is a nice 325 lbs, higher than comparable treadmills, proving the 7.0 AT's solid build.
As our pick for the best treadmill under $1000, the Horizon 7.0 AT sports exciting performance features. It has a 15% incline, making it the best incline on this list. It has a 0.5 to 12 mph range. Perhaps most importantly, it has a 3.0 HP motor, so you can fully use these ranges without prematurely wearing out the motor. The 7.0 AT is a good treadmill for low-mileage running and frequent walking.
Interval training is uncomplicated on the Horizon 7.0 AT. Horizon has equipped their treadmills with QuickDial controls, allowing walkers and runners to change the speed or incline fast. The 7.0 AT places these dials almost in the path of a runner's arm swing, so you hardly have to interrupt your workout to make the adjustment. The 7.0 AT has one of the fastest accelerations and incline changes of any treadmill. This is effective for training with third-party content. No subscription is required to work out with the 7.0! Yet, it makes streaming entertainment or training content a breeze.
+

PROS
A 3.0 HP motor makes this treadmill suitable for walking and running activities.
The 0 to 15% incline range is generous on a machine at this price point.
The QuickDial controls allow users to increase speed and incline easily to keep up with any training content they prefer.
A lifetime warranty on the motor and frame makes this treadmill a trustworthy choice.
The tablet rack encourages you to view third-party content, keeping the cost of the treadmill low and subscription free.
The console combines high-tech capabilities with straightforward tactile buttons and a simple display, making it easy to interact.
–

CONS
The Horizon 7.0 AT has weak Bluetooth speakers and an ineffective fan.
Running becomes a little unstable when the treadmill is at a steep incline.
Read Our Full Review Of The Horizon 7.0 AT Treadmill Here
---
Best Free Treadmill: ProForm Carbon T7 Treadmill
Did someone say free? Yes, the ProForm Plus program offers free equipment with a purchase of 3 years of iFIT. Hear me out–this premium family fitness plan is over $1000, but if you were budgeting for a treadmill and a subscription program, this deal is well worth it. This deal makes it one of my favorite treadmills, as it is a great treadmill without the subscription content. I am a bit averse to subscription services, but the Carbon T7 makes it worth it.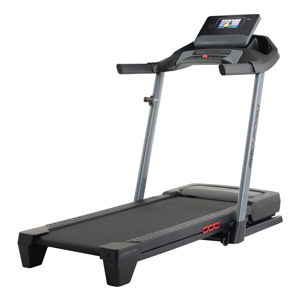 The ProForm Carbon T7 is free with a 3-year iFIT family plan purchase. iFIT's phenomenal content and the Carbon T7's enjoyable construction make this treadmill a no-brainer.
The ProForm Carbon T7 is free with a slight catch–you must pay outright for three years of the iFIT family plan. It's over the $1000 range, but this is the best deal if you are set on a subscription service and a treadmill. I love that ProForm does this, making the T7 one of my favorites. iFIT has loads of classes for training on and off the treadmill. You can take a class or join a series of classes for ongoing training. The running and strength training classes have left me a sweaty mess. With one subscription, you can take the iFIT app onto your other equipment, phone, or smart TV for more training versatility.
The fun with iFIT doesn't stop at simply viewing the content. The speed and incline of the ProForm Carbon T7 adjust to your fitness level, so you can work out without hitting any buttons. If you need to make an alteration, iFIT remembers your feedback to suit you better when you next workout. Even the workout you are currently in will adjust to the right level. Yet, if you don't want to work out with iFIT every day, the T7 has a device rack so you can train while watching one of your favorite shows or reading your Kindle. The device rack is stable enough to keep your belongings safe during activity.
iFIT aside, the ProForm Carbon T7 is still a great machine. It has impressive underfoot cushioning. It would be a great treadmill for recovery days or reducing the impact on your body. This treadmill is more than just powerful enough for light running; it is also sturdy. It's not the most suited to marathon training, but it can work as a supplement to primarily outdoor runners or indoor runners who do lower mileage. The Carbon T7 is under 200 lbs, making it a decent choice for users who need to relocate their treadmill (maybe not up or down stairs) from time to time. It also folds compactly for efficient storage. The Carbon T7 enjoyably accommodates a variety of exerciser wants and needs.
+

PROS
The T7 is a part of the ProForm+ program, which provides free equipment with a 3-year iFIT family plan purchase.
The deck has good shock absorption.
The ProForm Carbon T7 is a compact folding treadmill.
The sturdy device rack can safely hold a phone or large tablet.
The speakers are great, but there is also Bluetooth connectivity for listening through your headphones.
The treadmill motor is relatively quiet.
–

CONS
There is no fan.
The screen is only 7", making it harder to navigate.
There is no assistance to the folding feature. It is manual, locking in place with a pin.
Read Our Full Review Of The ProForm Carbon T7 Treadmill Here
---
Best Folding Treadmill Under $1000: Sunny Health & Fitness SpaceFlex Running Treadmill
Sunny Health and Fitness makes affordable exercise equipment, including an expansive range of treadmills. It's no surprise that the brand appears twice on this list. The SpaceFlex Running Treadmill caught our attention as the Best Folding Treadmill Under $1000 because of its compact folding design. We love the under $1000 price and its tendency to be on sale.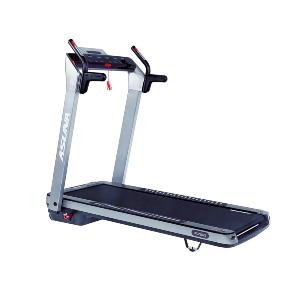 The Sunny SpaceFlex Running Treadmill is compatible with the free SunnyFit app and folds compactly when you are done with your class for easy storage.
The Sunny Health and Fitness SpaceFlex Running Treadmill has a compact deck size of 19"x51". The small deck folds securely between the uprights for a ridiculously small footprint of 28" x 19" x 57". The treadmill is pretty light, weighing in at 140 lbs in its shipping box. The step-up height is only 7.48" flat and 9.46" while inclined. Users with mobility concerns will appreciate this accessible design. While folded, the treadmill can be stored upright against a wall or other flat surface. It stands on its own, so it does not need extra support, but keeping it next to a wall prevents it from being knocked over. There are two transport wheels for tilting and rolling the treadmill around.
The SpaceFlex treadmill has a simple console design but allows you to store your smart device right on the treadmill. The tablet rack is foldable for more compact storage. You can charge your device with the USB port. If you want to listen to some music, the SpaceFlex has an aux port for playing music through the treadmill's speakers. The console displays a few basic metrics, but one unique addition I like on the Spaceflex Running Treadmill is the step counter. If you have a daily step goal, this treadmill can help you reach it and keep track of how much progress you have made.
No subscription is required for this treadmill. It's not even required to access Sunny Health and Fitness's training content. There are eight built-in programs, but even more content is available through the app. SunnyFit is available through the Apple and Google Play app stores. It is free to download and provides many fitness class videos. These are conducive for training on and off the treadmill. The treadmill has a maximum incline grade of 10.5% and a maximum speed of 8 mph, allowing exercisers many training options.
+

PROS
The SpaceFlex Running Treadmill has a very compact folding design.
The treadmill can be stored upright and transported on its two wheels.
The SunnyFit app is a free training and social fitness app.
The console includes a step counter.
There is a USB port for phone charging.
The speakers can play your music or training videos with the aux port.
–

CONS
The 2.5 HP motor is a little underpowered for this treadmill to be a true running treadmill.
The running surface is rather small at 19" x 51". This treadmill is best for petite runners or most walkers.
---
Best Compact Treadmill Under $1000: WalkingPad R2 2in1 Foldable Treadmill
What treadmill could be more compact than one that folds twice? The WalkingPad R2 folds nearly into a square for one of the smallest treadmill storage options we have seen. Yet, the R2 still provides a machine sturdy enough for petite users or those with shorter strides to run! Step into the future with this silver and black foldable treadmill.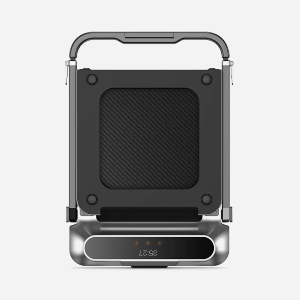 The R2 folds twice for fantastically compact storage. You could put this treadmill in a closet or under a bed.
The WalkingPad R2 2in1 Foldable Treadmill gets the "2in1" portion of its name from its walking and running modes. While in Walking mode, the treadmill folds out to extend the belt, but the console and handrail bar can be folded down during use. This allows the treadmill to act as an under-desk treadmill. The maximum speed while the treadmill is in walking mode is 3.75 mph. The handrail can be lifted to the upright position for running mode. The handrail's height is adjustable, so you can find a position that is comfortable for you. The maximum running speed is 7.45 mph. This way, you can get your run in or walk at your desk comfortably. Who needs two treadmills when one can do it all?
The extremely compact design is one of the most appealing aspects of the R2. It can be stored flat or upright. So you can put it in your closet or under your bed. It had a height of 6.3" when lying flat and folded. I can handle users up to 240 lbs, though the treadmill is only 80 lbs. Its light weight makes it easy to move around your home, so you can keep it out of sight. If you prefer not to move it so frequently, the sleek silver colorway and folding belt make the treadmill a futuristic addition to your living space.
WalkingPad pays attention to the details. The compact design only allows for narrow foot rails, which are textured to ensure your step is stable. The treadmill is remote-controlled, so you don't have to have the console bar propped up to change speed. The R2 does have a device rack for placing your phone. The phone rack doubles as a storage box for storing the safety clip when the treadmill is not in use. The WalkingPad R2 2in1 Foldable Treadmill allows you to exercise in an unobtrusive and versatile manner.
+

PROS
The R2 doubles as an under-desk treadmill.
The WalkingPad R2 is extraordinarily compact for under-bed or closet storage.
This treadmill can be controlled via remote.
It only weighs 80 lbs, so it can be easily relocated before and after exercise.
The silver and black design looks sleek and futuristic.
The treadmill is small but can accommodate users up to 240 lbs.
–

CONS
The deck is a tad undersized for most runners.
The app connectivity is questionable. The KS Fit and WalkingPad apps have poor reviews.
---
Best Durable Treadmill Under $1000: Horizon T202 Treadmill
The Horizon T202 may be an affordable treadmill, but it doesn't skimp on durability. Horizon backs its treadmills with lifetime warranties on their frames and motors. This makes the T202 a shoo-in for the Best Durable Treadmill Under $1000. As a part of Horizon's Go series, the T202 is ideal for walking, but it can handle some running, too. Users unfamiliar with Horizon will be impressed by what this treadmill offers.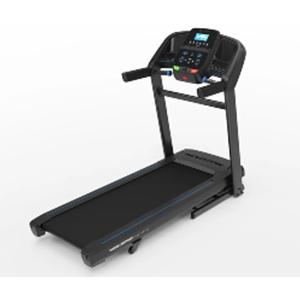 The Horizon T202 Treadmill has the construction and features of a pricier treadmill. The motor and frame come with a lifetime warranty.
Horizon builds sturdy treadmills and keeps their prices low. No other brand seems to have consumers' best interests in mind as much as Horizon. The T202 doesn't have the sleek and angular appeal of other modern treadmills but has a lifetime warranty on the frame and motor. I'm always impressed by how well the Horizon's Go Series performs for long-distance running, staying stable and smooth. It has a maximum user weight capacity of 325 lbs, a low step-up height of 7.25", and decent speed and incline ranges (0 to 12 mph; 0 to 12%).
The T202 does not require a subscription, but it is designed to work with third-party premium content if you want. This is another way Horizon cares about its customers. You pay for the treadmill, and Horizon keeps all the features from behind a paywall. If you choose to subscribe to another service like iFIT or Peloton, the T202 makes it easy to follow along. The QuickDial controls spin to bring your speed and incline up or down. The idea is very reminiscent of Peloton's dials. The tablet rack keeps your phone stable. I can even read my Kindle on Horizon treadmills while running, because there is so little console wobble.
The console has a mix of smart and low-tech features. The tablet rack, USB charger, and Bluetooth speakers are primed for listening to third-party training or entertainment content. If you forego using your smart device for content, the treadmill has various basic onboard programs. These are speed and incline intervals. The Horizon T202 excels at speedy acceleration and incline changes. The console is straightforward to use.
+

PROS
The motor and frame have a lifetime warranty.
The console is sturdy and supported by a robust build.
The speed and incline changes are smooth and fast.
The 2.75 CHP motor is effective for regular walking and intermittent running.
No subscription is required, but the T202 pairs well with third-party content from your phone or tablet.
The low step-up height makes this treadmill more user-friendly.
–

CONS
The T202 is less conducive to regular, hard running.
The plastic components on the console detract from aesthetics and don't feel as nice.
Read Our Full Review Of The Horizon T202 Treadmill Here
---
Best NordicTrack Treadmill Under $1000: NordicTrack T 6.5 S Treadmill
The NordicTrack T 6.5 S is available (currently) through Amazon. NordicTrack no longer carries the T series through their own website, but you can still find them at Amazon for a very affordable price. This treadmill comes equipped with iFIT and adjustable cushioning.

The NordicTrack T 6.5 S Treadmill is an affordable treadmill with 30 days of iFIT for free and adjustable cushioning.
NordicTrack is renowned for its trustworthy fitness equipment and fun integration with iFIT premium content. iFIT has thousands of classes and series for on- and off-treadmill training. The T 6.5 S has a device rack for placing your smart device. With the iFIT app paired, the treadmill can automatically adjust the speed and incline for hands-free training. If you prefer not to use iFIT, the tablet rack will help you view entertainment.
For the music lovers out there with phones that support aux cords, the T 6.5 S has an aux port. This allows you to play your music or entertainment through the treadmill speakers. Cruise along to some tunes as you would on the road, or turn the dial on the deck to engage the treadmill deck dampeners. This will increase the amount of shock absorption. The T 6.5 S has features for performance and entertainment.
The console has an LCD screen with an array of tactile buttons. The alloy steel frame The T 6.5 S Treadmill has a 10% maximum incline and a 10 mph speed cap. This allows a good range of training. The deck is 20" x 55", accommodating all but the longest strides. The weight capacity is 300 lbs, the industry standard.
+

PROS
FlexSelect cushioning allows you to change the amount of shock absorption to soften the impact or simulate road running.
iFIT automatically adjusts the speed and incline for hands-free training.
The T 6.5 S comes with 30 days free of iFIT.
The aux port allows you to play your music through the treadmill speakers.
The treadmill folds compactly for easy storage.
The tablet rack lets you view your smart devices while exercising.
–

CONS
The deck is a little short at only 55" in length.
The screen is LCD, requiring you to use a smart device to access iFIT.
---
Best Space-Saving Treadmill Under $1000: Sunny Health & Fitness Electric Folding Treadmill
The Sunny Health & Fitness Electric Folding Treadmill is our pick for Best Space Saving Treadmill under $1000. It has a standard treadmill build and frame. It's not a compact treadmill such as one that folds under your bed or desk, but it has a small footprint. Its deck is very narrow, allowing it to fit into slimmer spaces. This would be a great treadmill for a shared space, like a living room or home office.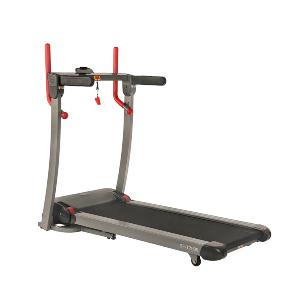 The Sunny Health & Fitness Electric Folding Treadmill is a narrow, folding treadmill fit for tight spaces.
The Sunny Electric Folding Treadmill is only 32" at its widest assembled width. This compact size makes it a good choice for small and narrow spaces. Contrary to what the name suggests, the folding mechanism is not electric. It uses a hydraulic arm for easy lifting and lowering. The treadmill has Soft Drop technology, so you can release the deck and let it lower slowly to the ground. The electric component refers to the speed and incline, which can be changed quickly with three quick touch buttons each or altered more precisely with the arrow buttons.
The Electric Folding Treadmill has an excellent range of features to enjoy. Exercisers are invited to use their smart devices without the hassle of an added subscription. The Electric Folding treadmill is equipped with a large tablet holder for storing your smart devices. There is USB charging and a set of Bluetooth speakers, so you can stream training or entertainment content. There are also two pockets for additional device or water bottle storage. The console does not appear to be the sturdiest at higher speeds, so be wary if you plan to use this treadmill for running. It performs best as a walking treadmill.
Sunny Health & Fitness has launched a fitness app called SunnyFit. This app is free to use. It provides trainer-led content for working out on or off the treadmill. The app can pair with Sunny H&F equipment for automatic speed adjustments. The app also displays workout metrics. In addition to the training aspect, there is also a social community on the app, so you can connect with other SunnyFit users.
+

PROS
The compact design fits into small spaces.
There is no paid subscription content. The SunnyFit app is free.
You can watch content on your smartphone or tablet using the tablet rack.
The console's USB port charges your device, so you don't have to worry about your phone dying before your sweat session ends.
The treadmill has hydraulic folding for convenient storage.
–

CONS
The console shakes at higher speeds.
The 2.0 peak horsepower motor is not ideal for running.
---
Best Treadmill Under $1000 For Walking: ProForm City L6 Treadmill
The ProForm City L6 is a great walking treadmill. It's ultra-compact, folding flat. It can be stored under a high-clearance bed, behind a sofa, or in a large closet. The City L6 is designed for city living. It's quiet and lightweight–great for apartment use!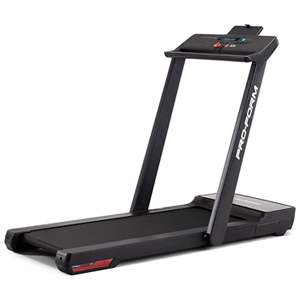 The ProForm City L6 has a streamlined and compact design. It goes from folded flat to the floor to ready-to-go in moments.
The ProForm City L6 has two uprights supporting its small console. There is a device rack, most suited to phone storage over tablet storage. The console and uprights fold down to the deck with the press of the metal pedal located on the side of the treadmill. When folded, the treadmill stores flat (not upright). It has a height of 10 to 13 inches when folded flat, depending on whether or not the device rack is attached. There's a lot to love about the L6's unique folding design.
Walk or run up to 8 miles per hour on the ProForm City L6. I like it more for walking; even as a petite user, the short and narrow deck makes me wary of running. The deck is only 17.5" by 45". The L6 does not incline or decline. There are quick adjust buttons for each whole number speed setting. The +/- buttons change the speed more precisely by 0.1. There are also controls for adjusting the console's LED display. The metrics shown are limited to time, distance, and calories.
Employ your smart device for a more high-tech workout on the ProForm City L6. With an iFIT subscription, you can pair the iFIT app to the L6 for smart training features. The iFIT app automatically adjusts your speed to match the training recommendations of the iFIT class you are taking. It stores your performance data for viewing later. Keep in mind the L6 has limited features compared to other iFIT treadmills. Yet, it delivers a fun and motivating workout.
+

PROS
The ProForm City L6 stores flat for compact storage.
This treadmill is lightweight and quiet, which is great for apartment living.
The L6 is iFIT enabled, allowing users to train in one of the thousands of trainer-led classes.
The console has a tablet rack for holding a smart device during activity.
The console is lightweight, so almost anyone can fold and unfold it.
–

CONS
The ProForm City L6 has a 17.5" x 45" deck, which is too small for many users to run on.
Read Our Full Review Of The Horizon T202 Treadmill Here
---
What To Look for In Treadmills Under $1000
Construction
These treadmills are not our cheapest treadmill category, but they are only one step away. This means buyers should be extra cautious of their purchases. At any price point, treadmill shoppers should be considerate of the build of the treadmill they are contemplating. No matter how much money is saved up front, a treadmill that breaks down too quickly becomes a waste. Some hallmarks of good treadmills are a steel frame, long warranties, and the ability to support running. If a treadmill works for running, it is built to withstand higher forces.
Motors
Many of the motors on treadmills in this category fall under 3.0 HP. This is our chosen threshold for running treadmills. I don't mind treadmills between 2.5 and 3.0 HP for occasional or low-mileage running. These types of treadmills work better for smaller runners, as their decks are often narrower or shorter. 2.0 HP or higher works great for frequent walking use.
Features
It is not impossible to find high-tech features implemented on treadmills under $1k. These treadmills have USB chargers, Bluetooth connectivity, or automatic training adjustments. It's hard to find a treadmill that bundles everything into one in this category, so I recommend identifying what is most important to you. A good way to do this is to plan how you would like to train–watching training content, listening to music, watching entertainment, reading on a Kindle, or just exercising–and identify what features are necessary for making this happen. Don't overlook things like water bottle holders and storage. The main focus of a cardio machine is enabling you to work out successfully. These storage compartments can be a sure way to do so.
Training Content
Many of these treadmills do not require paid content to access all of their features. Sure, they have mostly basic training programs, but many walkers or runners might not want this content. Even if you do, you may be satisfied accessing it through your phone or tablet rather than straight from the machine. I had nearly as much fun training on Horizon's Go series treadmills with Peloton content as I did on the Peloton Tread itself.
Treadmills under a grand can be a great way to save money on the machine to splurge on the content. You may even want training plans from a running coach near you. Whether you go this route, try Peloton or iFIT, or pave your own way, these treadmills can help you get there. I recommend having a device rack on your machine, because it's easy not to use; however, it is hard to find an alternative if your treadmill does not come with one.
Storage/Portability
These entry-level treadmills have the added benefit of being compact and portable. They have smaller footprints, taking up far less space than their pricier (and bulkier) counterparts. Treadmills like the ProForm City L6 or the WalkingPad R2 2in1 can be shoved under a bed or even stored in a closet. If you are tight on space, these treadmills can save you the square footage and some money!
Bottom Line – Best Treadmills Under $1000
Treadmills under $1000 can still deliver fantastic workouts. They require a little more planning to ensure you get the features you need, but they have a lot of variety. These treadmills make a great supplement to an already robust training plan or a great entry point for getting into fitness. They appeal to serious athletes looking for a quick and easy training solution when all else fails or a daily training tool for athletes of all varieties. I recommend treadmills in this category to the budget-minded shopper ready to demolish their fitness goals.
Frequently Asked Questions
When do treadmills go on sale?
The best time of the year to buy a treadmill (financially) is around the holidays. Black Friday, Cyber Monday, and New Year's are excellent times to shop for most things, but fitness brands, in particular, know consumers have fitness goals on their minds after enjoying all the tasty food the season brings. Many brands update their models for the new year, so be on the lookout for discounts at the end of the year. Brands like to clear out old stock to prepare for the new models. Sales typically accompany other holidays, like President's Day, Labor Day, the 4th of July, and Memorial Day. You can also find sales around important running events like the Olympics or the Boston Marathon.
Though some times of the year are better than others for buying treadmills at their lowest prices, a treadmill is also an investment in your health. Buying a treadmill while motivated to exercise is a good way to establish a habit. Additionally, there is no time like the present to make life improvements. What could be expensive now can contribute to reduced medical and health expenses.
Do you really need an expensive treadmill?
Pardon the dad joke, but technically, you only need food, water, and shelter. More cardio-specific, you only need a place to walk/run, motivation, and (maybe) good shoes. Jokes aside, what you need in a treadmill comes down to your training methods. If you are training for a marathon competitively, running high mileage, and planning to do it all on the treadmill, you might need a nice treadmill. However, if you are trying to hit a modest step goal of 10,000 steps or less, all you might need is a treadmill with a working belt.
Evaluating your training preferences, what motivates you, and your space allowance can help you decide which treadmill is right for you. For some, that might mean investing in an expensive treadmill with a large screen and access to streaming apps. For others, it means the treadmills on this list are more than enough!
How long do treadmills last?
This is an extremely difficult question to answer. A quick survey of treadmill users says treadmills last an average of 10 years (+/- 5 years). But this data includes users who had treadmills last only a year to users who had a treadmill last over two decades. It's also difficult to say what "lasting" means. Some users rigorously care for their treadmills and replace parts as needed. If you don't want to start a game of phone tag or an email chain with treadmill customer service departments, a dead treadmill might be the first time something goes wrong.
Many factors affect treadmills' lifespans. Regular care and proper use can extend the life of a treadmill, but sometimes things just go wrong. How much you use the treadmill can impact its longevity. If you run a lot or have a household with multiple intense users, your treadmill might wear out because you put so many miles on it. Contrarily, you might leave your treadmill unused for very long periods, and something can malfunction due to lack of use or not noticing that something is wrong. Warranties can be a good way to safeguard against a treadmill's premature death. Remember to make sure what the warranty does and does not cover.
Read More Popular Treadmill Reviews: