Last Updated: June 9, 2023
Fitness up-and-comer Peloton has managed to make a splash in the workout equipment world as they rolled out the Peloton Tread. With the starting price point of the Tread at $4,295, this treadmill moves into the realm of high-end treadmills which have been reviewed here at Treadmill Reviews. However, the Tread is not without its industry challengers.
In contrast to the relative youth of the Peloton brand, NordicTrack is an established fitness brand, known for their innovation and quality workout equipment. Many NordicTrack treadmills reach the top of treadmill review lists, as they balance cost and features, and the 2019 addition of the NordicTrack Commercial X32i Incline Trainer is a direct answer to Tread, and it is often priced at just $3,999.
With how closely these two treadmills are priced, we have received many questions concerning which is better. So, if you have been wondering how a comparison between the Peloton Tread vs the NordicTrack X32i would end up, we are here to answer that question.
NordicTrack X32i & Peloton Tread General Spec Comparison
NordicTrack X32i
Cost $4,000-$4,500 price range
Weight Capacity 300 lbs
Available Programs 50 built-it programs + iFit library
Dimensions 73" H x 76.5" L x 40" W
Running Surface 22" wide by 60" long, 2-ply Commercial Tread Belt
Folding No
Motor Size 4.25 CHP
Incline Range -6% to 40%
Max Speed 12 mph
Fans Yes
HR Monitoring Bluetooth chest strap included with purchase
Treadmill Weight 415 lbs
Peloton Tread
Cost $4,000-$4,500 price range
Weight Capacity 300 lbs
Available Programs Requires Peloton Digital monthly subscription
Dimensions 72" H x 72.5" L x 36.5" W
Running Surface 20" wide by 67" long, 59 individual slat belt
Folding No
Motor Size 2 HP
Incline Range 0% to 15%
Max Speed 12.5 mph
Fans No
HR Monitoring Bluetooth chest strap compatible but not included
Treadmill Weight 455 lbs
Cost
Our Pick: NordicTrack X32i
There are four purchase packages for the Peloton Tread while the X32i only has one price point. When comparing the X32i to even the most basic Tread package, the X32i costs $3,999, while the least expensive Tread package starts at $4,295 and lacks many of the features which are included with the X32i. With this difference in price and the x32i being equipped with more accessories and upgrades, we give this round of the comparison to the X32i.
Weight Capacity
Our Pick: Peloton Tread & NordicTrack X32i
Both of these treadmills can accommodate a user who weighs up to 300 lbs, and thanks to their incredibly sturdy frames, it's not hard to believe that a heavier user could easily workout on either of these machines.
Available Programs
Our Pick: NordicTrack X32i
One of the major draws of both of these machines is the interactive coaching available. On the X32i, you will receive 50 built-in workout programs as well as free month access to iFit. If you are unfamiliar with what iFit is, it is a personal trainer program. With iFit, you can choose from thousands of workout programs, with more being added continually by the iFit personal trainers. Some of the program's options range from running with one of the trainers as they guide you through beautiful locations to enjoying their cross-training programs off-treadmill. Your workouts on the X32i will be automatically saved to your iFit profile so you can track your progress. Also, the iFit trainers can automatically adjust your speed and incline to help push your fitness level.
Even after the free month access ends, you can choose to either cancel your iFit membership or pay $39/month for up to 5 profiles.
On the Peloton Tread, we have not found any built-in workout programs. Instead, you need to pay for the Peloton membership from the start on top of your purchase of the Tread. Priced at $39/month, this membership is for one person and gives you access to what Peloton is most famous for—their live classes.
With their live classes shot in the Peloton studios, you can follow along with trainers on your treadmill at home. There generally 14 live classes a day, though not all of them are for the Tread. Also, with a front-facing camera, you can either workout live with a friend. There are also thousands of Peloton class on-demand, though their treadmill workout library is not quite as extensive as NordicTrack's, as Peloton has never had a treadmill in its lineup before and NordicTrack is well-known for their quality treadmills. Also, you will have to make all speed and incline adjustments yourself on the Tread.
The main thing which leaves the X32i ahead of the Tread in the available programs category is the fact that you have to keep paying for the Peloton subscription or you are left with a large and expensive treadmill that you can only use in manual mode or motorized. In contrast, if you don't want to pay for a membership to iFit after a free month, you still have 50 available programs!
Dimensions
Our Pick: Peloton Tread
No matter which of these treadmills you pick, you are going to need to have plenty of space and high ceilings if you want to use them comfortably. The Tread measures 72" tall, 72.5" long, and 36.5" wide, while the X32i is a little larger. It measures 73" tall, 76.5" long, and 40" wide. Also, as you check if your ceiling is high enough, remember that both of these treadmills come with incline, which will raise you higher.
Running Surface
Our Pick: Peloton Tread & NordicTrack X32i
A major difference between these two treadmills is their running surface and overall area. The Peloton Tread is a little thinner than the X32i but has a longer deck, as it is 20" wide and 67" long, while the X32i deck area measure 22" wide and 65" long. But where they really differ is what their decks are like.
The Tread has a slat belt much like a manual treadmill. The slats are made of 59 individually mounted aluminum slats which have rubber over the top for grip and shock absorption. It runs on a ball bearing rail system, which allows you to disengage the motor and use the Tread as a completely manual treadmill. This surface is not likely to help if you are looking for a good deal of shock absorption, as the belt is tough and inflexible.
In contrast, the X32i has the incredible Reflex cushioning which makes it suitable for all users, from those who are sprinting, have sensitive joints or bones, and for injury recovery. The deck has plenty of flexibility as well, allowing for natural movement but cutting down on the amount of impact your body takes as you stride.
So, for this category, it comes down largely to a matter of preference. For some, the grippy and tough slat belt on the Tread is the best while the cushioned and wider surface of the X32i is superior.
Folding
No folding available
Motor Size
Our Pick: NordicTrack X32i & Peloton Tread
The NordicTrack X32i has a 4.25 CHP* and the Peloton Tread has a 2 HP motor. Both of these motors work extremely well and provide plenty of power to the machine. We haven't had any trouble completing workouts on either machine. Both motors incline and decline their respective machines seamlessly, and adjust the speed of the belt in a timely manner.
*The motor rating of 4.25 CHP is the power achieved in a testing facility. You are not likely to achieve this amount of power in your home due to the wattage limitations of residential homes and apartments. That being said, this treadmill motor is plenty powerful and works as expected.
Incline Range
Our Pick: NordicTrack X32i
When it comes to incline range, the X32i is far superior to the Tread. This incline trainer treadmill has an incline range of -6 to 40%, which is far more than any other commercial or residential treadmill, aside from other NordicTrack Incline Trainers. In contrast, on the Tread, the incline range is 0% to 15%.
Speed Range
Our Pick: Peloton Tread
These two treadmills have similar speed ranges, with the X32i coming with a 0-12 MPH range and the Tread equipped with a 0-12.5 MPH. Along with that little boost in speed, the Tread also has a completely manual mode where you can power the treadmill with your own strength. You can do something similar with the X32i, where you can set it to 1 MPH and use the sled push bar to run the X32i as a manual treadmill. However, the X32i was not designed to be truly manually powered, and the Tread has been.
Fans
Our Pick: NordicTrack X32i
Only the X32i comes with fans built in. The fans in the X32i can be set to various speeds to help you stay cool as you workout or allowed to automatically adjust to match the intensity of your workout.
Heart Rate Monitoring
Our Pick: NordicTrack X32i
Neither of these treadmills comes with the fairly useless pulse grip handlebars. However, only the X32i comes with a Bluetooth-enabled iFit chest strap for heart rate monitoring. If you buy the most expensive Peloton Tread package, you can receive an ANT and BLE chest strap for heart rate monitoring.
Treadmill Weight
Our Pick: Peloton Tread & NordicTrack X32i
Both the Tread and the X32i are very heavy machines. The Tread weighs 450 lbs, making it heavier than the X32i, which weighs 415 lbs. However, we are calling this one a tie, since both are incredibly heavy to the point where the 35 lbs difference doesn't mean much.
Look and Feel Of The Treadmill – NordicTrack X32i Incline Treadmill vs Peloton Tread
---
Materials
Our Pick: Peloton Tread & NordicTrack X32i
Both of these treadmills are made with high-end materials, from their steel frames to their high-definition touchscreen displays. The minimal amount of plastic you will find on these treadmills is around the water bottle holder areas since it is unlikely that you need a metal holder in those areas.
Sturdiness
Our Pick: NordicTrack X32i
While these treadmills are built with quality materials, the question of sturdiness can be an issue. Due to how the X32i Incline Trainer is built, the X32i has an incredibly sturdy base, which the frame and console benefit from, even when you are at 40% incline. That's not to say the Tread isn't sturdily built. However, there is one area where some users have found an issue, which is the mounting of the Tread screen. While the neck of the display is thick, because it is not built into the frame of the treadmill like the X32i, the Tread console can end up vibrating and moving. Whether this issue is due to foot striking too hard, uneven strides, or something else, it is a distinct issue with the sturdiness of the Tread.
Moving the treadmill
Our Pick: NordicTrack X32i & Peloton Tread
As both of these treadmills are over 400 lbs, they are not easy to move. We recommend that if you choose to purchase one of these treadmills that you think carefully before you place your treadmill, as it will take at least 2 people to move it, and likely more.
Cushioning
Our Pick: NordicTrack X32i
The Tread comes with a decent amount of shock absorption; however, the slat belt is not really designed to offer a cushioned experience. In contrast, the X32i provide an excellent amount of cushioning with its Reflex cushioning built into the deck and the natural flexibility of the wooden deck underfoot.
Assembly
Our Pick: Peloton Tread
When it comes to putting together the X32i, you may want to have someone to help you put together the X32i since some of the components can be both unwieldy and heavy. It is not difficult to put the piece in the right spot, but the weight does make things harder. As the for the Tread, its purchase always includes professional assembly, so there is no need to bother with tools on your end.
User Interface – NordicTrack X32i vs Peloton Tread
---
NordicTrack X32i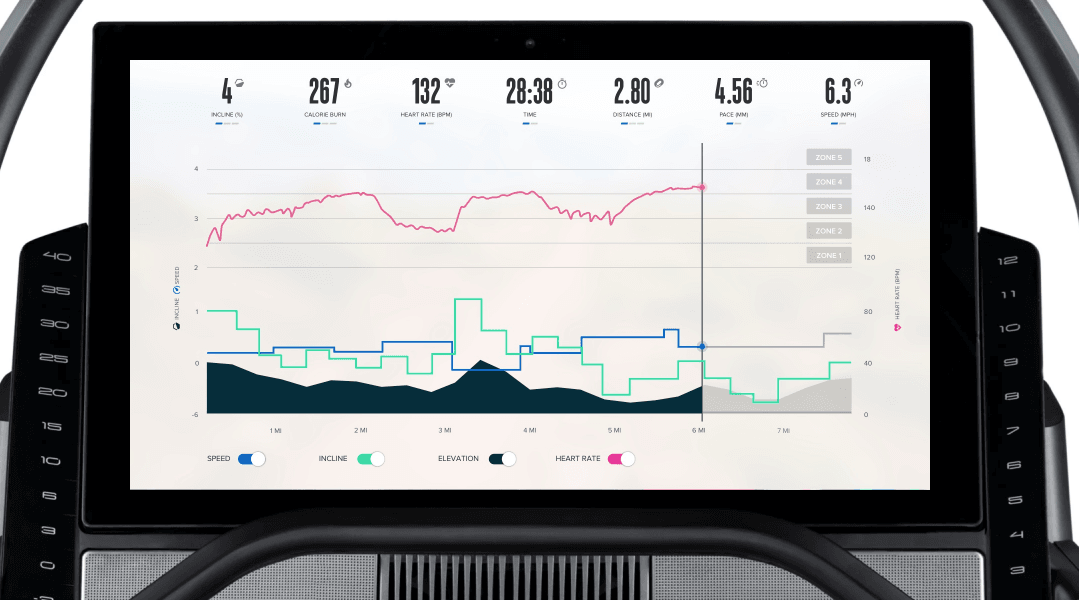 Peloton Tread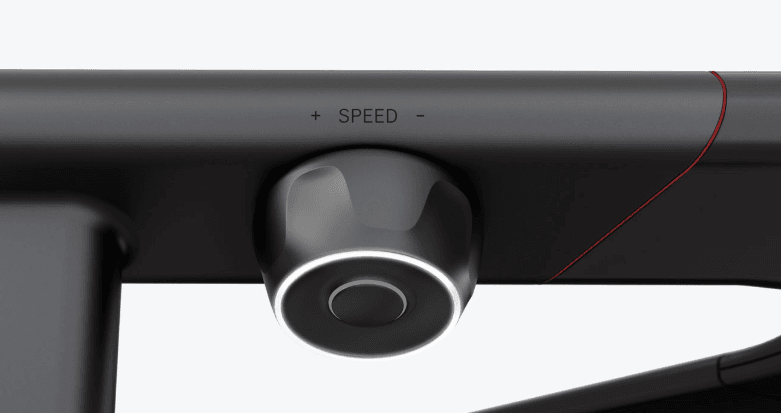 Speed and Incline Controls
Our Pick: NordicTrack X32i
On the X32i, you have traditional controls to manage your speed and incline. You can adjust the speed and incline by 1/10 increments by whole integers with the quick select keys. The tread uses a unique knob that turns to adjust the speed and incline by 1/10 increments or a center button on the knob to increase speed or incline by whole integers.
We prefer the X32i speed and incline adjustments for quicker transitions between speed and incline during HIIT and tabata style workouts. It also feels more intuitive and requires less though to make these adjustments during a run or workout than spinning a knob and searching for a certain speed or incline.
Fan Controls
Our Pick: NordicTrack X32i
As there are only fans on the X32i, it is a natural winner in this category. It does also help that the fan controls are responsive and can be set to automatic adjustment, thanks to the X32i AutoBreeze tech.
Program Selection
Our Pick: Peloton Tread & NordicTrack X32i
The touchscreens on these machines make the program selection process easy and intuitive. On the Tread, you can look specifically for live classes or use the class finder to sort through the live and on-demand classes. Along with running classes, you can find boot camp, strength, walking, and cardio classes.
As for the X32i, their iFit programs are organized in categories as well, offering running, sculpting, yoga, incline training, walking programs, and more. Each category with display a few of their workouts and if you would like to see more of that type of workout, you can tap on the show all button and find your perfect workout.
With either of these treadmills, you should be able to easily scroll through their programs and find something good to break a sweat with.
Visual Display
Our Pick: Peloton Tread & NordicTrack X32i
Both of these treadmills come with a large, 32" touchscreen display. The screens are high-definition, so you can become more immersed in your workout. Also, you don't have to worry about your sweat running the tech as both touchscreens are water-resistant. Just don't test it with your water bottle.
Entertainment Features – X32i vs Tread
---
Speakers
Our Pick: Peloton Tread & NordicTrack X32i
The speakers on the X32i and the Tread are both front-facing, which allow you to be immersed in your media, whether you are following an instructor or just jamming out. With both of these treadmills, you can sync your Bluetooth-enabled device with them or plug into the aux port that both of these machines come with.
USB Port
Our Pick: Peloton Tread & NordicTrack X32i
Both of these treadmills come with a USB port.
Data Tracking – X32i v Tread
---
Data Display – You can find a good deal of data on both of these treadmills and can switch between your workout screen and your current information to gain a better idea of the big picture. However, the X32i provides a bit more insight than the Tread.
| | NordicTrack X32i | Peloton Tread |
| --- | --- | --- |
| Current Incline | | |
| Vertical Gain | | – |
| Vertical Loss | | – |
| Current Speed | | |
| Current Pace | | |
| Average Pace | | – |
| Lap Time | | – |
| Distance | | |
| Time Elapsed | | |
| Current Heart Rate | | |
| Average Heart Rate | | |
| Current Heart Rate Zone | – | |
| Time Elapsed | | |
| Calories Burned per Hr | | – |
| Data Graph | | |
Best Data Display — NordicTrack X32i
NordicTrack and Peloton Financing Options
---
NordicTrack Financing
No money down purchase
0% APR for 12 or 36 months with equal payments
Interest is charged from the purchase date if the purchase amount is not paid in full within 12 or 36 months Standard APR 29.99%.
The NordicTrack financing program account is issued and administered by TD Bank, N.A.
Subject to credit approval
Peloton Financing
Goes through a third-party financing company called Affirm
Minimal monthly payments of $58/month for 39 months
0% APR
No money down purchases
Peloton Membership ($39/month) purchase separate
You can pay off the balance at any time
Subject to credit approval
Best Financing Options — Tied
NordicTrack and Peloton Warranties
---
NordicTrack Warranty
A 30-day trial period for a full refund (minus shipping fees and a 10% restocking fee)
10-year warranty on frame; 2 years for parts; 1 year for labor.
The warranty extends only to the original purchaser.
Peloton Warranty
30-day trial and return period. Full refund minus $250 shipping fee (or higher depending on location) with a potential restocking fee.
5-year warranty on frame, 12 months for parts, pedals, touchscreen, and labor.
You can purchase extended warranties from Peloton
Best Warranty Coverage — NordicTrack X32i
Overall Favorite
---
The NordicTrack Commercial X32i Incline Trainer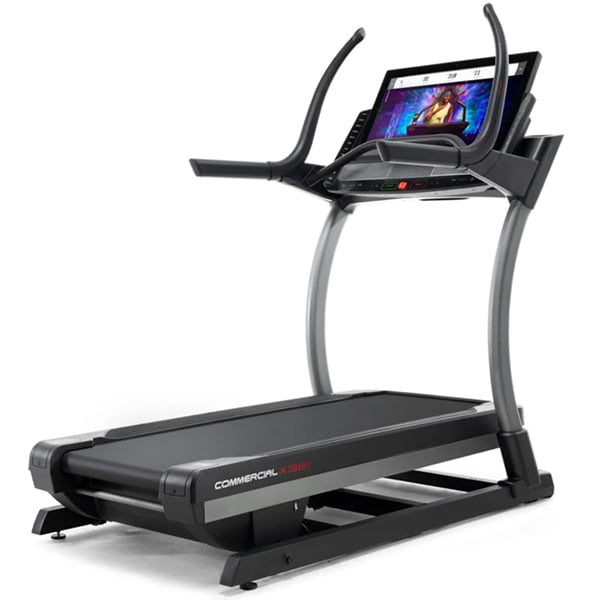 Total Categories Compared: 25
Total Ties Between the X32i and the Peloton Tread: 10
Total Peloton Favored Categories: 3
Total NordicTrack Favored Categories: 12
In the end, when compared feature-by-feature, the NordicTrack Commercial X32i Incline Trainer is the superior treadmill when set next to the Peloton Tread. However, as you can see, these two top-tier treadmills also tied in many categories, so the gap between them is clearly not that large. No matter whether you choose the Tread or the X32i, you will be receiving a high-quality treadmill.
If you still aren't sure about either of these treadmills, you may want to check out the best treadmills. You can find more affordable but still high-quality treadmills on this curated list that you can feel more confident in buying.
Looking for another alternative to the Peloton Tread and X32i? Check Out The X22i
Both the Peloton Tread and the the X32i are about $4000, which feels a little steep. But did you know you can get a really similar experience for about $1000 less with the X22i? It's the exact same treadmill as the X32i with a slightly smaller — but still huge — HD touchscreen display. Measuring 22 inches diagonally, the X22i display is an in-your-face, exciting, educational running experience. You can access iFit and hike, walk, or run all over the world with your personal trainer.
The X22i is a great home treadmill and is our top pick for treadmills $2500 and up. Read the complete review here.