Last Update: September 8, 2023
Manual treadmills are non-motorized treadmills. They are powered by the user's movement. Think of a hamster wheel! None of these treadmills are wheels, per se, but some are curved. Manual treadmills provide unique training capabilities. One of the biggest draws to manual treadmills is their unlimited speed capabilities. Motorized treadmills restrict you to their motor capabilities and built-in settings. On a manual treadmill, you are the motor! The manual treadmill can go as fast as you can. These treadmills are for walkers, runners, strength and power athletes, team sport athletes, and more!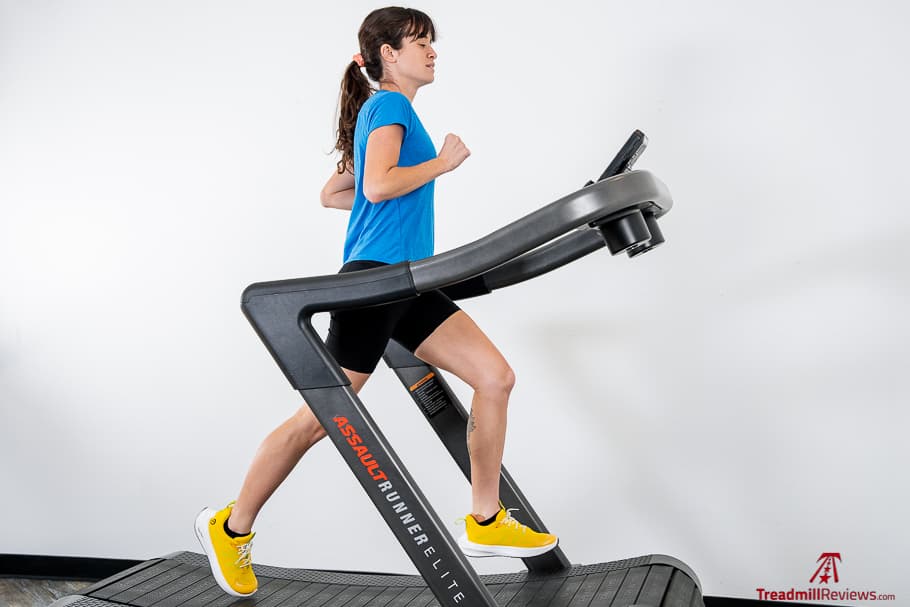 Here's Our List Of The Best Manual Treadmills for 2023
Best Manual Treadmill: AssaultRunner Elite Manual Treadmill
Our pick for Best Manual Treadmill goes to the AssaultRunner Elite Treadmill for its more approachable construction. Manual treadmills require more effort than motorized treadmills, but the AssaultRunner Elite lets you work close to your natural walking or running pace. Transitions from walking to running to sprinting are fluid and fun.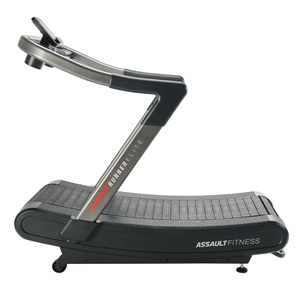 The AssaultRunner Elite has a sturdy construction that lets you run long miles or sprint intervals, all on the same slat belt.
The AssaultRunner Elite Treadmill presents a challenge unmatched by motorized treadmills. Still, moving the belt isn't so difficult that it becomes a deterrent to activity. Manual treadmills tend to be harder for lighter users, but I could turn the belt just fine as a petite runner. The Elite shines for its utility as both a walking, running, and sprinting treadmill. It performs well for both short and long distances. With so much versatility, the AssaultRunner Elite stands out from the competition.
This treadmill isn't going anywhere. Its solid steel frame and arms stabilize the treadmill during maximal efforts. The arms are covered with a rubber material for improved grip. The foot rails are texturized for security when hopping on or off the treadmill. This is important because if you do maximum-effort sprints, you may need to bail out. The Elite is supportive enough to allow this.
The belt is comfortable underfoot. Assault Fitness even states that it is suitable for barefoot running. The belt is constructed from 62 TPU slats. Thermoplastic polyurethane (TPU) is a lightweight and responsive material, sometimes found in the midsoles of running shoes. It feels great underfoot, is shock-absorbing, and is not as heavy as other manual treadmill belts. The belt's curvature can sometimes feel steep, but this increases the workout intensity to burn more calories than motorized treadmill running.
+

PROS
The AssaultRunner is suited to sprint and long-distance running.
The AssaultRunner is one of the easiest manual treadmills for lighter-weight runners or walkers.
The belt is TPU, making it slightly bouncy, cushioned, and lighter than other manual treadmill belts.
The curve makes it easier to get the belt moving and adds an element of incline training.
The steel frame is incredibly sturdy and durable.
The maximum user weight is 400 lbs, more inclusive than other treadmill options.
–

CONS
The steep curvature of the running surface decreases how natural running on the Elite feels.
The treadmill cannot increase your workout intensity, such as through magnetic resistance levels.
Read Our Full Review Of The AssaultRunner Elite Here
---
Best Manual Treadmill For Home: TrueForm Trainer Manual Treadmill
The TrueForm Trainer is the more affordable alternative to TrueForm's Runner manual treadmill. Yet, I prefer it to the Trainer for distance running and lighter users. The belt is not as heavy, so it works better for smaller athletes. The Trainer is a better option if you want to run close to your usual running paces. It's a fantastic product for about half the price of the Runner, which is why it wins the Best Manual Treadmill for Home award.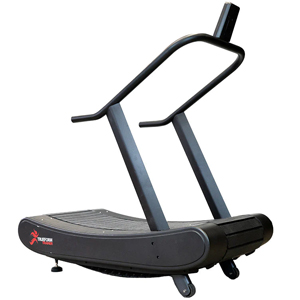 Modeled after the high-end TrueForm Runner, the TrueForm Trainer is half the price and more inclusive of long-distance runners and smaller athletes.
The TrueForm Trainer slat belt treadmill has the lowest curve of any manual treadmill on the market. The slats are gentle enough underfoot for barefoot running even as they come together. The Trainer is designed with a forefoot/midfoot running pattern in mind. The gentle slope of the belt also rewards a higher step frequency (more steps per minute), which may help some runners improve their form.
Manual curved treadmills do not fold. Fortunately, the TrueForm Trainer has the smallest footprint. Though this translates to a smaller belt size, the reduced length and width serve a purpose without interfering with your stride. The width prompts a healthier stride width. This indicates better balance and stability. The reduced length encourages a higher running cadence (or more steps per minute); this improves your efficiency as a runner and can reduce injury risks.
The TrueForm Trainer is a great option for a home or garage gym. It does not require electricity, so it is safe to use during a thunderstorm and can be quickly transitioned to from a circuit workout. The TrueForm Trainer supports a variety of athletes and ways to train. It is well constructed while retaining a more affordable price point.
+

PROS
The Trainer has the lowest curvature of any manual running treadmill.
Long-distance runners or power athletes will find the TrueForm Trainer fits their needs.
A durable construction ensures you can test your limits on this limitless treadmill.
The footprint is minimized at 64" x 31" x 63".
The treadmill deck encourages a short stride length and width for more efficient running form.
Runners or walkers can go barefoot if they wish.
–

CONS
The shallow curve makes sprinting harder than on machines with steeper curves.
Read Our Full Review of the TrueForm Trainer Treadmill Here
---
Best Manual Treadmill With Highest Curve: Bells of Steel Blitz Manual Treadmill
The Bells of Steel Blitz has the highest curve, earning it some recognition. Manual treadmills rely on their users to turn their belts instead of motor power. A steeper curve means more help from gravity in getting the belt to turn. Trust me; you will need that help when the Bells of Steel Blitz turns your next cardio session into a strength training session.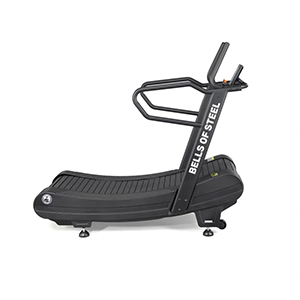 The Bells of Steel Blitz has 6 magnetic resistance levels. Walk, run, sprint, or sled push your way through your next workout.
The Bells of Steel Blitz curved treadmill demands a lot out of its users. At level one, it's not too hard to walk or run. Sure, your calves will burn from the curve, similar to incline training. Crank up the resistance to level 2 or 3, and you will be huffing and puffing trying to keep a steady pace. At level 4 and beyond, it will depend on your weight and fitness level whether you can keep the belt going while running or if you need to transition to a sled push. Fortunately, the Blitz was designed with just that in mind.
The Blitz treadmill has a sturdy 9-gauge steel frame. It stays sturdy even while you test your limits. The sled push handles help you brace yourself for some strength training. The additional steel handles help you stabilize yourself and perform more dynamic form drills. You can even walk backward. The rubberized, textured foot rails give you a good platform to stand on if you need a break or need to bail out.
The deck is firm, with some give for increased cushioning. The slats are aluminum coated in rubber, making the belt pretty heavy. The deck length is 65", a generous space for stretching out your stride or getting enough leverage for that sled push. The Blitz has a unique safety feature thanks to its magnetic resistance. The resistance lever doubles as a brake if you ever feel like your feet are running away from you. Overall, the Blitz boasts a versatile and durable build.
+

PROS
Six magnetic resistance levels increase the Blitz's training capabilities over its competitors.
Sled arms turn the fifth or sixth resistance level into a full-on strength workout.
A steep curve helps you get the belt moving and cranks up the intensity with a bit of incline training.
The resistance lever doubles as a handbrake for regaining control of the treadmill belt.
The simple console lets you program up to 99 rounds of intervals.
–

CONS
The steep incline and heavy slat belt make it not ideal for long-distance running.
Read Our Full Review Of The Bells of Steel Blitz Manual Treadmill Here
---
Best Budget Manual Treadmill: Tru Grit Runner Manual Treadmill
The Tru Grit Runner is the most affordable non-motorized, curved treadmill on the market. It was a shoe-in for this award. Cheaper manual treadmills are a different breed; they are permanently inclined and not meant for running. The Tru Grit Runner is not that. This treadmill is a fully functional manual treadmill with unlimited speed capabilities. It has many of the same features as its pricier counterparts.

The Tru Grit Runner is a great entry point for manual running treadmills. It is hundreds, if not thousands, of dollars less than its competitors.
The Tru Grit Runner, a.k.a. the "Tru Grit Fitness Grit Runner", is a slat-belt and curved-deck treadmill. Forgive me for shortening its name. It has a steel and aluminum frame to support users up to 400 lbs. Due to its bulky build, it is one of the heaviest machines on this list. It has a large footprint, requiring substantial space in your home gym. Yet, if you are looking for a more affordable piece of equipment to add, the Grit Runner makes an excellent choice.
The Grit Runner has six magnetic resistance levels for a more intense workout. It does not have sled handles, though the resistance does not seem as heavy as other treadmills with a similar feature. It is a great feature to see in this budget-friendly manual treadmill, as it improves its training capabilities. The lever also acts as a brake should you lose control of the belt or need to stop quickly.
There are a few concessions to be made when shopping for a manual treadmill at this lower price point. Some of these concessions are cosmetic. The branding along the sides of the treadmill is stickers. The sides are formed by large plastic shrouds that do not look or feel the most refined. The belt slats have a larger gap than other slat belt treadmills, making it unsuitable for barefoot activities. Yet, there is a year warranty on the entire machine and a lifetime warranty on the tread. Overall, the Tru Grit Runner manual treadmill is a great budget option with minimal concessions to overcome compared to pricier models.
+

PROS
The Grit Runner is the most affordable manual, curved treadmill.
The tread carries a lifetime warranty.
There are six levels of magnetic resistance for pushing yourself even harder.
The weight capacity is 400 lbs.
A belt width of 19" makes the Grit Runner more comfortable for larger users.
–

CONS
The Tru Grit Runner makes some cosmetic concessions to remain at such a low price point.
---
Best Manual Treadmill For Running: AssaultRunner Pro Manual Treadmill
The AssaultRunner Pro earns our recognition as the best manual treadmill for running. It skips some of the bells and whistles of its pricier counterpart, the AssaultRunner Elite, but it performs exceptionally well for runners of all speeds. Walk, run, or sprint on the AssaultRunner Pro.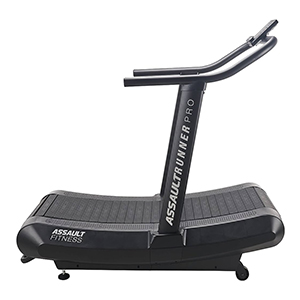 The AssaultRunner Pro has cushioned and relatively easy-to-move belt. Runners looking to transition to a manual treadmill will find the AssaultRunner Pro a great addition to their training.
I would not go as far as saying the AssaultRunner Pro makes running effortless, but it is considerably less effort than other brands' manual treadmills. A harder-to-move belt can be discouraging for runners used to logging high mileage or who are lighter weight. The AssaultRunner Pro dials the intensity up a notch without forcing beginners to gear down to an easy running pace or walking intervals. This manual treadmill delivers a tough workout and keeps you closer to your outdoor/motorized treadmill running speeds.
The AssaultRunner Pro has TPU belt slats that some runners might be used to, given that TPU is found in many running shoes. This soft and bouncy material makes the belt suitable for running barefoot. The belt has a 150,000-mile warranty. That would take me, at 50 miles per week, nearly 60 years to hit. I just hope I am still running by then.
The Pro has a moderate curve for improved traction and sprinting. The uprights and console of the Pro are much simpler than the AssaultRunner Elite, cutting down on some of its weight. The one thing it lacks is storage. The arms are not rubberized, but the footrails are textured for a sturdy base when not on the belt. At 280 lbs, it is one of the lightest manual treadmills. Its portability is further improved by a grab bar located at the bottom of the treadmill. It can then be tilted back onto its two transport wheels for relocation. I don't recommend relocation for any full-sized manual treadmill, but the AssaultRunner Pro would be a good option if you must.
+

PROS
The deck moves smoothly for runners of all speeds, as well as lighter users.
The TPU belt slats are lightweight, cushioned, and responsive for a great running experience.
The 150,000-mile belt warranty would take a single runner almost 60 years to reach while running 50 miles per week.
The deck is suitable for barefoot running.
The Pro has the lowest manual treadmill weight.
–

CONS
The treadmill has no storage, forcing users to stop their workout to rehydrate or refuel.
---
Best High-End Manual Treadmill: TrueForm Runner Manual Treadmill
The TrueForm Runner Manual Treadmill earns its place as Best High-End Manual Treadmill. It is one of the most expensive treadmills on this list. Upgrades like custom color and different tread options increase the price. However, if you are willing to splurge, the Runner rocks these premium options.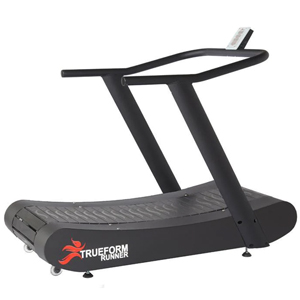 The TrueForm Runner boasts premium add-ons you won't find from other treadmills. The four running surface options unlock training capabilities you won't find on any other treadmill.
The TrueForm Runner is a commercial-grade machine. If you want a product that stands the test of heavy gym use, the TrueForm Runner is that machine. It comes with a lifetime belt warranty and a robust steel frame. The user weight capacity soars from a 450 lb max-speed running limit to an excellent 700 lb walking capacity. Even better, the TrueForm Runner's running surface is less curved than most other manual treadmills, keeping your form as natural as possible.
The TrueForm Runner can be customized upon ordering with RAL custom color. The running surface can also be altered to one of four options: the traditional tread, turf, track, or NABOSO. This is the only treadmill suited for use with cleats (on the turf surface) or spikes (on the track surface). The NABOSO surface is a texturized running surface designed to improve balance and increase the stimulation of the nerves on the bottoms of your feet. Thus, the TrueForm Runner is also a great option for barefoot runners. I recommend the original tread or NABOSO surface for barefoot use.
The TrueForm Runner has a heavier belt for increased resistance while running. Smaller runners will have a harder time maintaining their pace, but it adds another level of intensity to your training. The TrueForm Runner's design encourages an increased running stride frequency and a shortened stride for more efficient running. The Runner lets you focus on your running form and become a tougher athlete.
+

PROS
The TrueForm Runner's various running surface options stand out in the manual treadmill market.
The build is very sturdy
The runner has a 700 lb walking weight capacity and a 450 lb weight capacity at full speed.
The belt is not very noisy. All rumbling of the slats is kept to a minimum.
The TrueForm Runner is great for barefoot running, especially on the innovative NABOSO surface.
The Runner offers custom color options for an additional cost at the time of purchase.
–

CONS
The Runner is one of the priciest manual treadmills on the market, but it has premium features to justify this cost.
Read Our Full Review Of The TrueForm Runner Treadmill Here
---
Best Hybrid Treadmill: NordicTrack X22i Incline Treadmill
The NordicTrack X22i is a phenomenal motorized treadmill, but it earns a spot on this list for its sled push feature. As one of the top motorized treadmills, we nominate it as our best hybrid treadmill. So if you can't decide whether motorized or non-motorized is best, the NordicTrack X22i is a good compromise.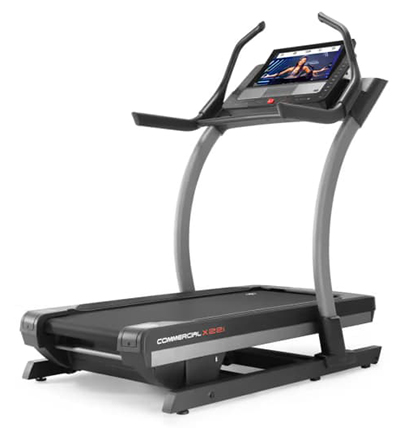 The NordicTrack X22i offers a sled push feature, allowing users to manually accelerate the deck with their feet.
The NordicTrack Commercial X22i is an incline trainer with an impressive range of -6% to 40% decline/incline. This treadmill is an excellent choice for trail runners or hikers who need to train for a lot of elevation gain. It also works well as a low-impact training tool, as walkers can increase their heart rates without increasing their speeds. I can achieve over 80% of my maximum heart rate while walking at a 3.0 mph pace, which usually requires me to run. On the X22i, a steep incline is enough to turn your walking routine into a high-intensity, low-to-moderate-impact activity.
These features are wonderful, but they aren't what places this treadmill on our Best Manual treadmills list. The X22i can simulate a sled push. To do so, the user must place the treadmill at 0% grade and set the speed to 1 mph. Then, the belt can be manually accelerated with the user's feet. The incline handles double as a set of sled push handles, so you can get good leverage for this resistance activity.
The sled push is a great addition to a trail runner or hiker's regimen as it works many of the same muscles as going uphill. The glutes, quads, and calves will all be worked during this resistance training activity. A 40% incline is killer, and endurance athletes are notorious for skipping their resistance training. The X22i gives these athletes a fun resistance training option without having to leave the treadmill deck.
+

PROS
As a motorized treadmill, the X22i has many features not found in the completely manual treadmills on this list, including a large incline range.
The sled push pairs well with the incline training functionality of the X22i.
The deck is extremely cushioned, almost bouncy.
The incline handles double as sled push handles.
A 22-inch touchscreen provides tons of premium content for on and off the treadmill training.
The X22i is a good option for walkers trying to increase their training intensity without increasing the impact on their bodies.
–

CONS
The X22i's only manual feature is the sled push, but the treadmill must still be on (0% grade, 1 mph) to safely use this feature.
The X22i has a very large footprint and is very heavy.
Read Our Full Review Of The NordicTrack X22i Incline Treadmill Here
---
Best Manual Treadmill For Walking: Sunny Health & Fitness Manual Treadmill
The Sunny Health & Fitness Manual Treadmill is an affordable and simple piece of equipment for casual incline walking. The other manual treadmills on this list are overkill for basic walking routines. The Sunny Manual Treadmill is great for users looking to reach a daily step goal and improve their physical fitness.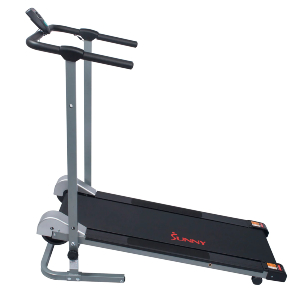 The Sunny Health & Fitness Manual Treadmill is an affordable and extremely compact non-motorized treadmill.
Manual treadmills designed for running are a commitment. Even the most affordable are thousands of dollars. They also require a large, dedicated space. Not all users will find the price or space commitment feasible. It is also unnecessary, depending on the activity you plan to do. The Sunny Health & Fitness Manual Treadmill is a great walking alternative to bulky curved treadmills.
The Sunny Manual treadmill is fixed at a 13.5% incline. This helps the belt roll smoothly while adding intensity to your walk. The weighted flywheels increase the belt's efficient response to each step. The Sunny treadmill also has a simple console for tracking time, distance, speed, and calories. There are grippy handles and foot rails for added support.
The Sunny Manual treadmill is a foldable treadmill that weighs 46.7 lbs. Unlike the other manual treadmills on this list, you could use the Sunny manual treadmill in any room. It has transport wheels to assist with relocation, but many users should be able to pick the treadmill up completely. It is a great treadmill for use while watching TV. Sunny Health % Fitness also has some online content for training ideas. These are pretty basic workout videos, but they pair well with the simplistic design of this manual treadmill.
+

PROS
The Sunny Health & Fitness Manual Treadmill is very affordable.
The compact design allows the treadmill to be used almost anywhere.
One person can assemble the Sunny Manual Treadmill.
The treadmill weighs only 46.7 lbs, so relocating is very easy.
There is a 3-year warranty on the structural frame and a 180-day warranty on other parts and components.
The low step-up height of 8.8" makes it easier to access.
–

CONS
This treadmill is not suitable for running. It is very lightweight.
The treadmill design forces you to hang onto the handles, limiting your arm movement.
---
Factors To Consider When Finding The Best Manual Treadmill
Motorized versus Non-motorized Treadmills
Manual curved treadmills, also known as non-motorized curved treadmills, have developed a bit of a cult following due to their use in Crossfit games and their rugged and functional capacity for garage gym settings. They have higher weight capacities than most motorized treadmills, unlimited speed abilities, and do not require electricity. Non-curved treadmills also do not require electricity.
For Runners
Manual curved treadmills can be a great tool for runners. Very fast runners will like the unlimited speed capabilities of a manual treadmill, as the typical 12 mph will be slower than a sprint for some. A manual treadmill accelerates as you do. This capability allows me to replace my need for an outdoor track. Access to running tracks can be difficult if you are no longer a part of a team, and running on the road presents obstacles that can interfere with speed workouts. A manual treadmill allows you to take your track workout indoors.
For Walkers
Non-curved manual treadmills are less expensive than motorized and curved manual treadmills. They are great for walking as their fixed incline increases your heart rate while keeping your impact low.
A curved manual treadmill offers increased resistance while walking by either magnetic resistance levels or the weight of the belt. Manual treadmills do not require electricity. If your main purpose of using a treadmill is to avoid inclement weather, you will not have to worry about losing power while on your treadmill.
For Other Athletes
Curved manual treadmills are great for anaerobic training. Sprint training is nearly impossible on a motorized treadmill whether the maximum speed is too low, the belt length is unsuitable, or the console is in the way. Manual treadmills remove these obstacles so team sport athletes can truly train for speed. Some manual treadmills have magnetic resistance levels for sled push simulation. Higher weight capacities will give some athletes enough weight allowance to perform farmer's carries or wear a weighted vest.
Electricity
Many people opt for indoor running when the weather is disagreeable. Unfortunately, running on a motorized treadmill during a thunderstorm presents a hazard. The abrupt stop could injure you if you lost power while on the treadmill. With a manual treadmill, you can train indoors without this fear, as no electricity is required. This is a bonus for exercisers wanting to save money on electricity or be more environmentally friendly.
Durability
Manual treadmills tend to have higher weight capacities than motorized treadmills, owing to their sturdy, welded steel frames. It is standard for manual treadmills to have weight capacities at or over 400 lbs. Manual treadmills have fewer features, which also means fewer parts to break. They are also lower maintenance than motorized treadmills, which can improve their longevity. Many home treadmill users do not remember to maintain their treadmills, which is understandable, but it could make manual treadmills a more practical choice for long-term use.
Space
Manual curved treadmills do not fold. They are also quite large and heavy. Most users will prefer to allocate a permanent space for their manual treadmill. This is a downside for users who do not have a lot of space to dedicate to a treadmill. Non-curved manual treadmills can fold. These are great space-saving options; many are even more compact and portable than their motorized counterparts.
Benefits of a Manual Treadmill
Manual Treadmills have several advantages. Here are a few highlights discussed in-depth elsewhere:
Manual treadmills do not use electricity.
Manual treadmills burn more calories than motorized treadmills or outdoor running (for the same run).
Manual treadmills have fewer electrical and mechanical parts to break down compared to motorized treadmills.
Most manual treadmills have higher weight capacities than motorized treadmills, making them suitable for larger users or weighted activities.
Curved Manual treadmills have unlimited speed capabilities, so they are only limited by how fast you can go.
Interval training is easier on a manual treadmill, as you do not have to press any buttons to speed up the belt–just move your feet faster!
Many manual treadmills are comfortable for barefoot running.
Many manual treadmills have sled push capabilities, and you don't have to worry about harming a motor in the process.
Types of Manual Treadmills
Curved Treadmills
As the name indicates, curved manual treadmills have a curved belt. These treadmills also use slats instead of a regular treadmill belt. The curvature assists the user in turning the belt by using the force of gravity. A steeper curve means your footstrike and weight create more downward force to turn the belt more easily. Steep curves do not necessarily mean that the belt will turn more easily. Other factors like belt weight may impact the ease of the belt's movement. Steep curves can make running feel like going uphill, especially if positioned closer to the front of the treadmill. Less curved belts can be harder to move, but they keep your running form more natural.
Slat Belt Treadmills
Instead of having one smooth belt, a slat belt treadmill is made up of individual slats. A lot of manual treadmills have rubber slats or metal slats with a rubber coating. They tend to be well-cushioned as there is some give between the individual slats for shock absorption. I recommend looking for manual treadmills with less space between the slats, as this will help your run feel smoother. Narrower gaps are also safer and help prevent fingers or items from being trapped between them. Belt slats widen around the curves of the deck and narrow as they move toward the center of the deck.
Flat Belt Treadmills
Flat belt manual treadmills have a few common characteristics. They are more likely to have a traditional treadmill belt, though some options have slats. They are kept at a fixed incline, restricting your training variations. These treadmills are typically much more affordable and compact. They suit exercisers with basic goals like getting more activity while watching TV, reaching a step goal, or meeting low-impact activity goals.
Hybrid Treadmills
Hybrid treadmills are motorized treadmills with manual capabilities. If you are interested in sled pushing, there are motorized treadmills that allow you to disengage the motor or set a low speed to replicate this functionality. Not all motorized treadmills have this functionality. If you try to perform a sled push on these treadmills, you could damage the motor or belt.
Bottom Line – Best Manual Treadmills
Manual treadmills are user-powered treadmills that match and exceed your speed needs. Manual curved treadmills and non-curved manual treadmills are quite different. Curved treadmills serve high-intensity users, while non-curved treadmills serve casual users better. Manual curved treadmills are great for interval training or sprinting. They do not require electricity and tend to be very durable. Athletes of all kinds can use manual treadmills with the proper time and consideration for their purchase.
Frequently Asked Questions
Do manual treadmills work well?
Manual treadmills work very well, depending on their construction and use. The manual treadmills on this page were picked for their superior construction and features. When used properly, they are long-lasting and effective cardio tools. Curved manual treadmills have unlimited speed capabilities, so–one might say–they work as well as you do. Non-motorized treadmills have fewer electrical parts and mechanical components, making them lower maintenance and less likely to break. Not all manual treadmills work for every type of activity, so make sure the one you choose complements your needs for the best performance.
Is a manual treadmill better than an electric treadmill?
Manual treadmills have different benefits than electric treadmills, but both have their place. Manual treadmills are generally better for interval workouts, circuit training, and sprinting. Motorized treadmills are generally better for incline training, recovery, and beginners. I like both kinds of treadmills, but I do not use them for the same types of workouts. Both are great pieces of cardio equipment. I recommend evaluating both for their ability to fit your workout needs.
Is it harder to run on a manual treadmill?
It is harder to run on a manual treadmill than it is to run outdoors or on a motorized treadmill. Some studies (Wee et al.,2016; Edwards et al., 2017) suggest that running on manual treadmills results in an approximately 2.5 mph decrease in speed to elicit the same intensity as running on a motorized treadmill. For example, running at 10 mph on a motorized treadmill is about as hard as running on a manual treadmill at 7.5 mph. You will also burn more calories on a manual treadmill than on a motorized treadmill for the same workout.
Are manual treadmills good for seniors?
Manual treadmills have more resistance than motorized treadmills. They are also normally curved or inclined. A motorized treadmill would be better for seniors with balance concerns as the steep incline or curvature may present a barrier to exercise for some seniors. Manual curved treadmills are more appealing to athletes looking for a serious challenge. Motorized treadmills are preferable for their accessibility. Senior walkers and runners should evaluate their fitness abilities and choose a treadmill that matches their needs, just like any other athlete. In general, I do not recommend a manual treadmill for those with balance concerns or users who present a fall risk.
Read More Popular Treadmill Reviews: