Last Updated: September 15, 2023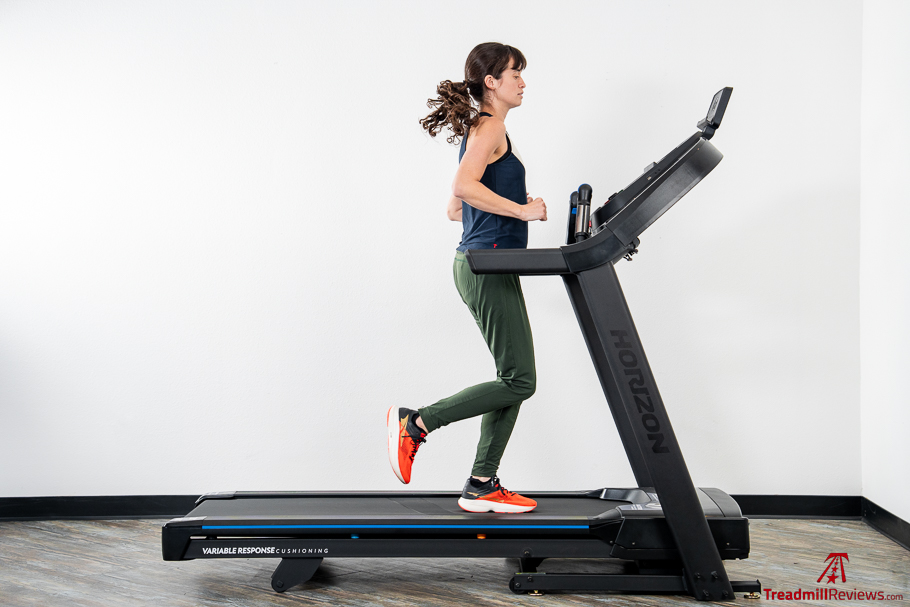 Horizon was founded by Johnson Health Tech in 1998. Johnson Health Tech began decades before with a foundry creating weight plates. The company's first venture into cardio equipment came with its acquisition of Trek Fitness. Horizon's introduction came a few short years later, establishing Johnson Health Tech's footprint in the home fitness landscape. Today, Horizon is one of several fitness brands under the Johnson umbrella.
Horizon Treadmill Product Line Summary
Horizon's treadmills are affordable and durable. The Horizon Go treadmill series are budget-friendly treadmills, best for walkers or low mileage runners who need a treadmill ready to go when they are. Horizon's Studio series treadmills are an upgrade from the Go series, with more training features and more powerful designs. These running treadmills are built for interval training with fast speed and incline changes. Treadmill shoppers will be blown away by Horizon's affordability and performance-oriented designs.
Horizon Go Treadmill Series
The Horizon Go series is one of the top budget-friendly treadmill lines on the market. Horizon proves quality does not always come with a big price tag. These treadmills don't have flashy touchscreens or smart features, but they get you to your next workout fast. Forget waiting for touchscreens to boot up or scrolling through endless content; the Go series treadmills are ready with a few button pushes–no subscription required!
Go series treadmills vary in deck size, motor power, and performance capabilities. The entry treadmill, the T101, starts at 20" x 55" with a 10 mph maximum speed and a 10% maximum incline. The T202 and T303 improve upon these specs; each treadmill offers great specs for its price point. All Go series treadmills offer extras like Bluetooth speakers, spacious console storage pockets, and tablet racks.
Compact folding designs make the Go series great options for smaller spaces. Their low console heights allow users to view off-treadmill content on a TV with ease. Their under 200 lb weights keep Go series treadmills more portable than bulkier models. Yet, these treadmills are good quality, backed by lifetime warranties on the frame and motor. Walkers and beginner runners can find an entry-level treadmill that suits their performance and storage needs with Horizon's Go series.
Horizon Studio Treadmill Series
Horizon's Studio series treadmills have 20" or 22" wide and 60" long running decks. Motor power ranges from 3.0 to 4.0 HP. These treadmills were made with runners in mind. The speed range is a standard 0 to 12 mph, while the incline ranges from 0 to 15%. Quick Dial controls and interval keys allow runners to jump from one speed to the next, faster than most other treadmills. The speed and incline adjustments are fast, so you can hit your next interval pace on time.
Touchscreens would be redundant on the Horizon Studio series. Their tablet racks and Bluetooth connectivity allow you to pair your own smart devices to the treadmill for more training options. This way, you aren't paying a premium for a smart display. By outsourcing your treadmill training, Horizon ensures you aren't locked into one subscription platform forever. Instead, you can view (and subscribe) to any platform of your choice or catch up on your favorite shows and movies on streaming apps. Studio series treadmills' Quick Dial controls ensure you stay on pace with trainer cues from Peloton, iFIT, and more.
For users who want to stick to the low-tech offerings built into the Studio series treadmills, there are several training programs. The 7.4 AT and 7.8 AT treadmills even offer the popular Sprint 8 program. If you prefer less structured training, the Horizon Studio treadmills are a great option for you, as you won't pay for features you aren't planning to use. Studio series treadmills let you train exactly as you want with no restrictions.
Other Horizon Equipment Reviews
Horizon manufactures ellipticals and exercise bikes in addition to its excellent treadmill offerings. They have three types of exercise bikes, including upright, recumbent, and studio bikes. Just like Horizon's treadmills, the ellipticals and exercise bikes continue the trend of lengthy warranties, quality builds, and affordable prices. The bikes and ellipticals also keep the low-tech consoles, so exercisers can train with their smart devices on any platform they choose.
Horizon ellipticals use a front drive design. They use magnetic resistance to provide a more intense workout. Common features on Horizon ellipticals are Bluetooth speakers, tablet racks, and water bottle holders. Horizon ellipticals have lifetime warranties on the frame. Users can expect LED or LCD screens rather than touchscreens. The ellipticals also have built-in programs for training content.
Horizon bikes have varied features. The studio cycles are designed for use with third-party training content. Whether you are a Peloton subscriber, training with free YouTube videos, or pedaling your own path, the studio cycles will deliver a great workout. For indoor cyclists looking for more comfort, Horizon upright or recumbent bikes are worth checking out. These bikes have 100 magnetic resistance levels, Bluetooth connectivity, a tablet rack, and a built-in fan. Horizon has your indoor cycling needs covered for an affordable price.
Top Horizon Equipment:
Content Options With Horizon Treadmills
Horizon has less content than other treadmills, but this is a strength rather than a weakness. Horizon treadmills provide a phenomenal support of third-party apps allowing walkers and runners the freedom to subscribe or test any training content they wish. Some apps connect via Bluetooth to display real-time treadmill metrics like speed, distance, and total time for cohesive training. Horizon treadmills support the use of third-party training with their fast speed and incline adjustments and convenient dial system.
Horizon does offer a few onboard training programs. The exact offerings will depend on the treadmill, with Studio series treadmills offering more content. Most treadmills offer basic preset interval training and calorie or distance target training. Horizon treadmills embrace any way walkers and runners decide to train and prevent them from paying for services they do not want.
Common Features On Horizon Treadmills
Horizon treadmills skip the touchscreens and favor LED or LCD displays instead. Horizon encourages walkers and runners to display training or entertainment content using their smart devices. Horizon treadmills include tablet racks, Bluetooth speakers, and (often) USB charging to make using a phone or tablet easier. Horizon treadmills frequently use dials instead of switches or arrow buttons to adjust the speed and incline settings. The dials are very convenient to use, as they are often closely aligned to a runner's arm swing. They make a great dupe for the dial controls found on Peloton treadmills.
Bottom Line Horizon Treadmill Reviews
Horizon treadmills allow walkers and runners to train exactly how they would like–whether that is with or without subscription content. Horizon keeps its prices affordable without sacrificing quality. The low-tech treadmill consoles get exercisers started on their workout faster. Horizon has great native content and also supports third-party app use. Runners and walkers will love the Go series and Studio series treadmills for their versatility.
Frequently Asked Questions
Which Horizon treadmill is the best?
This question is always a tough one to answer! The T101 is our pick from the Go Series as it offers more features and quality than any other treadmill at this price range. From the Studio series, I like the Horizon 7.8 AT for its 4.0 HP motor and large running deck. The 7.8 AT is great for a dedicated runner accumulating high mileage or for a multi-user household.
Are Horizon treadmills good quality?
Horizon treadmills may not have the refined, modern appearance of other brands. Nevertheless, they are quality treadmills backed by lifetime warranties on the frame and motor. They offer higher quality for their price than many competitors.
Who manufactures Horizon treadmills?
Johnson Health Tech, also known as Johnson Fitness and Wellness, owns Horizon. Johnson Health Tech manufactures Horizon treadmills in Hanoi, Vietnam.