Established in 2012, Peloton Interactive is a young exercise equipment company that is quickly making a name for itself, thanks to its emphasis on high-end fitness. Currently, Peloton only offers two different pieces of exercise equipment—the Peloton Bike and the Peloton Tread. With these two machines, Peloton sets itself apart with its live streaming studio classes where Bike and Tread users all over the world can enjoy working out with Peloton instructors. They also provide a library of on-demand classes you can do on your own time.
Also, much like ICON with iFit Coach, Peloton provides its fitness streaming service unbundled. That way, people can use their own equipment to follow along with cycling classes, treading sessions, or yoga, their newest fitness class offering. Overall, out of the many companies we have reviewed on Treadmill Reviews, Peloton stands out as one which may eventually rival the other fitness giants in this industry.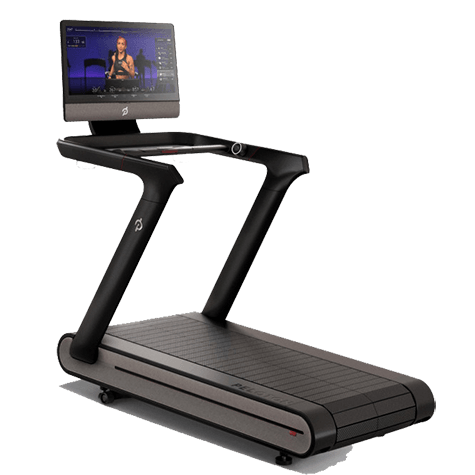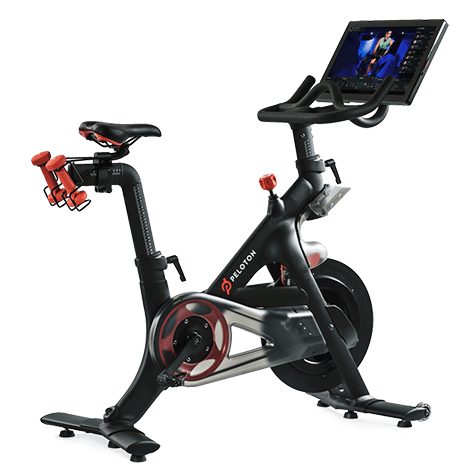 Peloton Treadmill Reviews – Product Line Summary
Currently, Peloton only has one treadmill available, the Peloton Tread. As it was unveiled in January 2018 and has barely begun to ship out to consumers in the late fall of 2018, this treadmill is still relatively untested by the public.
Peloton Tread
The Peloton Tread is not constructed like your average treadmill, which is just as well since it isn't priced like a regular treadmill. With a base price of $4,295, the Tread is a high-end treadmill that has a slat belt, with 59 aluminum slats with rubber overmold acting as the treadmill belt. Thanks to the ball bearing rail system which the slat belt moves on, with the press of a button, you can use the Tread in manual mode, powering it with the strength of your legs.
There is a 0% to 15% incline range on the Tread, and it cannot fold up. Also, as it weighs 455 lbs, this treadmill is one which will take up a good deal of space in your home while making a lot of noise, as the motor is surprisingly loud. This treadmill comes with a 21.5" touchscreen from which you can stream the Peloton classes.
Other Peloton Equipment
As we mentioned before, the Peloton equipment line is limited at this time. The only other piece of exercise equipment offered by Peloton is the Bike, which is the flagship machine that launched Peloton into the fitness equipment industry.
Peloton Bike
Standout Features Of Peloton
There are several standout features of the Peloton Tread which may appeal to a wide user base.
Peloton streaming service – One of the major selling points of the Peloton equipment is their streaming service, with both live classes and on-demand videos, which costs $39 a month, even after equipment purchase. Without it, the Peloton Bike and Tread would overpriced pieces of well-made equipment. However, competitor treadmills from NordicTrack and ProForm also provide on-demand personal trainers through iFit Coach, which has a larger and more developed library of exercise programs than Peloton. Both competing equipment manufacturers also offer most of their machines at a lower price point than the Tread.
High-end equipment construction – While the Tread may not have as many features as other treadmills in its price range, it is an incredibly well-constructed machine. From the heavy-duty frame to the articulated slat belt, the Peloton Tread is overall, a high-quality treadmill. One caveat is that for some, including our testers, found that the console would shake when running.
Automatic or manual treadmill use – There is a button labeled "FREE" which you can press to put the Tread into manual mode. You can then push against the crossbar and power your workout with the strength of your legs alone. Just as easily, you can switch back into the automatic mode which engages the 2 HP motor and runs the treadmill belt for you.
Knob adjustments – Rather than use the traditional buttons to adjust speed and incline, there are two different knobs on either side of the Tread. The right side knob will adjust your speed, moving it up in 0.1 increments unless you press the button in the middle of the knob, which will move the speed up by whole integers. With the left side knob, you control the incline with similar results.
Our Bottom Line On Peloton
We are excited to see what an up and coming company like Peloton will do to move the fitness industry forward. Even now, mainstays of the industry are developing their own personal trainer programs and fitness equipment is becoming more packed with features. All these things are great for your average consumer. However, the short history of Peloton is a little worrying.
If Peloton runs out of funding or people move onto the next fitness craze, it can leave owners of Peloton equipment high and dry, as it is unclear whether or not there are any programs available on the Bike or Tread without the Peloton subscription.
So, while we find the Peloton revolution excited, it may be best to exercise some caution when it comes to committing to an expensive treadmill or bike from this young company.