Last Updated: 1/11/2022
Peloton kick-started their home gym equipment journey in 2012 with the Peloton home stationary bike. But they have grown in popularity, adding to their list of merchandise the Peleton Tread, a full line of boutique athletic apparel, and a well-organized app to access their virtual fitness classes.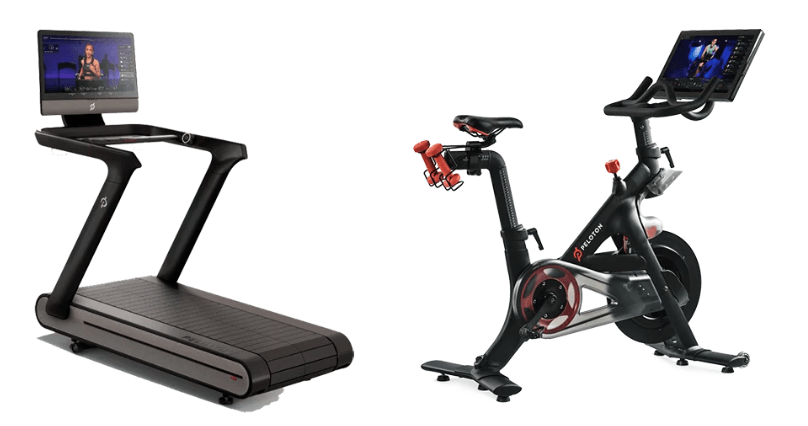 Peloton sets itself apart with its live streaming studio classes where Bike and Tread users all over the world can enjoy working out with Peloton instructors. They also provide a library of on-demand classes you can do on your own time. You can also race against the best times of other Peloton users or your own personal best records.
It seems that Peloton makes a really large emphasis on lifestyle branding. They have a really large presence on social media and their product packaging is wildly uplifting and positive:
"At the heart of Peloton is a community that sweats together, grows together, and beats as one. We build speed, strength, and determination from each other. And today, we add another heart to this beat: Yours." – This is found on the package of the Tread's heart rate monitor. (Hold on while I grab my tissues…)
All of this seems to encompass the overall theme of "group effort". If you're into that sort of thing (which we are), it's pretty cool!
Currently, Peloton only has one treadmill available, the Peloton Tread. The first available machines to purchase reached private homes in the fall of 2018 so we're still waiting and watching how the Tread maintains itself with extensive use. While Peloton only sells one treadmill, they offer multiple packages for purchasing cross training accessories like weights and floor mats.
Peloton Treadmill
The Peloton Tread is not your average treadmill, which is just as well since it isn't priced like a regular treadmill. The Tread's base price is $4,295. It comes with a slatted belt instead of the usual 2 ply tread belt on most home treadmills. A slatted belt gives you the added function of using your treadmill in manual mode – meaning the motor is off and the belt only moves by the power of your body. Be sure to read our full review of the Peloton Tread to see what other interesting features set this home treadmill apart from its competition.
Peloton Bike
Peloton is best known for their home stationary bike. It's a high-end cycling bike that has a large screen mounted in front of the handlebars so you can watch and participate in virtual spin classes.
Peloton Digital
Peloton requires a subscription service when you start using their equipment. Read our full review to learn more about Peloton Digital.
Standout Features Of Peloton
There are several standout features of the Peloton Tread which may appeal to a wide user base.
Peloton streaming service – One of the major selling points of the Peloton equipment is their streaming service, with both live classes and on-demand videos, which costs $39 a month, even after equipment purchase. Without it, the Peloton Bike and Tread would be overpriced pieces of well-made equipment. However, competitor treadmills from NordicTrack and ProForm also provide on-demand personal trainers through iFit Coach. Compared to Peloton, iFit Coach has a larger and more developed library of exercise programs. Both competing equipment manufacturers also offer most of their machines at a lower price point than the Tread.
High-end equipment construction – While the Tread may not have as many features as other treadmills in its price range, it is an incredibly well-constructed machine. From the heavy-duty frame to the articulate slatted belt, the Peloton Tread is overall, a high-quality treadmill. One caveat is that for some, including our testers, found that the console would shake when running.
Automatic or manual treadmill use – There is a button labeled "FREE" which you can press to put the Tread into manual mode. You can then push against the crossbar and power your workout with the strength of your legs alone. Just as easily, you can switch back into the automatic mode which engages the 2 HP motor and runs the treadmill belt for you.
Knob adjustments – Rather than use the traditional buttons to adjust speed and incline, there are two different knobs on either side of the Tread. The right side knob will adjust your speed, moving it up in 0.1 increments unless you press the button in the middle of the knob, which will move the speed up by whole integers. With the left side knob, you control the incline with similar results.
Peloton Financing
Peloton offers financing for their equipment using a third party company called Affirm. The APR will depend on your credit score which they will do a soft check to verify. You can choose a payment plan that's 12, 24, or 39 months. Make monthly payments, pay the balance by the end of your time allotment, and you're set. But be careful because a lot of times with these financing plans, you'll get hit with HUGE FEES and added expenses to your equipment if you don't pay off the full amount by the time your financing is up.
Our Bottom Line Review Of Peloton
We are excited to see what an up and coming company like Peloton will do to move the fitness industry forward. Even now, mainstays of the industry are developing their own personal trainer programs and fitness equipment is becoming more packed with features. All these things are great for your average consumer. Time will tell how well Peloton equipment holds up and we're watching and waiting to see if these high-priced pieces of machinery outlast their competitors.
Overall, we feel that there are better options for purchasing a home treadmill from companies that offer a great treadmill at a much lower price point. But the Peloton tread and bike are both fun, sexy pieces of equipment that are going to give you an engaging workout from the comfort of your own living room. – As long as you're comfortable with this price point!