Last Updated: 1-10-2022
Standout Features
Inexpensive home exercise subscription
iFit Cardio pairs to your equipment for instructor lead exercises – automatically adjusts speed/incline/resistance for you while you follow along with classes.
Has a wide variety of applications (tons of machines integrate with iFit and lots of floor classes are available)
---
This review is all about iFit – a subscription-based home exercise program built by ICON fitness to add more value to their home exercise equipment. iFit syncs with tons of different treadmills, ellipticals, bikes, rowers, and other home gym equipment to offer more onboard equipment workouts, studio classes, and floor exercises. Since its creation in 1995 using audio CDs, iFit has come a long way to provide more than just a cardio machine workout. This is a program that is growingly popular for home exercise with and without equipment, with the goal of replacing a gym membership with something more convenient and affordable. Read our review in its entirety to get to know iFit, why we love it, and what users can get out of it.
Meet The iFit App Suit
If you're looking to commit to the iFit monthly subscription, we recommend downloading iFit and iFit Smart Cardio (if you have a compatible home cardio machine). You can also add iFit Sleep to your repertoire but the barrier to entry is an additional $119 purchase to acquire the sleep device that pairs with the app to get accurate data capture. Here's the full iFit suite of apps below:

iFit App
Nutrition
Activity
Calendar
History
Library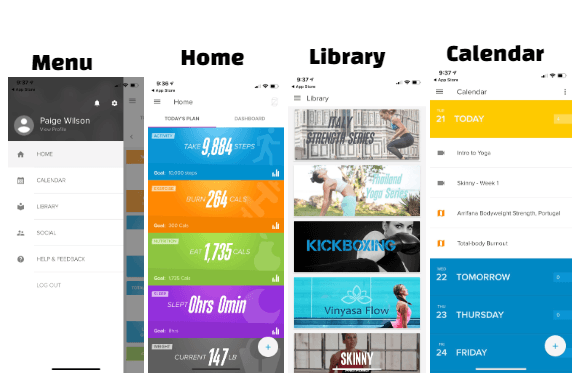 In this app is where you log daily nutrition (calorie intake), view cardio/activity/sleep/weight stats, and access the library of workout series for floor exercises (no equipment necessary). You can also view your scheduled workouts for the days, weeks, and months ahead. iFit has an activity tracker that will track your steps if you diligently carry a mobile device in a pants pocket all day. iFit has told us (casual chats with customer service) that they're working towards syncing with Apple Health on the Apple Watch and once that happens, then we'll be excited about the activity tracker for tracking steps and stuff. Until then, it's a little unreliable.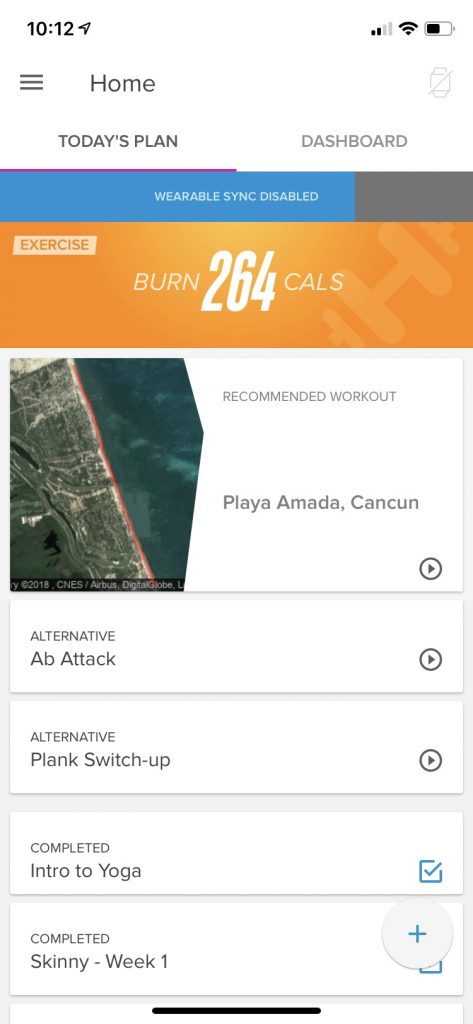 From the home screen, iFit will show you what your calorie burn goal for the day is, including recommending iFIt workouts for reaching that goal. It's an easy way to find a class you can do that helps you meet your calorie goals for the day.

iFit Smart Cardio App
The iFit Smart Cardio app is your library of trainer-led workouts specific to your iFit compatible equipment. You only need this app if you have iFit compatible equipment that DOES NOT have a touchscreen display. When you're paired with a treadmill, you can view hikes, walks, runs, and cross training videos. Some of these videos are in the studio, like a virtual workout class. Others (most) are outdoors, exploring beautiful scenery, and experiencing the natural incline/decline of the terrain on your treadmill. Your equipment will automatically adjust to meet the speed/incline determined by the trainer in the video.
Ellipticals have elliptical-studio classes created specially for this home cardio equipment and the same goes for bikes, rowers, and other types of home cardio machines. Most equipment can view walking and running videos. But treadmills won't have access to biking, rowing, and elliptical videos. Just like exercise bike equipment paired with iFit won't have access to elliptical and rower videos or treadmill studio classes.

iFit Fusion App
The CST Fusion has it's own app for accessing studio classes that you can do if you have the CST Fusion or Fusion lite. These classes are solely for the Fusion.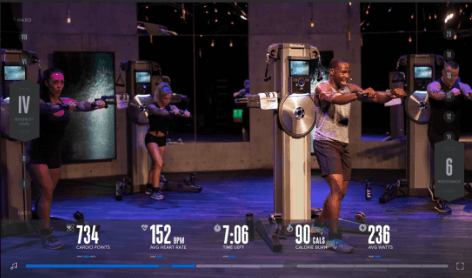 If you want to access other iFit cardio and studio classes and videos or google maps, you'll still need the iFit Cardio app. But like other iFit apps, the iFit Fusion app syncs with iFit to record your workout data and apply it to your daily/weekly/monthly stats.

iFit Sleep App
To use this app, you'll need the iFit Sleep HR sensor ($119). In the iFit Sleep app, you can view sleep stats, create sleep plans, and read daily tips.

Additional Web Features
You'll find more educational info and workouts when you log into your iFit account on your web browser.
More Floor Classes – Not all floor classes are available in the iFit app. But you can access more floor classes on the web. When you select "Join", you'll be able to access these classes in the app via your calendar.
Nutritional Recipes – Favorites, breakfast, lunch, dinner, snacks, sides, appetizers, desserts, instant pot ideas,
Educational Blog Posts – Topics vary (different activities, health, sleep, news, tech, community, nutrition plans, weight loss, etc.)
How Much Is A Subscription To iFit?
$180/year for one user profile
$39/month for five user profiles
iFit Integrated Home Gym Equipment
NordicTrack (34 home exercise machines)
iFit comes standard with 34 different cardio machines from NordicTrack. These pieces of home exercise equipment either come with an HD touch screen to display iFit or they can be paired to a mobile device (tablet, iPad, smartphone, etc.) to display iFit. Whether the cardio machine has a screen or is paired via Bluetooth, iFit will automatically adjust your cardio equipment to match the speed/intensity/incline/resistance level of the iFit class you're currently viewing.
ProForm (26 home exercise machines)
ProForm equipment pairs with iFit and automatically adjusts speed/incline/resistance according to the class you're following. Some ProForm equipment comes with a built-in screen for viewing iFit while others require you to view iFit on a portable device (tablet, iPad, smartphone, etc.) and Bluetooth to the cardio equipment.
Freemotion (9 home exercise machines)
Freemotion has a limited selection of home cardio machines that pair with iFit to track workout stats and automatically adjust speed/incline/resistance during a virtual class. Most of their iFit integrated exercise equipment connect to iFit via Bluetooth.
iFit Classes
All of the classes and workout series on iFit are led by professional personal trainers. You can review the team of trainers and their many qualifications below. These classes are high-energy and engaging. We especially like the outdoor videos because the trainers are actually interacting with strangers around them on trails, telling you about the scenery, interesting info about the workouts you're doing or the trails they're running on. It adds a conversational tone to the workout which we think helps to distract from the agony of exercising!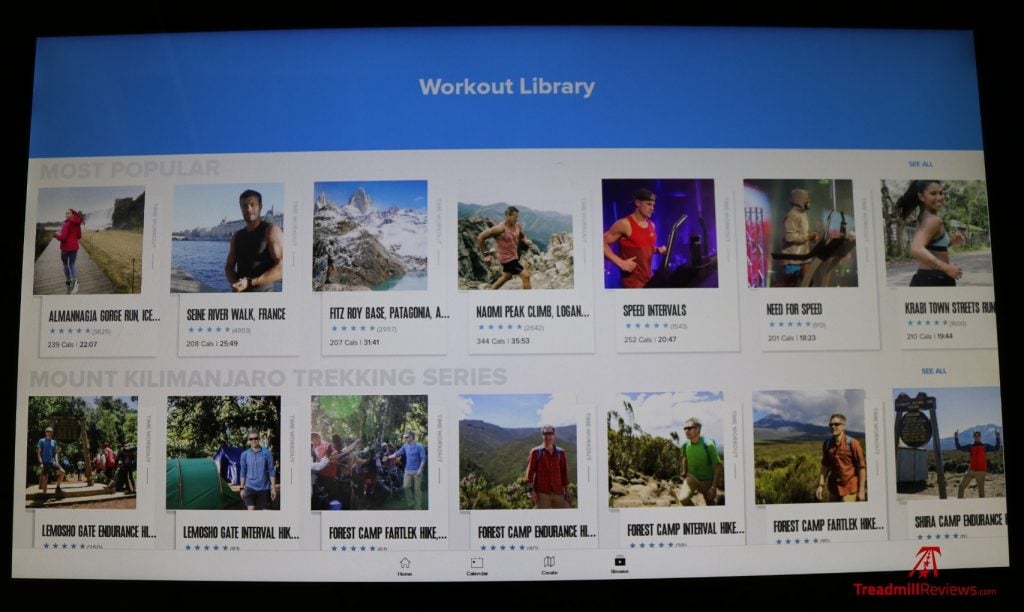 A distinct feature of iFit (when paired with integrated cardio machines) is that your cardio equipment automatically adjusts to the speed, incline, or resistance of the routine your instructor is doing. When you're participating in studio classes, the instructor designates the speed/incline/resistance and your machine automatically adjusts to the correct setting. There is no other subscription service for home fitness that does this.
All cardio equipment can view iFit videos of instructor-led workouts around the world, map a custom route with Google Maps, studio workouts, and view different series of workouts in the Library. Specific cardio equipment can view studio classes tailored to the machine-like spinning on exercise bikes or rowing classes on a rower.
Treadmills

Running
Walking
Incline training
Speed
Distance
Cross training
Google Maps
Outdoor/around the world videos

Ellipticals

Elliptical and Freestride Studio Classes
Cross Training

Exercise Bikes

Studio cycle classes
Outdoor instructor-led rides
Incline training
Speed training

Rowers

Studio Rowing Classes
Cross Training

Strength

Studio Fusion/Cable strength training
Cross training
Floor Workout Series "iFit Daily"

These classes can be accessed via a web browser or the iFit app under "Library". But beware: older content is bad. It's really tacky stuff that makes you feel like you're watching a 1992 home workout video. Worst of all, they're boring. But ignore it! iFit is catching up with the times and putting out much better content. The content they are creating for their equipment is incredible. We'll keep crossing our fingers for better content for floor exercises like yoga and kickboxing. Rumor has it that iFit is currently working on providing live classes for iFit subscribers.
iFit Trainers
iFit staff's their training team with well-known, credible, professional personal trainers. We won't be showing off each of their profiles here but you can get to know a handful of their most popular trainers below.

Anja Garcia
Anja was a collegiate and elite-level gymnast who studied Public Health at the University of California, Berkeley and received a Masters of Science in Nursing from the University of San Francisco. She started teaching group fitness in college, moved to LA to work as a pediatric nurse for UCLA, and has continued her career of health coaching and education.
Anja believes that if you learn how to take care of yourself, mentally and emotionally, you have the ability to be and do anything and everything.

John Peel
https://www.johnpeelfitness.com/
John Peel is a personal trainer and former college football athlete. Injuries and limitations in his athletic career gave John the perspective of physical limitations and immobility, as well as the development of mental toughness. He creates workouts centered around efficient, low-impact, and effective movements.
Hannah Eden

Stacie Clark
http://stacieclarklifestyle.com/
Stacie is a celebrity trainer and the co-founder and CEO of Tiger Athletics. Women's Health Magazine recently named her America's "Next Fitness Star".
Stacie embraces an active, athletic lifestyle, training for and competing in adventure races, cross-fit challenges, and races ranging from 5 and 10Ks to half marathons and urbanathalons.

Betina Gozo
Betina became a Certified Personal Trainer so she could help others reach their health goals with fitness. She created the Women's Health Magazine's Woman's Guide to Strength Training. She is also a Nike Master Trainer. Betina uses fitness and training to inspire people to make positive lifestyle changes so they can live their best life. She is great at motivating clients to work harder than they thought possible through her individualized, dynamic approach to fitness.

Michael Vazquez
https://www.instagram.com/michaelcvazquez/
Michael started his health and fitness journey the same time he started his fatherhood journey. His determination to be healthy for his son has since grown into a career of helping others be their healthiest self. His overall mindset about like is to give every effort 100%. Michael is a big believer it writing down your goals, no matter how big or small. His workouts are incredibly simple and functional with the main goal of increasing athleticism.

Alex Silver-Fagan
http://www.alexsilverfagan.com/
Alex focuses on functional fitness, training for a specific purpose. Her workouts combine a variety of movements including powerlifting, Olympic lifting, CrossFit, yoga, and more. She is a Nike Master Trainer and works with Women's Health, SELF, and Cosmopolitan. Her certifications include CPT – American Council on Exercise, SFG1 Kettlebell Instructor, and Certified Functional Strength Coach (CFSC).

Zac Marion
https://www.instagram.com/zac_marion/
Zac changed his own life after achieving major weight loss to feel better and get healthier. He developed a love of endurance training on his personal weight loss journey and now helps others to make better health goals as a doctor of physical therapy.
iFit Data Tracking
iFit uses its suite of apps to collect a large set of data pertaining to your overall health. You'll have a record of every iFit workout performed, calories logged, activity captured on your mobile phone, and even your sleep patterns. Data collected from iFit Cardio and iFit Sleep is synced with iFit to compile information in one place.
Web Browser View

Mobile App View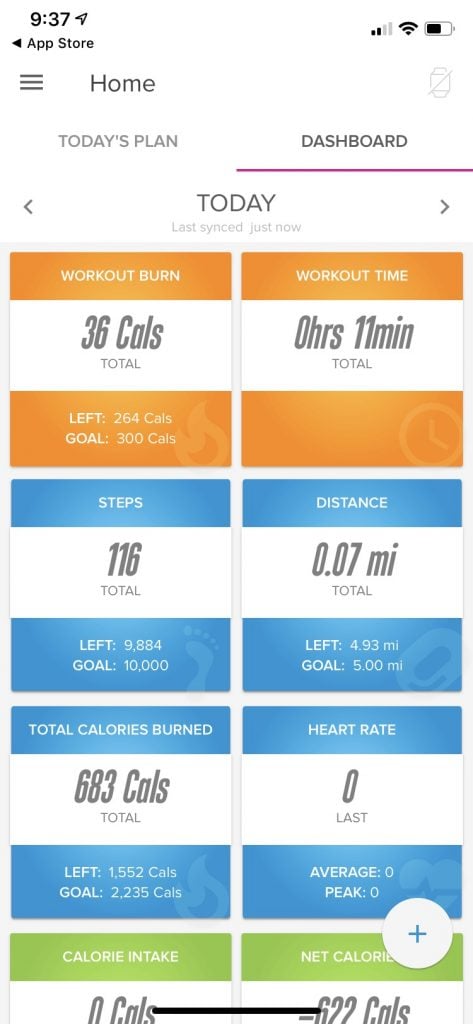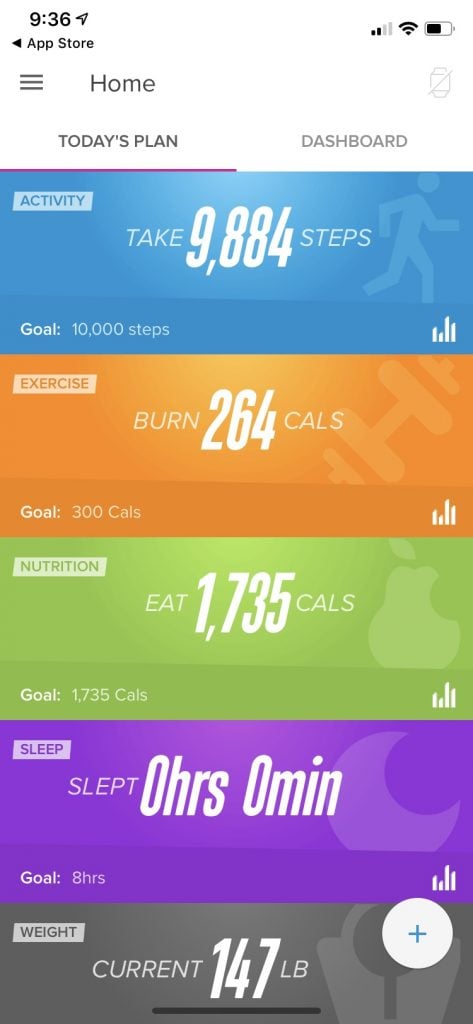 Exercise Data Tracking
You'll find all the cardio classes in the app "iFit Cardio". This includes running, cycling, rowing, ellipticals, and floor. After performing an iFit class, your data is saved to your iFit account. You can view daily/weekly/monthly totals.
Each class will record the following data:
Heart rate (current, highest, average)
Distance
Elevation gain
Incline (current, highest, average)
Speed (current, highest, average)
Total Calories Burned
Time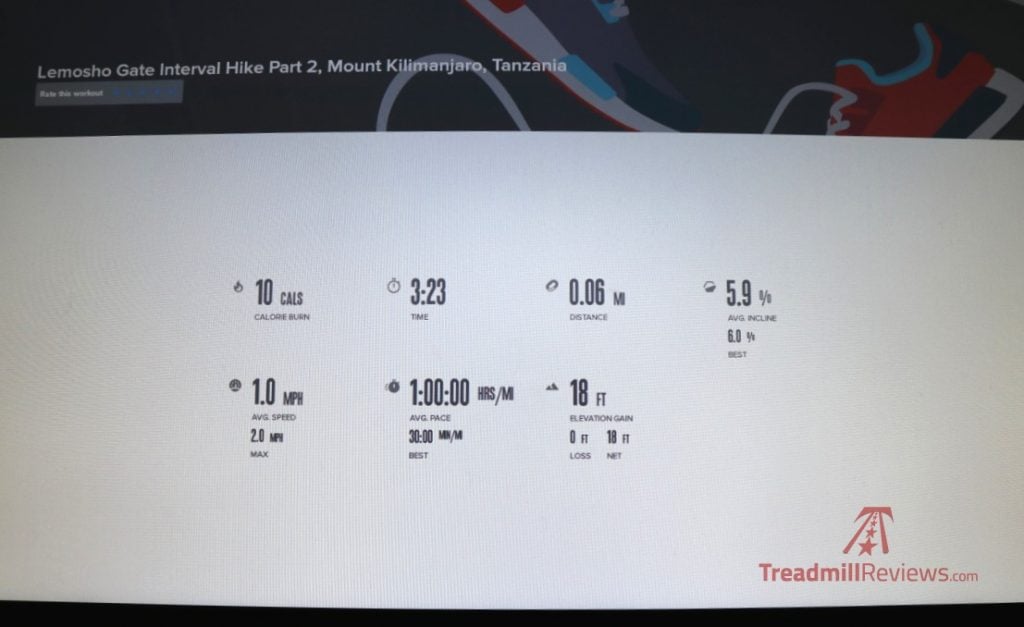 Display on your phone, tablet, or cardio machine shows a digital read-out of the information and can also be viewed as a line/bar graph. This info is also stored in the cloud for later review.
Nutrition Tracking
iFit marketing states you can receive "Individualized nutrition plans" – This is NOT personalized. Speaking with their customer service, I found out that what this means is there's a web page you can visit to get meal ideas (the iFit blog) and you can personally make those meals but the macros and nutritional data is not tailored specifically to you by a professional dietitian/nutritionist/trainer.
With nutrition tracking in iFit, you can view daily, goal-based calorie targets that automatically adjust throughout the day to keep you on track. Consistently tracking your daily activity/exercise is key to making sure this calorie target is accurate.
Nutrition tracking on iFit also gives you access to a library of recipes/videos for making your meal plans. These can be filtered by allergies, calories, diet specifications, and more. The nutrition portion of iFit on the web platform also provides educational articles and a proprietary shake mix called Nourish.
Activity Tracking
This iFit feature is somewhat reliable for tracking your activity but only if you're devoted to carrying your mobile phone in your pants pocket 24/7. It used to be really functional when iFit offered a wearable but they are no longer doing that. iFit is currently working out a deal with Apple to be able to integrate with Apple Health so you can sync your iFit usage to your Apple watch. Stay tuned for that big news!
If you diligently track your activity with iFit, the app will automatically adjust other aspects of your training (like calorie requirements (nutrition and exercise) to meet daily goals.
Sleep Tracking
To use this app, you'll need the iFit Sleep HR sensor which is an additional $119. The general purpose of the sleep app is to aid in exercise recovery. This app offers sleep suggestions based on your daily exercise, activity, habits, and current sleep patterns.
The iFit Sleep app tracks your heart rate, respiratory rate, and other sleep patterns while you're sleeping which is then used to create an individualized sleep plan to help improve the quality of your rest.
This feature provides daily tips and advice from iFit sleep experts and also has a built-in alarm. The heart rate monitor is compatible with iPhone 4s and newer, iPod touches 5th generation and newer, and Android 4.3 and newer. It can be placed under mattresses between 4"-20" in thickness.
Competing Against Other Users in iFit
Create your own challenge and invite friends to compete with you. The parameters for the challenge can vary. You determine the time frame (minutes, hours, days, weeks, or months)
Join existing challenges to compete with others in the challenge group.
View Challenges

Public
Create Your Own
Invited
Completed

Filter Options

Run or Ride
Distance (0.3 Miles to 15+ miles)
Is iFit Usable On and Off The Machine?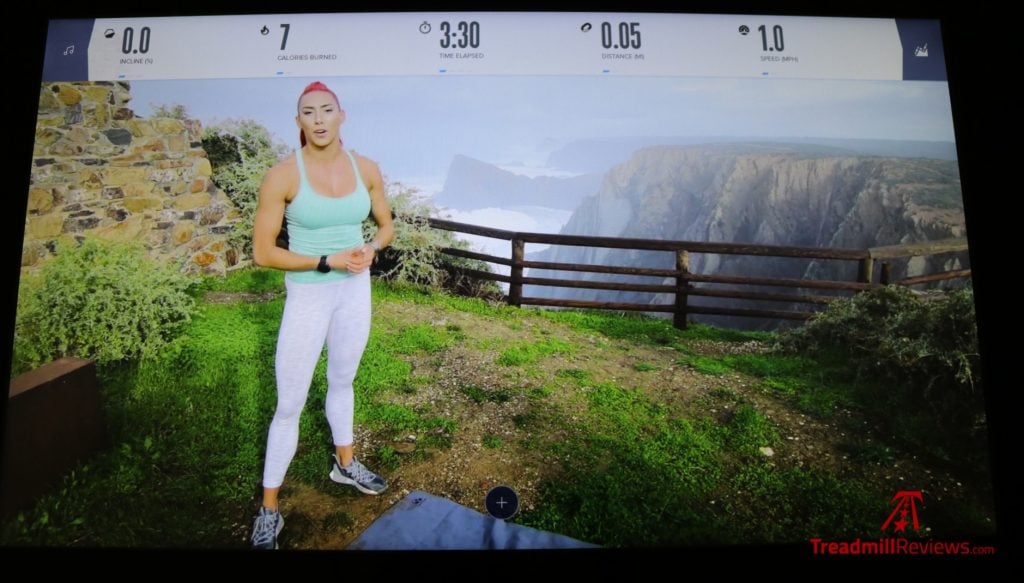 iFit tracks your activity via your mobile phone. So you can get a better idea of how much you're moving during the day. This information is synced across all iFit enabled equipment and apps and used to calculate your daily calorie burn.
iFit also has many series of classes that incorporate full-body movement, floor exercise, bodyweight exercises, and cross-training. You can walk outdoors while following along with running or walking videos and pause when the instructor pauses to perform bodyweight exercises or whatever else they're doing. However, iFit has a little ways to go to make iFit a true gym-membership replacement. While you don't have to have specific treadmills and other cardio equipment to follow along with an iFit class, you get more out of iFit if you do.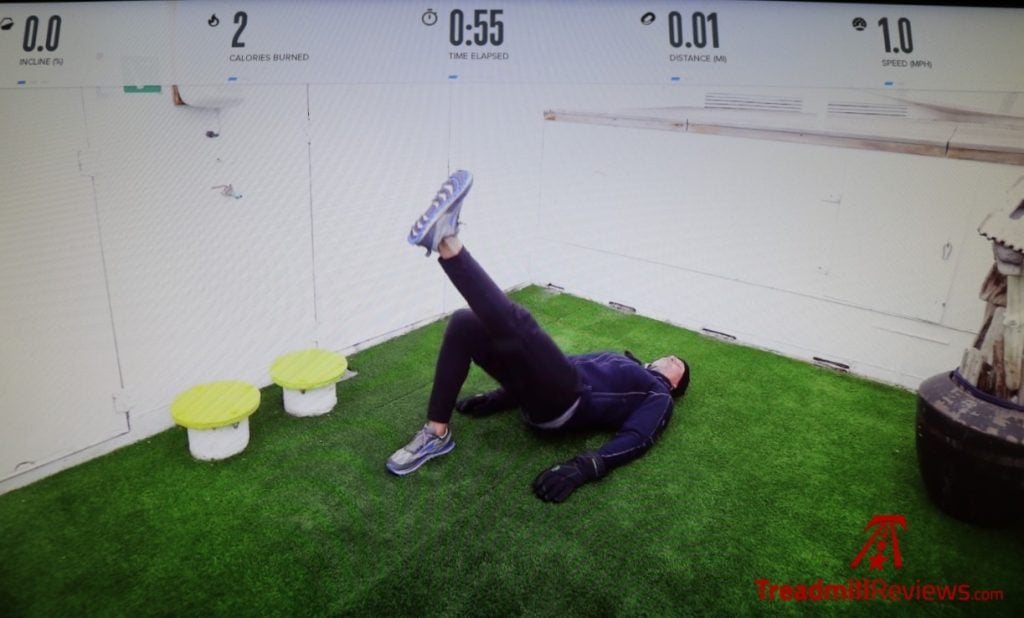 iFit Subscription Limitations
We've been fans of iFit for a long time and with each new upgrade to this subscription service, we are more convinced of it's value. What we hope to see from iFit in the future is this:
More Versatility – iFit has the outdoor running, walking, hiking, and biking series down. These classes are chock full of breathtaking scenery, informative commentary, and engaging workouts. But off the machine, things get a little less exciting. We hope to see iFit grow into a true solution for home exercise that is well rounded and engaging. Updated kickboxing, yoga, and other floor classes would be a huge improvement.
More Intuitive and User-Friendly Interface – iFit was started by ICON fitness, the giants of home exercise machines (treadmills, ellipticals, bikes, etc). These guys know how to make a great product. Now, we're hoping to see more investment in the development of their software. Currently, it's a little bulky and disorganized. We're hoping to see upgrades to the mobile apps and desktop versions of iFit that are more intuitive and easier to navigate.
Let's Talk About iFit Reviews You're Seeing Online
If you google iFit Reviews you're going to see a lot of negativity. We sure did! But we read through review after review after review and were really astonished. So many of these reviews seemed like issues that arose from user error. Freezing screens, poor download speeds, glitchy service? This was the lingo in a lot of reviews. But this typically boils down to two things – low internet speed (user error) or not updating the software (another user error). So we're ignoring a lot of these comments.
We have gotten our hands on lots of equipment that's iFit capable and we have had zero issues with iFit. On one machine, we had to delete the iFit software and redownload it to get things working correctly, but this issue was resolved pretty easily by contacting the iFit support via their online chat feature. We explained to the rep what was going on with the treadmill, they sent overwritten instructions for deleting and reinstalling the iFit software, and we were up and running in no time.
More Complaints We Were Seeing Online…
Complaints like "the desk treadmill won't even turn on unless you pay for the iFit subscription" or "after a free month of iFit I was forced to renew…" are totally bogus. No offense to the users who are obviously confused but these complaints just aren't reliable and are flat out misguided and wrong. Keep in mind that when you're dealing with a company the size of ICON fitness who's selling WAY MORE machinery than their competitors, you're going to find a lot more reviews for their products (iFit, NordicTrack, ProForm, etc) and who leaves reviews online? It's mostly the grumpy people. So take that commentary with a grain of salt.
Our Bottom Line Review of iFit
We've been keeping a close eye on iFit for a few years now as they've been developing their platform. Watching their progress gives us a lot of confidence in their path down the road. You can tell that they've put time and money into developing their training programs and media. And based on their growth so far, we're confident that they will continue to improve their program. We love the versatility that iFit offers with machine-based classes and classes that don't require any machinery or equipment. iFit is becoming a program that not only adds a ton of value to ICON Fitness home gym equipment but also anyone looking for a home-exercise program to get in shape. We confidently recommend iFit and give it 5 stars for a subscription-based home exercise program.
iFit Pairs With Some Really Great Home Cardio Machines
Check out our reviews of home treadmills, ellipticals, and exercise bikes that pair with iFit. Below are some of our favorite machines by ICON fitness.
iFit Compatible Top Home Treadmills
Commercial 1750
X22i Incline Trainer
iFit Compatible Top Home Ellipticals
NordicTrack FS7i Freestride Trainer (Elliptical)
iFit Compatible Top Home Exercise Bikes