Last Update: September 12, 2023
There is no single reason why someone might want a treadmill. The home treadmill market represents varied needs, making it hard to label a single treadmill as the best. Treadmill users range from the reluctant walker to the marathon runner, from the power walker to the couch to 5k runner. Pros turn to cons and cons to pros depending on your circumstances and training philosophies. Considering this, we have identified several treadmills that encompass as many of these needs as possible to label as our best treadmills.
Here at treadmillreviews.com, we intend for you to use this list as a guide to finding the best treadmill for you. This list compiles our treadmill expertise and best advice to give you an expert overview of what the market has to offer. Peruse this list or deep dive into one of our more detailed reviews to make this big buying decision much easier.'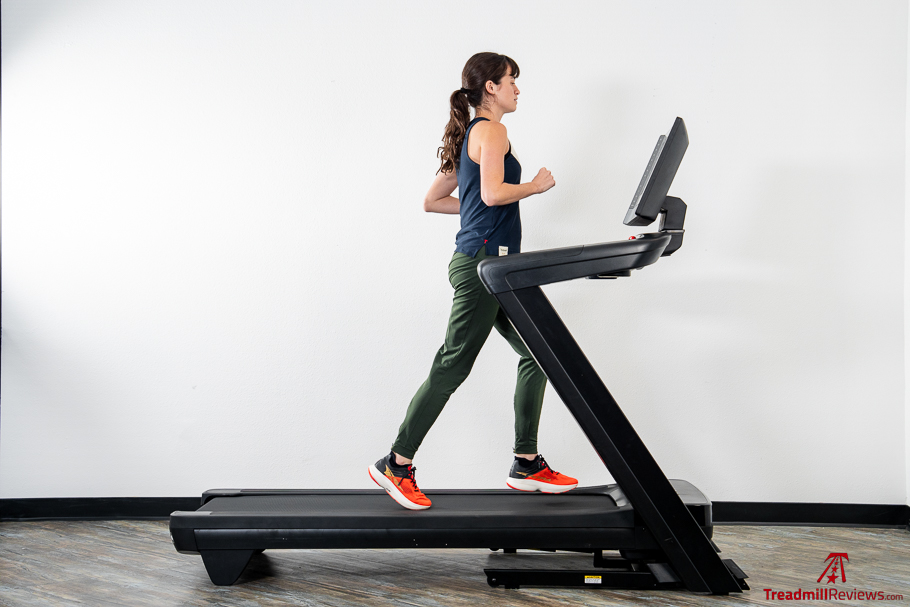 Here's Our List Of The Best Treadmills of 2023
Best Treadmills For 2023
Best Treadmill Overall: NordicTrack Commercial 1750 Treadmill
The NordicTrack Commercial 1750 Treadmill is our pick for Best Treadmill Overall. It reigns as one of the most popular treadmills from a high-rated brand, because it delivers on its promise of superior cushioning, great construction, and premium-feeling features. It looks and performs at the top of its class.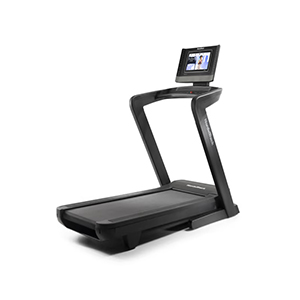 The NordicTrack Commercial 1750 Treadmill cushions every step and delivers premium subscription content from iFIT through its 14" HD touchscreen.
The NordicTrack Commercial 1750 Treadmill comes from NordicTrack's high-end Commercial line, known for its unbeatably soft cushioning. The 1750 earns our pick for best treadmill overall for the way it transforms your cardio routine. Runners and walkers alike will find the soft deck helps them go further and longer and offers a fantastic recovery option from the grind of outdoor cardio. NordicTrack offers a 30-day free trial of iFIT with your purchase, so you can get a feel for the impressive content iFIT offers.
Travel around the globe from the cushioned deck of the 1750 through iFIT's trainer-led classes filmed in worldwide destinations. The quality of the HD screen makes it easy to get lost and let the miles slip by. The incline adjusts to mimic real-world terrain, even if you create your own workout from the Google Maps integration. You may be running indoors, but it will feel like you can run anywhere.
The encouragement doesn't stop at the end of the 60" belt but carries over into your entire routine. The touchscreen pivots for ease of viewing as you experience one of iFIT's off-treadmill workouts from categories like yoga, HIIT, or strength training. The speaker volume is great, but you can also pair Bluetooth headphones for a superior listening experience. iFIT records your progress on and off the treadmill to keep you progressing through your fitness journey.
The NordicTrack Commercial 1750 proves you don't have to have the most expensive treadmill on the market to have all the premium features you could want. Even without an iFIT subscription, this treadmill shines for its construction, cushioning, and free content. The 1750 is our best overall treadmill, because we want to keep putting miles on it, and we know you will too.
+

PROS
The 3.5 CHP motor is powerful enough for heavy use in a multi-user household.
The soft cushioning reduces the impact on your body while easing you into the next step, so cardio at any speed feels easier than ever.
The 14" pivoting screen and impressive audio quality ensure you get the most out of your iFIT subscription on and off the treadmill.
iFIT AutoAdjusts the speed and incline to give you a hands-free experience that learns your ability level and adapts over time.
The 1750 can decline up to -3% and incline to 12%.
Speed and incline adjustments are easy with the press of a OneTouch button and quick and smooth transitions.
–

CONS
Besides the free-to-access preloaded workouts, the only content available through the touchscreen is iFIT. There is no option to use streaming apps.
The console shakes at higher speeds, particularly when landing on your heels.
Read Our Full Review Of The NordicTrack Commercial 1750 Treadmill Here
---
Best Treadmill for Home Use: Sole F80 Treadmill
The Best Treadmill for Home Use prioritizes what homeowners prioritize–a quiet motor, portability, and enough features to replace your gym membership. The F80 fulfills all these demands and supplies even more features to love.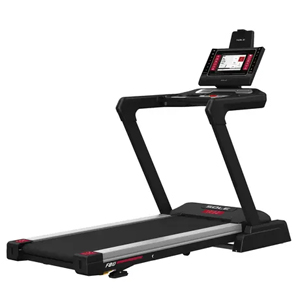 The Sole F80 continues Sole's legacy of sturdy machines with its lifetime frame and motor warranty. This is a gym membership-canceling treadmill.
The F80 addresses common concerns of home treadmill buyers. It is quiet, more portable than other treadmills of its size and quality, and provides a superior experience with or without a subscription to Studio's premium content. Unlike other treadmills, Studio is accessed through your own device, so the treadmill's functionality is not impacted by your decision to use the platform. Additionally, the 3.5 HP motor allows this treadmill to meet the demands of all the walkers and runners in your household.
Your training has no limits on the F80, with a speed range of 0 to 12 mph and an even more impressive 0 to 15% incline. Train with the premium Studio app, be entertained by one of the integrated streaming apps, follow one of the many preloaded training programs, or view content from your device resting on the elevated rack. The Bluetooth connectivity lets you train to your music or stay in a heart rate zone with a compatible Bluetooth HR monitor. The options are truly limitless.
The F80 folds to reduce the space it takes up in your home. Its 22" x 60" Cushion Flex Whisper Deck is reported to reduce impact by up to 40% compared to running on asphalt, so you can have a softer running experience compared to trotting around the cul-de-sac. Even better, you don't have to step off your treadmill to charge your device with the wireless charging pad. The F80 has everything you need built into one sleek treadmill.
+

PROS
The quiet main motor and incline motor keep you from disturbing your housemates.
Train with or without a Studio subscription. The F80 has a touchscreen, device rack, and screen mirroring capabilities for many different ways to exercise.
Stream your favorite shows and movies with integrated entertainment apps.
The incline range is impressive at 0 to 15%
Bluetooth compatibility lets you pair a heart rate device or play audio through the treadmill speakers.
The F80 folds for easy storage and is easier to move than competitors.
–

CONS
The F80 has less storage space than treadmills with crossbars between the uprights.
Read Our Full Review Of The Sole F80 Treadmill Here
---
Best Treadmill with a Touchscreen: ProForm Pro 9000
The ProForm Pro 9000 is a standout for Best Treadmill with a Touchscreen, because it is the most affordable treadmill with a 22" touchscreen. HD displays with touchscreen capabilities have become the standard for treadmills to deliver trainer-guided content, and the Pro 9000 delivers for hundreds of dollars less than its competitors.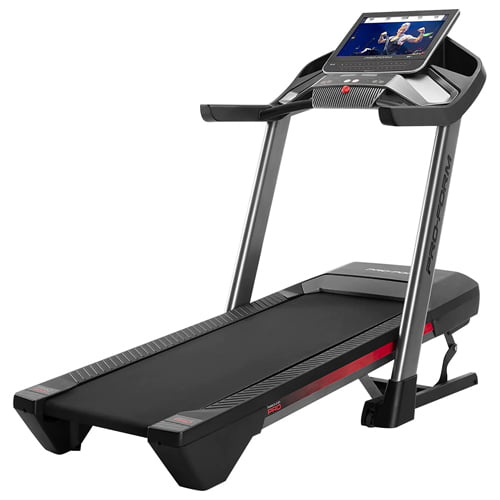 The ProForm Pro 9000 has a 22" touchscreen and a powerful 3.6 CHP motor, so everyone can have a great workout at any speed.
The ProForm Pro 9000 Treadmill has features that make it competitive with higher-end treadmills. The most obvious is its 22" smart HD touchscreen. The cushioning is moderately soft underfoot, which is particularly great if you don't care for the bounce of overly cushioned treadmills. ProForm also offers a 30-day free subscription to iFIT, so you can test the platform before committing. We recommend iFIT's content, because it lets you take full advantage of the 9000's smart features, including the 22" screen.
The 9000 stacks up well against competitors by offering a generous -3% to 12% incline/decline range with a standard 0 to 12 mph speed range. The 3.6 CHP motor is ideal for activities at the entire speed range and multi-user households. Regardless of how you prefer to train, the 9000 is up to the task.
iFIT greatly expands this treadmill's training functions. With any Polar brand heart rate monitor, you can train via heart rate zone and keep track of this metric. iFIT also learns your ability level to automatically adjust the treadmill speed and incline to match your current fitness. With thousands of classes, iFIT keeps you motivated mile after mile.
+

PROS
The 22" smart HD touchscreen is the most affordable large treadmill display.
Bluetooth lets you pair headphones or a heart rate monitor for an improved training experience.
The cushioning is one of the softest, but it still feels natural to run on the deck.
A -3% to 12% incline/decline range allows you to mimic outdoor training more accurately.
The speaker quality is great without maximizing the volume. iFIT trainers or Feed.FM radio can be heard over the motor and every footstep.
The 9000 is a folding treadmill.
–

CONS
The display restricts your access to iFIT content or preloaded activities.
Read Our Full Review Of The ProForm Pro 9000 Treadmill Here
---
Best Incline Treadmill: NordicTrack Commercial X22i Incline Treadmill
The NordicTrack Commercial X22i Incline Treadmill has a peerless incline range of -6% to 40%. Your quads are all but guaranteed to burn on this steep incline. This treadmill is a fantastic indoor training option for hikers and trail runners who want to replicate the demands of the trails even when the weather or their schedules won't allow it.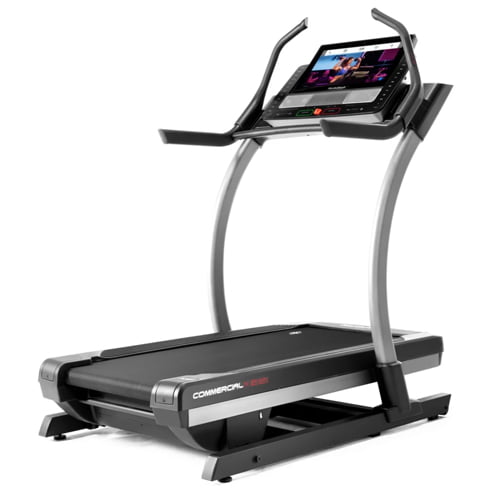 The NordicTrack Commercial X22i Incline Treadmill has a maximum incline of 40%, complemented by a sturdy build. The 22" HD touchscreen vividly displays iFIT's worldwide content, so you can ascend a mountain within your home.
The NordicTrack X22i has the most impressive features and technical specs of any treadmill on this list, but it won't be for everyone. This treadmill is for walkers and runners who love vertical gain and hate their quads. The 40% incline will tax the most trail-hearty athlete out there. Drop into a valley with the -6% decline when you finally need some relief.
The screen is compatible with iFIT's fitness platform. You can train with over a hundred top coaches or create your own routes with Google Maps. The cinematic display shows iFIT's worldwide content while the incline adapts to match the real-life terrain, so all you are missing is the wind in your hair and the rocks or roots beneath your feet.
With such impressive features, the X22i has a sturdy build to match. This treadmill does not fold to ensure maximum stability while ascending those peaks. The 4.0 CHP motor is up to task for walking, running, and those steep climbs. The incline handles are comfortable to reach at the top of the incline, so you feel supported all the way. The X22i is built for you to push yourself hard, which is why it is our Best Incline Treadmill.
+

PROS
The incline range is unbeatable at -6% to 40%.
The 22" HD touchscreen helps you feel like you are really on that mountain, making the ascent.
The soft cushioning helps the treadmill go easy on your legs even if the incline doesn't.
The incline handles help you feel supported for the entirety of your workout.
The build is very sturdy for minimal screen wobble or treadmill shake.
The deck is spacious at 22" x 60".
–

CONS
The X22i does not fold.
The cup holders are behind the screen, making them harder to reach while the treadmill is flat. The cup holder position complements training at an incline only.
Read Our Full Review Of The NordicTrack Commercial X22i Incline Treadmill Here
---
Best Treadmill for Walking: Horizon T101
The Horizon T101 is an affordable walking treadmill with a durable build. This treadmill dominates its category with an impressive range of features. Though not made for running, this treadmill can handle the toughest walks and the occasional short run. It comes with an impressive lifetime warranty offer for the frame and motor, something unheard of for a treadmill well under $1000.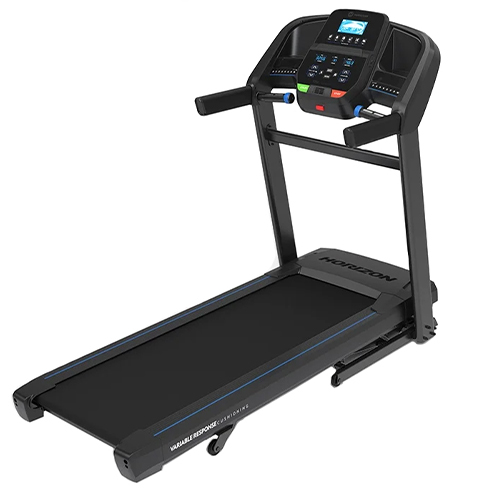 The Horizon T101 Treadmill is a no-frills, sturdy treadmill for walking.
The Horizon T101 is an affordable treadmill with a 2.5 HP motor that is ideal for walking. The T101 keeps things simple with a low-tech display. As a part of Horizon's Go Series, the T101 allows walkers to do just that–get on and go!
Horizon boasts some of the fastest speed and incline changes on the market, making this an ideal treadmill for faster walking and incline intervals. A max speed of 10 mph and a maximum 10% incline mean you can vary your training greatly on the T101. The QuickDial controls allow you to scroll quickly from one interval to the next.
No subscription is necessary to use all of the Horizon T101 Treadmill's features. For more than manual activity, select one of the five preset programs. Simple metrics keep track of what you want to know while leaving out all the extra. The treadmill displays calories, distance, heart rate, incline, speed, and time in the 3 LED windows. Tactile buttons toggle between these metrics and control which program the treadmill will automatically adjust speed and incline to match.
The T101 is perfect for walking. This is a great treadmill for anyone who wants a low-tech cardio option but a solid treadmill for their money. The T101 is small but mighty.
+

PROS
The T101 is a great value treadmill at well under $1000.
Horizon offers a lifetime warranty on the frame and motor.
The simple display and low-tech design mean this treadmill is ready to go when you are.
No subscription is required, keeping the overall cost of the T101 low.
Bluetooth connectivity allows you to play your music through the speakers.
USB charging port allows for phone or device charging.
Foldable for easy storage.
–

CONS
The T101 is not suitable for running.
The speakers and fan are underwhelming.
Read Our Full Review Of The Horizon T101 Treadmill Here
---
Best Treadmill Without Content: Sole F63 Treadmill
The Sole F63 is Sole's most affordable treadmill. Yet, the F63's affordability has not affected its sturdy build. The Sole F63 does not require any content to access its features. Thus, it deserves recognition as our Best Treadmill Without Content. Anyone who wants a long-lasting treadmill without an ongoing monthly subscription will enjoy the Sole F63.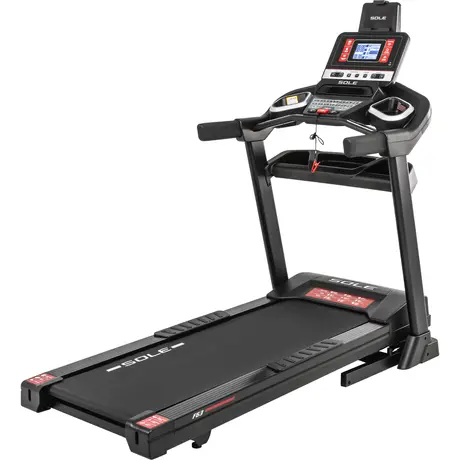 The Sole F63 does not lock any of its features behind a monthly subscription. It is straightforward and well-built.
The Sole F63 Treadmill has a 6.5" LCD screen for viewing simple workout metrics, program progress, a quarter-mile track, and machine messages. The tactile buttons on the console control the machine's speed, incline, and program settings. The Sole+ app connects via Bluetooth to store your workout history, but not even this free app is required to get the full experience of the Sole F63.
The frame and motor have lifetime warranties. The treadmill is quite stable. I did not notice the console shaking at all while I was walking or running. My phone sits securely in either tablet storage area. Since the treadmill does not come with any content, the tablet racks make it extremely convenient to view third-party content. The built-in programs offer a decent amount of variety with heart rate training, hill, fat burn, cardio, strength, and HIIT programs. There are also two user-defined programs, which can be programmed using the dot matrix on the LCD screen.
The Sole F63 is suitable for running or walking. The deck is very firm and similar to running on asphalt or concrete. It is better for runners trying to replicate an outdoor experience. The console is easy to use with its many tactile buttons. The F63 treadmill is a great treadmill for users looking to hop on and go!
+

PROS
No subscription is required to exercise on the F63.
The frame and motors have lifetime warranties.
The console is extremely sturdy, hardly shaking at all during exercise.
There are two tablet racks for viewing entertainment or training content.
The console is low-tech, so exercisers can start exercising sooner.
–

CONS
The speed and incline ranges do not show every digit in the range, so accessing some speeds or inclines is slow.
The deck may be too firm for users looking for increased shock absorption compared to outdoor running or walking.
Read Our Full Review Of The Sole F63 Treadmill Here
---
Best Treadmill for Running: Bowflex Treadmill 22
The Bowflex Treadmill 22 is a tank of a treadmill. It can take anything you throw at it, from recovery runs to intervals to long runs. Whether you are following a training plan for your next marathon and want to be entertained or new to running and need guidance from the JRNY classes, the Treadmill 22 has much to offer, making it the obvious choice for our Best Treadmill for Running award.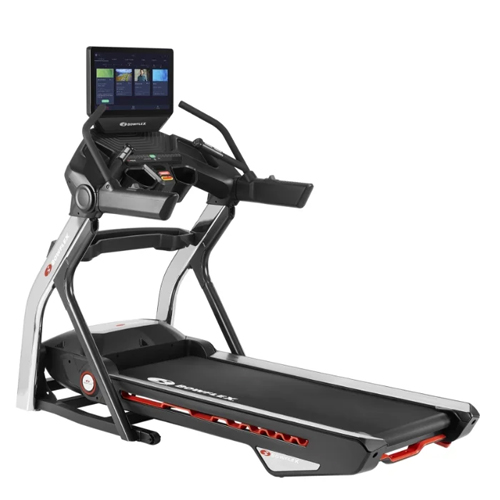 The Bowflex Treadmill 22 has a 22" touchscreen with almost every imaginable feature below it. The Treadmill 22 is built to accommodate walking or running at any intensity.
The Bowflex Treadmill 22 is a speed range of 0 to 12 mph and an incline range of -5% to 20%. It is ready for runners to push those ranges to their max and take full advantage of what the Treadmill 22 has to offer. The treadmill looks straight out of the future with its red, black, and chrome aesthetic. The Treadmill 22 is very large and has a triangulated base to ensure it is sturdy.
The JRNY digital fitness platform offers studio and outdoor classes to guide your fitness. If you prefer to watch your favorite shows or movies, you can do so from the 22" touchscreen by integrating apps like Netflix, Hulu, and HBO Max. We know runners rarely train one way, and if you are logging a run of an hour or more on a treadmill regularly, you want options. Well, the Bowflex Treadmill 22 has them.
Features are packed into this treadmill. The cushioning is firmer, mimicking the road better than more cushioned models. This will help you get the most out of your workout. There are two cup holders and a large storage compartment on the crossbar, so all your belongings can be kept close. There is also a textured device rack for content viewing off the built-in touchscreen.
With all this to offer, it is a shock that the Treadmill 22 folds. The Treadmill 22 will require a dedicated space due to its high weight of 336 lbs. Thankfully, the folding feature reduces the length by almost half. The Bowflex Treadmill 22 is a machine runners will want to find room for.
+

PROS
The Treadmill 22 has an extremely sturdy and powerful build to suit the hardest runs.
The 22" touchscreen display is very sturdy for viewing multiple types of content while walking or running.
Stream JRNY fitness content or your favorite tv shows and movies.
One year of JRNY is included with the purchase.
Bluetooth connectivity for audio in or out. Good speaker quality for easy listening during activity.
Bluetooth heart rate monitor included with purchase.
–

CONS
At 336 lbs, this treadmill requires a dedicated space, though it can be folded to reduce the length by almost half.
A JRNY membership is required to access almost all of the onscreen content.
Read Our Full Review Of The Bowflex Treadmill 22 Here
---
Best Budget Treadmill: Horizon 7.0 AT Treadmill
The Best Budget Treadmill award goes not to the cheapest treadmill but to the treadmill suited to the largest range of people at the most affordable price. That treadmill is none other than the Horizon 7.0 AT. This affordable treadmill is suitable for walkers and runners.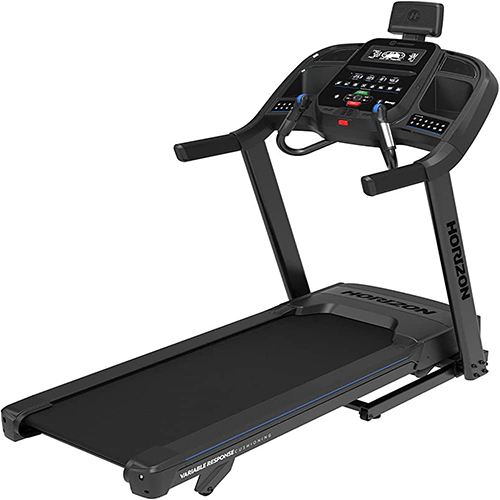 The Horizon 7.0 AT Treadmill is an affordable treadmill for cardio lovers of any speed. The 3.0 HP motor can handle walking and running.
The Horizon 7.0 AT Treadmill keeps costs low by giving you the strictly necessary features and embracing third-party integration. The Horizon 7.0 AT doesn't want to dictate how you train like pricier treadmills that lock you into their subscription content and don't provide device racks. The 7.0 AT has a device rack and limited integration with other fitness apps, so you can decide how to train. The 7.0 AT will appeal to a wide variety of users with its 3.0 HP motor, which can support walking and running activities.
If you are already using a specific training app, don't worry about making the switch. The QuickDial controls allow you to scroll to adjust the speed and incline as the trainer suggests, similar to the knobs on the Peloton Tread but without the steep price. The device rack lets you set your device right on the treadmill, keeping the cost down over investing in a treadmill with a large screen. Whether you want to use the third-party app integration, watch entertainment, or read your Kindle, the 7.0 AT makes it easy.
The Horizon 7.0 AT lacks the premium finish and feel of higher-end treadmills, but it surprises you by offering features that those treadmills don't have. Overall, the low-tech feel of this treadmill gives you more training options than many premium treadmills. Train "smart" or hop on and go. The 7.0 AT lets you do it all.
+

PROS
No subscription is required, so no features are ever restricted.
The 7.0 AT lets you train however you want with a few preloaded workouts, the device rack, an included heart rate monitor, and the QuickDial controls.
The 3.0 HP motor makes this treadmill suitable for walking and running.
A lifetime motor and frame warranty indicate the sturdiness of the 7.0 treadmill's build.
The 7.0 AT has improved compatibility with third-party fitness apps by transmitting heart rate data and the QuickDial controls for easy transitioning speed and incline to match trainer instructions.
The 7.0 AT folds for easier storage.
–

CONS
The Horizon 7.0 AT is not as sturdy as the pricier treadmills on this list.
The 3.0 HP is the lowest power we recommend for a running treadmill, meaning it might not support heavy use by multiple users.
Read Our Full Review Of The Horizon 7.0 AT Treadmill Here
---
Best Cushioned Treadmill: NordicTrack Commercial 1250 Treadmill
The NordicTrack Commercial 1250 Treadmill is the most affordable option from NordicTrack's super soft Commercial line. For our award considering cushioning alone, the 1250 takes the cake. Yet the 1250 has so much more to offer. If you are looking for a highly cushioned treadmill, you can have that with the 1250 and a whole lot more!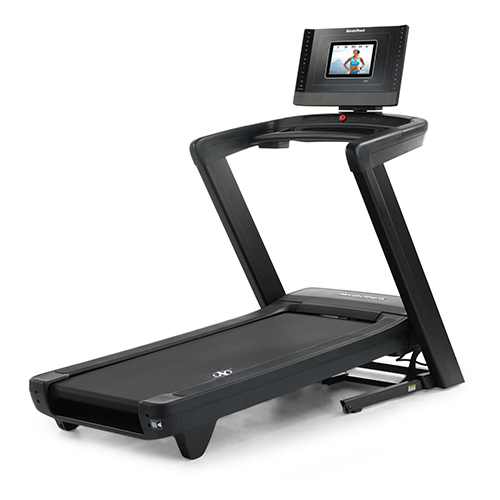 The NordicTrack Commercial 1250 Treadmill is a highly cushioned treadmill packed with high-end features for an overall premium feel.
The road is hard, the weather is unpredictable, and routes get stale, but the NordicTrack Commercial 1250 Treadmill has the answer. With one of the softest cushioned decks on the market, the 1250 ensures every step running or walking is no harder than it needs to be. This treadmill is great for daily use as its shock absorption helps you keep going day after day, but it is also a great recovery option for runners pounding miles out on the pavement.
In addition to the phenomenal cushioning, the NordicTrack Commercial 1250 also comes with 30 days free of iFIT. With a subscription to the platform, you can fully use the 10" HD smart touchscreen. iFIT almost replaces your need for a coach with its vast capabilities. Train hands-free with automatic adjustments of the speed and incline based on your past performances, program new routes, or start a training series.
The 1250 rolls into one package a host of premium features. As the Commercial series's most affordable treadmill, you can get the cushioning you want without paying too much for features you may or may not use. The 10" screen is perfect for an introduction to iFIT's training content.
+

PROS
One of the softest cushioned decks on the market.
The 10" pivoting display transports you all over the world for instruction from top trainers on and off the treadmill.
With geometric angles and a sleek black finish, the 1250 looks modern and premium in any home.
The 1250 is more affordable than the other well-cushioned Commercial series.
The motor hood is minimally intrusive at the front of the belt, so your foot should not hit it often or at all.
iFIT's platform lets you train hands-free so you can stay focused on your workout and not the treadmills buttons.
–

CONS
The 10" HD touchscreen only works with iFIT content outside of a handful of free-to-access programs and featured classes.
Read Our Full Review of the NordicTrack Commercial 1250 Treadmill Here
---
Best Treadmill for Larger Users: Sole F85 Treadmill
Ideally, we want fitness equipment to accommodate humans of every height and weight. Falling short of this, we recommend the Sole F85 for having impressive spec and feature lists designed for larger users. The 4.0 HP motor is powerful, the running deck is spacious, and the weight capacity of 375 lbs is among the best on the market.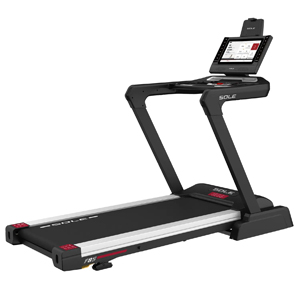 The Sole F85 has a weight capacity of 375 lbs, a 4.0 HP motor, and a 22" x 60" running surface. These features are inclusive of a wider range of user sizes.
Sole treadmills are built to be sturdy, and the F85 is no different. With a lifetime frame and motor warranty, the F85 is made to last. The 4.0 HP motor powers you through the treadmill's entire speed range of 0 to 12 mph, while the quiet incline motor carries you from -6 to 15%. Sole made the F85's step-up height only 8", a relatively low height.
The F85 has an impressive range of features. One unique feature of the F85 is the wireless charging pad. The F85 includes a 15.6" touchscreen, an elevated device rack for easy viewing, Bluetooth features, and pulse grips. Runners and walkers will be hard-pressed to find something the F85 doesn't have.
The Sole F85 Treadmill deserves the award for Best Treadmill for Large Users, not only for its weight capacity. It is quiet and easier to move than other treadmills. It is packed with features, including the option to subscribe and pair your treadmill with Sole's Studio fitness platform to access thousands of classes. No features were sacrificed in making this treadmill the robust machine it is.
+

PROS
A 375 lb weight capacity makes this a sturdy machine.
The 4.0 HP motor can power all your workouts, whether you walk or run.
The incline range is impressive at -6% to 15%.
The deck is a spacious 22" x 60", while the step-up height is only 8".
The F85 has a wireless charging pad, a 15.6" touchscreen, a device rack, and Bluetooth speakers.
The F85 folds and is easier to move than other models its size.
–

CONS
The quick-adjust buttons skip around, not displaying the full speed and incline ranges.
Read Our Full Review Of The Sole F85 Treadmill Here
---
Best Treadmill with Premium Content: ProForm Pro 2000 Treadmill
ProForm and NordicTrack fall under the iFIT umbrella, providing thousands of classes for 30 days free with the purchase of a treadmill. We love the ProForm Pro 2000 for our Best Treadmill with Premium Content award for its 10" HD touchscreen and smart speed and incline adjustments.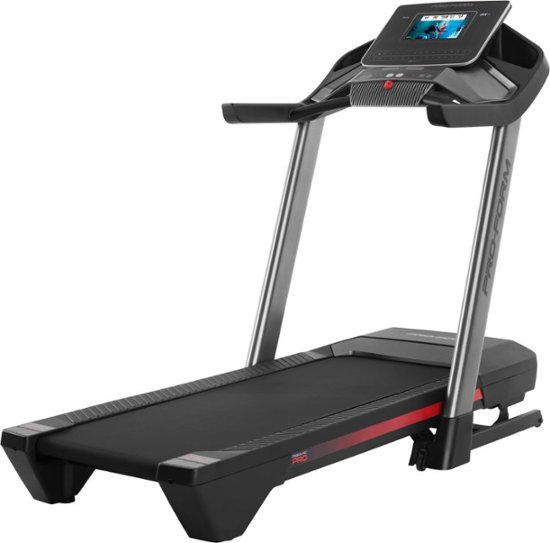 The NordicTrack EXP 7i is a new model in the NordicTrack lineup that is a great, high-tech, and compact option for home use.
After evaluating both NordicTrack and ProForm because of their offering of the iFIT platform, we discovered that the ProForm Pro 2000 meets two of our most important minimum requirements when it comes to treadmills–screen size and motor size. The 2000 surpasses our 3.0 HP requirement to be a suitable treadmill for regular running with its 3.25 CHP motor. Additionally, the 10" HD screen of the Pro 2000 is our preferred minimum for comfortable content viewing. Together, these factors explain this treadmill's domination of this category.
iFIT's classes take you around the world to places you have never been but will desperately want to go to after you complete a virtual workout there. The smart adjusting incline matches the real-life terrain as accurately as possible with the Pro 2000 range of -3% to 12% grade. For speed adjustments, you can train via heart rate, let iFIT learn your fitness level and adjust for you, or override the suggested pace to train at your desired speed. Want a training plan? Join a series or challenge for sequential classes from one of the over 180 trainers.
The ProForm Pro 2000 shines for more than just its content. The cushioning feels nice underfoot, the console is fairly sturdy, and the belt moves smoothly over the 1.9 " precision-balanced rollers. The built-in speakers overcome the motor and running/walking sounds while the fan delivers a cool breeze to refresh you even at high speeds.
The ProForm Pro 2000 delivers a fantastic experience so you can enjoy premium content from iFIT without interruptions.
+

PROS
iFIT comes free for the first 30 days, giving you access to thousands of classes on and off the treadmill.
The 10" HD touchscreen delivers clear content that is easy to adjust and navigate.
The speakers are powerful enough, so you always hear the trainer or music in an iFIT workout.
The deck is well cushioned for a nice, smooth underfoot feel.
The 3.0 CHP motor is suited to both running and walking.
Speed and incline transitions are smooth, keeping your workout flowing.
–

CONS
The angle and height of the screen may be uncomfortable for taller users.
Read Our Full Review Of The ProForm Pro 2000 Treadmill Here
---
Factors To Consider When Finding The Best Treadmill
How do you plan on using this treadmill?
Dedicated walkers, novice runners, and experienced athletes alike could want or need a treadmill to assist with their training and cardiovascular fitness. Training style and frequency will influence the motor size and features you need. A treadmill is not a small purchase for most shoppers, so affordability is often a top consideration in buying a treadmill. However, durability should rank highly, as prematurely burning out a treadmill is the opposite of affordability. Thus, pick a treadmill that matches the demands you and your household will place on it.
Where in your home will this treadmill be stored?
Determine the size of the space you can allocate to a treadmill. Treadmills are not lightweight pieces of equipment. Most will be difficult, if not impossible, for a single person to move. Even if you can move them, you probably won't want to. If you need to conserve as much space as possible, consider a folding treadmill over a non-folding treadmill. If you plan to relocate your treadmill regularly, review what that process will look like to find a more suitable treadmill.
When determining the amount of space you have for your treadmill, remember that the dimensions of the space should accommodate more than the treadmill's footprint, as you will want ample clearance around the machine for safety and comfort. An often overlooked dimension is height. If the treadmill inclines, you should ensure there is sufficient ceiling clearance for this function.
How do you plan to train?
Treadmills come with a variety of features. Knowing how you will train on your treadmill can help determine what features you need access to. If you plan to use a fitness app for guided training, there are treadmills with subscription content that can almost replace a coach. If you prefer to be entertained by reading or watching TV, find a treadmill with a device rack or a touchscreen with integrated streaming apps.
Storage can be largely dependent on how long you plan to train. If you are training for a longer endurance race, consider what you are using to fuel and hydrate while on the treadmill. Some treadmills have only a small water bottle holder, while others have loads of compartments. These features go a long way toward establishing your comfort while training.
Is the treadmill built well, or will it need repairs or replacement sooner than expected?
We look for treadmills with longer warranties, higher-rated motors, reliable customer service, and fewer plastic components to give us an idea of the treadmill's life expectancy. Less expensive treadmills typically come with lesser-quality components. But if you plan on only walking a few miles a week on your treadmill, an entry-level machine might be the most practical choice. Short-term savings can lead to long-term expenses, so ensure that your treadmill choice matches your usage needs and comes from a reliable, trustworthy brand.
What are your mobility needs?
Sturdy footrails and handles go a long way in making a treadmill safe and sturdy to use. If you have a restricted range of motion or are using a treadmill to recover, consider a few additional features to help your routine go more smoothly. A high step-up height to a treadmill's deck could be a barrier to exercise for some users. Additional features for your consideration include but are not limited to screen size for visibility, console accessibility, level of technology, how the treadmill folds and unfolds, and portability of the treadmill.
Treadmills also come with differing degrees of cushioning. Soft cushioning absorbs more shock and may bounce you slightly to the next step for an easier cardio experience. These types of treadmills are great for increasing mileage and recovery. A less cushioned treadmill deck more readily replicates running outdoors and mimics the demands of road running so your body can adapt accordingly. The running surface should correlate to your training goals.
Why Buy A Treadmill For Your Home?
Despite the nickname "dreadmill," some walkers and runners prefer the convenience of treadmill walking and running. Home treadmill use combats the need for a gym membership. It also solves issues related to the safety of running outdoors and the accessibility of safe roads or trails for exercising. There can also be less predictable factors like weather, transportation, personal health, and motivation.
A whole field is devoted to sports and exercise psychology. Motivation is key to establishing healthy exercise patterns. A home treadmill can overcome barriers to exercise as a commitment, a reward, a financial investment, and even a social tool (as is the case with some integrated fitness apps). Treadmills remove the embarrassment of going to the gym or exercising outdoors, which can be hard to overcome for many people. You might want or benefit from a treadmill for many reasons–more than we can name here.
Different Types Of Treadmills To Consider
Budget Treadmills
Treadmills are typically expensive for a reason. They are made with high-quality materials to withstand the large forces inflicted by walking and running. Over a million cumulative pounds of force can be applied to a treadmill during a single run! That said, there are reputable brands that make quality low-tech treadmills for affordable prices. We have included some of our favorite budget treadmills in this list: the Horizon 7.0 AT and the Horizon T101. Be wary of unestablished brands, especially those without any warranty. As mentioned, short-term savings can turn into long-term expenses if you have to buy another treadmill too soon.
Folding Treadmills
The ability to fold a treadmill greatly reduces the area it takes up in your home when it is not in use. These treadmills have impressive features and are often as sturdy as non-folding treadmills. One of the main limitations we have noticed with folding treadmills is the incline range, but if you are not deadset on incline training, these treadmills might be the best fit for you and your home. Just remember to consider how the treadmills fold and unfold. Some provide hydraulic or electric assistance, while others require manual lifting and use a lock and pin system to hold the deck upright.
Non-Folding Treadmills
Non-folding treadmills often include incline trainers and manual treadmills. These specialty treadmills might appeal to you for many reasons, but make sure you have a dedicated space in your home for them. They are typically heavier than their folding counterparts, so enlist help for assembly or moving as needed. Again, make sure you have generous clearance around the treadmill, not just enough for its footprint.
Manual Treadmills
Manual treadmills have two advantages over motorized treadmills. First, they allow for higher speed variance. When you walk or run outside, you don't stay at a fixed pace. Instead, your body adapts to the terrain, your fatigue level, and your body's struggle to maintain a steady state. Motorized treadmills cannot replicate this dynamic experience, but manual treadmills come much closer. Secondly, manual treadmills require you to power them, leading to higher energy costs. Essentially, the same speed is harder to maintain on a manual treadmill than on a motorized treadmill. You burn more calories and place a higher training load on your body leading to more physiological training adaptations.
Bottom Line – Best Treadmills 2023
It would be easy to declare our favorite treadmill the best and leave it like that. Yet who knows how many people would agree after taking our advice. Our intentions with this best treadmill list are to highlight the best of the best as we see it and also help you consider the best treadmill in each category, as some may be more suited to your needs than others. There are so few places you can try out treadmills in person, and even when you can, the stock is limited to a couple of models from a couple of brands. This list compiles treadmills we have physically tested to give you our honest review, but now it is up to you to evaluate your circumstances to make the best investment for your health and fitness.
Frequently Asked Questions Is it better to walk on the treadmill or outside?
Walking outside certainly has different benefits from walking on the treadmill, but both can improve cardiovascular health, burn calories, and have mental health benefits. Walking outdoors is great, but it can prevent several barriers to exercise, like inclement weather, accessibility of safe walking paths, and added steps like making yourself presentable or planning out your outing. Treadmill walking overcomes these barriers by avoiding weather complications and being readily accessible in the privacy of your own home.
How much should you pay for a home treadmill?
The cost of a treadmill is heavily influenced by how you intend to use it. If you are only walking, there are treadmills well under a thousand dollars that will suit your needs. For running, plan to spend a little more, depending on how often you will be running on it. Keep in mind that more features often mean additional costs. You can get a very nice treadmill for under $1500, but if you want all the bells and whistles, you can anticipate spending nearly $2000 or much more.
Make a list of features you have to have, as well as a list of features you would like to have. This can help you decide on a budget. Remember to factor in the subscription cost if you are purchasing a treadmill you intend to use with premium content.
What horsepower is best for a treadmill?
The treadmill motor's horsepower reflects the load it can handle and how long it should last. We recommend choosing a treadmill with 3.0 HP or higher for running. Motors under 3.0 HP will be better suited for infrequent, slower runs and regular walking. If you have multiple users in your household or will be putting high running mileage on your treadmill, consider a treadmill closer to 4.0 HP.
The difference between horsepower (HP) and continuous horsepower (CHP) comes down to the power that a treadmill can sustain. HP reflects the highest power output of a motor, while CHP indicates the power output a motor can sustain.
What is the best treadmill without a subscription?
Subscriptions are a very divisive topic. Some treadmills that are compatible with subscriptions are still good treadmills without them. We like NordicTrack and ProForm treadmills even without the iFIT subscription, because they are well-cushioned and perform superbly. These treadmills offer you some limited content for free as long as they are hooked up to WiFi. For truly content-free treadmills, we recommend both Horizon and Sole treadmills. If you change your mind, these treadmills still offer some integration with subscription content, but nothing about
Read More Popular Treadmill Reviews: