Last Updated: July 19, 2023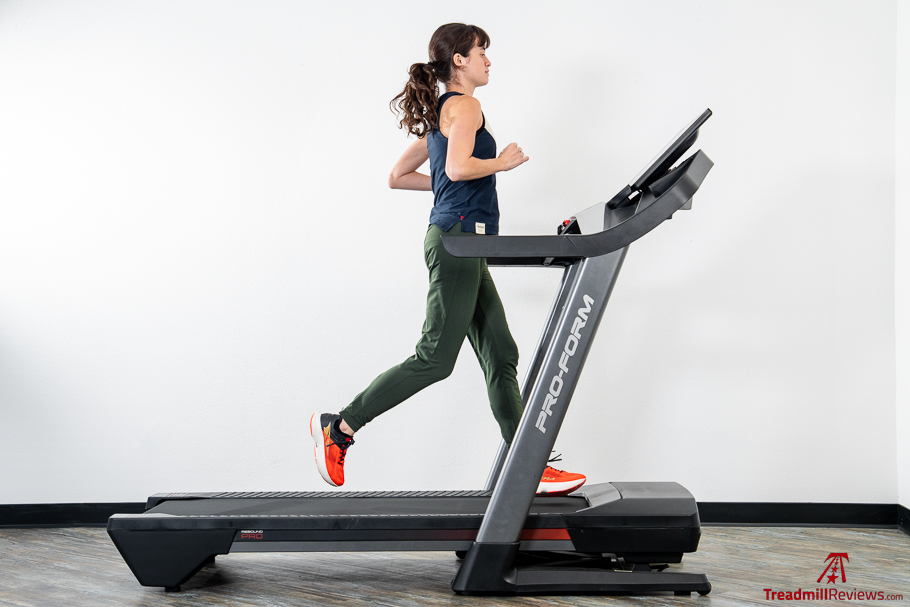 If you can't take the heat, get out of the kitchen–and onto an exercise bike…? ProForm started as one of the brands under iFIT's original iteration, Weslo. Started by two college friends, the company began with kitchen and cooking products but eventually moved into the health fitness space with the trampoline. ProForm emerged in the 1980s as the line expanded to include cardio equipment, such as treadmills, exercise bikes, and rowers.
The brands have exchanged hands and picked up others over time, including ProForm's sister brand, NordicTrack. With a few other fitness brands onboard, iFIT is a titan in the industry. ProForm products support iFIT's expansive content platform.
ProForm Treadmill Product Line Summary
ProForm designs affordable smart treadmills that support engaging iFIT training content. The Pro series offers the largest running decks with powerful motors and larger touchscreens, perfect for runners. The Carbon Series condenses the best of ProForm's features into a smaller, more compact frame. Carbon Series treadmills are great for walkers or new runners. The City series is designed for the smallest of spaces and the tightest of budgets. The City L6 treadmill is a walking treadmill that can be stored under a bed or couch while not disturbing your neighbors or roommates. ProForm treadmills provide cardio training solutions for all budgets.
Pro Treadmill Series
The ProForm line of treadmills includes the brand's top models. The Pro series is designed for runners with 20" x 60" spacious running decks and motor strengths over 3.0 continuous horsepower. They have larger uprights that provide a sturdier console support, reducing the shake of the console. The decks are cushioned. Though it is hard to objectively rate treadmill cushioning, we rank the ProForm Pro series as having soft treadmill decks. This cushioning makes the Pro series ideal for runners and walkers trying to escape the pounding and impact of asphalt and concrete.
The Pro series uses iFIT content to supply training content through the touchscreen displays. iFIT can control the treadmill speed and incline settings to deliver a personalized and engaging workout. The Pro series treadmills have -3% to 12% incline capabilities and a standard 0 to 12 mph speed range. Exercisers are welcome to override the iFIT settings at any point when the training becomes too difficult or too easy. In fact, this feedback tells iFIT to modify the rest of your current workout and all future workouts to align with your current fitness level.
The Pro series combines smart training with comfort for an excellent running or walking treadmill. The Pro series uses the SpaceSaver design with EasyLift Assist to fold compactly and easily.
Carbon Treadmill Series
The Carbon series offers much of the same features as the ProForm Pro series but in a more affordable and compact package. These treadmills are most suited to walking due to their motor's lower power, but they can handle some intermittent or low mileage running. The decks are 20" x 55" and fold manually, using a lock and pin mechanism to keep them in place
The speed and incline ranges vary. The Carbon treadmills do not decline. The deck hinges in front of the motor for a uniquely compact incline and folding geometry. The cushioning is moderate, offering a more cushioned underfoot experience than road running but not overly plush.
Though the speed and incline ranges are more limited, the Carbon series treadmills still support iFIT content. The touchscreens display iFIT content while the treadmill settings automatically adjust to match the training recommendations and real-life terrain as much as the speed and incline ranges allow. The Carbon series is not ideal for fast, experienced runners, but it provides excellent features for walkers and Couch to 5k training.
City Treadmill Series
The City series includes only the L6 treadmill at this time. The series is designed to be extremely portable and compact. The L6 is ideal for city living, hence its name. It is perfect for a flat shared with roommates, an apartment with thin walls, or a small condo. It weighs around 100 lbs, can be stored flat, and has a small footprint.
The City series is best for walkers due to the small treadmill deck and 1.6 CHP motor. The speed range is limited to 0 to 8 mph and does not decline or incline. Still, the City series is iFIT compatible. The treadmill does not come with a built-in touchscreen, but it does offer Bluetooth connectivity, allowing users to pair their smart device for iFIT content streaming. The speed will match the training content as best as the L6's range allows.
Other ProForm Equipment Reviews
The ProForm brand encompasses most common types of cardio equipment, plus a few strength products and fitness accessories. ProForm bikes, ellipticals, and rowers are united by their integration with iFIT, often including touchscreen displays to follow along with content. ProForm also offers more compact products with small footprints or folding features. The brand is versatile, with equipment that will appeal to beginners looking for entry-level cardio machines and seasoned athletes looking for top-of-the-line options.
Take a deeper dive into ProForm's ellipticals and exercise bike lines.
Top ProForm Equipment Reviews:
Content Options With ProForm Treadmills
ProForm is part of the iFIT team. Thus, their onscreen content is delivered by the fitness platform of the same name. iFIT has over 16,000 classes from 180 trainers. Much of this content is suitable for treadmill training, but it can also be used off the treadmill for a more well-rounded workout.
Treadmill content offers automatic speed and incline control (where applicable). The training is personalized, learning the user's fitness level over time and adjusting workout speeds accordingly. Walkers and runners can join series to take successive workouts with their favorite trainers. These series are filmed in locations all around the world, so not only do the workouts build on top of each other, but iFIT subscribers can learn about a specific region's history and culture during their workout.
iFIT also uses a Google Maps integration to personalize the workout experience. Run trails or walk routes you may never see in real life with Google Street View. Virtual runs are exciting and limitless, as you can create a custom route almost anywhere.
Common Features On ProForm Treadmills
ProForm treadmills traverse a wide range of styles from premium to compact. Yet, there are a few features seen across the board. Most of the treadmills have touchscreens for viewing the beautiful iFIT training content. When they do not, they are equipped with device racks and Bluetooth for viewing the content on a smart device.
The iFIT integration works flawlessly with the automatic adjustments made to the speed and incline settings. When fans are included, they also automatically adjust to match the pace and intensity of the workout when AutoBreeze is enabled. ProForm treadmills round out their support of iFIT content by providing Bluetooth audio and speakers. Additional features found on most ProForm treadmills include dual cup holders and quick-adjust buttons.
Bottom Line ProForm Treadmill Reviews
ProForm treadmills unite smart features and compact folding designs to appeal to residential treadmill users of all living situations and training styles. They have moderately cushioned decks to provide relief from the impact of walking or running on concrete and asphalt. They work best with the globally filmed content from iFIT for an elevated and custom workout. ProForm offers both premium and affordable products of great quality.
Frequently Asked Questions
Is ProForm the same as NordicTrack?
ProForm and NordicTrack are like Coca-Cola and Sprite–owned by the same company, similar products, but different. NordicTrack and ProForm make great treadmills with some of the same features. They both support iFIT and incorporate AutoAdjust features. Yet, the brands have treadmills for different users. ProForm tends to be more affordable than NordicTrack, while NordicTrack focuses on sleek, premium treadmills. These generalizations don't represent the brands perfectly, and when it comes down to it, both brands are quality fitness equipment manufacturers with proven track records.
Which ProForm treadmill is the best?
The best treadmill for one person may not be the best for everyone. Each of ProForm's treadmills have happy customers, but we can highlight our favorite. The ProForm Pro 9000 is ProForm's top-of-the-line treadmill. We love it for its large touchscreen, soft cushion, and 3.6 CHP motor. The Pro 9000 is great for runners, but walkers may not need such a high-powered treadmill.
How long do ProForm treadmills last?
It is hard to say how long any treadmill lasts without wearing it out. A more powerful motor should increase a treadmill's longevity, but most treadmills can last many years with proper use. Two limiters of a treadmill's lifespan are not conducting routine maintenance and pushing a treadmill beyond its designed limit. We recommend runners stick with treadmills with 3.0 HP or higher. I can offer up my experience with ProForm as an answer, though user experience may vary. I have used a secondhand ProForm treadmill that has lasted nearly ten years with its second owner. It is still going strong, and I ran multiple 8 to 12-mile runs on it without issue. Talk about a long-lasting treadmill!
Can you use a ProForm treadmill without an iFIT subscription?
ProForm treadmills can be used without an iFIT subscription. The treadmill must be connected to WiFi to access the onboard workouts. Most of the free workouts are conducted from the manual activity screen. Speed and incline will automatically adjust, but the only visual is a ¼ mile track and workout metrics. There is also a rotating array of featured iFIT content for non-subscribers to test. The offerings without WiFi are limited to manual activity training.