Last Update: September 11, 2023
After many saddle and handlebar post adjustments, tightened toe cages, and sore quads, we are happy to bring you our Best Exercise Bikes for 2023. Cycling indoors offers a great alternative to biking outdoors. One of the biggest challenges of outdoor cycling is sharing the road with cars or the path with other bikers and pedestrians. Eliminate all the fuss with indoor biking! Learn everything you need about flywheels, pedals, saddles, and more.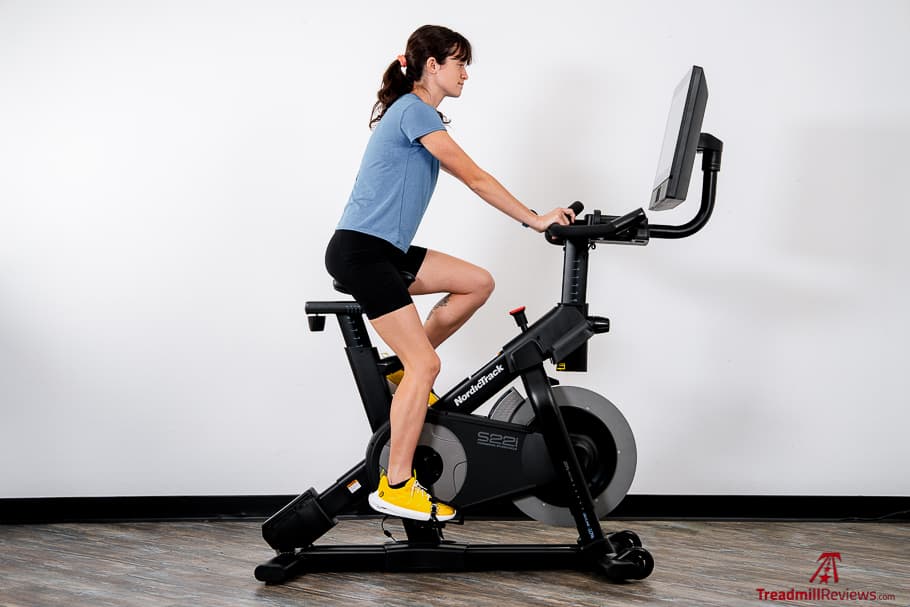 Here's Our List Of The Best Exercise Bikes for 2023
Best Exercise Bike 2023: NordicTrack S22i Studio Cycle Bike
The NordicTrack S22i is our best exercise bike for 2023. Unlike other stationary bikes, it has incline and decline capabilities, so you really feel like you are slogging up those hills. The S22i has great smart features and functionality to please outdoor cyclists moving indoors and indoor cyclists looking for a unique ride. The NordicTrack S22i is compatible with iFIT's impressive fitness platform for an even more immersive ride paired with its 22" touchscreen.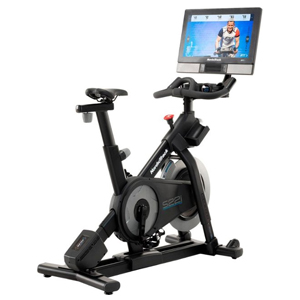 Climb virtual hills on the NordicTrack S22i Studio Bike with the help of a -10% to 22% incline and a cinematic 22" touchscreen.
The NordicTrack S22i is from the brand's commercial studio bike line, the only stationary bikes with incline and decline abilities. The -10% to 20% incline range makes it feel like you are riding the terrain on the screen. A DC motor is mounted on the rear of the bike, powering this incline up and down. An incline or decline affects not only the angle of the bike but the amount of resistance applied to the flywheel. Inclining the bike increases the resistance proportional to the steepness of the grade while declining the bike reduces resistance. The S22i is one of the best all-around exercise bikes, but it will appeal particularly to cyclists trying to replicate their outdoor rides.
iFIT is a premium fitness platform with globally filmed fitness content. The S22i's 22-inch touchscreen is built for viewing iFIT content. The first 30 days of iFIT are free, but a monthly or yearly subscription is required afterward to continue accessing most of the S22i's content. There are classes filmed on every continent. With one subscription, you can access the biking and non-biking content. The 22" screen pivots for off-bike viewing. When you wrap up your next ride, you can hop on the mat for strength training or a yoga session. iFIT can enhance your entire workout routine.
The NordicTrack S22i has 40 levels of silent magnetic resistance. While this may not sound as impressive as the 100 levels found on Peloton and Bowflex bikes, the S22i has more variability in resistance than 40 levels. The incline adjustment acts as a modifier on each of the resistance levels for more training variability. The flywheel is 32 lbs, making the ride fluid with each pedal stroke. There are two 3 lb dumbbells included for a bit of upper-body resistance. These dumbbells are not textured, so they don't have the best grip for sweaty hands. Yet, we are happy they are included at no extra cost.
Because of its incline abilities and large screen, the NordicTrack S22i is quite a heavy bike. When lifted by its rear stabilizer, it can be rolled around on its two front-mounted wheels. Its strong build keeps it stable for the most intense workouts. The saddle is adjustable forward/backward and up/down, while the handlebars can only be adjusted up and down. The pedals are hybrid with SPD clips and toe cages. The S22i is a well-built and uniquely designed exercise bike.
+

PROS
The S22i has an incline range of -10% to 20%.
The touchscreen is 22" with clear graphics.
The pedals are hybrid, offering SPD clips and toe cages.
iFIT's classes are smart and immersive, automatically adjusting the resistance and incline to your fitness level.
The speakers and audio are Bluetooth for more listening options.
The 350 lb user weight limit is higher than many competitors' limits.
–

CONS
The saddle is uncomfortable but can be replaced with just about any road bike seat.
The resistance and incline buttons beep without any way to turn them off. The incline motor is a little loud, but the rest of the bike is very quiet.
Read Our Full Review Of The NordicTrack S22i Studio Cycle Bike Here
---
Best Exercise Bike Runner-Up: Bowflex VeloCore Exercise Bike
What our top two bikes have in common is their ability to add something new and unique to their studio bikes. The VeloCore is our Best Exercise Bike Runner-Up because of its intriguing leaning mode. This mode allows indoor cyclists to lean from side to side, introducing core and balance training to the mix. The VeloCore feels like an arcade game, which motivates me to ride it even more.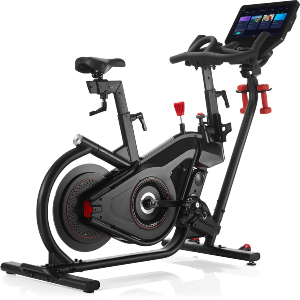 The Bowflex VeloCore Bike has a leaning and stationary mode for a dynamic or traditional ride.
Most users will recognize the stop/resistance knob mounted to the VeloCore's frame, but a mysterious second button is just above it. Pushing down on the button unlocks the VeloCore's leaning abilities. Cyclists can lean from side to side to engage their core and train their balance. To lock the bike back into place, simply pull up on the red and gray button until it clicks. It takes some getting used to, but the leaning mode is perfectly safe and secure. The front and rear stabilizers maintain perfect contact with the floor as you sway back and forth.
Unlock the VeloCore Bike's true potential with a JRNY subscription. The subscription is free for the first two months. Then, exercisers will need to pay monthly to continue accessing JRNY's awesome platform. We love JRNY, because it provides a good mix of training and entertainment content. JRNY gives you access to entertainment streaming apps like Netflix and Hulu as you ride. You can take an outdoor class, a studio ride, or cruise to that next episode you have been meaning to watch. JRNY's platform may not be as thorough as its competitors, but it is making strides in that direction. It is also more affordable than the competition.
The VeloCore Bike has two different console options–a 22" or 16" screen. Either would deliver a good viewing experience, but our testing suggests screens over 22 inches deliver a cinematic experience. The rest of the specs for the two bikes are almost identical, save for their product weight and footprint. They have 100 levels of magnetic resistance, plenty of adjustment potential for training. There is also a device rack beneath the screen for another viewing option. Thus, if you choose not to subscribe to JRNY, your indoor cycling is not over. The VeloCore bike is versatile and unique, offering smart features if you want them but still granting a great ride if you don't.
+

PROS
Leaning mode lets you shift side to side, balancing as you would on an outdoor bike.
The VeloCore has two screen size options to suit your needs (16 or 22 inches).
The pedals are hybrid, SPD clips or toe cages.
JRNY is free for two months with the purchase of a VeloCore bike. They have indoor and outdoor classes, bike and non-bike classes.
JRNY also gives users access to third-party entertainment streaming apps.
One hundred magnetic resistance levels silently increase the challenge of your ride.
–

CONS
The frame warranty is only two years, much shorter than other brands.
Read Our Full Review Of The Bowflex VeloCore Exercise Bike Here
---
Best Durable Exercise Bike: Sole SB900 Exercise Bike
The Sole SB900 Exercise Bike is a robust cardio machine. Sole backs the SB900's frame with a lifetime warranty. The build is sturdy and well-built. The lack of high-tech on the SB900 keeps the bike low maintenance with fewer breakable components. The flywheel is extra heavy for added resistance and smooth pedaling.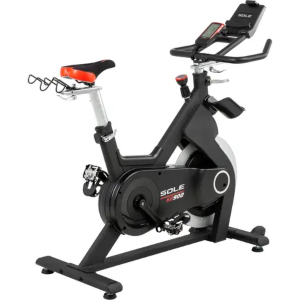 The Sole SB900 Exercise Bike is extremely durable, with a lifetime warranty on the frame and a robust build.
Sole's reputation for sturdy exercise equipment continues with the SB900. This exercise bike is suitable for both studio and upright cycling. It can be used in a light commercial or residential setting. The frame's lifetime warranty is an assurance of its strong build. The flywheel is a heavy 48 lbs. Some users may find the weight of the flywheel makes even low resistance levels harder than they would like.
The Sole SB900 does not require a subscription. It does not have a touchscreen, but it does include a tablet rack, where you can place your smart device or a book for viewing while you ride. This exercise bike is a good choice. Because of its various content options, especially if you jump from subscription to subscription. The SB900 remains versatile because it does not lock you into one mode of training.
Because it does not have a large touchscreen, the SB900 is more compact. It would make a good addition to a living space. If you are looking for a bike to use in front of a TV, the SB900 fits the bill. It is a heavy bike at 160 lbs. The weight and large stabilizers ensure the bike does not move during activity. There are two wheels on the front stabilizer for relocating the bike. These engage once the bike is lifted by its rear stabilizer.
+

PROS
The lifetime frame warranty is top of the line.
The SB900 has a very sturdy build to keep you stable during your rides.
The tablet rack lets you view your desired content from a personal smart device.
The SB900 does not require a subscription to access any of its features.
The flywheel is 48 lbs, making each pedal stroke smooth.
–

CONS
The SB900 is not a high-tech bike, which some users may prefer.
---
Best Exercise Bike For Beginners: Freebeat Lit Bike
The Freebeat Lit Bike is great for beginners. It is great motivation with its incredibly engaging classes. I have yet to encounter a higher energy platform than what Freebeat offers. Its gamified cycling is enough to make you forget you are working out. It just feels fun! The Freebeat Lit Bike comes in four different colors to fit into almost any design scheme. Beginners and seasoned riders will find something new and exciting in the Freebeat Lit Bike.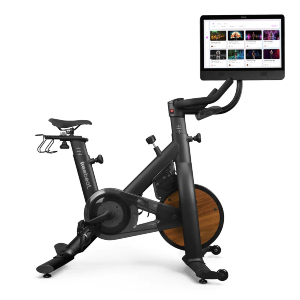 The Freebeat Lit Bike is the highest energy bike on this list. Its preppy colors and classes will motivate the most uncertain novice.
I am typically drawn to more rugged outdoorsy exercise experiences, but the Freebeat wowed me. Riding the Freebeat feels like riding Rainbow Road on Mario Kart or gumdrop-unicorn-land from your childhood dreams. Even when I get onto the Freebeat, intending to take it easy, the high-energy instructors and classes draw me into a hard workout, and I don't even notice it happening! The subscription is definitely worth having, as it transforms indoor cycling.
The classes are synced to the music beat. You have the option of riding along to the 'easy' RPM or aiming for the 'hard' double-time RPM. The bike gives you the percentage of how accurately you hit the beat, bumping you up higher on the leaderboard the more accurate you are. If you are on the beat for longer periods of time, you rack up combo multipliers to boost your score even further. There is also a game, similar to Guitar Hero, that encourages you to hit the notes as they soar toward you by pedaling. I absolutely love it, and if you are looking for gamified exercise, you will too.
The bike comes in 'Moonbow Beige,' 'Snowpeak White,' 'Space Black,' and 'Aurora Pink.' I was fortunate enough to test out the Aurora Pink Lit Bike. (Is it too cliche to say my experience was lit?) The bike is very sturdy, which is necessary for how much you will be in and out of the saddle and dancing in your seat. The Lit Bike holds up to the intense and fun workouts. The touchscreen is 21.5", so you get a crystal clear view of the instructors in the studio. The Freebeat Lit Bike is an enthralling exercise bike.
+

PROS
The Lit Bike gamifies indoor cycling to add excitement to every ride.
The Lit Bike has four color options: beige, black, white, and pink.
The classes are built around music.
The 21.5" touchscreen has great graphics.
The height range is 5'0" to 6'7".
The bike has Bluetooth connectivity for private listening.
–

CONS
The studio experience may be overwhelming for some cyclists.
---
Best Exercise Bike with Screen: NordicTrack S27i Studio Cycle Bike
The NordicTrack S27i's touchscreen takes the cake for Best Exercise Bike with Screen. At 27", the smart HD touchscreen is the largest screen on this list. It is my personal opinion that exercise bike screens cannot get any bigger than this without creating a worse viewing experience. If you want the best of the best when it comes to your training content viewing, the NordicTrack S27i is it.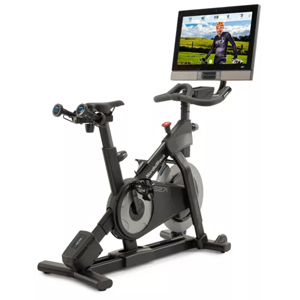 The S27i's touchscreen immerses you in iFIT's global content as you cruise up and down hills with the bike's incline feature.
The NordicTrack S27i has a 27" smart HD touchscreen. The screen displays iFIT's premium content. Without a subscription to the premium fitness service, the screen shows only a few featured classes and the manual activity screen. This exercise bike really shines when used with an iFIT subscription. iFIT films all over the world, so you can explore sunny, tropical climes even when the weather is not suitable for outdoor riding.
The large touchscreen is not the only standout feature on the S27i. It is also one of the only bikes with incline and decline settings. The range is -10% to 20%, replicating the outdoor terrain seen on the screen. It has a DC motor mounted on the rear stabilizer that powers the incline and decline. The resistance adjusts to make riding up and downhill seem more lifelike, meaning the uphills are harder while the downhills are easier. In addition to the incline, the S27i has 40 silent magnetic resistance levels. Cyclists will be impressed with the S27i's training capabilities.
All of these bold features require a sturdy base to support them. It may take a few rides to get used to the steep grades of the S27i, but the bike will keep you stable. The front and rear stabilizers ensure the bike does not wobble. The hybrid pedals have toe cages and SPD cleats. The flywheel is a hefty 32 lbs, so each pedal stroke is fluid. The bike is heavier than its competitors, but its robust features warrant the extra weight. The NordicTrack S27i can be lifted by its rear stabilizer to engage the front wheels (just be mindful of the giant screen).
+

PROS
The NordicTrack S27i is named for its large 27" smart touchscreen.
The S27i is one of the only exercise bikes with incline and decline (-10% to 20%).
iFIT classes use AutoAdjust technology to change your speed and incline while in a class.
iFIT content is filmed globally to transport you to beautiful places around the world through your virtual training.
The bike is very sturdy, so you can be assured of your safety even during the incline.
You can pair Bluetooth headphones to listen to the iFIT content quietly.
–

CONS
The saddle is uncomfortable but can be swapped out for a different road bike saddle.
An iFIT subscription is required for most of the screen's functionality.
Read Our Full Review Of The NordicTrack S27i Studio Cycle Bike Here
---
Best Exercise Bike without Screen: Bowflex C6 Exercise Bike
The Bowflex C6 Exercise Bike wins the Best Exercise Bike without Screen award for obvious reasons–it has no screen. Exercise equipment from every brand has become more and more encumbered by high-tech features. Unfortunately, this often comes at an added expense to consumers. Not only must you pay for expensive equipment, but now you have to pay monthly, or the equipment isn't even usable! Not so with the Bowflex C6 Bike!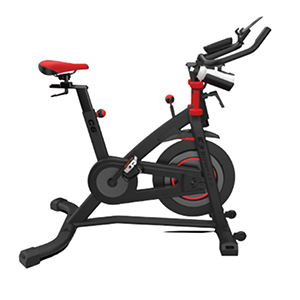 The Bowflex C6 Bike keeps subscription content optional and embraces variety by not restricting you to a single service.
William Cowper's poem turned saying states, "Variety is the spice of life." The C6 bike allows for variety. Though Bowflex has its own subscription service (JRNY), the C6 is openly advertised as a great bike to use with Peloton. I did just that when I tested the C6, though I also tested the JRNY content. The C6 has 100 resistance levels which match well to the Peloton resistance levels, so you can follow along with the trainer's recommendations. The C6 has a simple LCD console, but you can place a phone or tablet in its device holder for viewing JRNY or third-party content. Contrarily, the lack of smart features built into the C6 actually increases the bike's utility over its smarter competitors.
Bowflex generously includes a few extras with the purchase of the C6 Bike. It comes with two 3 lb dumbbells and a heart rate monitor armband. If you do want to try a subscription service, you can try the 2-month free trial of JRNY gifted with the purchase of the bike. The pedals are hybrid, so you don't have to worry about replacing them regardless of whether you use SPD cleats or regular athletic shoes with toe cages. This bike appeals to a variety of cyclists with its unrestrictive features.
+

PROS
The Bowflex C6 does not require a subscription to use most of its features.
The C6 can be used with JRNY, Peloton, or other indoor cycling platforms.
The bike has Bluetooth for limited integration with JRNY and other apps.
Two 3 lb dumbbells and a HR armband are included with the bike.
The C6 has 100 magnetic resistance levels.
The frame is very sturdy.
–

CONS
The C6 makes a little noise when pedaling.
Read Our Full Review Of The Bowflex C6 Exercise Bike Here
---
Best Exercise Bike with Heart Rate Training: ProForm Studio Bike Pro 22
Our choice for Best Exercise Bike with Heart Rate Training goes to the Studio Bike Pro 22. Though it does not come with a heart rate monitor, when you purchase the compatible armband, iFIT allows you to train in heart rate zones hands-free. TYou can concentrate on a great ride without making those micro adjustments yourself.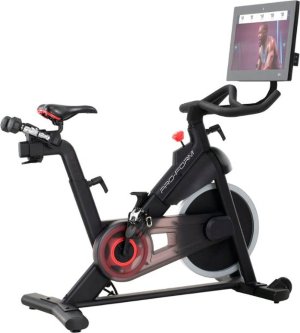 The ProForm Studio Bike Pro 22 pairs with a compatible HR monitor for hands-free heart rate zone training.
The ProForm Studio Bike Pro 22 is an iFIT-enabled cardio machine. For those unfamiliar with iFIT, it is a robust workout platform offering indoor and outdoor training content from over a hundred trainers. The studio classes are not on par with Peloton's, but iFIT really shines for the outdoor content. The 22" touchscreen on the Studio Bike Pro 22 is enough screen to really feel immersed in the global and studio content. The bike comes with a 30-day membership, after which users will have to subscribe monthly or annually to maintain all of the Pro 22's features.
One reason I prefer iFIT over other training platforms is its ability to deliver hands-free workouts. The 24 resistance levels on the Pro 22 are digital, so the iFIT trainer can take control of your bike's resistance level and adjust it for you. If you choose to purchase the compatible heart rate monitor, there are iFIT classes that utilize the heart rate training feature. These automatic adjustments pair with your heart rate reading to keep you in the right zone automatically. This takes a lot of the effort out of heart rate training, as I often feel like I push myself harder than recommended.
The ProForm Studio Bike Pro 22 is best for smaller users. It has a weight capacity of only 250 lbs. The seat that it comes with is very small. As a 5'4" woman, I felt it was too small. Fortunately, it can be swapped out for a different seat. The saddle and handlebar adjustments are decent, but we wish that weight capacity was slightly higher. Overall, the ProForm Studio Bike Pro 22 is great for beginners interested in iFIT's vast content library. The bike has limited features without an active subscription.
+

PROS
The ProForm Studio Bike Pro 22 has automatic training adjustments based on heart rate.
The iFIT classes are global and immersive.
The 22" touchscreen pivots for great on and off-bike viewing.
The silent magnetic resistance is very quiet.
The pedals are flat pedals with toe cages to accommodate users without cycling shoes.
–

CONS
The saddle is very small and uncomfortable. Fortunately, it can be replaced.
There are only 24 levels of digital resistance.
---
Best Exercise Bike For Garage Gyms: Concept2 BikeERG
The Concept2 BikeERG is a staple in garage gyms. It may not be the only piece of Concept2 equipment exercisers own. Concept2 has a knack for convincing users of their equipments' superior build. A lot of it comes down to the impressive flywheel. The BikeERG is an amalgamation of a studio bike and an air bike. If you want a bike you can wheel in and out of your garage and onto your driveway, the Concept2 BikeERG is a top contender.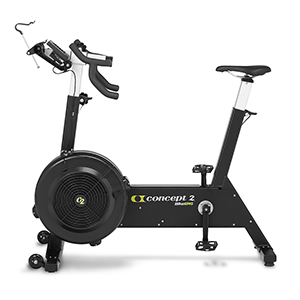 The Concept2 BikeERG has the best features of a studio bike and an air bike wrapped into one. It's also super lightweight for rolling inside and outside.
The Concept2 flywheel provides air resistance, but it isn't as strong of a breeze as you get from most air bikes. That's not to say the resistance isn't powerful. The resistance can be changed with the use of the 10-level damper. The harder you pedal, the stronger the resistance becomes. By increasing the damper's level, you get more resistance at a lower RPM. It's not as easy to stand up on the Concept2 BikeERG, but it is doable if you increased the damper level and maintain a high cadence.
The BikeERG weighs only 68 lbs. It is very easy to lift and relocate using its two front transport wheels. Despite its light weight, the BikeERG does not feel unstable during exercise. Most users will find staying in the saddle more comfortable, but it is okay for standing, too. If you like to ride your stationary bike outside in the driveway or on a patio, the BikeERG is a great option. It is not a pain to roll in and out of your garage or home. The frame is aluminum with steel feet.
Concept2 is known for its trustworthy PM5 monitor. It is remarkably accurate and recalibrates regularly to appease the metric fiends. The BikeERG is also compatible with the ERGData app, which has daily workouts and a social community. If you are looking for an exercise bike community, Concept2 delivers. There is an active online forum, and the app has plenty of competitive features. Fortunately, there is no additional cost to access the app.
+

PROS
The Concept2 BikeERG is only 68 lbs.
The flywheel allows free wheeling.
Concept2's flywheel uses air resistance to provide unlimited resistance.
The dampener lets you work harder at a lower cadence.
The BikeERG does not require a subscription and has a free training app.
The PM5 console is notoriously accurate and easy to use.
–

CONS
This bike isn't the best for cyclists who like to ride out of the saddle.
The damper is hard to reach while cycling.
Read Our Full Review Of The Concept2 BikeERG Here
---
Best Air Bike: AssaultBike Elite
The AssaultBike Elite is our Best Air Bike. We love Assault Fitness's rugged builds and easy-to-use consoles. We were glad that the AssaultBike had both of these qualities! The AssaultBike Elite is the beefiest member of the AssaultBike lineup. It has the sturdiest and most comfortable build.

The AssaultBike Elite is the sturdiest, heavy-duty air bike from Assault Fitness. They took their classic air bike and made it even better.
The Assault Fitness AssaultBike Elite has one of the most robust air bike builds. Its quality makes it suitable for residential or commercial use, so you can be assured of getting many hours of work on the Elite. The frame has a 10-year warranty compared to the 5-year and 7-year warranties on the AssaultBikes. It is even more impressive when compared to a top competitor, the Rogue Echo Bike, which only has a 2-year warranty. The sturdiness of the build is due to the large footprint and thicker steel frame. It can support a rider of up to 350 lbs, a category topper. The Elite's weight is 160 lbs. The heavier weight is a plus for stability but may be a detractor for users looking for a more portable bike.
The Elite balances hardcore workouts with comfort. The only pain you should feel is the mild burn of a hard effort. The seat is large with a comfortable width. The seat adjustments are more precise with an additional height level and no set horizontal adjustment levels for near-infinite fine-tuning. As an air bike, the Elite generates resistance through air resistance, becoming tougher the faster you pedal. For improved comfort, the Elite has a windscreen. The breeze can be nice for stuffy garage gym or during hot summer months, but users in colder climates will appreciate the ability to tone it down. The windscreen is removable if you need the added airflow.
The AssaultBike Elite does not have a touchscreen. Air bikes tend to be low-tech compared to studio bikes. That said, the Elite does offer connectivity features. Its basic console is Bluetooth and ANT+ compatible, so you can pair to the Assault Fitness app. The app provides workouts and stores your workout history. ANT+ allows the bike to pair to other ANT+ enabled devices. The console does not have to be used with any of these connections. It can be used to set workout targets or follow an interval program. An LED light prompts you to change the interval intensity. The console is simple but effective.
+

PROS
The AssaultBike Elite offers upper-body and lower-body training.
The AssaultBike Elite is designed for comfort with a larger seat and more adjustability compared to others in AssaultFitness's lineup.
The frame is sturdy, with a 10-year warranty and a commercial-grade build.
The windscreen prevents cyclists from getting too cold or bothered by the air resistance.
Air bikes have infinite intensity ranges.
The maximum weight is 350 lbs.
–

CONS
The chain drive requires more maintenance than belt-drive air bikes.
This air bike is expensive at over a thousand dollars but has a high-end construction.
---
Best Rear Flywheel Exercise Bike: Echelon EX-5S Exercise Bike
The Echelon EX-5S is our choice for Best Rear Flywheel Exercise Bike. It is a great affordable alternative to Peloton with its black and red aesthetics and similar studio classes. The Echelon Exercise Bike's rear-mounted flywheel keeps it out of the danger zone where you might drip sweat.
The Echelon EX-5S's rear-mounted flywheel stays out of the sweat zone and adds a unique aesthetic.
Rear-mounted flywheels serve one main purpose: to keep the flywheel out of your sweat. The relocation of the flywheel also creates a unique and modern exercise bike silhouette. The Echelon EX-5S Exercise Bike has a fairly compact footprint, making it a great choice for shared spaces like a living room. Overall, a rear-mounted flywheel does not affect an exercise bike's performance compared to traditional front-mounted flywheel bikes.
The EX-5S is ideal for cyclists committed to a subscription program. Of all the exercise bikes I have tested, this one has the fewest abilities without a subscription. Echelon even makes you purchase a subscription plan when buying the bike. You can choose to pay monthly or annually. Though you can cancel your subscription, the EX-5S is nearly unusable without it. The resistance will not change nor is there a manual exercise screen without an active subscription.
That said, Echelon's classes are highly reminiscent of Peloton's studio classes. They have similar aesthetics and layouts, including the incorporation of trendy music. The classes are fun and motivating. A bonus is that the bike and membership costs are less than what Peloton charges. An Echelon membership grants you access to more than the studio classes. You can take a scenic ride or hop off your bike for strength and yoga training.
The design of the Echelon EX-5S Bike is quite comfortable. I love the ergonomic shape of the handlebars. The straight bar portion of the bullhorn handlebars is flattened, which feels nice to grip or rest your arms on while using the aero bars. The saddle is pretty comfortable, so you don't have to worry about replacing it with another seat. There are front-facing speakers and Bluetooth audio for two different listening options. Other comfort features include a device rack, two water bottle holders, and hybrid (SPD and toe cage) pedal
+

PROS
The flywheel is mounted in the back to avoid your sweat.
The EX-5S bike offers a Peloton-like experience for a fraction of the cost.
The handlebars are very comfortable and offer a lot of grip options.
The pedals are hybrid with SPD cleats and toe cages.
The EX-5S has a small footprint.
–

CONS
An Echelon membership is required to use the EX-5S.
There are only 32 magnetic resistance levels.
---
Best Exercise Bike Studio Classes: Peloton Bike+
No Exercise Bike is more recognizable than the Peloton Bike or the Bike+. Though the bike itself is great, it is the Peloton studio classes that beat the competition, which is why we have awarded it Best Exercise Bike Studio Classes. The classes are fun and energetic. They live up to the hype and then some.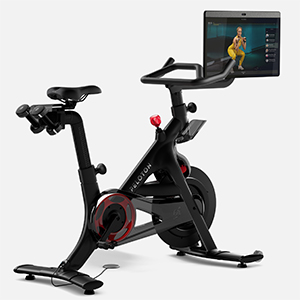 The Peloton Bike+ has outstanding classes with the option to adjust automatically to the trainer's resistance recommendation.
Peloton classes bring the heat and the energy. They are designed around the trainer playlists. The incorporation of music into the workout is so much fun and incredibly motivating. Peloton trainers are top-tier instructors. The Peloton Bike+ complements the premium fitness platform very well, but I admit it's perfectly feasible to follow Peloton classes on other studio bikes. The 24" touchscreen display is one of the best exercise bike screens as far as quality and clear graphics go. It is awfully convenient to have Peloton's content blown up so big right in front of you.
The Bike+ has an edge over its younger sibling, the original Peloton Bike. The Bike+ has been upgraded with an automatic trainer following feature. This allows the Bike+ to adjust to the middle of the recommended resistance range without your interference. It is convenient for getting a hands-free workout. As someone who can be a little paranoid about following the trainer's exact instructions, I really like this feature.
The Peloton Bike+ has 100 magnetic resistance levels. This makes the bike quiet and challenging. Despite a recall on the original Peloton Bike, we have not had issues with the Bike or the Bike+. The saddle and handlebar posts have enough adjustability for a wide range of cyclists to find a comfortable fit. The Bike+ is great for those committed to the Peloton platform.
+

PROS
Peloton classes are some of the most engaging cycling classes available.
The screen is glare-resistant, providing very crisp graphics.
The auto-follow feature makes following the trainer's recommendations easier than on the Peloton Bike.
The variety of music accommodates almost all music tastes.
The Bike+ is silent and sturdy.
The 100 magnetic resistance levels should be challenging enough for most riders.
–

CONS
The Bike+ and the Peloton subscription are quite expensive.
The Bike+ has limited features without a subscription.
Read Our Full Review Of The Peloton Bike+ Here
---
Best Exercise Bike For Taller Riders: MYX II Exercise Bike
The MYX II Exercise Bike has a maximum height capacity of 6'8". This is one of the tallest height allowances we have seen on an exercise bike, making it a shoo-in for our Best Exercise Bike for Taller Riders award. The MYX II Bike offers premium training content and unique aesthetics to stand out in the exercise bike market.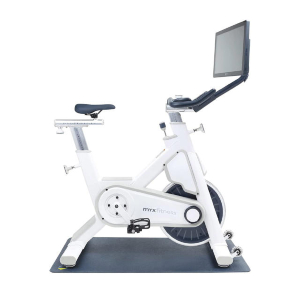 The MYX II studio bike comfortably accommodates riders from 4'11" to 6'8".
The MYX II Exercise Bike falls under the Beach Body (BODi) brand. Though MYX is newer, their bikes are based on StarTrac bike designs, a much more seasoned brand. The bike's build is quite sturdy. It accommodates users from 4'11" to 6'8", quite an impressive height range. The weight capacity is 350 lbs, higher than most other bikes' cap of 300 lbs. The saddle is comfortable, but the handlebars are very slippery. If you sweat a lot (like I do), the MYX handlebars may be uncomfortable. The MYX II comes in white or black. Both colorways have navy accents. In a sea of black and red bikes, the MYX bike stands out!
The flywheel is a hefty 41 lbs, creating a great pedaling experience. This heavy flywheel pairs well with the friction resistance, which uses a leather pad to brake the flywheel. The other studio bikes on this list have magnetic resistance, for the most part. The benefit of friction resistance over magnetic resistance is the ability to increase the resistance to as heavy as you want. This is great for cyclists who are very experienced and find the upper limits of magnetic resistance bikes not quite enough.
The MYX II has a 21.5" touchscreen. The quality is decent. The speakers are not front-facing, so it muffles the sound a bit. The MYX is Bluetooth, so you can pair your headphones for a different listening experience. You can access BODi training content from the screen with an active subscription. The classes are a mainly studio classes, and there are also off-bike classes. The screen pivots nearly 360 degrees for viewing off-bike training content. Because the bike uses friction resistance, no "level" is associated with the resistance intensity. The MYX bike relies on heart rate and conveniently includes a heart rate armband for training alongside the instructor's heart rate zone recommendations.
+

PROS
The user height range is 4'11" to 6'8".
The maximum user weight is 350 lbs.
The friction resistance creates unlimited resistance potential.
A HR armband is included for heart rate training alongside the BODi instructors.
The 21.5" screen pivots for viewing strength or yoga classes.
The MYX II Bike comes in black or white with navy accents.
–

CONS
The handlebars are very slippery when you are sweaty.
The friction pads are leather and will need to be replaced once they are worn down.
---
Factors to Consider When Finding The Best Exercise Bike
What type of exercise bike do you want?
There are many different types of exercise bikes, including studio, upright, recumbent, and air bikes. Some bikes fit into a category of their own, like the Concept2 BikeERG. The exercise bike categories come with different pros and cons. We have mainly highlighted studio bikes to reflect their popularity and exciting features, but you may find a different type of bike works better for you.
Studio Bikes
These bikes are designed to most accurately resemble outdoor cycling, though they receive some competition from indoor cycling, which attaches an outdoor bike to an indoor trainer. The benefit of spin bikes is their features. The bikes on this list have magnetic resistance, belt drives, large touchscreens, and even incline/decline features. They are great for cyclists wanting to train alongside a spin-style class or mimic their outdoor training. Many studio bikes allow you to ride in an upright or more traditional, forward-leaning position.
Upright Bikes
An upright indoor bike reduces the amount of forward lean you need to grab the handles. Many studio bikes can be oriented into this position. However, upright exercise bikes tend to offer more comfort features than studio bikes. They may have vertical handles near the saddle and a wider seat. This type of exercise bike suits individuals torn between the comfort of recumbent cycling and the sportiness of studio bikes.
Recumbent Bikes
These bikes offer the most comfortable sitting position with a lower seat that supports your trunk. These bikes are great for individuals who have spine or mobility issues. The pedals sit in front of you rather than underneath you, which allows you to generate more force. These bikes are typically targeted toward older individuals, but they can also be a great fit for other athletes. They resemble road or mountain bikes the least. However, there are outdoor recumbent bikes. If you already train outdoors on a recumbent bike, this type of indoor bike may complement your training the most.
Air Bikes
Don't forget about your arms! Despite the addition of light weights into studio bike workouts, indoor cycling typically neglects the arms. Fortunately, one type of exercise bike includes them: the air bike. These bikes have moveable arms that help you generate more force. For this reason, they are great bikes for a full-body workout. The air resistance provides unlimited resistance levels and a breeze, which is great for stuffy garage gyms.
What specs or build should the bike have?
Frames
Look for a steel frame for a sturdy exercise bike. Aluminum components are fine, as it is included on several very well-built bikes on this list. Two features to look for in a sturdy bike besides the material are the weight and the stabilizers. A heavier indoor bike will feel secure for most cyclists, though it may make the bike harder to move. Substantial front and rear stabilizers are also reassuring of a bike's stability, lowering the likelihood of tipping or wobbling.
Handles
Many exercise bikes have multiple handles for various hand positions. Deciding what grip suits your needs the most can help you pick the right bike. We like to have a lot of grip options on a bike, so we can switch up our positions when we get fatigued in one or need to train differently. Fortunately, uncomfortable handles are not make-or-break for all bikes. Many exercise bike handles can be swapped out for a different pair. If you want to do this, ensure the exercise bike you choose is compatible with most standard road bike handles.
Pedals
Like handles, pedals can often be replaced. Again, ensure the exercise bike's compatibility with other bike pedals before purchasing. Fortunately, many exercise bikes come with hybrid pedals, allowing users to train with SPD cycling shoes or any athletic shoe while strapped into toe cages. Some bikes, like the Peloton bikes, have unique cleats, preventing cyclists from using the usual SPD shoes. Consider what type of pedals you would like. Toe cages or cleats allow you to pull and push on the pedals. Flat pedals only make use of the downstroke. Additionally, consider the cost of buying different pedals or new cycling shoes.
Outside of the pedal itself, indoor cyclists should also consider the length of the crank arm. This length affects the distance your legs are from each other, called the q factor. Too wide or narrow of a q factor can lead to knee pain and discomfort. Alignment of the hip, knee, and ankle joints leads to a more comfortable riding experience. 150mm is a good starting point for finding a comfortable and appropriate q factor for your body. Fortunately, indoor cyclists do not have to worry about the aerodynamics of outdoor cycling with wind resistance.
Saddles
Saddles often provide the biggest complaint for new cyclists. Firm, narrow seats are difficult to get used to. To avoid saddle soreness, you may need to consider padded bike shorts, a bike cover, or a wider, softer saddle. Many exercise bike saddles will be replaceable with road bike seats. As with the handlebars and pedals, contemplate what additional components you may need to purchase to upgrade your bike. We do our best to accurately reflect the experience of using the components these bikes come with for your convenience.
Flywheels and Drive Trains
Inexperienced indoor cyclists may not consider these components of a bike's build, but they are very important, as they typically cannot be replaced. The flywheel or fan turns as the cyclist pedals. A heavier flywheel generally leads to a smoother ride. Very heavy flywheels can make lower bike resistances too hard for beginners, so the heaviest flywheel on the market isn't necessarily the best. 30 to 40 lbs tend to be appropriate for flywheels.
An exercise bike may have two types of drive: chain or belt. Chain drives are louder and require more maintenance, but they tend to be cheaper. Many novice and intermediate cyclists will already be accustomed to this drive. We tend to prefer belt drives for their lower maintenance and quieter performance. Belt drives feel smoother while pedaling. Yet, chain-driven bikes like the AssaultBike Elite are still great and well-performing.
What type of features do you need?
The fun of choosing an exercise bike doesn't stop with basic bike components. It continues on with exciting extras.
Screens
Many exercise bikes have adopted HD touchscreens for smart training and content viewing. A touchscreen increases a bike's cost, particularly if the screen is large. However, a touchscreen may be necessary if you plan to train alongside on-demand or live classes. Bikes with screens often have smart training features that training with content on TV or tablet cannot provide. Hands-free training is very convenient as the trainer takes control of your bike resistance, so you can focus on the ride and not making these adjustments. In addition to an increased price, a large screen may prevent the adjustability of the handlebars as the two are often attached.
Resistance
Exercise bikes don't all have the same resistance. There is air, magnetic, and friction resistance. Magnetic resistance is typically found on higher-tech bikes as it can be assigned a number that a trainer can reference for following along with a class. Magnetic resistance is very quiet, making it a great choice for exercisers trying not to disturb others in their household. Friction and air resistance have nearly unlimited levels of intensity. They are harder to quantify on machine consoles, and some bikes may be restricted to heart rate or perceived exertion for assigning intensity. These types of resistance are great for experienced cyclists as they provide a constant challenge. However, they will require more maintenance. Air resistance may require the fan to be cleaned, while friction resistance requires the replacement of the friction pads used to brake the flywheel.
Do you want premium training content?
Peloton has attracted a large crowd to indoor cycling with its premium classes. Yet, this type of training adds a monthly fee that may be unnecessary for some users. Even if you decide to train with on-demand or live classes, free classes are available on many apps and YouTube channels. The bonus of Peloton, iFIT, and JRNY is their compatibility with the bike's smart features. Everyone will have to decide for themselves what type of training is most suitable. Not all bikes maintain their functionality without an active subscription. If there is a chance that you won't be a subscriber long-term, pick a bike that has more free features.
Bottom Line – Best Exercise Bikes 2023
Exercise bikes have a lot of components to consider. A good pick is one that can be customized to your needs, whether that is seat and handlebar adjustments or swapping them out for new components. The right exercise bike will accommodate your body and training needs. Indoor cycling breeds a sense of community unmatched by almost any other indoor cardio equipment. Some brands cultivate larger communities which you can join through premium fitness platforms or train solo. With so many options to choose from, there is an exercise bike for pretty much everyone!
Frequently Asked Questions
What is the best bike for a home workout?
To find the best exercise bike for a home workout, consider how you would like to use it, its storability and portability, and price. Cardio equipment does not have to become an obstacle to live around or an expensive coat rack. The best exercise bike for home is one you are excited to use regularly. It improves your space instead of cluttering it.
Exercise bikes have smaller footprints than treadmills, allowing them to be used in smaller spaces. The right one will complement your home. If you plan to train in front of a TV, the right bike might be lightweight without a screen. If your bike is in a home office or basement, it might have a screen, so you don't have to relocate a TV or bring your phone or tablet. If you plan to ride it in a different place than it will be stored, the bike should have transport wheels and a light enough frame that you are not discouraged by the task of relocating it. Lastly, it should be a bike that fits your budget, considering the initial cost and ongoing subscriptions or maintenance.
What is the best exercise bike for losing weight?
This is no easy question to answer! On the one hand, the bike that helps you burn the most calories could be the answer. In that case, an air bike is a great tool as it engages the upper and lower body in exercise. On the other hand, a bike that keeps you motivated and going longer might be even better. This could be an immersive bike like the NordicTrack S22i Studio Bike or an energetic, fun bike like the FreeBeat Lit Bike. There are a lot of factors involved in weight loss. Overall, the best route is to develop a routine you enjoy and can stick to for the long term.
What happens if you use an exercise bike every day?
If you exercise every day without rest, you might get burnt out or injured. Sure, many people bike every single day. They likely vary their workout intensity from day to day to go hard or recover. This is feasible if the exerciser works their way up slowly to that intensity. Just like any other exercise, too much too soon spells danger.
With appropriate rest, a regular (or daily) exercise biking routine can improve cardiovascular fitness, leg strength, and leg power. It can improve aerobic or anaerobic fitness–or both! The outcome will largely depend on if you bike for a long time at an easy intensity, short, fast intervals, or a combination of the two. Heavy resistance can help build muscular strength for toned legs. Healthy bikers remember to engage their cores to protect their neck and back. This can build core strength and endurance. There are so many benefits to indoor cycling.
Regular cyclists should remember that cycling is a low-impact activity. While this can be easier on the body, it can also reduce bone density. Cyclists should consider incorporating weight-bearing activities into their exercise regimen. Besides air bikes, exercise bikes put less load on the upper body. Cyclists could benefit from supplementing their rides with upper body training. Thus, indoor cycling is a great foundation for a full-body fitness program.
Read More Popular Treadmill Reviews: