Last Updated: 1/13/2022
Finding an affordable treadmill without sacrificing quality can be a tricky proposition. Many of the best treadmill brands don't even make treadmills under $700. They want all their treadmills to perform to their brands' standards. And many cheaper treadmill manufacturers cut too many corners.
Based on our extensive treadmill testing and research, we have found two treadmills we can confidently say we have found the two best treadmills between $500 – $700. These treadmills are best for those who mostly want to just walk with the occasional jog. But they are a good starter treadmill to help the buyer onto the path to greater fitness.  
Top Two Budget Treadmills  
Horizon T101 Treadmill
The Horizon T101 is the best of the treadmills we've tested for under $700. It has an easy to use console interface so that you don't have to break out a manual every time you want to use your treadmill. There is a 2.25 CHP motor which allows the T101 to run quietly and smoothly. It is light and can be moved easily but will stay steady while you workout.
Horizon T101 Treadmill

Read our full review of the Horizon T101 Treadmill Here
---
ProForm City L6 Folding Treadmill
The ProForm City L6 treadmill is a compact folding treadmill that can store nicely under a bed or even in a closet if needed. This treadmill is great for those who want to just walk or need a compact treadmill for a smaller living area. This treadmill goes up to 8 MPH and has a smaller walking surface than most treadmills.
ProForm City L6 Treadmill

---
What Inexpensive Treadmills Do Best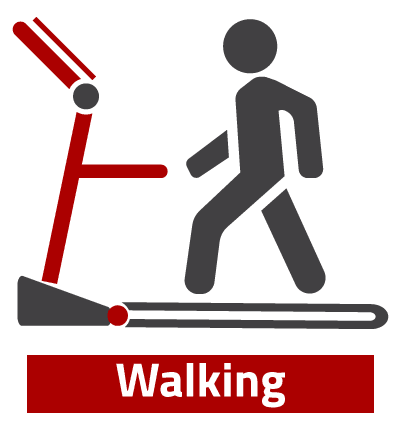 When it comes to selecting an inexpensive treadmill, consumers should not expect them to function like more expensive treadmills. These treadmills generally can reach speeds of 10 MPH but they are not designed for serious runners. Cheap treadmills are best for walkers who don't want to battle the weather or have other constraints that prevent them from exercising outdoors. Some jogging can be done and is incorporated into the workout programs preprogrammed into the treadmills.
Our top two treadmills between $500-$700 can accommodate multiple users as well as daily use. This may seem like the least you can expect from a treadmill, but when it comes to cheaper treadmills, some companies cut corners too much. But we have put both the Performance 400i and the T101 under a lot of testing and they should both be up to daily usage by multiple users.
Aside from allowing you to stay indoors for your walk, inexpensive treadmills offer a bonus that an indoor track can't give you — variety. With the ability to incline your treadmill, these budget treadmills can amp up any workout and add intensity.  
Comparing Treadmills To Find The Best Treadmill Between $500-$700
We have a set of standards we use when looking at treadmills. We restrict our comparison to treadmills in the same price range to give the different treadmills a fair standard to be judged against. Otherwise, a $2,000 treadmill would be clearly better than a budget treadmill that only costs $500 – $700.
Some of the important factors we look for when first testing and then creating a treadmill comparison for treadmills between $500 – $700 are:
Baseline feel when using the treadmill. Does it handle well when moving at different speeds and inclines?

Treadmill's overall build quality. When it comes to cheaper treadmills, have too many corners been cut?

The strength of the treadmill motor. While a treadmill manufacturer may create a treadmill that can reach 10-12 MPH, is the motor strong enough to really sustain running or is the treadmill best for just walking and jogging?

Size and weight of the treadmill. Consumers looking to buy a budget treadmill likely also want a compact and light treadmill.

How the console interface on the treadmill operates. Is it easy to use with a user's comfort in mind?
Expected Features From Treadmills Between $500-$700
To ensure that a treadmill manufacturer has not cut corners when making your budget treadmill, you should look for these expected treadmill features:
Decent treadmill belt area. For a cheaper treadmill, you should expect a treadmill belt measuring 20" wide and 55" long.

Small motors but no smaller than 2.0 CHP

A max speed of 10 MPH.

The ability to incline up to 10% incline but no decline function, as this only comes with more expensive treadmill models.

Light but sturdy frames.

Weight capacity of 300 lbs.

Heart rate monitoring handlebar grips.

Built-in workout programs should come with your budget treadmill.

You should be able to fold up your treadmill.
What Quality Of Treadmill Build And Warranty To Expect From  Treadmills Between $500-$700
Build – Buying a budget treadmill doesn't mean you need to sacrifice the build quality of your treadmill. A good, inexpensive treadmill will have a sturdy metal frame, wheels so you can easily relocate your treadmill, and built-in cushioning.  
Warranty – Warranties may be a bit shorter when it comes to budget treadmills. But any decent treadmill manufacturer will offer warranties on their treadmill. Lifetime frame warranties are to be expected, while the motor warranty may be between 25-years to a lifetime guarantee. The parts and labor warranty should be at least 1-year in length. However, don't fall into the trap of third-party warranties. Not all third-party vendors are authorized to offer extended warranties, so if you buy an unauthorized one, treadmill manufacturer does not have to honor the warranty.
Top Treadmills Between $500-$700 – Other Factors
There are hundreds of treadmill between $500-$700 out on the market today. Many come from completely unknown treadmill manufacturers. So when it comes to finding the best treadmills for between $500-$700, we decided to look at treadmills which came from reputable treadmill brands.
As these top brands tend to focus highly on creating quality treadmills from the structure of the treadmill to the technology, this quality generally doesn't come cheaply. Which is why we were only able to recommend two treadmills for our best treadmills between $500-$700.
We feel confident that the kinds of treadmills great brands like ProForm and Horizon produce are well worth their price.
Best Top Brand Treadmills Between $500-$700 – Conclusion
In the end, the best treadmills between $500-$700 are budget treadmills. They will give you years of reliable service but are not meant for anyone who wants to do more than walk daily or occasionally jog. They are a convenient way to make sure you are fitting in more exercise in your life. If you are looking for a walking treadmill so you can work and exercise, we recommend you check our best treadmill desks page.