Nordictrack C990 Treadmill Review
A high quality treadmill you can spoil yourself with.
Click our coupon link below and a $30 discount will automatically appear in your shopping cart!
Click Here To Save $30 On The C990 Now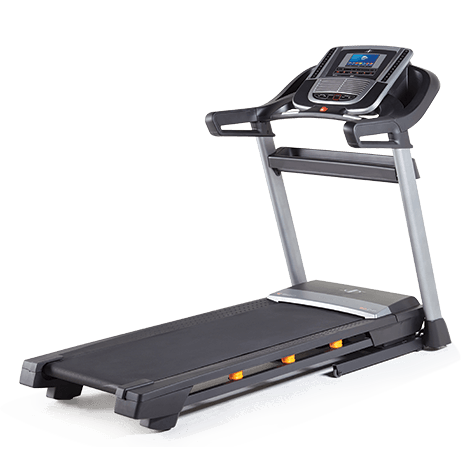 More Nordictrack Treadmill Reviews
Nordictrack C 990 Treadmill
Rating: 5 stars –

Reviewed by TreadmillReviews.com
The NordicTrack C990 has it all and will really give you the workout you are wanting. The C Series treadmills that NordicTrack offer are some of the best on the market, and the C990 is the best of the best out of this lineup. If you've got the money, and you are really wanting to spoil yourself with a high quality treadmill, this one is perfect. The features on this machine are very, very impressive. Most treadmills offer between 10-25 workout apps, this one offers a whopping 32. These are all high quality workout apps created by certified personal trainers. You will train hard and reach your fitness goals quick. It doesn't stop there, though. The C990 has an innovative FlexSelect™ Cushioning system that will let you customize your surface to be either cushioned or more firm like a road would be. The features are impressive enough, but the specifications are over the top as well. This treadmill comes with a large, comfortable tread belt size of 20″ x 60″. It has an excellent incline option of 0-15%, which will allow the user to really change up their workout routine. The max speed on the C990 is 12 mph, which is plenty fast enough. The only thing that was slightly disappointing about the C990 was the 3.0 CHP motor and light 325 lb weight capacity. Usually on machines priced this high, you will find a little stronger motor that can handle more weight. Overall, though, this machine is very impressive. The NordicTrack C990 is all around impressive, from its innovative features to its high quality specs. This treadmill is the highest priced treadmill in its series, so I may suggest checking out the other treadmills in the C series, because they are pretty comparable yet not as expensive. If you are looking to get an over-the-top treadmill that has outstanding bells and whistles, then this one is a good choice. It is comfortable for most users and it has entertaining specs that will really challenge your workouts.