Treadmills for just under $2,500 is the starting point for the highest quality of treadmills. They tend to have the best technology included and starting at the $2,500 price point, health club-quality treadmills are available to consumers.  
This review can help you visualize the jump from treadmills which cost $2,000 to just under $2,500. While $500 doesn't seem like it would create that much of an advancement, the treadmills we have tested and reviewed have proved that the under $2,500 deserves its own category.
Below are the top three best treadmills in the under $2,500 category. These treadmills can accommodate users whose fitness levels range from hardcore runners to casual walkers. They have higher build construction and warranties to match the expected lifespan of these machines. To find out if one of these treadmills is the right treadmill for you, check out the treadmills we have selected as the best treadmills under $2,500.  
Top Rated Treadmills For Under $2,500
NordicTrack Commercial 2950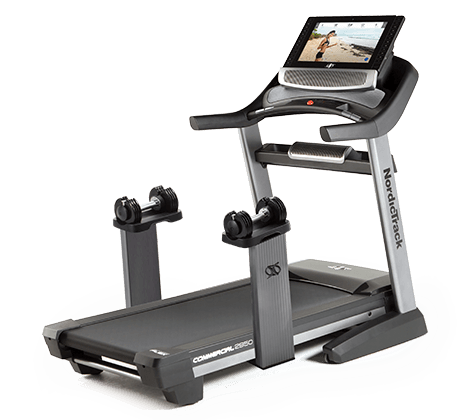 4.8 out of 5 stars
Compared to other treadmills, the NordicTrack Commercial 2950 can be considered a luxury treadmill. With a gigantic, 22" high-definition touchscreen and 4.25 CHP motor, the Commerical 2950 outshines its competitors. It appeals to athletes with its three fans and well-cushioned deck, and also to those looking to improve their fitness by having over 40 workout apps available.
For more details on the NordicTrack Commercial 2950, please read our complete review.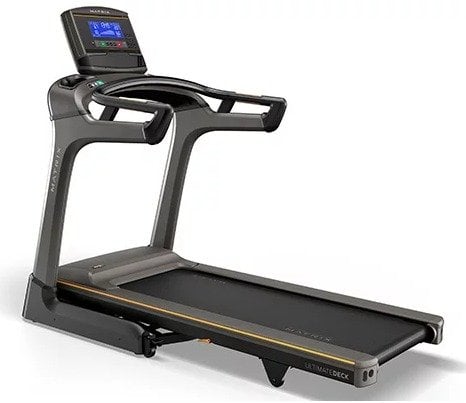 4.6 out of 5 stars
We were excited to review the Matrix TF30 as this line of treadmills has only recently become available for home gym purchasers. Matrix has been well-known for producing quality health club treadmill and the TF30 lives up to that standard. It is incredibly sturdy and should appeal to runners specifically. The TF30 also allows consumers to purchase one of 3 different consoles to go with their treadmills, so they can tailor their treadmill to their needs.
For more details on the Matrix TF30, please read our complete review.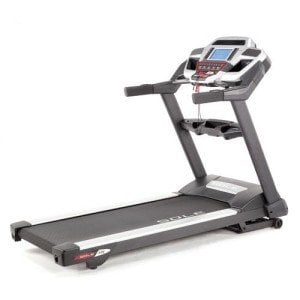 4.5 stars out of 5
Heavy-duty comes to mind when referring to a SOLE treadmill. The TT8 carries on this tradition. It can accommodate a user who weighs up to 400 lbs, which most treadmills cannot do. It can decline up to -6% and incline up to 15%, which does keep this treadmill from being able to fold up.  
For more details on the SOLE TT8, please read our complete review.
Treadmills Under $2,500 Are Best For These Users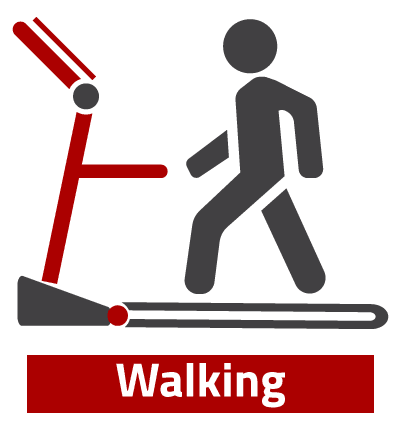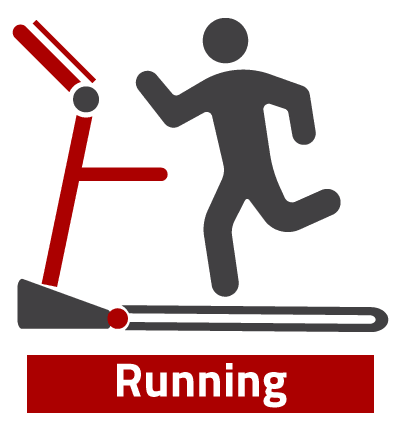 Treadmills are often rated and categorized depending on what kind of users they are best suited to help. While some treadmill manufacturers will claim all their treadmills can be used for walkers and runners alike, this is not the case. And when looking to spend nearly $2,500, it is important that you know who will receive the best benefits from the treadmill.
The best treadmills under $2,500 are best for those who want a solid, daily use treadmill that they can train on. Obviously, it can be used by casual walkers, as these treadmills come with great cushioning and good incline ranges to add variance to any walk, but there are other treadmills that are far less expensive if walking is the main drive to purchasing a treadmill. For those looking for the best treadmill to support their home fitness efforts, one of the treadmills from our under $2,500 category will be a great fit.
The user doesn't necessarily need to be a serious runner, but these treadmills were designed to help users who are active and focused on constantly improving their physical fitness. Not all areas are safe for outdoor runner training, so if the user is looking to train for their next fitness event indoors, then one of our best treadmills for under $2,500 would be a great choice.
How Treadmill Reviews Ranks Treadmills Under $2,500
Spending $2,500 on a treadmill represents a serious investment in your health and fitness, which is why we have been careful only to select the best treadmills in this price range. Common features you should look for in these treadmills are:
Overall action when using the treadmill. If you can use the treadmill before buying (or check out the reviews of those who

have tried them

), you can have a better idea of how it feels when using the treadmill.  

What is the plastic to metal ratio of the treadmill? Treadmills of higher quality will have more metal parts, especially when it comes to the frame as this will increase the durability of the treadmill.

Does it have a motor strong enough to withstand high-volume usage? Treadmill motors which are at least 3.0 CHP can hold up under the stress of someone running training daily.

What kinds of tech do the treadmills offer? The best treadmills under $2,500 should offer plenty of technology options and workout programs to supplement the user's training.
Typical Features For $2,500 Treadmills
There are typical features you should find if you choose to buy a treadmill which costs just under $2,500.
Large treadmill motors which are over 3.0 CHP

Excellent warranties to support the life of your investment (more below)

Treadmill capacity to both incline and decline.

High weight capacity of at least 300 lbs.

Wireless heart rate monitoring technology. As handlebar heart rate monitors are not accurate enough for training purposes, the best treadmills have an adjustable chest strap available so you can monitor your heart rate wirelessly.

High-quality build construction. Treadmills under $2,500 should be built with thick molded plastic, mostly metal frames, and other quality materials.  

The more expensive treadmills may take up more space as they are built more sturdily than cheaper treadmills. Some will not be able to fold up, so you will need to look carefully at the footprint of the treadmill to make sure you have room in the home gym.
What To Expect From A Treadmill Under $2,500 – Build And Warranty
Treadmill Build – The best treadmills which cost under $2,500 will be made with quality materials. Many come with a crossbar to stabilize the treadmill's console, with an additional tray for items attached to the crossbar. They will also be significantly heavier as they are built with better materials and expected to last for years to come.  
Warranty Life – A generous warranty is to be expected from the top treadmills in the under $2,500 category. A lifetime warranty on the frame and motor are industry-standard for most treadmills. But these treadmills also should come with 5-year warranties on the electronics and parts, with a 2-year labor warranty. This will ensure that your investment is protected.
Best Treadmills Under $2,500 – Closing Considerations
When searching for a new treadmill, price is always a concern which can make spending just under $2,500 on a treadmill a difficult decision. Some things you should consider before you buy a treadmill which costs this much are:
Does it come from a reputable treadmill brand? By relying on a treadmill's proven brand quality, you can cut through some of the hype and confusion when looking at treadmills.

Are there financing options that make the purchase reasonable? Not everyone has around $2,500 to spend on things that aren't common household needs. Most of the best treadmill brands offer financing options so consumers can start working on your fitness without being out large amounts of money.

How many people will use this treadmill? Cheaper treadmills are not up to more than 1-2 daily users and some inexpensive models will give out much sooner if required to be used daily. If you and others in your home want a treadmill up for multiple daily users, then a treadmill just under $2,500 will be a better choice than a cheaper treadmill.
Best Treadmills For Under $2,500 – Wrap Up
There are many things to look at and consider when you look to spend nearly $2,500 on a treadmill. But if you need a treadmill so you can seriously focus on your overall physical fitness and health, then one of these treadmills will serve you well over the years.