Last Update: August 31, 2023
A $1500 to $2000 investment is no small deal for most people. It requires time and research to ensure you put your money in the right place. We are glad to bring you this list of our top treadmills in this price range. These treadmills have great training content, entertainment, and functional designs. All of these treadmills work for low mileage running or more. Some treadmills will require ongoing subscriptions to access their full range of content, while others are free after the initial cost. Lets check out the best treadmills under $2000.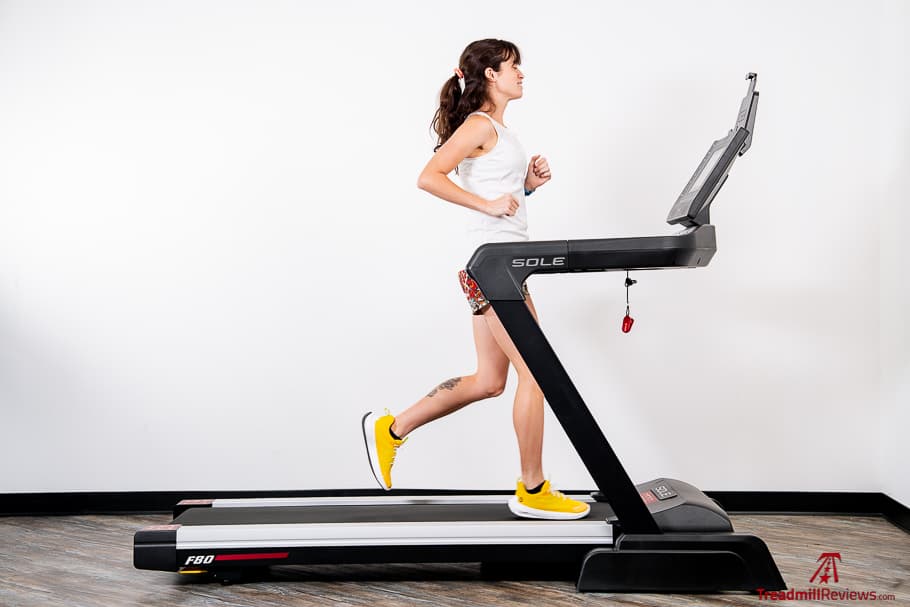 Here's Our List Of The Best Treadmills Under $2000 for 2023
Best Treadmill Under $2000: Sole F80 Treadmill
The Sole F80 is a treadmill built to endure the miles right along with you, earning it our award of Best Treadmill Under $2000. It offers diverse training features and content. It also does not lock you into a subscription and provides excellent functionality without any paid content. The F80 provides a powerful and sturdy build for walkers and runners to achieve their longest and toughest efforts.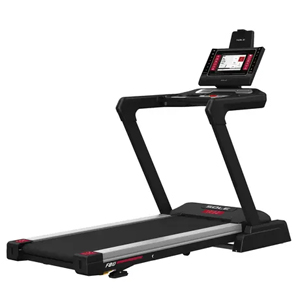 The Sole F80 is packed with features, optional training, and entertainment content for a great walking or running workout.
The Sole F80 Treadmill is a running treadmill with a powerful 3.5 HP motor and a spacious running deck (22" x 60"). It has a high weight capacity of 350 lbs, so you can rest assured that it can handle the high forces generated by running and larger users. The speed range is 0 to 12 mph, the motorized treadmill standard. The maximum incline is a challenging 15%, though there is no decline. The Sole F80 has a firm deck, which makes it great for road runners, high-intensity training, and increasing bone density.
The 10" touchscreen gives exercisers access to lots of content. Fortunately, you do not have to subscribe to a subscription service to access all of it. In fact, you may already have a subscription to the popular entertainment streaming apps that Sole has–Netflix, Hulu, Max, Prime, Disney+, and Peacock. The freemium options are YouTube and Spotify. If these options weren't enough, runners and walkers can also use the ESPN, CNN, or Audible apps right from the Sole F80's touchscreen. Of course, accessing all of these apps will require a WiFi connection.
The F80 does neglect training content in favor of entertainment. YouTube can be used to access some training content, but the Sole F80 also offers Kinomap. Kinomap is a subscription training service that provides coaching, structured workouts, and virtual global routes. You do not have to have a Kinomap subscription to use the Sole F80, but it can elevate your training if that is something you are interested in. Garmin watch owners will be happy to learn that their watch can pair via Bluetooth to display their heart rate on screen during a walk or run. Afterward, the results can be exported to the free Sole+ app to keep track of your progress.
The fun doesn't stop there with the Sole F80. It offers even more features to keep your workout interesting. If you are subscribed to another training platform, you can screen mirror a phone or tablet to the Sole F80's screen. This function works best for iPhone users. Android users will have to wait and see if Sole updates their Android screen mirroring app, as the Sole F80 is not compatible with the native screen casting function. Phones with wireless charging can be placed on the Sole F80's wireless charging pad to keep the device powered for the entirety of the workout. The F80 has even more awesome features, but they are too many to name.
+

PROS
Sole embraces third-party apps and content, allowing users to train how they wish.
The Sole F80 has a powerful 3.5 HP motor and a spacious 22" x 60" running surface to accommodate high-intensity running.
Sole provides excellent non-paid content and features.
The F80 is very sturdy and durable.
The F80 connects with Garmin.
The wireless charging pad keeps your device powered without hazardous cords.
–

CONS
Android users cannot screen mirror their devices to the F80 currently, though there is hope of Sole updating their app.
While a firm deck is great for some, runners and walkers looking for more shock absorption won't find it in the F80.
Read Our Full Review Of The Sole F80 Treadmill Here
---
Best Runner-Up Treadmill Under $2000: NordicTrack Commercial 1250 Treadmill
The NordicTrack 1250 combines soft cushioning with high-tech training for a truly awesome cardio workout. NordicTrack falls under the iFIT umbrella, so the 12" HD touchscreen accesses all of iFIT's content with an active subscription. The 1250 has a sleek and modern design, which folds compactly with hydraulic assistance. The NordicTrack Commercial 1250 is our runner-up for being an excellent treadmill despite not having as many free features.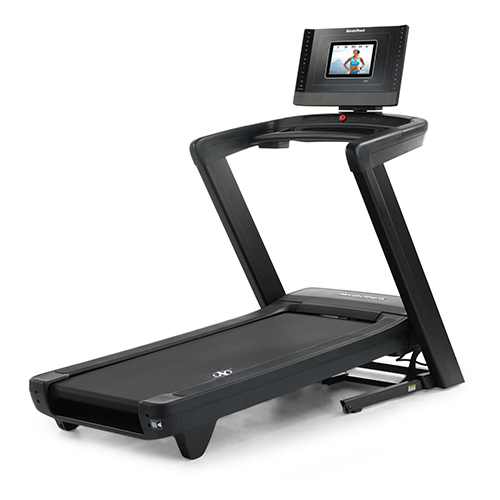 The NordicTrack Commercial 1250 combines high-tech, hands-free performance with great shock absorption.
The NordicTrack Commercial 1250 Treadmill has an incredibly soft running deck. It has plenty of give and rebound to cushion your step and assist you into the next. The 20" x 60" deck size is spacious enough to accommodate most running strides. The motor hood is minimal, so I rarely feel crowded, even when adjusting onscreen settings. The motor is a 3.0 CHP motor, which will support low-mileage running and regular walking. The 1250 is great for committed walkers, beginner runners, or runners looking for a recovery run treadmill for their easy days.
iFIT is a premium subscription service requiring a monthly subscription or a yearly subscription at a discounted rate. iFIT classes are trainer-led and filmed around the world. iFIT learns your fitness level over time to adjust the speed of each class to match automatically. The incline adjusts to meet the real-life terrain as closely as possible. This creates an immersive running experience. I love running virtual race courses or distant locations with iFIT. Once I am done running, I can even take iFIT off the treadmill for strength training, yoga, and more.
The 1250 declines up to -3%, a feature not often found in this price range. It is great for runners training for downhill races or walkers wanting to replicate real-world terrain. The 1250 also has Bluetooth, allowing users to pair their headphones for quiet listening or a heart rate monitor for more training options. The front-facing speakers are sufficiently loud for listening during exercise. The NordicTrack Commercial 1250 is a great high-tech treadmill suitable for users desiring premium subscription content.
+

PROS
The 1250 has a soft cushioned deck.
iFIT provides an immersive and smart training platform with worldwide classes.
The incline range is -3% to 12%.
iFIT provides off-treadmill training content to cover your entire fitness routine.
The 3.0 CHP motor and 20"x 60" deck is great for walkers and runners.
The 1250 has a modern and minimal build which folds fairly compact and includes a minimal motor hood that won't catch your foot.
–

CONS
The motor is not quite powerful enough to support high-mileage running for the long term.
The 1250's smart features are mostly behind the iFIT paywall.
Read Our Full Review Of The NordicTrack Commercial 1250 Treadmill Here
---
Best Treadmill Under $2000 For HIIT: Horizon 7.8 AT Treadmill
The Horizon 7.8 AT Treadmill is one of the best treadmills for training with other content platforms. Horizon does not have an integrated training platform of their own, but their interval keys and Quick Dial controls make following along with other content a breeze. The quick speed and incline adjustments of the 7.8 AT Treadmill makes it our pick for the Best Treadmill Under $2000 For HIIT.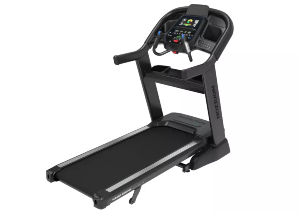 The Horizon 7.8 AT Treadmill has fast speed and interval adjustments and convenient controls, making it ideal for interval training.
The Horizon 7.8 AT Treadmill is a powerful running treadmill with a motor 4.0 HP motor. It has a large running surface, measuring 22" x 60". This size and power of treadmill is great for stretching out those legs and running fast or taking it slower to settle in for the long haul. It has a standard speed range of 0 to 12 mph with a more generous incline range of 0 to 15%. It cannot decline, but it a 15% grade should be challenging for most users, particularly at a running speed.
Horizon stands out from other powerful treadmills with its superior speed and incline adjustments. They are faster than the competition, making the 7.8 AT ideal for runners or walkers training with short intervals. This treadmill has spinning dials that exercisers can quickly spin to make speed adjustments on the fly. I have enjoyed using these Quick Dials, as they are placed pretty close to the arc of my natural arm swing, requiring very little deviation from my running form to use them.
The low-tech console has plenty of features allowing you to connect to third-party services. This makes the 7.8 AT approachable and unrestrictive. Horizon does not have its own subscription service, keeping the cost of its products relatively low. However, the treadmill design makes following along with third-party content easy. There is USB charging for keeping a device powered, audio in/out jack, Bluetooth speakers, and media controls. The built-in features on the 7.8 AT are great, including eight different types of onboard programs. If you want to upgrade your experience, you can use your phone or tablet rather than investing in a treadmill with a restricted screen.
+

PROS
The speed and incline adjustments are very fast to suit short interval training.
The Quick Dial controls make speed and incline adjustments easy while running.
The motor is 4.0 HP, which is great for everything up to high-intensity and long-distance running.
The 7.8 AT does not require a subscription but pairs well with third-party apps and content.
Bluetooth, an audio jack, tablet holders, and media controls make the 7.8 AT simple to pair with content from a phone or tablet.
The 7.8 AT has a lot of training options–onboard programs, third-party compatibility, and up to a 15% incline.
–

CONS
The Horizon 7.8 AT treadmill does not look as sleek and modern as many other machines.
The third-party app integration is not as smooth as on treadmills with native content.
Read Our Full Review Of The Horizon 7.8 AT Treadmill Here
---
Best Treadmill Under $2000 For Multiple Users: Bowflex Treadmill 10
Multi-user households require a powerful treadmill to support daily use by more than one individual. The Bowflex Treadmill 10 excels in this category with its strong motor and intense construction. Whether your house has multiple walkers, runners, or a mixture, the Treadmill 10 is a machine that meets their needs.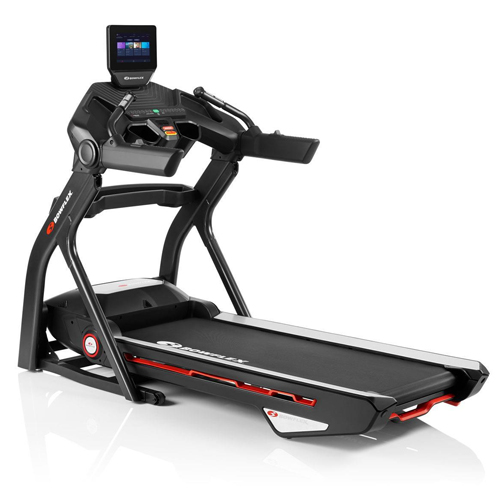 The Bowflex Treadmill 10 has a powerful motor, a strong build, and a great selection of features that will appeal to the needs of a whole household of runners.
One of the most important features a treadmill can have when supporting a multi-user household is a strong motor. It can handle the demands of more than one runner or walker. The 22" x 60" deck ensures there is enough room for the longest strides. It can accommodate users up to 400 lbs, which is top of its class. These inclusive specs allow the whole family to meet their training goals!
The Bowflex Treadmill 10 has a 10" touchscreen compatible with the JRNY subscription fitness platform. Bowflex offers a 2-month free trial of the service before you decide to commit. One subscription allows you to train on and off the treadmill with studio and outdoor classes. The treadmill has a maximum speed of 12 mph and an incline range of -5% to 15%. The classes provide guides for these settings to push your limits. If structured workouts and virtual coaching aren't for you (or maybe not for every run), the fun with JRNY doesn't stop there.
Behind the JRNY paywall, users will find third-party entertainment apps like Netflix and HBO. You can catch up on your favorite shows while getting in a great workout. There are also genre music stations if you prefer to jam out. If all this weren't enough or you aren't sold on the JRNY platform, the Treadmill 10 has a large device rack for viewing phone or tablet content. I really like to read on my Kindle while on the treadmill, and the Bowflex Treadmill 10 is a great treadmill for it. Its sturdy build keeps the console stable for great viewing.
+

PROS
The Bowflex Treadmill 10 has a powerful motor that can support multiple users.
The incline range is -5% to 15%.
JRNY has a 2-month free trial and provides tons of training content for on and off the treadmill exercise.
The build is very sturdy, with a stable console and a 400 lb maximum user weight.
The 22" x 60" deck provides enough room for long, running strides.
JRNY allows users to access entertainment streaming apps during their activity.
–

CONS
Most of the Treadmill 10's features are locked behind the JRNY paywall and cannot be accessed without an active subscription.
Read Our Full Review Of The Bowflex Treadmill 10 Here
---
Best Cushioned Treadmill Under $2000: ProForm Pro 2000 Treadmill
The ProForm Pro 2000 Treadmill earns our award of Best Cushioned Treadmill Under $2000 for its ReBound Pro Cushioning. It is noticeably softer than running on the pavement but does not provide quite as much spring as treadmills from the NordicTrack Commercial series. The ProForm Pro 2000 has what I like to call "Goldilocks" cushioning, not overly soft but far from firm.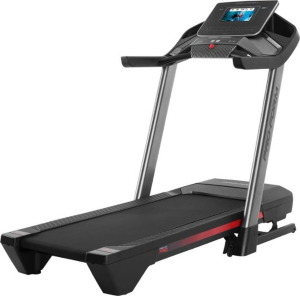 The ProForm Pro 2000 provides far more cushioning than running on the pavement but not so much that you feel the treadmill is doing more work than you are.
More is not always better. A highly cushioned treadmill will decrease the difficulty of your run to the point it is not as much of a training stimulus as running outdoors. Yet, we know that most treadmill users prefer treadmill decks on the softer side. Thus, we have crowned the ProForm Pro 2000. It provides enough cushioning to allow your legs to recover on easier days and enough challenge for the harder days. The Pro 2000's ReBound Pro Cushioning puts a little extra spring in every step taken on the 20" x 60" running surface.
The ProForm Pro 2000 has a 3.25 CHP motor. The motor's strength is sufficient for walkers and runners alike, though households with multiple runners or marathon runners may prefer something a little more powerful. The ProForm Pro 2000 has a 12% maximum incline and a -3% decline. Downhill walking and running cause the majority of soreness from these activities, so it is great to see a negative grade included on the Pro 2000 for athletes who want to adapt to downhill activity.
iFIT provides most of the onscreen content, requiring a monthly or yearly subscription. It is a wonderful training platform that has globally filmed content for on and off the treadmill. I appreciate how hands-free iFIT makes workouts. iFIT enables the Pro 2000 to learn and adapt to your fitness level by automatically adjusting the speed settings. The incline will automatically adjust (unless overridden) to the real-life grade or as near as possible. This makes the experience of running on the ProForm Pro 2000 immersive and fun!
+

PROS
The cushioning feels just right, soft but not overly so.
iFIT delivers hands-free workouts adapted to your fitness level.
The incline range is -3% to 12%.
The audio and speakers are Bluetooth, so you can play your music or listen to iFIT quietly.
The 3.25 HP motor is strong enough to support running.
–

CONS
The fan and incline motor are a little noisy.
The Pro 2000 is a little shaky at top speeds or during incline adjustments.
Read Our Full Review Of The ProForm Pro 2000 Treadmill Here
---
Best Treadmill Under $2000 For Running: NordicTrack EXP 14i Treadmill
The NordicTrack EXP 14i will appeal to beginner and experienced runners, though maybe for different reasons. The Best Treadmill Under $2000 for Running goes to the NordicTrack EXP 14i, because I think it best reflects the real-world habits of runners, including me! As a bonus, it is not a the top of this budget range.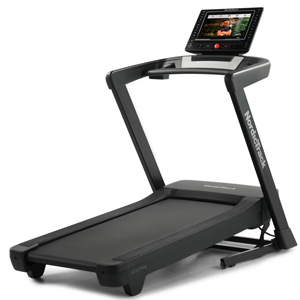 The NordicTrack EXP 14i Treadmill has a cushioned deck and a large enough touchscreen to navigate while running.
For dedicated runners, treadmills are often a supplement to their outdoor training rather than a mainstay. For running newbies, a home treadmill can be a way to ease yourself into the sport. When I first started running, I always feared being seen running too slow or with incorrect form, so I didn't want to do it as much. The NordicTrack EXP 14i is a great solution for beginner runners not ready to take things outdoors or committed athletes combating the innumerable obstacles presented by outdoor running. The EXP 14i provides the minimum of what you need without going to waste if you hit up your local high school's 400m track or conquer the trails.
The NordicTrack EXP 14i is a pretty compact treadmill with only a 20" x 55" deck. I typically recommend larger decks for running, but hear me out–a shorter deck actually encourages better form. New runners typically take around 160 to 170 steps per minute, but shortening your stride and working up to 170 to 180 steps per minute can combat many injuries associated with overstriding. You will need more room if you plan to run faster than a 7-minute mile regularly. The deck is very well cushioned, so those miles feel easier than on pavement. This can help beginners up their mileage or experienced runners recover from harder efforts.
The EXP 14i is equipped with iFIT, but it is one of the few NordicTrack treadmills I think is worth it even if you forego the subscription. The EXP 14i has comfortable cushioning, a modern and compact build, and a tablet rack for non-iFIT viewing. iFIT is a great platform. Even if the treadmill only supplements your outdoor running, iFIT can complement all of your training. Runners (including me) are notorious for neglecting their strength and mobility training. iFIT gives you access to great off-treadmill workouts at no extra cost. Lastly, the 14" touchscreen is a great size for running. Smaller screens can be difficult to navigate at higher speeds.
+

PROS
The EXP 14i is a great complement for runners who don't train solely on a treadmill.
Beginning runners will be motivated by the great iFIT content.
The cushioning is very soft to help runners recover or increase their distance.
The 14" touchscreen is easy to navigate while running.
The device rack gives you more viewing options than just iFIT.
The compact and modern design keeps the EXP 14i from being overly intrusive.
–

CONS
Runners who plan to do most of their training on a treadmill will find the 3.0 CHP motor insufficient.
Larger or faster runners may need a larger deck.
Read Our Full Review Of The NordicTrack EXP 14i Here
---
Best Compact Treadmill Under $2000: Echelon Stride-s Treadmill
The most compact treadmill on this list just might fit under your bed. The Echelon Stride-s Treadmill folds down to 10" tall. Its ultra-compact design makes it a shoo-in for this award. It does not compromise on features or training content.

The Echelon Stride-s Treadmill folds flat to only 10" in height, allowing it to be stored beneath a bed or other furniture.
Treadmills don't have to take up a lot of space in your home. The Echelon Stride-s folds to a mere 10" tall, with the console folding down to the deck. Its Auto Fold feature gets the job done in three easy steps. Simply push the console flat, tip the treadmill arms upright, and press the pedal to release the console to the treadmill deck. The Echelon Stride-s features one of the most compact designs for a running treadmill.
The motor is 2.0 CHP but 3.5 at its peak. It is not ideal for long runs, but low-mileage runs should be fine. The deck is 20" x 59", which should accommodate most users' strides. The Echelon Stride-s is only 156 lbs, but it can handle a maximum user weight of 300 lbs. This is an impressively sturdy treadmill for its build, and we are pleased with how few features Echelon has compromised on to bring such a compact treadmill.
The 10" touchscreen allows users to view premium Echelon content right from the treadmill console. A subscription is required to keep using the treadmill and must be purchased (unless you are already a member) at the same time as the treadmill. Echelon provides content similar to Peloton. Walkers and runners will be treated to a mixture of studio classes and outdoor runs. Echelon has a leaderboard for competitive exercisers and live classes for those seeking a social atmosphere. Echelon also incorporates music into their workouts to keep them fun and motivating.
+

PROS
The Echelon Stride-s folds to a compact height of 10 inches.
The Stride-s weighs only 156 lbs, so it can be easily wheeled around on its transport wheels.
Echelon content is a fun alternative to Peloton.
The Stride-s has a maximum incline of 10% despite its minimalistic design.
It is very sturdy.
–

CONS
An Echelon membership is required to use the treadmill, though many users will find it drastically improves their experience.
---
Best Incline Treadmill Under $2000: XTERRA TRX5500 Treadmill
The XTERRA TRX5500 Treadmill has a minimal deck height of 7.75 inches, which paired with the 15 levels of incline, means this treadmill doesn't boost you up as high as other treadmills with the same incline. The XTERRA TRX5500 is a great treadmill for users wanting to get as much incline training as possible but with concerns over ceiling clearance.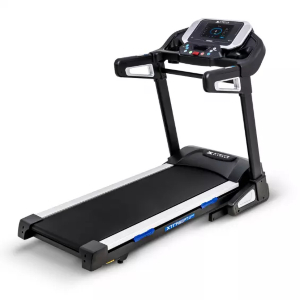 The XTERRA TRX5500 Treadmill has 15 levels of incline but only a 7.75" step-up height for a lower overall height.
The XTERRA TRX5500 Treadmill won our Best Incline Treadmill Under $2000 award, but it has plenty of more features to brag about. First, its incline does have a total of 15 levels. This is competitive with the other treadmills on this list, but its minimal deck height means you won't be quite as tall at the top as you would on the others. This is important for users with lower ceilings or who worry they might need to step off of their treadmills. The XTERRA TRX5500 is great for users with low mobility. The treadmill is also very stable while inclining, which should further reassure walkers and runners.
The TRX5500's 3.25 HP motor will support walking and some running. The deck is 20" x 60" and is firm, comparable to Sole treadmills. It has a sturdy console, reinforced by a steel crossbar between the two steel uprights. It can support a maximum user weight of 350 lbs. The treadmill weighs 223 lbs, but uses four transport wheels for easy, tilt-free relocation. A lifetime warranty covers the frame and motor for a build you can trust.
The XTERRA TRX5500 has a wide range of content on its 10" touchscreen. There are built-in interval workouts with pre-programmed speed and incline settings. Bluetooth allows you to connect to fitness apps like Zwift and Kinomap for even more training. If you prefer to multitask while on the treadmill, you can binge-watch your favorite shows or movies on Netflix or a few other third-party apps built into the screen! Perhaps most importantly, the TRX5500 does not lock its spiffy smart features behind a premium paywall.
+

PROS
The TRX5500 combines a low deck height with a good incline range.
Lifetime warranties cover the frame and motor.
Third-party apps like Netflix and YouTube give users a good range of entertainment content.
No subscription is required to access the apps or content unless required by the third party.
The 20" x 60" belt should accommodate most stride lengths.
The 350 lb maximum user weight is nice.
–

CONS
The console is missing quick speed and incline change buttons.
The deck may be firmer than some walkers and runners prefer.
---
What To Look for In Treadmills Under $2000
Training and Entertainment Content
As the price increases, so do the high-tech features. Many treadmills in this category have touchscreens for displaying native training and third-party entertainment content. Training content may vary from onboard, preset programs to HD video classes led by professional trainers. One is not necessarily better than the other, but many walkers and runners will find high-energy and motivational content more engaging and more helpful for creating a fitness routine.
I really enjoy watching television while I am on the treadmill. I feel bad enough about how many hours I spend consuming Netflix, Hulu, and the dozen other streaming services, but I can feel much better about it if I am reaching my step goal at the same time. I have logged too many steps walking in circles in my apartment. Enough is enough! A treadmill makes multitasking much more pleasant.
Larger Motors and Decks
To a point, we expect treadmill motors to increase in power and decks to increase in size with an increase in price. Treadmills between $1500 and $2000 should have specs that work for running in addition to walking. Our motor thresholds are 3.0 HP for light running, 3.5 HP for a single runner, and 4.0 HP for high-mileage running or multiple runners. This is assuming that all running mileage is done on the treadmill. If you plan to use a treadmill to supplement your outdoor training, you may not need as powerful of a motor. Regarding deck size, we like to see a minimum of 55" for running, though 60" or more is preferred.
There are clear exceptions to this rule. Some treadmills in this price range are constructed with compact yet stable builds to fit in small spaces. These treadmills are pricier due to their high-tech and minimalist constructions. They pack a lot of features into very small spaces. In fact, they may suit your needs better.
Better Constructions, Better Warranties
More metal and less plastic–that's the basic rule of what to search for in a pricier treadmill. As treadmills improve in apparent build quality, we like to see longer warranties. A lifetime warranty demonstrates the manufacturer's trust in their equipment. Be sure to check what the warranty covers, as not all treadmill manufacturers cover normal wear and tear.
Subscription vs. Non-subscription Content
Shopping by treadmill price only accounts for the upfront cost. Some brands, like Echelon, require a subscription purchase at the time of buying the machine. Others, like NordicTrack and ProForm, give you a month free trial of their content. Treadmills will also vary in how many free features they allow. Most operate on the "freemium" model, offering restricted features without an active subscription. Others are truly premium machines like Echelon.
Sole and Horizon are two examples of treadmill brands that make subscriptions optional. They pair well with paid subscriptions but have plenty of onboard features that do not require them. They are good brands for walkers and runners who wish to go without a monthly fee.
There is nothing wrong with either type of training. If you plan to use a subscription service, be mindful of that in your budget. If you go without a subscription, it doesn't mean you can't change your mind and use one with only slightly less connectivity to the treadmill.
Bottom Line – Best Treadmills Under $2000
Are you drowning in features? Treadmills under $2000 offer a lot of content and features, ranging from high-tech smart features to low-tech versatile constructions. There is a little bit of everything to suit most people. The only features not found in treadmills at this price point are higher speed and incline settings, 20" or more touchscreens, and commercial-grade builds. Runners and walkers will be pleased with the treadmill sizes, capabilities, and durability. The entertainment and training content should keep the most determined of runners engaged for years to come.
Frequently Asked Questions
Should you buy an expensive treadmill?
Treadmills do not have to be exorbitant in price. It all comes down to what you are looking for in a treadmill and what you consider expensive. Treadmills in the $1500 to $2000 range make great treadmills for daily use and running. They have stronger motors, allowing users to go farther and faster. I advise saving money on a treadmill by choosing one with fewer smart features over a less powerful motor or durable construction. A good way to discover the most affordable treadmill you can get away with is to make a list of features you absolutely have to have and features you would like to have. Try to find a treadmill that meets these absolute requirements and build out from there. Finding a treadmill that meets your needs and will last can save you money in the long run.
Which treadmill is best?
If there was one treadmill that was better than all others, it would be the only treadmill on the market. Unfortunately, this is not the case. Consumer needs vary even more than what the market offers, leading to vastly different user experiences. What one user considers the best for his studio apartment space will not be best for the marathon runner completing her home gym. This is why a treadmill purchase requires time and research. We have done our best to compile as many resources as possible to help you on this journey. We have chosen our best treadmills in a variety of categories that may or may not describe your exact situation. Our best overall treadmills have been selected for their ability to please a large portion of treadmill users, though even they will not perfectly match the needs of every individual. Some of our favorite brands include NordicTrack, Sole, Horizon, Bowflex, and ProForm.
Can you run on a small treadmill?
The treadmills on this list are all suitable for running, though some are more compact than others. Runners with long strides should look for a running deck of 60 to 65 inches. Larger users or those with mobility concerns may want to consider a treadmill with a width of 22 inches. Small does not necessarily mean the treadmill is not sturdy. Users should look for treadmills with durable, preferably steel frames. When selecting a small running treadmill, shoppers should consider the all of the treadmills other features and specs to make sure that they are designed to support running. We recommend at least a 20" x 60" deck, though petite users or slower runners make be okay with a 50" to 55" deck length. A running treadmills should have a motor of 3.0 HP or stronger. Shoppers should also be mindful of the sturdiness of the build and the weight capacity.
Read More Popular Treadmill Reviews: