Last Update: September 8, 2023
Running places high demands on a treadmill, but the right equipment can transform your workout. Treadmills offer convenience, safety, and varied training options for runners. Our best treadmills have been selected for their robust builds and exciting features, so you can enjoy running indoors. With careful consideration of your training wants and needs, you can soon be logging miles from the comfort of your home.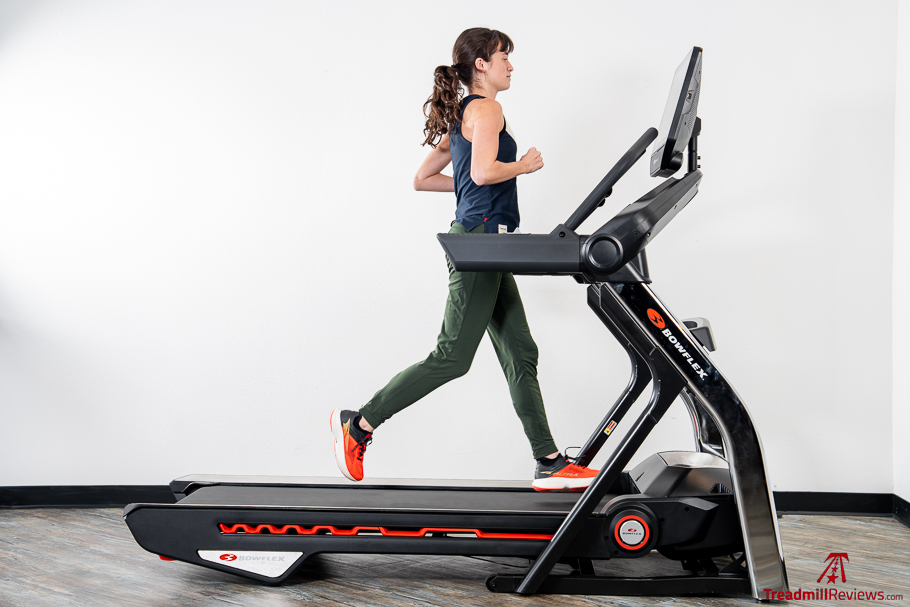 Here's Our List Of The Best Treadmills For Running 2023
Best Treadmills For Running 2023
Best Treadmill For Running: Bowflex Treadmill 22
The Bowflex Treadmill 22 earns our pick as Best Treadmill for Running for its versatile training options, sturdy build, and generous incline range. The massive size of the Treadmill 22 ensures minimal console wobbling while running at high speeds. The belt moves smoothly underfoot and is moderately cushioned.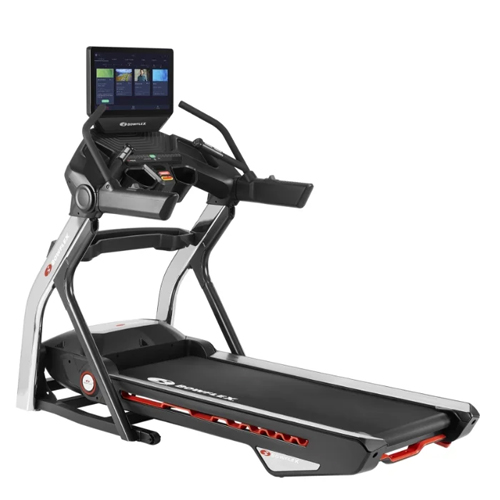 The Bowflex Treadmill 22 is a treadmill of hulking proportions ready for your fastest and longest runs.
The Bowflex Treadmill 22 is a striking piece of equipment due to its large size and bold color scheme–red, black, and chrome. If you have ever run on a cheap or walking-specific treadmill and felt like you were going to break it, the Treadmill 22 is the exact opposite of that. Bowflex doesn't state the horsepower of the Treadmill 22's motor, but it performs on par with other 4.0 HP motors. It's almost overengineered with its triangulated uprights and massive size.
This treadmill is great for a variety of activities, but it really shines for someone primarily training on the treadmill. If you plan to do the full gamut of runs–interval workouts, recovery runs, long runs–this treadmill can handle it all, even if your weekly mileage is marathon-training high. The Treadmill 22 offers subscription content, a textured tablet rack, and a great incline range of -5% to 20% for an assortment of ways to train.
Through the 22" touchscreen, you can access the JRNY platform. JRNY is free for the first year after your purchase of the Treadmill 22, making it one of the best free trials of any subscription fitness content. The JRNY platform gives you access to tons of studio and outdoor treadmill classes, radio stations, and entertainment apps like Netflix and Hulu. So if you want guided training or a way to make the treadmill more captivating, the Treadmill 22 has it.
+

PROS
The powerful motor supports all kinds of runs, from the slowest to the toughest and everything in between.
Larger runners will also be comfortable on the Treadmill 22, which has a spacious 22" x 60" belt and a 400 lb weight capacity.
The incline range of -5% to 20% is one of the most impressive of any folding treadmill.
The JRNY platform offers training content and entertainment.
The console is very sturdy, even at high speeds.
The 22" touchscreen and Bluetooth integration help you get the most out of JRNY's content.
–

CONS
Without JRNY, the touchscreen has very limited capabilities as the entertainment apps are also behind the paywall. Fortunately, JRNY is generously free for the first year.
Read Our Full Review Of The Bowflex Treadmill 22 Here
---
Best Runner-Up Treadmill For Running: NordicTrack Commercial 1750 Treadmill
NordicTrack makes notoriously well-cushioned treadmills, and the Commercial 1750 Treadmill is one of the best. We chose this treadmill as our best runner-up because it makes running as close to effortless as it gets. A majority of runners are injured every year. Though a variety of factors influence this high rate, the high forces experienced by a runner during every single step are one of them. The cushion of the 1750 makes this treadmill a great recovery tool and an easy day surface.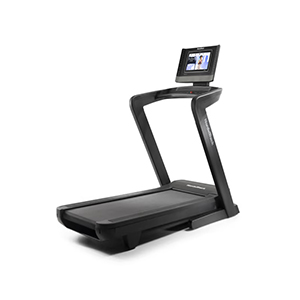 Land more softly on the NordicTrack Commercial 1750 Treadmill, and get lost in one of iFIT's worldwide destination run classes all from the comfort of your home.
The NordicTrack Commercial 1750 Treadmill is a premium treadmill with all the accouterments for a great run. Whether you are a serious runner or a newbie to the sport, your legs will feel like they need a break eventually, and the cushioned deck of the 1750 can help with that. We love it as a recovery run treadmill or a daily-use machine to keep you running farther and longer.
The 1750 has a 14" HD touchscreen for partaking in iFIT's subscription platform. The all-inclusive fitness library can help you train for your next marathon, build more muscle off the treadmill, and give you ideas for your next destination race. iFIT's content is filmed all over the world, with 180+ trainers guiding you through classes and series. The platform has a 30-day free trial, and then you can choose to pay monthly or yearly for a discount. Don't feel restricted to the 1750; even though the screen can pivot for off-treadmill viewing, you can take iFIT with you on your smart device for workouts anywhere.
It is hard to classify any treadmill as quiet, but the 1750 is close. The incline motor is one of the quietest, requiring you to look down at times to verify that it is, in fact, moving. The speed adjustments are also fluid. If you prefer a hands-free workout, iFIT can do it by learning your current fitness level and adjusting accordingly. Running is never effortless, but it gets as close as it can on the NordicTrack Commercial 1750.
+

PROS
Soft cushioning helps you recover from harder outdoor runs or go farther and longer with daily training.
The AutoAdjust features of the 1750 give you a personalized, hands-free workout.
The 14" HD touchscreen delivers an immersive workout experience. The screen also pivots for off-treadmill viewing.
The deck inclines and declines, offering a range of -3% to 15% for a close-to real-world experience.
Google Maps integration with iFIT lets you create workouts anywhere in the world, so your run is really your own.
The 3.5 CHP motor makes this treadmill powerful enough for all your running needs.
–

CONS
The treadmill's smart features are limited without an iFIT subscription and non-existent without WiFi.
The console shakes while running at high speeds.
Read Our Full Review Of The NordicTrack Commercial 1750 Treadmill Here
---
Best Treadmill For Road Running: Sole F80 Treadmill
The Sole F80 takes our prize for Best Treadmill for Road Running. Compared to others in its category, the F80 has a firm deck, which better replicates the experience of running outdoors on the pavement. A firmer surface will help your body prepare for your next road race.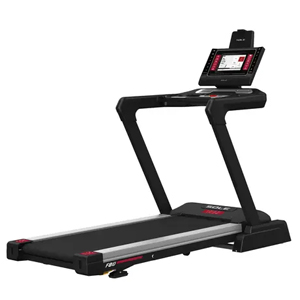 The Sole F80 has a large running surface of 22" x 60" and a firm underfoot feel to give you the freedom and underfoot feel of running outdoors.
Softer cushion does not always mean better for you. Runners concerned about transitioning from treadmill running to outdoor running can be put at ease by choosing a firmer treadmill. Without an intermediary to cushion you, like a softer surface or a well-cushioned shoe, your body has to cushion itself. Thus, you can strengthen your body's ability to do this by running on firmer surfaces. I recommend the F80 for runners who like a high cushion shoe like Hokas, so their runs don't feel too muted and dampened underfoot, which can reduce stability.
The Sole F80 has a fantastic range of features–a wireless charging pad, Bluetooth connectivity, and screen mirroring among them. A device rack allows you to connect to the premium Studio fitness platform, which syncs with your treadmill to record your workout metrics. The F80 is also a great treadmill for use without content, as there are free training programs to choose from. The 10" touchscreen display offers a high-tech alternative to the more simplistic tactile controls featured on the console. For an even more tech-savvy experience, try the 90-day free trial of Studio that comes with the F80.
The F80 has a lifetime warranty on the frame and motor, so you can be assured you are getting a solid machine. The 3.5 HP motor is ready to go fast, up to 12 mph, or take it slow up 15 levels of incline. The F80 is great for runners who have a road marathon in their future and plan to train primarily indoors.
+

PROS
The firmer deck replicates running on pavement more accurately than other treadmills.
The 22" x 60" deck and 3.5 HP motor make this treadmill suitable for many user sizes and abilities.
The lifetime frame and motor warranty are a testament to how sturdy the F80 is.
Unique features like a wireless charging pad and screen mirroring make the F80 a standout.
No subscription is required to access the majority of this treadmill's features.
The F80 folds for easier storage.
–

CONS
There is no option to decline the deck for downhill walking or running.
Read Our Full Review Of The Sole F80 Treadmill Here
---
Best Treadmill For Interval Running: Horizon 7.8 AT Treadmill
The Horizon 7.8 AT earns our pick for Best Treadmill for Interval Running thanks to its QuickDial controls, hasty speed and incline adjustments, and custom interval keys. Whether you want to run a classic track workout, a freeform fartlek, or a favorite studio class, the 7.8 AT can transition you from one speed to the next in record time.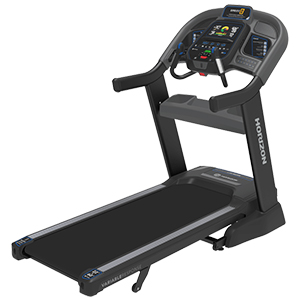 The Horizon 7.8 AT has been engineered for running intervals, but it can also handle your long steady-state runs with its 4.0 HP Rapid Sync motor.
The 7.8 AT Treadmill has all the fun of a treadmill compatible with subscription content without commitment. The Bluetooth speakers and device rack allow you to stream your favorite fitness platform from your smart device. If you prefer not to subscribe to a platform, there are multiple training programs built into the 7.8 AT.
The Horizon 7.8 AT incorporates the Sprint 8 program. This program takes only 20 minutes, three times a week. It intersperses eight 30-second all-out sprint intervals with 90 seconds of active recovery. This simple program stays difficult as you get better, because the sprints are done at your maximum intensity. As you get better and faster, so do the sprint intervals. The QuickDial controls let you scroll through speed and incline decreases quickly to hit the right pace every time.
Everything comes with a subscription nowadays, and there are so many different ones to choose from. The Horizon 7.8 AT lets you pick your favorite, switch it up, or go without one. The treadmill retains all of its functions regardless, so you aren't locked into any one type of content. And if you get tired of intervals, take a break, prop your tablet or phone on the device rack, and stream your favorite shows or music through the Bluetooth speakers.
+

PROS
QuickDial controls make interval workouts as simple as scrolling.
The 4.0 HP motor uses Rapid Sync technology to adjust your speed and incline quicker than the competition.
Subscription content is not required to use the 7.8, but it is super easy to use a variety of apps.
Two tablet holders let you view your smart device with ease.
Interval keys are programmable, so you can easily alternate between your intervals.
The lifetime frame and motor warranty prove Horizon stands by its machines and always delivers quality.
–

CONS
While the 0 to 15% incline range is impressive, there is no option to decline.
Read Our Full Review Of The Horizon 7.8 AT Treadmill Here
---
Best Manual Treadmill For Running: AssaultRunner Pro Treadmill
The AssaultRunner Pro Manual Treadmill has no speed limit, and it is ready to help you find yours. Whether you want to run at steady pace, incorporate some intervals, or sprint all-out, the AssaultRunner Pro is the best manual treadmill for it.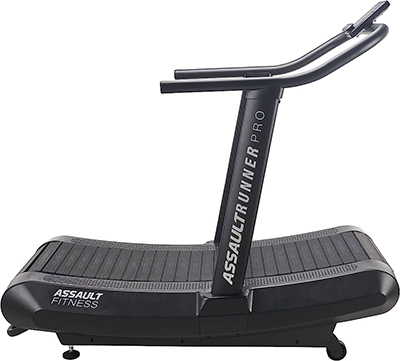 Explore your maximum potential with the AssaultRunner Pro Manual Treadmill's unlimited potential. Its speed range is your speed range.
The AssaultRunner Pro is going to be your legs' worst enemy, but maybe also their saviour. This treadmill is non-motorized, so you supply the power to turn the belt. If you are looking for a treadmill that can replace going to the high school track, this one is it. Forget the straightaways, because this treadmill is all curves. At times, it feels like I am running uphill on the AssaultRunner Pro. My foot reaches for the top of the curve to speed up the belt, and my calves burn. Yet, suddenly I am hitting paces I never thought possible on a treadmill.
Like any manual treadmill, the AssaultRunner Pro takes some getting used to. Running on a curved deck is a new experience for many runners, so take it easy at first. When you are ready, the AssaultRunner Pro is one of the easiest manual treadmills to sprint at maximum effort. The one caveat to this treadmill is that it works much better for midfoot/forefoot runners than runners who tend to land on their heels. If you are trying to switch up your form, this treadmill can help you with that, too.
If running isn't your primary sport, this treadmill might be even better for you. Don't get me wrong, it is great for runners, but if slow and steady isn't your thing, this treadmill really shines during harder efforts and intervals. Motorized treadmills can interfere with your track workout with their restricting speeds or slow accelerations. The AssaultRunner Pro gives you control, so once you are in the groove, you can sprint, stride, or practice your acceleration all you want.
+

PROS
The Assault RunnerPro has unlimited speed abilities.
Compared to other manual treadmills, the steep curve on the AssaultRunner Pro helps you get the belt moving fast.
Manual treadmills burn more calories than running on a flat treadmill or flat outdoor route, so you get the most out of your workout.
The AssaultRunner Pro is great for runners, team sport athletes, and Crossfit athletes.
You power the treadmill, so no electricity is required.
The belt warranty is for 150,000 miles. If you ran 50 miles per week, it would take nearly 60 years to reach that.
–

CONS
Manual treadmills can be discouraging to some runners as they are harder to run on. Most runners land on their heels, which could make running on the Assault Pro even more difficult.
---
Best Treadmill For Trail Running: NordicTrack X22i Incline Treadmill
While treadmills can't yet replicate the technical terrain of the trail, the NordicTrack X22i Treadmill brings you the vertical gain of climbing mountains. The 4.0 HP is prepared for the grind of the trail as much as you are.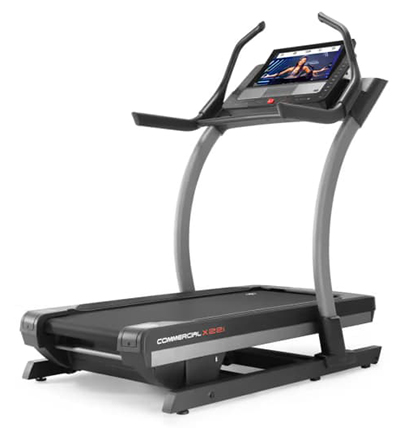 With an award-winning incline range of -6% to 40%, the X22i puts the mountain in your house.
The NordicTrack X22i Incline Treadmill is the best at inclines. A 40% incline is hard to fathom until you see it. That's over three times the incline ability of most treadmills. Would it be too cheesy to say that this treadmill can take your treadmill to the next level?
One of the worst parts about being a trail runner is battling the elements. Trail runners care about preserving our precious trails for future generations, but we miss them when they close for weather or animal activity. The 22" screen of the smart HD screen helps you lose yourself in trails you have never even heard of before through iFIT's worldwide content. Feel the burn in your quads of those distant peaks as the incline replicates the real-world grade.
This is a large, hefty treadmill, so runners will want a dedicated space in their homes to accommodate the X22i's size. To take full advantage of the incline, you will also need to ensure adequate ceiling height for this machine. User height plus 2 feet is recommended for use at the 40% incline. Assembly may also be difficult, so consider NordicTrack's in-home delivery and set-up or be sure to have a couple of extra sets of hands to help you.
+

PROS
An unbeatable incline range of -6% to 40%! This treadmill is the closest you can get to hiking a mountain indoors.
The 22" HD touchscreen creates a cinematic experience, immersing you in the trails.
The belt is large at 22" x 60".
The 4.0 CHP motor can handle almost anything you throw at it.
iFIT content comes free for the first 30 days and offers a next-level, hands-free training experience.
Bluetooth connectivity lets you listen to iFIT radio or trainer-led classes quietly, or the speakers let you hear everything over your footsteps.
–

CONS
The X22i is large, requiring a dedicated space, a ceiling of user height + 2', and more than one person to assemble.
Read Our Full Review Of The NordicTrack X22i Incline Treadmill Here
---
Best Treadmill For Larger Runners: Sole F85 Treadmill
Athletes come in all shapes and sizes and deserve equipment that accommodates them. The Sole F85 wins our award for Best Treadmill for Larger Runners. Its weight capacity of 375 lbs is much higher than the industry standard of 300 lbs for motorized treadmills.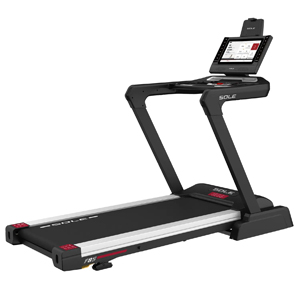 The Sole F85 has a large belt (22" x 60") and a high weight capacity (375 lbs) to be a more inclusive running treadmill.
Sole has made a name as a maker of robust and sturdy fitness equipment. A lifetime motor and frame warranty indicate their durability, and running on one confirms it. The deck is firmer than other options, so it always feels sturdy underfoot. A weight capacity of 375 lbs is well above the standard 300 lbs. The motor power also matches its other durable features with a horsepower rating of 4.0.
The 15.6" touchscreen provides a large clear picture for easy viewing. The speakers are Bluetooth compatible, so you can stream content or listen to music through them. Bluetooth integration allows you to pair with SOLE+ apps for more training features. The tablet rack is positioned at the top of the treadmill to improve visibility for taller users.
The F85 comes with a host of other specs and features to round out your training. The incline/decline range is an impressive -6% to 15%, one of the highest ranges for a folding treadmill. The speed range is a standard 0 to 12 mph. Our favorite features include a wireless charging pad, heart rate monitoring, and screen mirroring from your smart device. The F85 is a durable treadmill for a large range of runners to enjoy.
+

PROS
The weight capacity is 375 lbs.
The deck size is generous at 22" x 60".
The incline range is one of the best (-6% to 15%) for a folding treadmill.
The 4.0 HP motor is suited to everything from walking to fast running.
The lifetime motor and frame warranty guarantees this brand's quality.
The 15.6 touch panel is full color, but there is a tablet rack if you prefer your own content.
–

CONS
Some runners will prefer a softer cushion to the firm support of the F85.
Read Our Full Review Of The Sole F85 Treadmill Here
---
Best Budget Treadmill For Running: ProForm Carbon T7 Treadmill
The ProForm Carbon T7 Treadmill is a surprising pick for this list, but I so enjoyed my run on this treadmill that I knew it had to be the one. The Carbon T7 is a part of the ProForm+ program, which gives you free equipment in exchange for a 3-year subscription to iFIT, the brand's premium fitness library.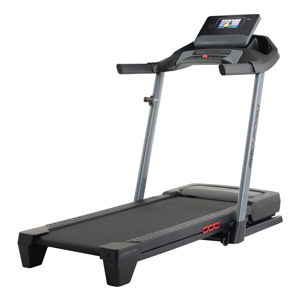 The Carbon T7 is a great compact treadmill that is a part of ProForm's intriguing Proform+ program, providing equipment for free when you purchase a 3-year iFIT subscription..
ProForm's Carbon series is a more affordable treadmill line than the brand's Pro series, with the T7 positioned as its entry-level machine. The ProForm+ program sweetens the deal by making this treadmill free with a 3-year subscription to iFIT. Treadmills are pricey on their own, while adding a monthly cost on top of them can be unreasonable for some users. The T7 lets you get both for the price of one!
The ProForm Carbon T7 is the least powerful treadmill on this list, with a motor of 2.6 CHP. Yet, budget treadmills are a great option for the user wanting to spend most of their time running outdoors while having a backup for inclement weather days or a safe late-night workout. We typically recommend a 3.0 HP motor for running, but the ProForm Carbon T7 should handle infrequent runs meanwhile giving you access to 3 years of iFIT classes for the rest of your exercise routine.
My experience on the T7 convinced me to add this treadmill to the list. The belt felt super smooth and powerful underfoot. Its performance blew me away, though it has a reduced speed and incline range of 0 to 10 mph and 0 to 10% grade, respectively. This reflects the motor's capabilities, so keep in mind that this may not be the best treadmill for heavy-duty running. We love this treadmill for infrequent runs or a new runner starting a walk-run program.
+

PROS
The ProForm Carbon T7 is free with a 3-year subscription to iFIT.
The running deck feels smooth and powerful underfoot for such a small motor and compact design.
The treadmill folds compactly when not in use and would be a good option for smaller spaces.
7" touchscreen lets you work out with top trainers.
A spacious tablet rack lets you use your own device if you prefer to run with different content or need a bigger screen.
–

CONS
The 2.6 CHP is insufficient for heavy-duty running.
Read Our Full Review Of The ProForm Carbon T7 Treadmill Here
---
Factors To Consider When Finding The Best Treadmill For Running
What are the speed and incline capabilities?
Before you buy a new treadmill, consider what speeds you will be training at. Most treadmills have a range of 0 to 12 mph. For reference, 12 mph is a 5-minute mile. That's pretty fast for most people, but it might not be sprinting for everyone. Manual treadmills have unlimited speed capabilities, which makes them appealing for sprint training.
If you are training for a trail race or big hike, consider a treadmill with an incline beyond the standard 12% grade. A decline option is becoming more common in treadmills and has its own benefits. If the routes you typically run are downhill, they could contribute to any soreness you feel after running. The only way to combat this is to get better and more experienced at running downhill.
How do you want to train?
Smart treadmills are almost running coaches as well as cardio equipment. Platforms like Peloton, iFIT, JRNY, and Studio are very engaging and motivating. Their classes can help you push your training to the next level, but not all runners need them. If you don't want a structured workout or have a training plan from another source, these premium platforms might be excessive.
While running outdoors, it can be hard to listen to music, especially if you are running trails. It's nigh impossible to watch a TV show or movie. Forget reading your Kindle. Yet, if you are running on a treadmill, you might want the ability to do these activities. Multi-tasking is a great way to break up the monotony of steady-state running! If you prefer training this way, you should select a treadmill with a built-in device rack or display compatible with streaming apps.
Do you need a cushioned treadmill?
Soft cushioning, such as that found in NordicTrack or Peloton treadmills, feels nice underfoot. The cushioned deck might even provide some bounce to help you to the next step. But is it good for you? The answer to that is complicated. These treadmills certainly make running easier and reduce the shock your body is experiencing. On the other hand, your goal might not be to make running easier. A firmer treadmill might better prepare you for race day demands.
If you train primarily outside, a treadmill can be a break from the pounding. I love running on soft NordicTrack treadmills to recover from my harder runs while still getting some miles in. They are easier on my fatigued legs, and they can be on yours too. If you find yourself recovering from an injury or have chronic pain, a softer treadmill can help you reach your step or mileage goals with reduced pain.
Who is using the treadmill?
A treadmill with a weak motor might be okay for occasional runs for one person. Add a household of runners to the mix, and you will need a stronger motor. If you are training for an upcoming race alongside a dedicated running partner, or three, a higher-powered motor (one closer to 4.0 HP) will be necessary.
Two serious walkers might amount to one regular runner, while two regular runners might equal one running fanatic! Consider the total load the treadmill will be handling when choosing a machine.
How much space will the treadmill take up?
If you haven't already, check out the Incline treadmill, the NordicTrack X22i, on this list. It is a phenomenal treadmill with an unbeatable incline/decline range. Yet, for all its appeal, the X22i and many other treadmills with stellar features do not fold, requiring a lot more space than a folding treadmill. Consider the amount of space you have to dedicate to a treadmill. Different machines have different footprints and ceiling height requirements, so you will want to find a machine compatible with your space before making an unfortunate purchase.
Why Buy A Treadmill For Your Home?
Despite the nickname "dreadmill," some walkers and runners prefer the convenience of treadmill walking and running. Home treadmill use combats the need for a gym membership. It also solves issues related to the safety of running outdoors and the accessibility of safe roads or trails for exercising. There can also be less predictable factors like weather, transportation, personal health, and motivation.
A whole field is devoted to sports and exercise psychology. Motivation is key to establishing healthy exercise patterns. A home treadmill can overcome barriers to exercise as a commitment, a reward, a financial investment, and even a social tool (as is the case with some integrated fitness apps). Treadmills remove the embarrassment of going to the gym or exercising outdoors, which can be hard to overcome for many people. You might want or benefit from a treadmill for many reasons–more than we can name here.
Bottom Line – Best Treadmills For Running
Purchasing a treadmill for running requires a few extra considerations than general treadmill shopping. Two of the most important factors are the motor power and deck size. The right treadmill for your training will be powerful enough and large enough to make every run as comfortable and smooth as possible. Treadmill running can remove many of the barriers to exercise that exist for outdoor running, such as weather, safety concerns, or time constraints. Investing in a treadmill that you enjoy using can help prevent it from turning into a coat rack. We hope we have equipped you to get the most out of your future indoor runs.
Frequently Asked Questions
What size treadmill do I need for running?
The most spacious treadmills on this list have 22" x 60" belt dimensions. We look for belts with a minimum size of 20" x 60" for comfortable motorized running treadmills. Most users should find this size suitable for running. In our experience, running surfaces with a length under 60" may be too short for taller runners or those with longer stride lengths.
Manual treadmills tend to have more narrow belts. This narrow width encourages a narrower step width for improved running form. Yet, a motorized treadmill might be a better choice if the width is important to you.
Is treadmill running good for runners?
Treadmill running differs from road running, but that does not mean it is bad. Treadmill running has been known to change your step length, how many steps you take per minute, and other biomechanical factors. Yet, many researchers consider treadmill running insignificantly different from other types of running.
As a takeaway message, know that treadmill running is no better or worse than other types of running. It comes with its own benefits (higher cushion, entertainment options) and detriments (easier running means fewer training adaptations). Listen to your body's cues and needs. If something feels off, consider resting or seeking professional help from a healthcare professional or coach to remedy more serious running problems. Go slow at first, and make sure you are comfortable at the speed and incline you choose. Utilize all of the treadmill's safety features, like the safety key, to prevent falls.
How long should I run on the treadmill?
The ten percent rule is tried and true running advice; increase your mileage by no more than ten percent per week. It helps you progress safely and slowly. If you are new to running, try starting with walking and slow running intervals of 10 to 30 seconds each for 10-30 minutes. A good time to stop is when you have a little left in the tank, so you will be prepared for your next run. I recommend long runs to be at most 25-33 % of your weekly mileage, depending on how many days per week you run.
It is best to manage your expectations. Don't make large jumps in mileage, keep your easy days easy, and when the difficulty of running crosses over into the pain of injury, stop!
Can you run on any treadmill?
I suppose it is possible to run on any treadmill, but it is not advisable. There are quite a few limitations to treadmills that could prevent you from running on them–speed range, motor size, belt size, and safety features. The easiest to address is speed range; some walking treadmills simply won't go fast enough to allow you to run. As for motor size, we advise that treadmills under 3.0 HP could break down prematurely with frequent running use. Low-power treadmills might be fine if you run infrequently or rarely, though they may present other challenges to regular running.
Not all treadmills are safe to run on. A belt length incompatible with your stride length will increase your chance of injury or falling. Some walking treadmills lack uprights and consoles for support, so running on them would be quite unstable. Poorly made treadmills feel unstable at high speeds, affecting your peace of mind while running even if it does not turn dangerous. In short, you should find a treadmill designed for running.
Read More Popular Treadmill Reviews: