Last Update: September 8, 2023
Say hello to features! For under $1500, treadmill users can enjoy training content, improved cushioning, and sturdy builds. Smart features increase in this category compared to more affordable treadmills. This price range is great for new or seasoned athletes supplementing their typical training with a more feature-enriched treadmill. Most treadmills on this list will be suitable for walking and running. Without further ado, we are happy to bring you our best treadmills for under $1500!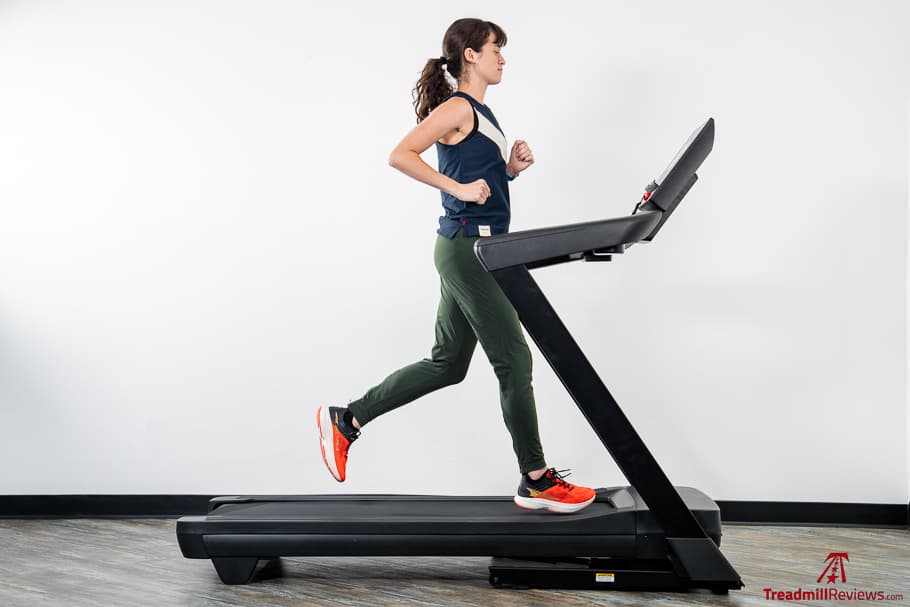 Here's Our List Of The Best Treadmills Under $1500 for 2023
Best Treadmill Under $1500: Sole F63 Treadmill
Our best treadmill under $1500 had to be the one equipped with a strong build and no ongoing subscription requirement. The Sole F63 foldable treadmill is this category's standout. The Sole F63 rests on Sole's laurels as a trustworthy treadmill manufacturer and is backed by a lifetime warranty on the frame and motor. The F63 is great for runners and walkers, whether they want subscription content or skip the added monthly premium.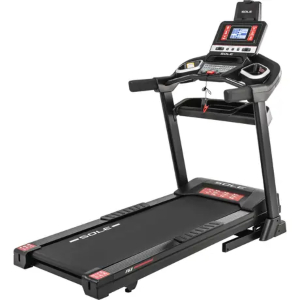 The Sole F63 has Bluetooth speakers, USB charging, Garmin Connect, and a runner-friendly construction.
A lifetime warranty covers the Sole F63's motor and frame, assuring buyers they are investing in a trustworthy machine. The motor is a 3.0 HP motor that can support walking or running, though high mileage runners may want to invest in something a little more powerful. The F63 can support users up to a maximum weight of 325 lbs. The F63 has a solid and impressive build, allowing the treadmill to incline up to 15% and accelerate up to 12 mph.
The Sole F63 has five preset programs, heart rate training, and two user-defined workouts. If the onboard content is not enough, there are two tablet racks for storing a smart device. I love that the F63 does not lock you into any one subscription service but allows you to dictate how you would like to train. The simple LCD screen shows an abundance of metrics, but you can pair the treadmill with the free Sole+ app to view the metrics a different way and store your activities for reviewing later.
The Sole F63 has an abundance of storage. There are two water bottle holders and small item holders on the console. Additionally, there is a large storage rack across the crossbar. You can charge your device with the USB port embedded in the console while viewing content from the either of the two tablet racks. The top tablet rack has a height adjustable clip for even more secure storage. With all these storage options, the F63 is certainly built for the long haul.
+

PROS
The frame and motor have lifetime warranties.
The incline rises to a steep maximum of 15%.
The 3.0 HP motor and 20" by 60" deck allow walkers and runners to train on the F63.
The Sole F63 does not have a required subscription.
The F63 has many features, like USB charging, Bluetooth, soft folding, and pulse grips.
–

CONS
The incline and speed keys do not show each mile per hour or grade.
Read Our Full Review Of The Sole F63 Treadmill Here
---
Best Cushioned Treadmill Under $1500: NordicTrack EXP 7i Treadmill
On the days when my legs feel they can take no more, NordicTrack swoops in for the rescue. No other brand could take the prize for Best Cushioned Treadmill Under $1500. The NordicTrack EXP 7i perfectly fits the bill. The EXP 7i has a sleek, compact design for discreet incorporation into a modern home.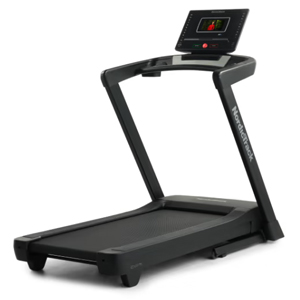 The EXP 7i cushions every step so you can go faster and farther.
Runner's Flex Cushioning is NordicTrack's shock-absorbing technology built into the running deck. The deck gives with every foot contact but provides a little spring to help you to the next step. The EXP 7i is a great treadmill for walkers or runners recovering, reducing impact, or trying to go farther. The deck is not the only comfort feature included on the EXP 7i. The treadmill also sports twin bottle holders and a device rack. Refuel and view content on your smart device as you please.
iFIT provides thousands of classes viewable from the EXP 7i's 7-inch HD touchscreen. The classes can be done from the treadmill, as iFIT has thousands of classes filmed globally for walking, hiking, or running workouts. These workouts are trainer-led and enable their trainers to take control of your speed and incline settings for hands-free training. iFIT can adjust the settings to suit your fitness level, so the workouts get harder as you get faster and stronger. For more training options, a Google Maps app lets you create routes almost anywhere in the world for automatic incline adjustments that match what you are watching on the screen as closely as possible. Without iFIT, the EXP 7i permits manual activities or limited featured iFIT classes.
NordicTrack includes features that make your experience on the EXP 7i smooth and enjoyable. The 7-inch touchscreen tilts to eliminate glare. The speed and incline ranges are represented along the sides of the console for quick OneTouch adjustments. Hydraulic soft drop technology makes the EXP 7i's folding design even more convenient, allowing the treadmill deck to lower softly to the floor on its own. This attention to detail and modern aesthetics make the EXP 7i a nice addition to any home gym.
+

PROS
The cushioning is one of the softest in this price range.
iFIT enables the EXP 7i to deliver a smart, hands-free walking or running class.
There is a device rack for viewing non-iFIT content.
Bluetooth connectivity allows you to connect headphones or input heart rate data.
OneTouch controls allow exercisers to change speeds or inclines with ease.
The folding design is compact and convenient.
–

CONS
The 2.6 CHP motor is underpowered for heavy running mileage.
The 7" touchscreen is smaller than what we prefer for easy content viewing and navigation.
Read Our Full Review Of The NordicTrack EXP 7i Treadmill Here
---
Best Treadmill Warranty: Horizon T303 Treadmill
We have awarded the Horizon T303 our Best Treadmill Warranty. Its lifetime motor and frame warranties are unbeatable. Additionally, it comes in at the bottom of this price range, making it even more impressive. The Horizon has great training features, so it is not only built solidly but functionally. The 3.0 HP motor enables walkers and runners to exercise on the T303's 20" x 60" running surface.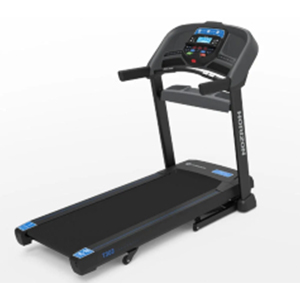 The Horizon T303's exceptional lifetime warranty on the motor and frame demonstrates the treadmill's trustworthy construction.
We rank two factors higher than the others for determining whether a treadmill is fit for running–deck size and motor strength. Fortunately, the Horizon T303 has both. The deck is a roomy 20" x 60" and a 3.0 horsepower motor. The T303 has a 7.25" step-up height. We rank Horizon treadmills as moderately cushioned, with Sole treadmills firmer and ProForm treadmills softer. The T303 is compact and folding. The T303 has a great build suited to a wide range of exercisers.
The Horizon T303 does not require a subscription to access its features. It comes with a few onboard training options. The preset training programs include fat burn, hill climb, a 5k workout, distance, heart rate, and calorie programs. There are two interval buttons on the T303 screen for users to set their own interval speed and incline. This makes HIIT or speedwork easier than ever on the treadmill.
The T303 does not restrict you to the basic training functions included on its console, as seen by the interval buttons. It has even more training features when using a tablet rack. The T303 has two device racks for varying height options. The speakers are Bluetooth, so you can stream third-party training or entertainment content through them. Horizon thoughtfully included a USB port to keep your device charged for the longest efforts. The T303 is equipped to train how you choose with little restriction.
+

PROS
The lifetime motor and frame warranties make the T303 trustworthy.
The interval buttons let runners and walkers program their workouts.
There are two tablet racks for improved viewing options.
The speakers are Bluetooth.
A 7.25" step-up height is accessible for more users.
The 20" x 60" deck and 3.0 HP motor accommodate walking and running strides.
–

CONS
There are no EasyDials like those found on the Horizon T101 and T202 for quick adjustments.
The aesthetics of the T303 are less modern than competitors.
Read Our Full Review Of The Horizon T303 Treadmill Here
---
Best Running Treadmill Under $1500: ProForm Carbon T10 Treadmill
The ProForm Carbon T10 is our best running treadmill for under $1500. This is a great treadmill for new runners. I really like it for my easy recovery runs, as the cushion is soft underfoot. The console has just the right amount of tech to engineer a great workout with minimal distractions. Some treadmills cram so many features into one console you spend more time navigating their platforms than training but not the Carbon T10.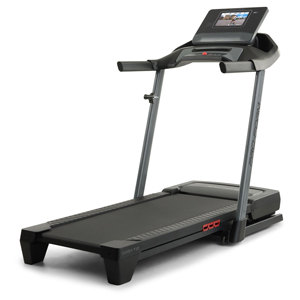 The ProForm Carbon T10 has just the right balance of smart features to formulate a great run.
Between all of iFIT's brands, it can be hard to weed through the machines to find the best treadmill. The Carbon T10 is one of the more affordable options, but it performs on par with more expensive products. I like the Carbon T10, because my run isn't inundated with an overwhelming amount of features. I can train with iFIT or cruise in manual mode while playing content on my phone, seated on the device rack. iFIT requires a monthly subscription, but a 30-day free trial is included with the purchase of the ProForm Carbon T10.
The Carbon T10 has a 20" x 55" deck, which is spacious for most stride lengths. Runners with long legs or strides might find a larger deck more comfortable. The motor is 2.75 CHP. It is best for low to moderate running mileage. This treadmill won't be the best for marathon training, but if you are using a treadmill to supplement longer miles, the T10 should work great! The shorter deck improves this treadmill's compactness by decreasing the space it takes up folded and unfolded. It also hinges between the motor hood and the deck for even more condensed folding.
The console has a 10" touchscreen display, sufficient for browsing iFIT's vast content library. The T10 has Bluetooth, enabling you to connect headphones for quiet listening. One of my favorite smart features on iFIT treadmills is the hands-free training. iFIT adjusts the speed (0 to 12 mph) and incline (0 to 12%) for you. The ProForm Carbon T10 is great for delivering running training content while allowing runners the freedom to decide their own training routines.
+

PROS
The deck is very soft, making the T10 a great treadmill for recovery runs or building mileage.
The 10" smart touchscreen delivers great graphics.
iFIT automatically adjusts the speed and incline to suit your fitness level.
There is a device rack for viewing content on a smart device.
Bluetooth lets you listen to iFIT workouts through headphones or pair a heart rate monitor for heart rate zone training.
The T10 folds compactly for easy storage.
–

CONS
The 2.75 CHP motor is underpowered for heavy-duty running like marathon training.
The deck (20" x 55") may be too short for runners with long strides.
Read Our Full Review Of The ProForm Carbon T10 Treadmill Here
---
Best Folding Treadmill Under $1500: Echelon Stride Treadmill
The Echelon Stride folds to just 10" in height when laid flat. Thus, it takes the cake for Best Folding Treadmill Under $1500. Its compact size may lead some to question its stability, but the Echelon Stride performs well during inclined and speedy workout sessions. An Echelon membership unlocks even more training opportunities, though it is not required.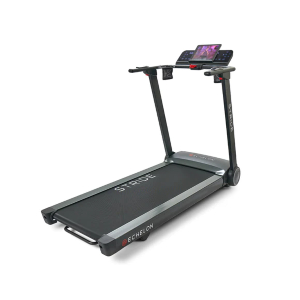 The Echelon Stride Treadmill combines stability with a very compact design. Impressively, the treadmill remains stable even at high speeds and inclines.
The Echelon Stride Treadmill is one of the best compact treadmills we have seen. It folds flat for horizontal or vertical storage. While vertical, it should be stored against a wall or other secure location for safety, though it can stand on its own. Lying flat, the Stride is only 10" in height. It could fit beneath a high-clearance bed or couch. It has a 20" x 55" running deck which is a decent size for most runners. The footprint is only 69" x 31" x 49" while unfolded.
Despite its condensed design, the Stride is a sturdy treadmill. It had a speed range of 0 to 12 mph and an incline range of 0 to 12. Most treadmills in this collapsible category do not incline at all, and if they do, it is typically manual or a reduced range. The Stride's motor is underpowered for running, as it is only 1.75 CHP and 2.5 peak. This is well below our threshold for considering a treadmill a running treadmill, but it is sturdy enough to support heavier use. Though we have not tested its lifespan, we are wary of the Stride's longevity with high mileage.
Echelon has a premium fitness platform of the same name. It is reminiscent of Peloton's classes. The classes are mainly filmed in the studio, but there is scenic content, too. The experience can be quite overwhelming for first-time viewers, but many users will enjoy the excitement and engagement. There is a combination of live and on-demand classes for exercising whenever the motivation strikes.
+

PROS
The Echelon Stride folds compactly for a 10" height when stored horizontally.
The running deck is stable when inclined, even while the user runs.
There is a device rack for tablet or phone storage and viewing.
The incline range (0 to 12%) is quite generous for a treadmill this compact.
Echelon provides a compatible fitness platform for a monthly premium, which includes studio and global classes.
The console has two water bottle holders for hydrating on the go.
–

CONS
The motor is weak at only 1.75 CHP or 2.5 peak HP. This does not support running for the long-term as well as higher-powered motors.
The screen is only LED with basic metrics like distance, altitude, time, pace, and calories. There are only three quick adjustment buttons for speed and incline each.
---
Best Training Content: Bowflex BXT8J Treadmill
We have awarded the Bowflex BXT8J our Best Training Content on a treadmill under $1500, because it has a great balance of built-in programs and premium training features. Additionally, Bowflex offers two months of JRNY, their premium content platform, free with the purchase of a BXT8J, twice as long as the free trial from Peloton and iFIT. The BXT8J can also be used without a premium subscription, utilizing the manual training features or the onboard programs.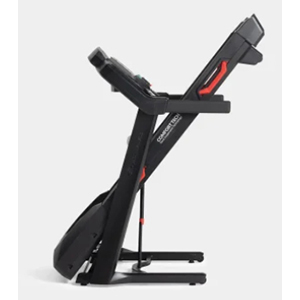 The Bowflex BXT8J offers great built-in training features with the option to add premium content from JRNY.
The twenty-six onboard training programs allow users to set a target distance, time, or calories. These programs are also designed to lead the exerciser through various interval and steady-state workouts. Four custom templates allow users to design their workout for even more onboard training variability. The Bowflex BXT8J has built-in pulse grip sensors, or it can pair to a Bluetooth Polar heart rate monitor for the heart rate training programs.
The treadmill has two unique capabilities–a fitness score and a pacer. The fitness score estimates calories burned and your VO2 max to provide a training score, which will change over time as your training progresses. The pacer allows you to compare your current performance to a similar past workout, so you can easily tell whether you are improving or taking it easier. We appreciate seeing robust training features included on the BXT8J at no additional cost.
For premium subscribers, the JRNY fitness platform is compatible with the BXT8J. JRNY is free for two months. Afterward, users must cancel or subscribe monthly ($11.99) or yearly ($99). This pricing reflects viewing the content on a smartphone or tablet. The subscription cost and free trial period are better than competitors like iFIT, Peloton, and Echelon. JRNY offers coached workouts, scenic destination routes, and studio classes. The BXT8J only has a backlit 7" LCD screen, so JRNY must be viewed from a phone or tablet. The app can be connected to the treadmill via Bluetooth. Bowflex conveniently places a media shelf for viewing JRNY content. This treadmill can be made smart or kept simple.
The Bowflex BXT8J's build is suitable for walking and running. The running surface is 20" x 60". The speed and incline ranges are 0 to 12 mph and 0 to 15%, respectively. The maximum user weight is the industry standard of 300 lbs. The console is not quite as sturdy at higher speeds as Bowflex's other treadmills. It has USB charging for keeping your device powered while supporting JRNY workouts.
+

PROS
The BXT8J has integrated training programs and paid subscription content features.
JRNY has a 2-month free trial and a lower price point than competitors.
The fitness score and pacer help you improve over time, comparing you only to yourself.
The media shelf and USB charging make using a phone or tablet for training convenient.
Bluetooth lets you pair the treadmill with a HR monitor or the JRNY app.
The deck is spacious, supporting walkers and runners.
–

CONS
The speed and incline buttons do not fully represent their ranges and require you to press enter to change their settings.
The console's design could be more streamlined.
---
Best Free Treadmill: ProForm Carbon T7 Treadmill
It's hard to say what price category the ProForm Carbon T7 falls into. After all, it is practically free. As a part of the ProForm+ deal, the Carbon T7 is free when you purchase three years of iFIT. This easily makes it our Best Free Treadmill. The program's total cost puts it in this price range, but you are paying for iFIT, not the treadmill.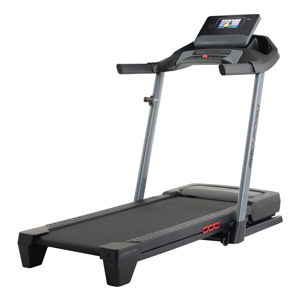 The ProForm Carbon T7 is free with a purchase of three years of iFIT–the premium fitness platform.
The ProForm Carbon T7 is one of several equipment options from the ProForm Plus program. This program allows exercisers to purchase three years of iFIT and receive one free machine. I love this deal as it foregoes the need to pay for the equipment and a premium subscription. You can even finance this purchase for the full 36 months. The family membership allows you to access iFIT from your smart devices and other iFIT-enabled equipment. The family plan allows five total user profiles. There is no limit to the number of machines you can log into.
iFIT is a premium fitness platform loaded with thousands of trainer-led classes. These classes are filmed around the world and in the studio. You are never limited to the treadmill, as iFIT has other cardio options, strength, yoga, and meditation. iFIT can control your treadmill speed and incline to adjust to your fitness level over time and deliver a hands-free workout. You can join challenges or series for ongoing training from one of the many professional trainers. I have had a lot of fun virtually running segments of the Boston Marathon. iFIT has loads of content, with more added all the time.
The ProForm Carbon T7 is a compact treadmill. It folds for easy storage. It has a 20" x 55" running surface, suitable for all but the longest running strides. The motor is only 2.6 CHP, making this treadmill ideal for walking and light running. It is great for low-mileage runners using the treadmill regularly or high-mileage runners supplementing their outdoor training. The cushioning is great for walkers and runners, especially considering this is a free treadmill. The Carbon T7 is a great option for its affordability, compact build, and expansive training features.
+

PROS
The Carbon T7 is free with a 3-year iFIT subscription.
The belt is well-cushioned and shock-absorbing.
The smart AutoAdjust features deliver a hands-free workout.
The speakers and Bluetooth functionality improve the iFIT training experience.
The large device rack provides a non-iFIT content streaming option by giving you a spot to rest a smart device.
–

CONS
The screen is small at only 7 inches.
Read Our Full Review Of The ProForm Carbon T7 Treadmill Here
---
Best Walking Treadmill Under $1500: XTERRA Fitness TRX3500 Treadmill
The XTERRA Fitness TRX3500 Treadmill is the Best Walking Treadmill for under $1500. It has great features for supporting regular and heavy walking use. The TRX3500 would also work for shorter runs. It has built-in training capabilities expanded by the treadmill's Bluetooth connectivity and third-party app support.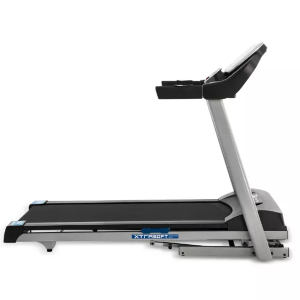 The XTerra Fitness TRX3500 Treadmill has a 3.0 HP motor and a 20" x 60" surface, making it great for serious, daily walks or short runs.
The TRX3500 has a robust build for serious walking. It has a 3.0 HP motor, which will suit short running. This treadmill is great for walkers training for long durations or distances. It has a spacious 20" x 60" belt, which is comfortable for long strides. The incline and speed ranges are standard at 0 TO 12% and 0.5 to 12 mph. The direct speed and incline buttons display a decent range, though not all of the options. Walkers will find the ranges just fine.
There are quite a few training features built into the TRX3500. It has 30 onboard programs and 2 custom workout templates. These programs are great for walking but may not be challenging enough for runners. The backlit LCD screen shows the program profile, preparing you for the upcoming hard interval. The displayed metrics include time, speed, pace, distance, calories, and incline. If the treadmill is paired with a compatible heart rate monitor or you use the HR sensors on the handlebars, your heart rate will also display on the screen.
The training options don't stop there! The TRX3500's Bluetooth connectivity allows the treadmill to pair with Zwift or Kinomap. These virtual training apps allow you to train in distant locales or compete against other users. XTerra also supports sending training data to apps like Apple Health and Google Fit. XTerra conveniently includes how-tos for connecting with these apps. Zwift and Kinomap apps require a paid subscription, but the TRX3500 includes a wide range of free training options.
+

PROS
The XTerra TRX3500 has a 3.0 HP motor, suitable for intense walking and some light running.
The Bluetooth connectivity supports connection with Zwift, Kinomap, Google Fit, and more.
The lifetime frame and motor warranties are great!
The TRX3500 has hydraulic folding for easy lifting and lowering.
The deck is spacious at 20" x 60".
–

CONS
The console feels dated and simplistic, but many users will find it easier to navigate.
The console buttons do not fully represent the speed and incline ranges.
---
What To Look for In Treadmills Under $1500
This price range includes the entry-level model treadmill from most renowned cardio equipment brands. These machines come with improved features and warranties. Most routine runners will want to start with a budget around this amount for a more robust machine suited to their training needs.
Training Content
$1500 treadmills provide a mixture of included and premium training content. As the entry point to most notorious treadmill brands, these treadmills often possess miniature console versions of their more expensive counterparts. We see quite a few 7-inch touchscreens in this range. This screen size is rather small, so users may want to consider a treadmill without a touchscreen or to ensure it has a tablet rack, allowing for a larger viewing option. These touchscreen displays are not the best for users with vision concerns.
Walkers and runners should consider their treadmills training features and any additional expenses they may incur with premium add-ons. Many of these treadmills, like the XTerra Fitness TRX3500 and the Horizon T303, support multiple third-party training apps for diversified training. If you can, test different training platforms to decide which one to commit to.
Running
To ensure that a treadmill is suited to running, evaluate the motor, deck size, and speed range. These three aspects determine whether you can run on a treadmill or only walk. This will vary by user; not all runners have the same needs or stride lengths. We recommend a 3.0 HP motor or higher for regular running and a 20" x 60" deck for most runners. Typically, running treadmills will have a 0 to 12 mph speed range and an incline range of at least 0 to 12%. Limited speed and incline ranges can indicate an underpowered or unstable treadmill.
Bottom Line – Best Treadmills Under $1500
The right treadmill for you largely depends on your training needs. Treadmills in this price range tend to be trustworthy and long-lasting. We have highlighted a few brands and models that we trust and recommend. Runners and walkers should find something suitable in this category. The only unmet needs within this range are extended speed and incline ranges, large touchscreen displays, and improved cushioning. Many exercisers find those features unnecessary and seldom used, so they are perfectly suited to a treadmill under $1500.
Frequently Asked Questions
How much should I spend on a good treadmill?
This price range ($1000 to $1500) includes some of the best treadmill brands' entry-level machines. It also includes a few mid-rung treadmills from more affordable brands. The treadmills we have listed are products we support and like for a variety of users. A good treadmill will fit your needs. A serious runner should think twice before buying a treadmill only recommended for walking. Just because it works well for one type of use doesn't necessarily mean it will work for the other. Fortunately, this price range captures walking and running treadmills. There is a blend of low-tech and high-tech features, which are both great ways to train. Be sure to evaluate your training expectations to get a treadmill most suited to you.
Is it worth having a treadmill at home?
A home treadmill is very convenient. It eliminates many barriers to exercise, such as getting ready, commute time to the gym, inclement weather, and fear of the gym. With a treadmill, you can walk or run in peace from the comfort of your home. Of course, treadmills present their own obstacles. They take up a lot of space, are expensive, and often require assembly. Fortunately, there are compact, affordable, and easy-to-assemble (or white glove services) solutions. Ultimately, a treadmill's worth is determined by its impact on your life, how often you use it, and how it suits your needs.
Do you need an expensive treadmill?
If money were no object, we would probably all buy one of the most expensive treadmills on the market. I am thinking anti-gravity and underwater treadmills. Practically, you probably don't need one of those. Treadmills under $1500 provide plenty of training options and even some smart features. A higher budget is recommended for a more premium feel and maximized smart features. Yet, there are treadmill solutions that will work for walkers and runners within most budgets. Check out our Best Treadmills Under $1000 and Best Treadmills Between $500-$700 for even more affordable options.
Read More Popular Treadmill Reviews: