Last Update: September 8, 2023
From high-tech metrics and workout personalization to premium subscription content and built-in entertainment, features are packed into treadmills. Understandably, you would want the very best. Your training plans need to evolve to keep up with your progress, and you want a treadmill ready to train regardless of your plans. High-end treadmills offer increased durability, larger speed and incline ranges, weight capacities, and premium content. These treadmills have the very best and a price tag to match.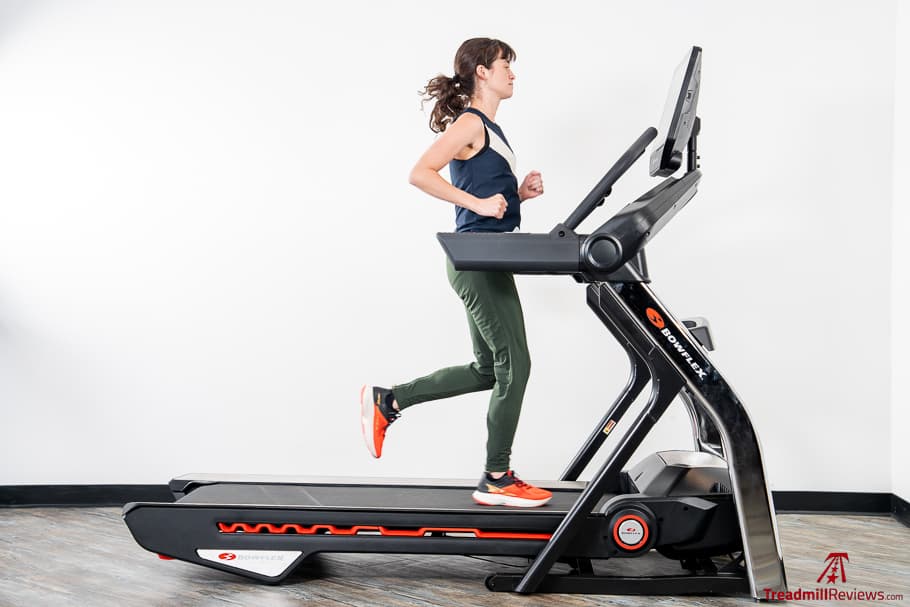 Here's Our List Of The Best High-End Treadmills for 2023
Best High-End Treadmill: NordicTrack X32i Incline Treadmill
The X32i has an incline range equaled only by its counterpart–the X22i. Yet, the X32i also has a 32" touchscreen and superior cushioning. Every inch of this incline trainer feels premium. It's not the most expensive treadmill on this list, but it takes the cake for Best High-End Treadmill for its phenomenal performance and content specs.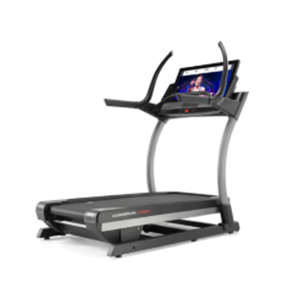 The NordicTrack X32i has a 32" touchscreen and an incline/decline range of -6% to 40%–that's unbeatable.
The NordicTrack Commercial X32i crosses out the competition, gives you 32" of HD touchscreen, and inclines to a whopping 40%–it's all in the name. The X32i has a 4.25 CHP DurX Commercial Plus Motor. This motor power makes it suitable for frequent use of all its speed and incline features. It can also be used in multi-user households. The X32i is excellent for walking or running daily. I know this treadmill will appeal to many exercisers, but one of its limitations is its size. The X32i is not a folding treadmill, requiring a large designated space within your home. Its large size and heavy build make it unsuited for frequent relocation.
The X32i has one of the softest treadmill decks. There is tons of shock absorption. Not only can I feel it while running on this treadmill, I can see it. Normally, I have to be standing off the treadmill to see the deck move, but this one has so much give that you can see it underfoot while on it. It's even softer than the X22i, its more affordable counterpart. The extra-large deck size of 22" x 65" makes this deck comfortable to run on. I had plenty of space even when struggling to keep up at 30 to 40% inclines!
The NordicTrack X32i is iFIT enabled. It comes with a 30-day free trial. Afterward, you must subscribe monthly or yearly to continue using the treadmill's smart features. iFIT has thousands of trainer-led classes, Google Maps compatibility for worldwide training, and over a hundred professional trainers. The X32i is still functional without an iFIT subscription, though that 32" touchscreen is designed to impress you with its global film locations. There are free onboard training programs. You can also place the deck in a neutral, 0% grade position, slow the speed to 1 mph, and sled push the belt. The incline handles double as sled handles, so you can get a good grip and leverage. I have been very impressed with the X32i's performance and training capabilities.
+

PROS
The incline and decline range of -6% to 40% is outstanding. Only the X22i matches this capability.
The 32" touchscreen provides a luxuriant experience. It's approaching too much screen.
This is one of the softest treadmill decks. It makes those steep inclines easier to handle
The 4.25 CHP motor is designed for heavy use.
The 22" x 65" deck is sufficient for long strides, high speeds, and steep inclines.
The X32i impresses with a host of other features: Bluetooth connectivity, amplified speakers, two AutoBreeze fans, and more.
–

CONS
The console shakes quite a lot when running at high speeds, particularly if the deck is inclined or declined.
The screen is built for iFIT content and cannot be used to watch other types of entertainment.
Read Our Full Review Of The NordicTrack X32i Incline Treadmill Here
---
Best High-End Treadmill For Running: Bowflex Treadmill 22
The Bowflex Treadmill 22 is a personal favorite for the Best High-End Treadmill for Running, but I think its features will appeal to the majority of runners, as well. It pairs training options with entertainment options to make the most of its JRNY subscription content. The Treadmill 22 is humongous, but it, shockingly, folds up to nearly half its length.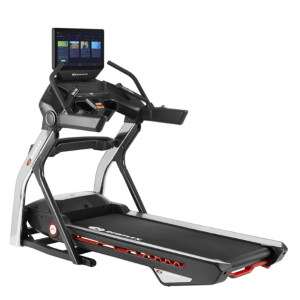 The Bowflex Treadmill 22 has the best incline/decline range of any folding treadmill at -5% to 20%. Its powerful motor and spacious deck are built for heavy running use.
The Treadmill 22 is built to last from deck to console. The deck is moderately cushioned. I like this level of cushioning for regular running because it is still more forgiving than running on asphalt or concrete, but it is not so soft that every run starts to feel like a recovery run. The Bowflex Treadmill 22 has a 22" x 60" running surface and a 400 lb weight capacity to accommodate long running strides and larger users. The console is very sturdy, so you don't have to worry about shaking the screen or your stored devices.
Bowflex does not share the specifics of the Treadmill 22's motor, but over the course of reviewing the Treadmill 22, we established that it performs on par with 4.0 HP motors. It is fully capable of supporting high-use or multi-user households. It is stable while inclined or at higher speeds. Multiple storage options included a tablet rack, two cup holders, two shallow compartments, and a large storage rack covering the entire crossbar. The Treadmill 22 is great for walking, but it proves its worth during long runs.
JRNY is Bowflex's premium fitness platform. One year of free access to JRNY's library is provided with your purchase of the Treadmill 22. The subscription also includes access to entertainment apps like Netflix, Hulu, and HBO Max. You will need your own subscription to each of these platforms, but JRNY lets you view them through the 22" HD touchscreen. As a runner, I incorporate structured workouts and long steady-state runs into my training. Unlike some competitors, the Treadmill 22 has content options for both. Overall, it is an excellent treadmill for runners of all fitness levels.
+

PROS
The Treadmill 22 has the largest incline range for a foldable treadmill at -5% to 20%.
The 22" touchscreen has clear graphics and is easy to view for a large range of user heights.
The running surface is spacious at 22" x 60".
The motor performs comparably to 4.0 HP motors.
This treadmill has triangulated uprights for one of the sturdiest builds we have seen.
A one-year free trial of JRNY is included.
–

CONS
The entertainment apps are behind the JRNY paywall, so you must resubscribe after the first year to continue accessing them.
The deck is not as shock-absorbing as other high-end treadmills, though this adds beneficial training intensity for many users.
Read Our Full Review Of The Bowflex Treadmill 22 Here
---
Best High-End Treadmill With Content: Matrix T75 Treadmill
The Matrix T75 is a great high-end treadmill for many reasons, but it takes our prize for Best High-End Treadmill with Content. Multiple display options are available at purchase, ranging from a simplistic LCD to a luxurious 22" touchscreen with tablet-like capabilities.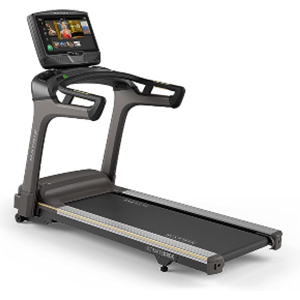 The Matrix T75 Treadmill comes loaded with social media, entertainment, and fitness apps. The touchscreen options also enable web browsing.
The Matrix T75 Treadmill is a premium machine. Matrix is also a commercial treadmill manufacturer, and some of the components in their commercial-grade machines have found their way into the T75. One example of this is the 3.0 HP AC motor. This motor is made for heavy-duty use, which is great for multi-user households or long-distance runners. The motor has a lifetime warranty, so you can be even more sure you will get the most out of the T75.
The T75 has four display options. The top pick is the XUR display, a 22" touchscreen display. I think the Matrix T75 is best when outfitted with a touchscreen, be it the 22" XUR, the 16" XIR, or the 10" XER. The most affordable option is the LCD XR, but this display sacrifices most of the T75's functionality by removing most of its smart features. XUR and XIR offer WiFi, Bluetooth, and HDMI connectivity, giving you a wide range of content options.
Whether you want to watch shows or movies, train with iFIT classes, or surf the internet, the Matrix T75 lets you do it all. You can find apps like Netflix, Spotify, Twitter, Kindle, and YouTube loaded onto the T75 console. Matrix falls under the iFIT umbrella, bringing you thousands of fitness classes from over a hundred professional trainers. Many of these classes are compatible with your treadmill to automatically adjust the speed (0 to 12.5 mph) and incline (0% to 15%). The Matrix T75 is the ultimate multi-tasker treadmill with its built-in web browser.
One of the most important aspects of treadmills with content is not just how much content they have or how big the screen is. Treadmills handle many high forces, and being able to withstand these forces is incredibly important. Fortunately, the Matrix T75 has a high-quality build of welded steel. The console has minimal to no shaking while running, even at the upper speed threshold. You will surely have a great view of the high-definition content for your workout.
+

PROS
Four display options, including three smart displays with premium content features like fitness classes, entertainment, and web browsing.
The 3.0 AC motor is built to last and support heavy-duty training.
The construction is very sturdy, preventing the console from shaking at higher speeds.
A lifetime warranty covers the motor, frame, and cushioning.
The handles are very easy and comfortable to grip. They are very sturdy, because they are one solid piece.
The deck has a low step-up height, which is suitable for users with mobility concerns.
–

CONS
The Matrix T75 is a very expensive treadmill, particularly if you opt for the most expensive display option. I do not recommend the most affordable display option.
The cushioning is not as soft as that found in iFIT's other treadmill brands–NordicTrack and ProForm.
Read Our Full Review Of The Matrix T75 Treadmill Here
---
Best High-End Slat Belt Treadmill: Sole ST90 Slat Belt Treadmill
The Sole ST90 is our pick for the Best High-End Slat Belt Treadmill. It has motorized and manual training options. The ST90 is outfitted with a 2.0 AC motor, typically only in commercial-grade products. This treadmill is designed with the runner who wants a premium machine in mind. This slat belt treadmill offers unique cushioning and training abilities.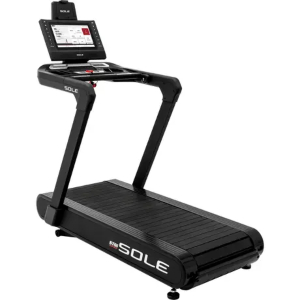 The Sole ST90 has motorized and manual training features, so you can have the best of both. The 2.0 HP AC motor is similar to that found in commercial-grade products.
The Sole ST90 has a dialed-in console to take you from your warm-up to your workout quickly. The unique switches attached to the handrails are reminiscent of the dials on Peloton's treadmills. In fact, the entire construction recalls the Peloton Tread+ (pun intended). Fortunately, the ST90 includes a few additional features missed in treadmills with similar constructions, including a device rack, larger storage compartments, and EKG heart rate grips.
The ST90's motor is 2.0 HP, but it's also an AC motor. AC motors typically are longer lasting than their DC counterparts, making this treadmill a good long-term choice. Strangely, The ST90 has only a 5-year warranty on its motor, whereas Sole's other treadmills have a lifetime warranty. This difference is not explained. The other unique feature of the ST90 is its slat belt. These slats tend to have more give than traditional treadmill belts. Sole's other treadmills tend to be firmer, so seeing a potentially softer, lower-impact option from this phenomenal brand is nice.
'Free mode' allows walkers or runners to disengage the ST90's belt for manual activity. While in free mode, the ST90 can be inclined to 8 levels of resistance for even more ways to train. During the manual activity, the user powers the belt turning rather than the motor for a power-building (you) and a power-saving (your electricity) activity. Outside of free mode, the ST90 has 15 incline levels and a speed range of 0 to 12.5 mph. Train with content displayed on the 10" touchscreen or place your device in the device rack while you listen to cues through the Bluetooth speakers. The ST90 can do both.
+

PROS
The Sole ST90 has motorized and manual training options.
The manual free mode has 8 inclines settings.
The 2.0 AC motor is typically only found in commercial-grade products. This type of motor tends to be longer lasting than its DC counterpart.
The touchscreen and device rack provide two different display options for training.
The ST90 has Bluetooth speakers, USB charging, and screen casting.
The speed and incline ranges are great at 0 to 12.5 mph and 15 levels, respectively.
–

CONS
The warranties on the frame and motor are lower than expected from Sole.
The ST90 is not a folding treadmill. It is very heavy, requiring a dedicated space.
---
Best High-End Folding Treadmill: NordicTrack Commercial 2450 Treadmill
The NordicTrack Commercial 2450 combines high-end features with compact folding. Our award for Best High-End Folding Treadmill could go to no other. The 2450 impresses with its use of NordicTrack's SpaceSaver folding design and the 22" tilt-and-pivot HD touchscreen. The 2450 is one of our favorite treadmills for training on and off the treadmill with the premium iFIT subscription platform.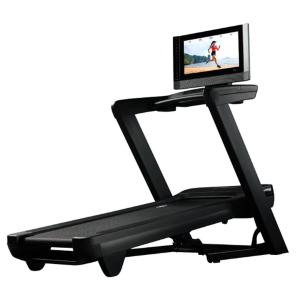 The 2450 packages high-end features like a large HD touchscreen, premium content, excellent cushioning, and hands-free training in a folding design.
The 2450 is NordicTrack's top folding treadmill. It has the largest screen in the Commercial series, making it the perfect choice for exercisers using iFIT's premium subscription platform. The screen can be rotated for off-treadmill viewing. iFIT provides a variety of yoga, strength, and meditation classes, which can be viewed on the 2450. While on the treadmill, the 2450 provides a hands-free workout experience as it learns your performance to adjust the iFIT classes over time to meet your training needs.
A sturdy construction keeps the 2450 stable for walking, running, and sprinting. The console has great graphics, so you can feel inspired to travel by all of iFIT's global content. The deck is spacious enough to stretch out your stride to hit new speeds with its 20" by 60" running surface. With its 3.6 CHP motor, the 2450 is ready for your long runs or more than one user's daily activities.
When you are done for the day, the 2450 folds compactly between its angular uprights. A hydraulic arm helps you raise the deck into place, locking it at the top without any further assistance from you. When you need the 2450 again, simply use your foot to press the hydraulic arm above its joint. The deck should also be slightly pushed back to release it fully. Once released, it lowers itself softly to the ground. It's surprisingly easy. I particularly like the 2450's modern angles, lending it an aesthetically pleasing profile folded or unfolded.
+

PROS
The 2450 has a 22" HD tilt-and-pivot touchscreen for fantastic on- and off-treadmill viewing.
The 2450 folds with hydraulic assistance and softly lowers to the ground once released.
The deck is very well-cushioned for a soft and slightly bouncy foot strike.
The 3.6 CHP motor is suitable for daily walking or running activities.
iFIT's smart features allow users to have a hands-free workout experience.
The speakers and fan are powerful and effective.
–

CONS
The 2450 can be folded, but it is not the most portable, as it is pretty heavy, weighing over 200 lbs.
Read Our Full Review Of The NordicTrack Commercial 2450 Treadmill Here
---
Best Manual High-End Treadmill: TrueForm Runner Manual Treadmill
The Bowflex Treadmill 22 is the obvious choice for the best folding treadmill with high incline, because it is unbeaten. It must be declined fully to fold, and the hinge is smartly between the motor hood and the belt to improve its compaction.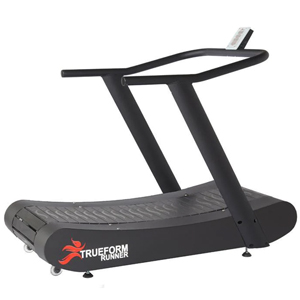 The TrueForm Runner's frame can be custom-colored, and the slat belt comes in four surface options: Tread, Track, Turf, or Naboso.
As a manual treadmill, the TrueForm Runner manual treadmill has a limitless speed capacity. If you can run it, the Runner can do it. It has one of the slightest curves of any manual treadmill, beaten only by its more affordable counterpart, the TrueForm Trainer. This shallow curvature leads to a more natural running stride. Its soft cushioning is forgiving on the legs, even as you push yourself to your maximum speeds. The welded steel frame keeps the entire treadmill sturdy. The steel frame can be painted any RAL color. The TrueForm Runner can be made your own!
The TrueForm Runner is one of my favorite manual treadmills because of its belt options. The traditional tread is awesome but can be upgraded to more sport-specific surfaces. The turf surface can be used with running shoes or cleats for a one-of-a-kind experience. It's a great option for many team sport athletes.The Track surface comes in two color options–blue or orange. Runners are welcome to run in their running shoes or spikes. What other treadmill can you wear cleats or spikes on?
The last running surface option highlights TrueForm's attention to form and health. Naboso is a textured running surface. This surface is a barefoot-only material made for runners who want to improve their neural stimulation by activating the nerves on the bottoms of their feet. Dr. Emily Splichal, a podiatrist, invented Naboso. The TrueForm Runner's overall construction is designed to make you a better runner, and this surface only furthers TrueForm's mission.
+

PROS
The TrueForm Runner can be customized with four different running surfaces for sport-specific training.
The frame can be customized with any RAL color.
The slat belt is comfortable enough for barefoot running.
The welded steel construction stays strong even under sprinting forces.
The low curvature leads to more natural running than manual treadmills with steeper belts.
The Runner has a high weight capacity of 450 lbs full speed or 700 lbs walking.
–

CONS
The belt is heavier and harder to move than some manual treadmills. Sprinting may be difficult for lighter runners.
Read Our Full Review Of The TrueForm Runner Manual Treadmill Here
---
Best Commercial Grade High-End Treadmill: Life Fitness Club Series+ Treadmill
Life Fitness is a brand that you mainly encounter in gym settings, but they make great home treadmills. The Life Fitness Club Series+ earns our award for Best Commercial Grade High-End Treadmill for its high-powered AC motor, robust build, and limited lifetime warranty. The Life Fitness Club Series+ Treadmill is for users looking to spare no expense in finding their next treadmill.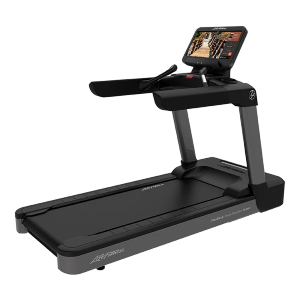 The Club Series+ Treadmill brings a powerful 4.0 HP AC motor and commercial-grade details to your home, so you can have the same experience you have at your gym.
The Life Fitness Club Seres+ Treadmill is made for runners or walkers planning to use their treadmill daily for years. Life Fitness offers a lifetime warranty on the frame and motor, a 10-year parts warranty, and a 6-month cosmetic items warranty. The paint is sweat resistant to keep your machine from corroding with heavy use. The build combines a sturdy steel frame with cast aluminum foot rails for a high-end look and feel.
The running deck is a spacious 22" x 60" with a step-up height of only 8". This treadmill is built to hold up to 400 lbs. These specs are great for accommodating a large population of users. The speed range is 0 to 12 mph, and the incline rises to a maximum of 15%. There is no option to decline this treadmill. The deck is cushioned with 8 Lifespring shock absorbers; these also come with a lifetime warranty.
The Club Series+ Treadmill has two console options. The SL console is a 20.5" LED console that displays your metrics. The more expensive option is the SE3 HD console. This console is 21.5" and touchscreen. It offers many different entertainment options, including Netflix and Spotify. Trainer-led content is available through Life Fitness on Demand workout classes. Lifescape offers global trails and running routes for a more immersive running experience. The Club Series+ has it all in one of the top-of-the-line products.
+

PROS
The 4.0 CHP AC motor is built to last and has a lifetime warranty.
The smart console puts every training or entertainment option you could want right at your fingertips.
The deck is spacious, shock-absorbing, and has a low step-up height of 8 inches.
The frame, motor, and shock absorbers have a lifetime warranty.
The paint is sweat resistant to fight corrosion.
–

CONS
The SE3 smart touchscreen console option increases an already expensive treadmill to an incredibly high price.
Read the full Life Fitness Club Series+ Review Here
---
Factors To Consider When Finding The Best High-End Treadmill
High-end treadmills have price tags that double, triple, or are ten times their more affordable counterparts. When shelling out the cash for these treadmills, you want to be sure you are getting a return on your investment. There are a number of reasons that a treadmill may be priced higher, and we have listed a few that are most common.
Motor
Treadmill motors are extremely important components for treadmills, except for the obvious non-motorized variety. The motor determines the appropriate use and use frequency of a treadmill. Not all treadmills are suitable for walking and running. Some favor one over the other. The motor power can be a big determiner of whether a treadmill is suitable for running. We like to see a 3.0 HP motor or better for running, though that changes when comparing AC versus DC motors.
DC motors are the most common type in home treadmills. AC motors are usually reserved for commercial settings because of their durability. Our horsepower suggestion of 3.0 or up for running applies only to DC motors. High-end treadmills may have AC motors instead, in which case, a lower HP rating is acceptable. When looking at high-end motorized treadmills, I recommend looking for either an AC motor or a 3.5+ HP DC motor.
An AC motor comes with a few concessions compared to a DC motor. Though both are suitable for use in a treadmill, DC motors tend to be used for in-home products because of their quick speed and incline adjustments and their quietness. AC motors tend to be a bit louder and slower to adjust. The big plus for AC motors is their longevity. If noise is not a problem (consider the noise of a gym treadmill) and you aren't big on fast, short intervals, an AC motor-powered treadmill is a great investment.
Console
When it comes to the console, the big ticket item is the screen. High-end treadmill screens tend to be larger than 20 inches with a touchscreen and tons of smart features. The clear graphics of a high-definition display can take your training to the next level or help you exercise while binging your favorite shows. As such, consider carefully what content the screen allows you to view in addition to its size. Not all treadmill screens provide access to third-party apps. If you are all about the screen, also consider the treadmill's Bluetooth compatibility, speaker power, device storage, and screencasting, as these will greatly impact the treadmill screen's performance.
Deck
High-end treadmills should be spacious enough to accommodate long strides. I expect to see a minimum of 20" x 60" at this price point. This size can vary some when it comes to manual treadmills, but motorized treadmills should be fairly consistent at the higher end. Some motorized treadmills have widths up to 22", which is more comfortable for large users.
In addition to size, cushioning is good to consider in treadmill decks. If you are looking for a road-like deck, there are firmer treadmills that are still high-end. Yet, many users are looking for premium cushioning when they search for high-end treadmills. Increased shock absorption can be easier on the legs and speed up your recovery time. It can also make your cardio easier, so you can go further or faster.
Premium Features
There are features in high-end treadmills that you most likely won't find in affordable alternatives. These features vary but can include more tablet-like touchscreens, customization options, and more durable materials. The tablet-like features might allow you to download or access more third-party apps or browse the web. Customization can include color or console options. Lastly, durable material can include longer-lasting tactile buttons, corrosion-resistant paint, and less plastic/more metal in the construction.
Space Requirements
High-end treadmills are sturdy treadmills. This robust construction prevents them, in most cases, from being foldable. This means you will need a designated space within your home for them. High-end treadmills are great for exercisers with a home gym. They are bulky pieces of equipment, but many brands offer white glove installation, so you don't have to worry about setup.
Warranty
I recommend looking for treadmills with longer warranties. A lifetime warranty is always good to see on an expensive treadmill. High-end treadmills should be an investment that will last a very long time. If brands stand by their products, it makes it easier for you to trust that you are buying a quality piece of equipment.
Bottom Line – Best High-End Treadmills
High-end treadmills can be hefty expenses, but with the right time and consideration put into your purchase, they can be a solid investment. We have compiled this list to help you find the right brands and products to suit your training needs. With a high-end treadmill, you can get the most out of your daily training and find features that are motivating enough to keep you in your routine.
Frequently Asked Questions
Are high-end treadmills worth it?
High-end treadmills can be worth it. If you are a long-distance runner or walker who plans to use their machine every day, you could save more money over time by getting a machine you will not have to replace as quickly. Multi-user households, especially where more than one person is a vigorous exerciser, will benefit from a high-end treadmill as it is built to withstand that level of use. In other regards, a high-end treadmill is worth it if you value premium features that can not be found in more affordable machines. To summarize, it will depend on your level of use and your priorities regarding your cardio fitness. There are plenty of more affordable machines that will suit infrequent treadmill users with a few feature and spec concessions.
How much is an expensive treadmill?
The treadmills on this list range from under $3k to over $10k. Some high-end treadmills have add-on features that can increase the price from hundreds to thousands of dollars more. We consider treadmills over $2k to be premium treadmills. This price point is typically where you will see more features included, like decline, large touchscreens, and premium content.
Why are some treadmills so expensive?
Treadmills are expensive because they must be made to handle the high forces exerted by exercisers. Many treadmills are designed for daily use. To withstand this type of use for years, treadmills require durable, high-quality materials. Treadmills are large with multiple parts, increasing the likelihood of breaking. Some of the best treadmills are overengineered to solve these problems. In more recent years, subscription content and online content have gained popularity. Users looking for more training and entertainment options have caused treadmills to add more and more smart features, which require even more expensive components.
Read More Popular Treadmill Reviews: