Last Update: September 11, 2023
Whether you are sticking to a budget, prioritizing other equipment you enjoy more, or looking for a backup to outdoor training, there are many reasons you may want or need a cheap treadmill. Beware the temptation of buying a knockoff treadmill at an ultra-cheap price, because it could cost you in the long run. The treadmills we have compiled for this list are products we have tested and researched. When used properly, they provide a great indoor cardio solution at a low cost.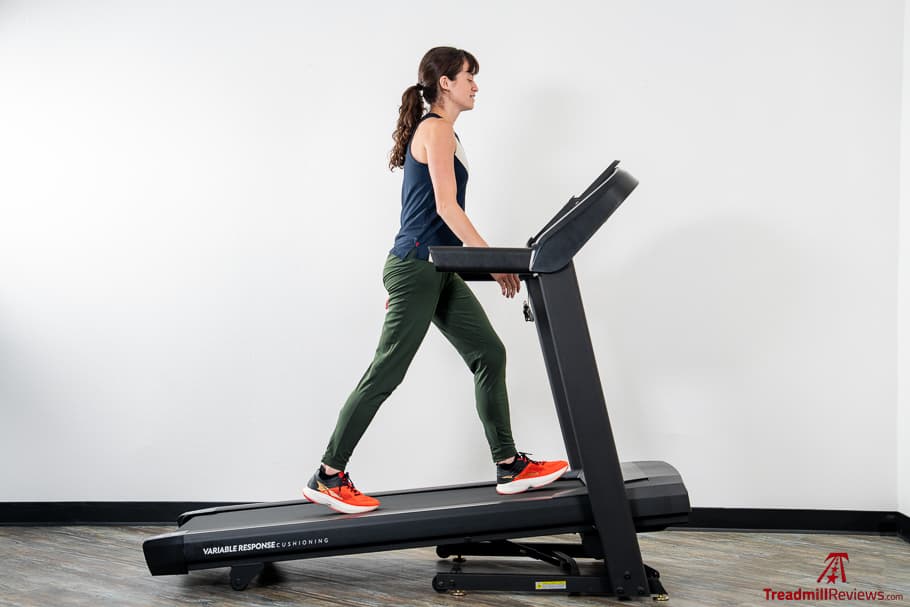 Here's Our List of the Best Cheap Treadmills for 2023
Best Cheap Treadmill: Horizon T101 Treadmill
The Horizon T101 is an affordable treadmill with a great build and features. Even if the T101 falls a little outside your price range, as it is not the cheapest on this list, it might be worth a second look. We consistently rate the Horizon T101 Treadmill as one of the best value treadmills. It offers a lot for a reasonable price.

The Horizon T101 Treadmill has a great build and excellent features, all for one low price.
Horizon has really impressed us with its ability to keep prices low and quality high. The T101 is the brand's most affordable treadmill with a great build. The T101 is backed by a lifetime warranty on the frame and motor. The motor is a 2.5 HP motor–great for daily walking use or light running. It has a compact folding frame with featherlight folding. This feature allows the deck to softly lower to the ground once it has been released from its upright position. The running surface is pretty spacious for a walking treadmill, measuring 20 by 55 inches. It has just over a 7-inch step-up height, which should be accessible for most users. The console is simplistic but easy for newbies to navigate.
Though we like the T101 best as a walking treadmill, it does have a speed range of 0.5 to 10 mph. It is not the most stable for running, and larger users, especially, may prefer a more robust product. In a pinch, the T101 can definitely support slower, infrequent running intervals. It is a good choice for a beginner adding some running intervals into their cardio routine. The deck has an incline range of 0 to 10%, giving users even more ways to train. The speed and incline adjustments are impressively smooth and fast for a treadmill valued at less than a thousand dollars.
The T101 has a few built-in training programs and does not require a subscription to access content, as it doesn't offer any of the trainer-led, video variety. Instead, it has a B.Y.O.T. approach; that is, Bring Your Own Technology. Since the T101 lacks a touchscreen approach, its price stays low, but you can pair your own device for smarter training from any third-party platform you prefer. There is a tablet rack, Bluetooth speakers, and USB charging to encourage training with third-party apps. The T101 gives you the freedom to train or be entertained however you would like during your walking or running workout.
+

PROS
The Horizon T101 has a lifetime warranty on its frame and motor.
The T101 has a max speed of 10 mph and a max incline of 10%.
The 2.5 HP motor should support daily walking and light running.
The T101 is a folding treadmill with FeatherLight Folding.
The Horizon T101 supports training with third-party apps with features like Bluetooth speakers and a tablet rack.
The speed and incline adjustments are very fast, so you keep up with non-native content.
–

CONS
The T101 is not the most supportive of running.
There is no handle to assist with folding and unfolding the treadmill.
Read Our Full Review Of The Horizon T101 Treadmill Here
---
Best Cheap Walking Treadmill: ProForm City L6 Treadmill
The ProForm City L6 is a compact folding treadmill with a console that folds down to the deck. The L6 is the perfect entry point into the ProForm treadmill lineup. For a budget price, well below a thousand dollars, you can train with one of the top home fitness brands. The City L6 is also compatible with the iFIT training platform; you just need your own smart device and a membership to the platform.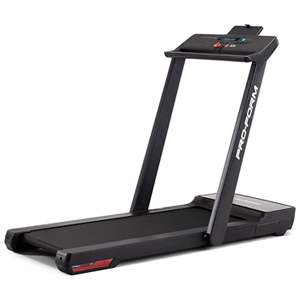 The ProForm City L6 proves inexpensive treadmills don't have to go without smart training content. The only catch is that you have to view the content with a phone or tablet.
Not only is the ProForm City L6 relatively inexpensive, but it is also a compact treadmill. The City L6's console folds down to the deck. The treadmill can then be stored horizontally. In this position, it should be able to fit under a bed or other piece of furniture. It measures about 10 to 13 inches high when folded, depending on whether the device rack is attached to the console. There is a lever on the side of the treadmill deck that releases the console from its position. The folding and unfolding process can be a little awkward at first, but it's easy to get the hang of it. The treadmill has two transport wheels, so it can be relocated as needed. It weighs about 125 lbs, which should be light enough for most exercisers to wheel around but not carry.
The ProForm City L6 is better for walking or casual running use. The speed range is 0 to 8 mph and does not incline. The motor is only 1.6 continuous horsepower, so the treadmill is best as a walking-only treadmill. The deck is also pretty small, measuring only 17.5" x 45". This size may be too small for runners with small strides. The City L6 can support a user weight of up to 250 lbs, which is lower than the standard for residential treadmills but not bad for its size.
iFIT is a fun training platform with thousands of on-demand classes from over one hundred different coaches. The content is subscription based, so you will need to have a membership to use this feature of the L6. The classes can be accessed through a smart device, where you pair the City L6 to your phone from within the app. From there, the app automatically adjusts your speed to match the recommendations of the trainer. iFIT also has tons of other content for training off the treadmill, like strength training, yoga, and meditation. The ProForm City L6 comes with a 30-day free trial of iFIT for new users.
+

PROS
The ProForm City L6 pairs with iFIT for smart training on and off the treadmill.
The L6's console folds down to the deck for compact storage.
The treadmill's console is intuitive, making it easy for new users.
The City L6 is perfect for renters due to its size and low weight.
The ProForm City L6 has a maximum speed of 8 mph.
–

CONS
The belt and motor are not quite up to the standards of a running treadmill.
There is no onboard training content.
Read Our Full Review Of The ProForm City L6 Treadmill Here
---
Best Cheap Running Treadmill: NordicTrack T Series 6.5S Treadmill
The NordicTrack Series 6.5S Treadmill is a cheap treadmill now sold on Amazon as it has been discontinued by NordicTrack. It still pairs with the iFIT platform, giving walkers and runners more training features. Of the treadmills on this list, the 6.5S is the most suited to running, but marathon runners should be wary. This treadmill is best for beginners or low-mileage runners. It would also be great for runners who primarily train outdoors.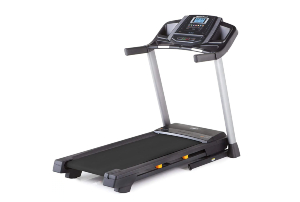 The NordicTrack T Series 6.5S Treadmill is the perfect solution for outdoor runners escaping the elements.
The NordicTrack 6.5S Treadmill has a steel alloy frame. It is built to support walking and low running mileage. The 20" x 55" deck is a bit roomier than many of the other treadmills at this price point, but it may be a little short for runners with very long strides. The 6.5S has shock absorbers that can be turned on or off. This allows runners to have a more road-like experience or recover with a softer underfoot feel. The NordicTrack 6.5S Treadmill is a great budget pick for runners.
The 6.5S has a typical residential treadmill build with a full-size console. The console gives walkers and runners access to more features, namely storage. There are two large cup holders and a device rack. Storage is great for running or long walks, because it ensures exercisers have all the hydration and nutrition they need on hand. The device holder also provides training and entertainment content through a smartphone or tablet. The 6.5S has a stability bar at the bottom of the console where users can rest their hands. There are two EKG pulse grips located on this bar to conveniently check in on your heart rate. These are some of the 6.5S's features, but it really shines through its ability to pair with iFIT.
iFIT is a subscription training platform from NordicTrack's parent company. The fitness platform has an extensive content library supplying trainer-led videos filmed in locations around the world. iFIT content allows the treadmill's speed and incline to adjust to the program being displayed. The 6.5S has a maximum speed of 10 mph and a maximum incline of 10%, so it has a pretty nice range to work with iFIT's library. Runners can even supplement their treadmill training with strength training or yoga, all with the same iFIT membership.
+

PROS
The NordicTrack T Series 6.5S has a 2.6 CHP motor suited for walking or low-mileage running.
The 20" x 55" belt is roomier than many treadmills at this price point.
The FlexSelect cushioning can be turned on and off to customize the underfoot experience.
iFIT provides smart training content compatible with the treadmill via Bluetooth.
The 6.5S has a steel alloy frame and a large console with storage.
The maximum speed is 10 mph, and the maximum incline is 10%.
–

CONS
The motor and deck may be insufficient for high-intensity running.
The iFIT integration isn't as seamless as on treadmills with built-in touchscreen displays.
---
Best Compact Cheap Treadmill: WalkingPad R2 2-in-1 Foldable Treadmill
The WalkingPad R2 is a treadmill that seems like it shouldn't exist. A treadmill that folds so small should not be able to handle running, but sure enough, it does. The WalkingPad R2 is not designed for high mileage, but it can transform from an under desk/walking treadmill to a running machine in a pinch. Its performance surpasses what you may expect at first glance.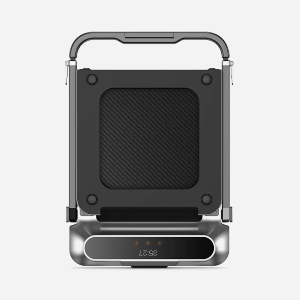 The WalkingPad R2 2-in-1 Foldable Treadmill transforms from a walking treadmill to a running treadmill by raising the console handle.
The WalkingPad R2 is super compact. The deck folds in half, and the handles fold down for sleek storage. It can then be stored under a bed, in a closet, or in most tiny spaces. The WalkingPad R2 can be stored flat or upright, so you have plenty of options for where to place it. There are two transport wheels at the bottom of the R2 to help you roll the WalkingPad from its storage location to where it will be used. These wheels work well on hard floors but may be difficult to maneuver over carpet. It weighs only 80 lbs, so some users may be able to carry it.
As a walking treadmill, the R2 is very nice. It has a 17" x 47" belt, which is great for walking. The seam where the deck folds can be slightly felt underfoot. The seam is much less noticeable on the R2 than it is on other WalkingPad treadmills. In fact, users with highly cushioned shoes may not be able to feel it at all. The maximum walking speed is 3.7 mph while the console/handle is folded down. The treadmill can be placed in manual or automatic mode while walking. Auto mode allows walkers to control the treadmill speed with their feet.
Lift up the handles and secure them in place and you have yourself a running treadmill. The speed limit increases from 3.7 mph to 7.4 mph. The belt may be a little small for some runners to be comfortable running at the highest speed. If you have a shorter stride and higher cadence, the R2 should be decent for running. The R2 delivers a firm but comfortable underfoot experience. The motor is a brushless motor, so even at higher speeds, the treadmill is fairly quiet. I was skeptical at first, but the R2 has won me over–it can run!
+

PROS
The WalkingPad R2 is a 2-in-1 walking and running treadmill.
The compact folding design allows the R2 to be stored in places few other running treadmills could fit.
The maximum running speed is 7.4 mph while the walking speed is 3.7 mph.
The treadmill weighs only 80 lbs and is easy to wheel around.
The brushless motor is quiet.
Auto walking mode allows the treadmill speed to adjust with your foot placement.
–

CONS
The WalkingPad R2 may be a little too small for some runners.
Carpet is not ideal for the R2's transportation or auto-mode functioning.
---
Best Cheap Treadmill Under $600: XTERRA TRX1000 Treadmill
The XTERRA TRX1000 is a surprisingly stable treadmill for such a low price. It has a speed that can support walking or running, though we are skeptical about how much running mileage it can handle. It has a respectable amount of features, making it a good treadmill for its value.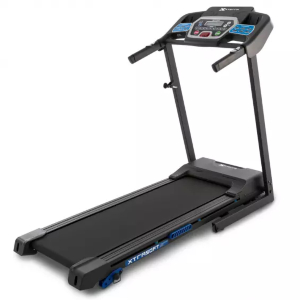 The XTERRA TRX1000 is sturdier than it looks with enough features to make this treadmill a bargain.
The XTERRA TRX1000 Treadmill is slim and compact. It has a pin and lock mechanism for manually folding the treadmill deck into its upright position. The deck is smaller than a standard residential treadmill at only 20" x 50", giving the TRX1000 a small footprint when folded or unfolded. This treadmill has a maximum user weight capacity of only 250 lbs, so it is not the best for larger users. The deck length may be a little short to accommodate long running strides, too. Yet, I was impressed by how sturdy the console felt and how little it shook while I was running. The build is much more solid than you might expect for a treadmill priced so far below a thousand dollars.
The TRX1000 has a speed range of 0.5 to 10 mph, though its motor size is only 2.25 HP. It will perform best when used as a walking treadmill, though some running intervals may be appropriate. We suggest this treadmill for very low running mileage or moderate to high walking mileage. There are three manual incline levels, though I hardly noticed the incline at all. I don't think I would miss the incline if XTERRA left this feature of the TRX1000. The incline can only be changed when the treadmill is stopped and the deck is lifted, so it is not good for interval hill workouts. The TRX1000's performance was great and gives it a lot of bang for your buck.
The TRX1000 has 12 preset programs in addition to the manual training mode. These programs are automatically set to 30 minutes in length, but you can adjust the time. Though you can manually change the speed at any point during the workout, the preset programs really aren't customizable. For this reason, some may prove too difficult or too easy for exercisers. The manual training mode is great for users who want more control over their workout, and the TRX1000's quick-adjust buttons have tactile and auditory feedback so you know you have pressed the button right the first time. I like the TRX1000's training options, but it may take users some time to figure out which of the preset programs work for them.
+

PROS
The TRX1000 is an affordable treadmill that has great value.
The TRX1000 has a small folded and unfolded footprint.
The console is very stable.
The treadmill has 12 preset training programs.
The console and buttons are easy to navigate.
The maximum speed is 10 mph.
–

CONS
The TRX1000 manually folds which may be cumbersome for some users.
The maximum user weight capacity is only 250 lbs.
The deck and motor may be insufficient for high running mileage.
---
Best Cheap Treadmill with Free Content: Sunny Health & Fitness Auto Incline Treadmill
Sunny Health & Fitness's Sunny Fit app has no right to be as good as it is. The Sunny Fit app has good trainer-led video content and a social platform. The Auto Incline Treadmill is Bluetooth enabled, allowing you to pair it with the app. The Auto Incline treadmill has a maximum incline of 12% for more training variability.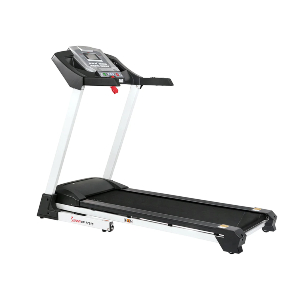 The Sunny Health & Fitness Auto Incline Treadmill is an inexpensive treadmill compatible with a free training platform.
The Sunny Fit app pairs with the brand's Bluetooth-enabled equipment, including the Auto Incline Treadmill. The connection allows the app to record your training progress as you follow along with its free content. There are some premium videos and other features, but you can pay for these with coins you earn from participating in the other content. It is an incentive to train with the app regularly. There are guided treadmill workouts for beginner, intermediate, and advanced runners with plenty of room to tailor the workout to your needs. The trainers are professional and motivating, delivering a quality we can't believe is free.
The Sunny Auto Incline Treadmill is a hydraulic folding treadmill with a 2.2 HP motor best suited for walking. The speed maxes out at 8 mph, so it is definitely possible to do some running. The deck measures 16.5" x 49.5" which may be too short for some users to comfortably run. The Auto Incline Treadmill's maximum of 12% incline allows you to increase your intensity without having to increase your speed.
The console is a nice size, creating room for plenty of features. There are speakers, an audio port, and a microphone (for answering phone calls). There are two water bottle pockets to keep your hydration and nutrition nearby. The console also has a tablet rack, so you can view training content easily. The console is not very sturdy during running activities, but walking should be fine. The console just shakes quite a bit during running. The Sunny Health and Fitness Auto Incline Treadmill keeps you in budget and pairs with free smart training content.
+

PROS
The Sunny Auto Incline Treadmill pairs with the Sunny Fit app for free training content and a social platform.
The Auto Incline treadmill uses hydraulic folding, an uncommon feature on cheap treadmills.
The console has a tablet rack, speakers, and an audio port for seamlessly consuming training or entertainment content.
The maximum incline is 12%.
The console has two storage pockets.
–

CONS
The deck and motor are not the most suited to running.
The console shakes when the user is running.
---
Best Cheap Amazon Treadmill: Redliro 2 in 1 Under Desk Treadmill
The Redliro 2 in 1 Under Desk Treadmill is already cheap, but throw in some Amazon deals or coupons and you have yourself an even better bargain. The Redliro 2 in 1 Under Desk Treadmill didn't just catch our eye when we were scrolling through the popular online store. We have tested it and so have the 2,000-plus Amazon shoppers who have rated it. The Redliro stands out in a sea of questionable Amazon products.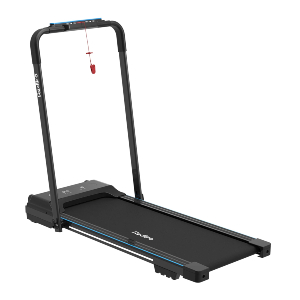 The Redliro 2 in 1 Under Desk Treadmill is the perfect way to energize your work day or support a post-work training session.
The Redliro 2 in 1 Under Desk Treadmill gets its name from its ability to convert from a walking treadmill to a running treadmill. It has a foldable handle that doubles as a minimal console. The handle position determines whether the treadmill is in walking or running mode. The Redliro sits low to the ground. Even when folded, it is only about 5.5 inches tall, so it can be stored under a bed or couch. The treadmill also seems to function well even if stored upright. The Redliro can tuck into a corner, into a closet, or behind furniture. The Redliro also has two transport wheels, making it very easy to store. It comes in multiple colors to appeal to a wider range of customers.
The Redliro works well as an under-desk treadmill. The deck may be a little short for some long-legged users, because it is only 15" x 41". I took up most of the belt just walking. Though some customers have pushed the Redliro harder, we recommend it for those wanting to walk a maximum of an hour or two at their desks per day. It is remote-controlled, so you do not have to worry about leaning down or crawling under your desk to adjust settings. The Redliro is great for increasing your daily physical activity.
Running is a more complicated beast, because much higher forces are put into the treadmill with each impact. We certainly do not recommend this treadmill for larger runners. The weight capacity is only 220 lbs. To run on the Redliro, you must take shorter, more frequent steps rather than stretching out your stride. Many runners find this improves their efficiency as a runner, but it may not feel as natural to all users. I was able to run at the 7.5 mph maximum, but I did hit the motor hood quite often. The Redliro would feel more comfortable for running at a pace of 6 mph or slower. Even then, this treadmill is not suited to high mileage.
+

PROS
The Redliro 2 in 1 Under Desk treadmill has an adjustable handle that swaps the treadmill from walking to running mode when raised.
The Redliro is cheap and sometimes even cheaper thanks to Amazon's frequent deals.
The Redliro can be stored flat or upright to slide into small spaces.
The speed is remote-controlled when in walking mode for convenience.
The Redliro comes in multiple colors.
–

CONS
The treadmill is a bit small and underpowered for running.
The Redliro is best for short bouts rather than all-day use.
---
What to Look for in a Cheap Treadmill
Build
Whether you are looking for a cheap treadmill or a more expensive machine, you should be mindful of its build. Cheap treadmills can turn into expensive treadmills if you need to replace them prematurely. We look for treadmills with steel frames and as few plastic components as possible. A high weight capacity can be another indication of a quality treadmill build. Look for a generous warranty for peace of mind. It is rare to find a cheap treadmill with a lifetime warranty but not impossible as can be seen with the Horizon T101.
Motor
Not all treadmills are made equal. A treadmill's motor can determine whether it is best suited to walking or allows running as well. We look for treadmills with at least a 3.0 HP motor for running. Most cheap treadmills have under a 3.0 HP rating and are best for primarily walking or low mileage running. Overusing a treadmill can lead to overheating or complete motor failure.
Deck
When it comes to the deck and the running surface, there are a few considerations when considering cheap treadmills. First, cheap treadmills tend to have thinner running decks, which is one explanation for their low weight capacities. One positive of this is the low profile of cheap treadmills. They usually have low step-up heights which are more accessible and compact when stored.
Cheap treadmill decks are often smaller than their more expensive counterparts. These economical decks may be fine for walking, but they may limit your ability to run safely or comfortably. If you have a short stride (or higher running cadence), you can get away with a smaller treadmill. Remember, just because a treadmill has a high speed limit does not mean it is best suited for running.
Features
One way treadmill brands keep prices low is by reducing the features offered. Users may need to bring their own smart device for entertainment or training content rather than relying on built-in programs or apps. To find the most affordable treadmill possible, you should decide which features you must have and which you can go without.
When Should You Avoid a Cheap Treadmill
There are a few situations where you should avoid a cheap treadmill. In these cases, you should consider saving up for a higher budget or considering your other options. If you fall into any of these categories, take a look at our Best Treadmills list for more options.
You Run Many, Many Miles Per Week
Chances are if you even know off the top of your head how many miles per week you run, you fall into this category. Now, if 90% of those miles are outdoors and the treadmill is for "just in case," then a cheap treadmill might be fine. If you are logging 3+ miles per day on the treadmill, you need a machine that will last and keep up. Look for a treadmill with a 3.0 HP motor or better, a large running surface, and sufficient speed and incline settings.
There Are Multiple Users in Your Household
Cheap treadmills may be sufficient for one user, but if you add a second user (or more), things get a little tricky. The motor could wear out prematurely. If you share the treadmill with other users daily, a more durable treadmill may be necessary. Of course, if you have to train at the exact same time, you could get two cheap treadmills. This solution is most practical for multiple people in a household working from home and wanting to walk at their desks.
You Need a Durable Treadmill
Whether you need a high weight capacity or feel more comfortable with a better warranty, cheap treadmills just might not fit your needs. I am a smaller runner, but I destroy my shoes faster than most people. I also fear I would treat a cheap treadmill the same. Some runners show treadmills no mercy, so invest in a machine that challenges you more than you challenge it.
You Have to Have the Features
Some exercise is better than no exercise. Yet, if you are not going to exercise unless you are sufficiently tempted by smart and high-end features, a cheap treadmill might be nothing more than another future garage sale item. Features are not just designed as marketing tactics or gimmicks. They can help you adhere to your exercise routine by making it more fun.
Bottom Line – Best Cheap Treadmills
Burn calories, not cash! These cheap treadmills can save you money and help you put in quality miles. There are walking, running, and under-desk treadmills on this list, so you can train however you wish without breaking the bank. Cheap treadmills can be lasting and durable with proper care and use. The main sacrifice you make when choosing a cheap treadmill over a more expensive treadmill is the features. You won't find many touchscreens in this category, but you will find treadmills with decent built-in training options with low-tech alternatives. Cheap treadmills are best for walkers or beginning runners.
Frequently Asked Questions
Are cheap treadmills worth it?
Whether or not a cheap treadmill is worth it is determined by what you need it for. If you are hoping to train for a marathon on a treadmill with a low motor power and a small deck, it might not be worth it. The treadmill could burn out, or it could feel too small for your training. If you are having trouble achieving your daily step or exercise goal because of the weather or safety concerns, a cheap treadmill is absolutely worth it! If a cheap treadmill helps you overcome a barrier to exercise, it should be a no-brainer!
Which is the cheapest treadmill?
On this list, the cheapest treadmill is the Redliro 2 in 1 treadmill. There are cheaper treadmills out there, but you should be skeptical about how well they perform. One hundred dollars may be cheap for a treadmill, but it is really expensive for a cheap treadmill that doesn't work.
How much is a basic treadmill?
Treadmills usually start around $500, but there are some that fall below this price. Keep an eye out for coupons and other deals. Black Friday is a great time to purchase a treadmill for this reason. As previously stated, there are treadmills that are $100 or less, but they may not last long enough to justify their cost.
Read More Popular Treadmill Reviews: