Nordictrack Commercial 2950 Treadmill Review
A top of the line treadmill that will last you a lifetime.
Click our coupon link below and a $60 discount will automatically appear in your shopping cart!
Click Here To Save $60 On The Commercial 2950 Now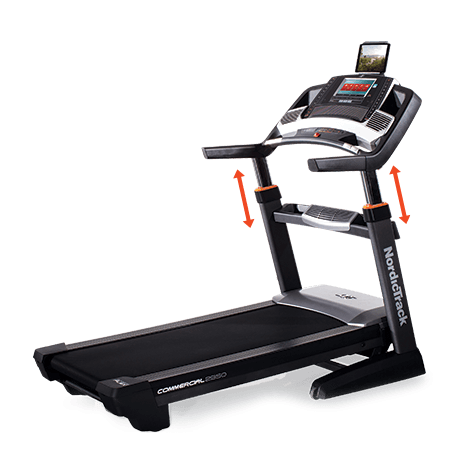 Nordictrack Commercial 2950 Treadmill
Rating: 4 stars –

Reviewed by TreadmillReviews.com
The Commercial 2950 is the fancy BMW of all treadmills. If you want the newest and greatest treadmill, this is the perfect option for you. This is by far the greatest treadmill on the market. There is honestly nothing negative to say about the NordicTrack Commercial 2950, other than it is big and bulky, so you should find a place in your home for it and then never move it. Who would want to move it anyways? This treadmill will last you a lifetime! The Commercial 2950 comes equipped with a built in 15″ HD television that is secured in place, an HD color touchscreen that lets you read stats, browse the web, check emails, etc., 40 preset workout apps, and iFit Live built into the console. Yeah, the price on this machine might be high, but just those features alone are well worth it. And that's not all the features! The 2950 also has a maximum decline of -3% and a maximum incline of 15%, which allows you to tone and work different muscle groups in the legs. The best thing about this treadmill is the extremely large running belt of 22″ x 60″ that has Runner's Flex cushioning that can easily be adjusted to an on or off setting, depending on if you want to replicate street training or not. The NordicTrack Commercial 2950 is the beast of all treadmills. It is currently on of the best deals on the market as far as quality and features go. You are getting so many extras considering the affordable price. Just having iFit Live alone is a huge bonus (of course you must still aquire a membership), but still most treadmills do not even come with this option. Even if you do not use iFit, there is still the amazing touchscreen that will give you the Internet, and the HD television. Overall, this is a pretty solid buy, especially at the sale price it is currently at.