NordicTrack Elite 9700 Pro Review & Ratings
Share our review of the

NordicTrack Elite 9700 Pro

treadmill
Overview
The NordicTrack Elite 9700 Pro is one of the best treadmills on the market and is also one of NordicTrack's most expensive treadmills at regular cost. The quality of this machine however, makes its value very reasonable. You'll feel the difference when you run on it. First of all, imagine a 4.0 CHP motor. With a motor like that anything is possible. Say goodbye to motor burn outs, bogging, breaking down, or other motor problems. This size motor will have no problem with pretty much any size runner. The treadmill is absolutely meant for heavy and intense runners to be able to use and abuse until their legs fall off. The deck is 2" wider than the standard full sized deck measuring out to 22" x 60". The weight capacity is rated at 375 lbs which will handle the vast majority.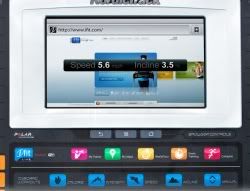 Now, to show off the features it's got. Not only is this one of the strongest home treadmills out there, it's one of the most decked out, if not the most. The first thing you'll notice is the amazing console. The console has a built in 10" full color touch screen web browser display. Run while you read news, watch videos, or do whatever else you like to do online. Imagine flipping on Hulu and watching your favorite TV show while you run..But that's not the best part in. The console is integrated with iFit Live and Google maps. It lets you trace out any trail in the world, and it uses Google Maps' calculations of the terrain to automatically adjust your treadmill's incline to the real world terrain. Ifit tracks all your progress and even lets you train to a huge plethora of built in workouts, compete against others, or have personal trainers coach you through the built in speakers. Not bad eh? There's more to it, but that's my favorite part.


The Cushioning of the treadmill is absolutely comfortable as can be. The treadmill feels as solid as a rock, and makes minimal noise. Basically everything you would want in a home treadmill is spelled out in this treadmill. Check out the specs below for more detailed info on it.
| | |
| --- | --- |
| Price: | $2199.00 |
| Walking Area: | 9.00 |
| Power: | 9.00 |
| Cushioning: | 7.50 |
| Reliability: | 7.00 |
| Noise Level: | 7.00 |
| Quality: | 8.00 |
| Value: | 7.00 |
| Warranty: | 8.00 |
| Overall Rating: | 7.81 |
Editor's Note:

The link below will redirect you to NordicTrack.com. The $120 coupon will appear in your shopping cart.
Discounts will be applied at checkout
Product Features
NordicTrack Elite 9700 Pro
Motor: 4.0 CHP
Treadbelt: 22" x 60"
Speed: 12MPH
Incline: 15%
Cushioning: QuadFlex Precision Calibration Cushioining
Display: 10" Full color touch Screen display With Android powered Web Browser
Heart Rate Monitor: CardioGrip Heart rate Monitor with Polar Wireless Chest Strap
Weight Capacity: 375 lbs
Folding: Yes
Fan: 8"
Ipod/Mp3 Connect: Yes
Speakers: Intermix Acoustics 3.0
Warranty: Lifetime Frame and Motor, 7 year Parts, 2 year labor
Brand
Price
FOLDING
MOTOR HP
TOP REVIEW
Thousands of people just like you visit our site each month. We see which reviews are read the most, and our most popular treadmill review is the NordicTrack X9i.
FOLLOW US