A recent question on Quora asks What is the quietest treadmill?. In close living spaces like apartments, this is a likely concern of many that want to bring the joy of exercise to their home.
Between the motor and overall clunkiness of a treadmill, they tend to be very noisy machines. You will most likely be exercising early in the morning or late at night and you don't want to be disturbing your neighbors at those hours.

Other reasons you might want a quiet treadmill:
So you can hear a movie you're watching or to listen to the radio or some stereo system
You want to exercise while your child or children take a nap
You wake up early to run on the treadmill and don't want to wake your spouse/kids/dog
Below is my short and sweet answer to which treadmill is the quietest.
Read Quote of Treadmill Review Guru's answer to Treadmills: What is the quietest treadmill at low speed use? on Quora
LifeSpan
As I mentioned in my answer to the Quora question, LifeSpan Treadmills have been known to be very quiet.
LifeSpan TR200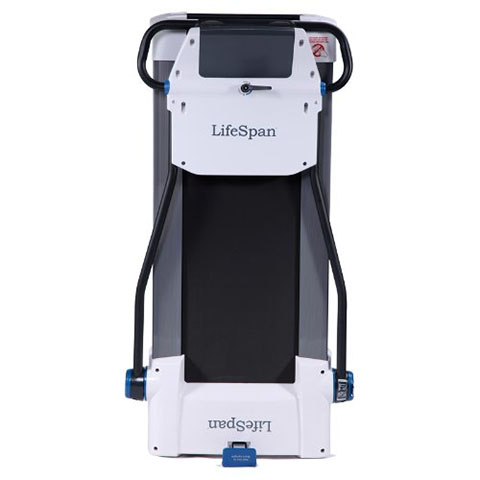 This treadmill is a winner because it is both quiet and compact having a small treadbelt of only 17 inches wide and 48 inches long. That is considerably smaller than traditional treadmills.
A review on Amazon.com said the TR200 is "very quiet and also we are very surprised how sturdy and stable the treadmill. Would recommend this for anyone looking for a good quality walking treadmill or if you are limited on space.
The above reviewer makes the point that the TR200 is sturdy. A quiet treadmill should not only have a quiet motor, but should be sturdy enough that a hard run doesn't shake and rattle it. Some Weslo treadmills might seem like a good fit for a small apartment but be wary because they are cheaply made and do not do well under a lot of pressure.
LifeSpan TR300i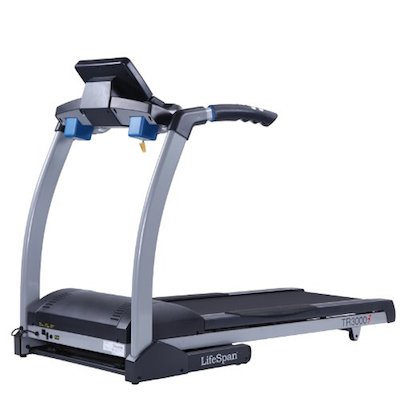 One review of the LifeSpan TR300i says it is extraordinarily quiet (no need to increase volume on mp3 player or tv).
An active contributor to the Runner's World Forum also recommended the TR300i treadmill by LifeSpan as a quiet treadmill.
ProForm Power 1080

The ProForm Power 1080 is another good choice when looking for a quiet treadmill. Its motor is really what makes this treadmill so special in the noise department. The official specifications read as follows:
3.25 CHP Mach Z Commercial Pro Motor: Motor is dynamically spin-balanced and extensively tested for superior performance in vibration and noise, making it one of the smoothest, quietest motors available
Consider the following user review:
"It is a very quiet treadmill, our five year old bathroom ceiling fan is louder. It feels very solid to run on, there was no shaking or rattling. I'm 5'9? and the running surface is more than long enough." –source
The Treadmill Doctor gives the Power 1080 a 6.4 out of 10 for Noise which is a good score in comparison to many other treadmills.
More Options
Some other quiet treadmills include:
If you already have a treadmill but hate that it is so noisy, check out How to Reduce Treadmill Noise, an article by LiveStrong.com.

About The Author
Treadmill Review Guru is an expert on all things related to treadmills and running. He is a former cross country runner and soccer player and hopes to soon be able to run a marathon. He loves training on his treadmill whenever he gets the chance. Check out his recommendations and see what he thinks are the best treadmills.