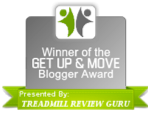 For those of you that don't know, I give the Get Up and Move Blogger Award to bloggers that "promote active living and share worthwhile information, tips and advice." However, my Weekly Movers posts are for the bloggers that have shown some tangible proof of physical exercise/achievement.

In case you're wondering how you can show that you've been a physically active person, there are a number of ways to do that online:
Take a picture and share it – You can take a picture of you at the gym, running outside, riding a bike, etc. Then, share that picture on Instagram, your blog, Twitter, etc. There are a thousand ways to share an image online.
Daily Mile – A ton of bloggers use Daily Mile to track how far they run/walk. It calculates the distance, time, calories, pace, all that good stuff for you and makes it nice and presentable. Then you can share the link that has all that information with your friends (me)! Cool, huh?
Run Keeper – Similar to Daily Mile, Run Keeper tracks your distance, calories and all that and puts it on their site so you can share it. They also include a map of where you ran and shows the elevation and all that cool stuff.
Blog About It – If you hit the gym or went for a great run, other people want to read about it! If you have a blog, it's a great way to tell the world that you are an active person. And that, in turn, gets other people motivated to be active is as well which is why it deserves an award.
Just Tell Us – We'll believe you. Share your progress, workouts, or whatever on Twitter and various social networks. I'm doing my best to listen. 🙂
Winners
Now that we have the logistics out of the way, let's get on with the winners!
And that is it for this week's winners! If you are one of the five winners above, feel free to grab the code below to wear the award on your blog. Everyone else, I encourage you to follow the above athletes either on Twitter or on their blogs. They are awesome and motivational.
Award Embed Code: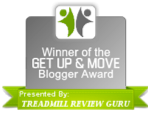 About The Author
Treadmill Review Guru is an expert on all things related to treadmills and running. He is a former cross country runner and soccer player and hopes to soon be able to run a marathon. He loves training on his treadmill whenever he gets the chance. Check out his recommendations and see what he thinks are the best treadmills.