There are hundreds (if not thousands) of apps targeting runners. Maybe you've read tons of reviews, downloaded a few, but have been disappointed in the performance. With the aim to find the best running apps, we've gone through and selected the best ones currently on the market.
Strava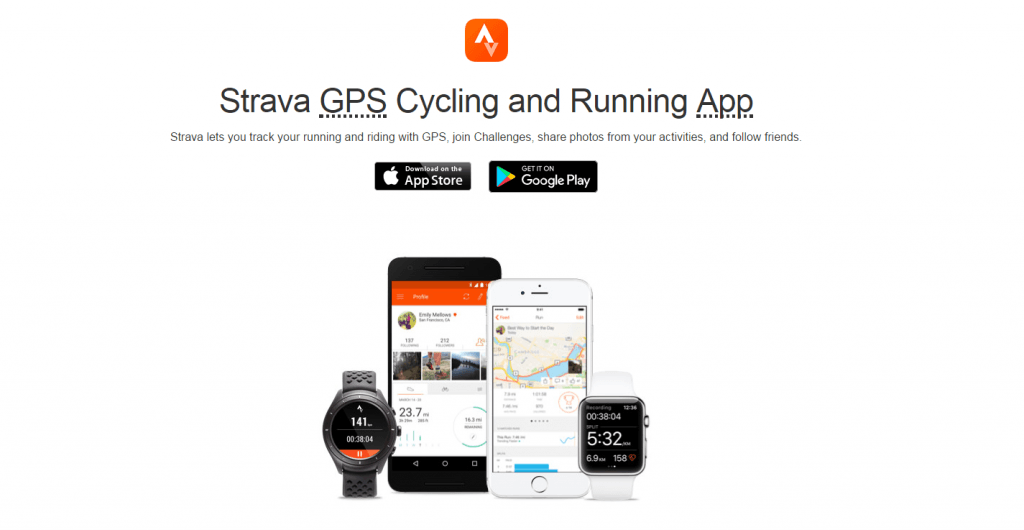 Strava feeds into a positive feedback loop of praise and endorphin-highs, as it is both a run tracking app and a social one which helps you get out the door. There are options when it comes to the Strava app: free and premium.
The basic version of Strava includes activity tracking, such as time, distance, elevation gain and speed. It also comes with GPS tracking. Track your activity and see it mapped out as you upload onto your activity feed onto Strava, comparing it to previous workouts. You can use either your phone (download through App store or Google Play) or a variety of GPS-enabled activity trackers to utilize Strava's activity tracking. You can also connect with friends through the app to share your data and compete against people across the globe.
Strava premium comes with personalized coaching in the form of daily training plans created based off your goals. They will also examine your workouts over time to assess your current level of fitness and advise you from there. Premium also unlocks your Suffer Score, analysis how long you remained in your peak heart rate zone and giving you a suffering score from there. It also gives you a breakdown of your races: pace, and mile-splits.
Strava's premium membership comes in 2 different types:
$7.99 per month
$59.99 per year
You can upgrade or downgrade your plan at anytime, though there is a different process depending if you purchased through an app or the website.
Pros:
The free option is pretty good for runners ranging from beginners to competitive.
Also tracks cycling, swimming, skiing and more for when you need to get some cross-training in.
Ad-free both for free and paid version.
Cons:
Only fitness app it seems to sync with Health App on IOS, which is somewhat buggy.
Does not track inside workouts, but you can input them manually.
Depends on you owning owning a smart device or some kind of tracker with GPS.
iFit Coach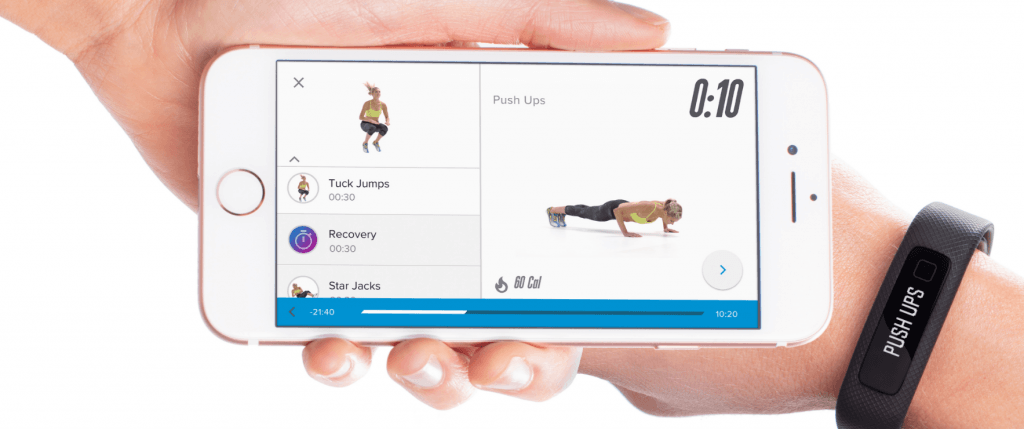 The iFit app technology is perhaps best known for being incorporated into many stationary workout devices. It is also one of the few activity trackers that has no free option.
However, since it can be a considerable disadvantage to be on the market competing with so many free activity trackers, iFit Coach makes up for this in several ways. The iFit Coach app is available and supported on IOS and Android. After putting in information such as gender, height, weight and goals, the iFit offers access to nutrition plans catered to users' dietary preferences, 3 different workout options a day based off the user's goals. All this as well as app-prompted suggestions on sleep improvement, targeted calories goal, and activity recommendations.
A bonus not many activity trackers have is the syncing of the iFit Coach app with your iFit enabled workout equipment. As you will be sent a wearable activity tracker for free when you sign up for a membership, this wearable will sync with both the app and the equipment. Data won't be duplicated as the iFit intelligence engine will recognize the multiple sources and only record one set of data for your workout. Also available are online workout classes with instructors like Jillian Micheals.
Their membership plan comes with 3 different payment types:
$15 per month
$144 per year
$216 per 2 years
You can upgrade or downgrade your membership plan at any time, though if you upgrade, you will need to pay the difference between membership plans.
Pros:
Can add 3 other users for free, and they have access to everything you do.
Free activity tracker (iFit Vue) when you sign up for a membership.
Ad-free
Cons:
Runkeeper


Runkeeper is a paired down app compared to Strava and iFit Coach, though it also comes with a free option and a paid version that offers more.
For the basic Runkeeper app (available on App Store and Google Play), it will track your runs via Google maps and give audio commentary on how your run is progressing. An interesting feature is the integration of Spotify into the Runkeeper app. With some preset playlists created with a runner's tempo in mind, you can listen to Spotify as you run (though not your own playlists can be streamed this way). You can also save your routes. However, there is no sharing community in either the free or paid version, which may be a bonus or a deficit depending on what you're looking for.
An odd feature is how Runkeeper handles advertising. As users reach milestones like hitting a new pace personal best, an offer from a brand advertiser will pop up for things like a coupon for a Pebble watch. This is a feature regardless of paid or free version of the app.
Runkeeper Go, the premium version of Runkeeper, comes with a bit more to interest a more serious runner (though maybe not a competitive runner). Some of the add-ons are weekly coaching plans to help you reach your goal, workout comparison so you can see your progress, and live tracking so you can share your location.
Runkeeper Go comes with 2 different membership payment types:
$9.99 per month
$39.99 per year
You can cancel your membership at anytime and use it until the time you have paid for runs out. Depending on where you purchased Runkeeper Go, there are different cancellation methods.
Pros:
Simple and straightforward if all you want is a good app to track your runs.
Syncs with a surprising amount of other fitness app trackers.
Cons:
Using the offline Spotify running playlist will up your data usage.
Cannot track indoor workout. Has a stopwatch function, but only tracks time.
Paid version doesn't have the amount of features free Strava has.
Endomondo


Under the umbrella of fitness apparel giant Under Armour, Endomondo is a popular app as it is highly compatible with other fitness trackers and tech. There is a free version as well as a paid version of the app.
Endomondo is available across platforms (App Store, Google, Microsoft Store). The free version come with a live map and real-time GPS tracking, and audio coach feedback as you run. You can customize the app to display what you want to see on the workout screen in case you want to view time, distance, pace, heart rate, calorie burn or more. There is also a large social community you can engage with, either by simply sharing your work outs, engaging in challenges, and discovering new routes.
The paid version of Endomondo comes first and foremost, ad-free. You can also get a personal training plan create for you and adjusted if you get ahead or behind your plan. Analytics are also available and you can stack your data against other users to see how you are performing. As a nice bonus, you will get VIP treatment when you have support issues and will be able to get help within 24 hours of you logging an issue.
Endomondo has 2 different payment types:
$5.99 per month
$29.99 per year
Problematically, the premium app is not supported depending on how new your phone's operating system is. Luckily, you can change your membership at any time.
Pros:
Compatible with many diet and fitness trackers, as well as wearable tech.
Clean interface, very user-friendly.
Cons:
App is no longer supported across most phones new than a certain point.
Has ads unless you use the paid version.
Cannot be used on treadmill, have to input workout manually.
Nike+ Run Club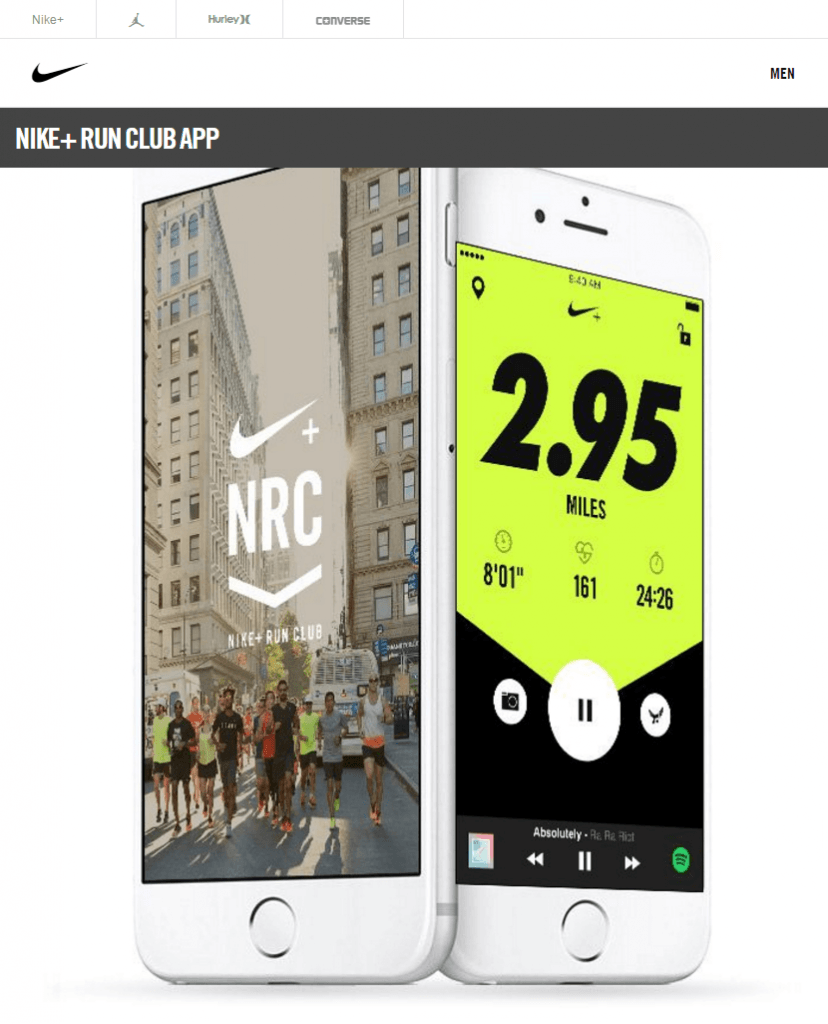 Nike+ Run Club, formerly Nike+ Running, has review poorly compared to its earlier version. However, it still has a loyal user base and has attributes that make the cut to be a top running app.
Uniquely, there is no paid version of Nike+ Run Club, available in App Store and Google Play. It also is completely ad-free, which is another pleasant surprise. So without ads or pushing to subscribe to their paid version, this app cuts out a lot of nonsense. One of the ways they do monetize is by having a Nike-specific workout watch.
What the Nike+ Run Club has to offer is tracking of pace, location, distance, elevation, heart rate and mile splits. You can customize which of these metrics you want to see during your run. It also comes with coaching that is modeled off your personal fitness goals and it will tailor itself to the progress you've made. There are playlists made for the app to motivate runners to keep tempo. It does have a indoor running mode so you can utilize it on the treadmill, but it doesn't track well in an armband, so you either would need to hold your phone or have a GPS watch.
There are running clubs connected to the Nike+ Run Club app, but you would have to live in one of the 10 cities they are currently in. However, the social aspect is the most changed between the versions of the app and the most controversial.
Where people could post directly to their social media, now they have to post first to Nike+ Run Club then can share to other social media feeds. Also, instead of the old leaderboards (where runners could see how they ranked against others around the world) and challenges, there are now hashtags to post under.
Pros:
No ads ever.
Nothing behind a paywall.
Quick tech support team.
Cons:
Still experiencing difficulties after the revamping of the app.
Social aspect limited.
Do you have experience with any of these apps? Is there an app you think should be on this list, but isn't? We'd love to get your input so leave a comment below!