As someone who regularly uses treadmills, both at work and at home, I feel that I have plenty of ideas to share when it comes to treadmill workouts. So, I was happy that NordicTrack reached out to me with their latest treadmill-focused project.
They wanted to bring together some expert voices on crafting treadmill workouts for more effective results and I was excited to share what I have learned. Check out the article below:
Here at NordicTrack, we are constantly looking for new ways to help people reach their fitness goals on their treadmills. To do this, we reached out to Lauren Abbott from Treadmill Reviews. When asked about her successful treadmill workouts, she said, "I hate to say this, but squashing boredom is a huge step in keeping up a successful treadmill workout." To keep you from hopping off the treadmill in sheer boredom, Lauren recommended facing the treadmill at a window, using iFit programs, audiobooks, and music.
Once you have your treadmill entertainment figured out, you can try out Lauren's secret treadmill workout routine. She told us how she finished every one of her treadmill runs with a sprint routine and even claimed, "My routine can burn up to 400 extra calories in just a few minutes, depending on your heart rate." If that's something that sounds good to you, check out her routine in the graphic below.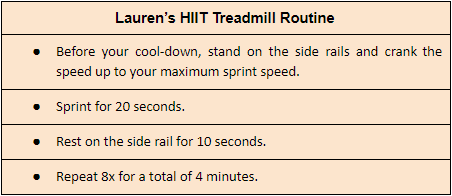 If you want more advice on crafting engaging treadmill workouts that help you progress in your fitness journey, then you will want to see what our other running experts had to say in their interviews. Their advice can be tailored to anyone's needs.  
Stephanie Miller and Fit Found Me – "I'd rather run on a cushioned treadmill to support my knees, monitor speed, time and distance compared to running outside on pavement or even the bare ground." Stephanie's interview
Ryan Hill and Hill Runner – "This will seem easy at first but, by the end of the run, you'll be glad you didn't change your pace." Ryan's interview
Sarah Canney and Run Far Girl – "[Treadmill hill climbs] elevates your heart rate and also acts as a strength workout." Sarah's interview
Learning how to craft treadmill workouts for your personal fitness needs can make all the difference in your fitness journey. So, as you incorporate the right running advice to suit you, be sure your treadmill matches your needs.