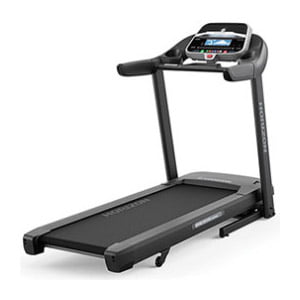 Horizon Adventure 5 Coupon:
Use coupon code TREADKIT for a free fitness equipment mat and 3-pk of silicone lubricant.
Horizon Adventure 5
Rating: 4
Reviewed by TreadmillReviews.com
The Horizon Adventure 5 is a few steps up from the Adventure 3. If you liked the Adventure 3, but wanted something with a little more features and more power, then this is the treadmill for you. This treadmill has a full range of features ready for you, so you can achieve your fitness goals. Horizon has thrown in a lot of cool features that make these treadmills stand out from their competitors, like the Johnson Drive System, the FeatherLight Folding System, and the Variable Response Cushioning System.
We've already discussed some of the top features on this machine, but in case you're not sold already, here's some more. The Adventure 5 comes with 35 workout programs that target things like calories, distance, step, interval, and more. The whole time you are working out, you are getting workout feedback including: time, distance, incline, speed, calories burned, heart rate, and laps. The unique cushioning system on this machine will keep you extra comfortable during workouts and protect your joints. If that wasn't impressive enough, the Adventure 5 comes with more extras like Passport Ready™, Energy Saver™ Mode, built-in speakers, reading rack, bottle holder, and more.
The features are obviously very impressive on this treadmill, but let's get into the specs. This treadmill uses a 2.5 CHP Johnson Drive™ Motor System, which is actually the same motor they use in the Adventure 3. This is a little disappointing, because you'd expect an upgrade for the price. However, Horizon has put a lifetime warranty on the motor, so you don't have to worry about it wearing down. The running deck is a large 20″ x 60″, which will be comfortable for all users. This is about as big of running deck that you can find in the treadmill world. The incline ranges from 0-12%, which makes your workout experience that much better. Last, but not least, this frame includes the Feather Light™ Folding technology, meaning you can fold this treadmill up while you are not using it and save lots of space in your home.
Conclusion
Overall, the Horizon Adventure 5 is quite a treadmill. It comes with so many great features that make it rise above its competitors. In my opinion, the Adventure 3 and the Adventure 5 are quite the same. So, if you'd like to save a few bucks, I'd suggest checking out the lower model. You are only going to lose a few features, but the saving may be worth it to some. The Adventure 5 is an amazing deal, though, and if you have the money, I'd definitely recommend it. This treadmill was built to last and Horizon has given it some outstanding warranties to ensure you get to use the thing for a lifetime.