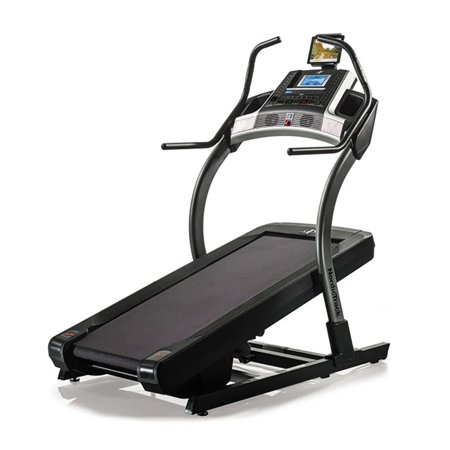 The NordicTrack X7i is worth looking at, even if the price tag is high. One thing you'll notice right off the bat is that this machine is one of the higher priced Incline Trainers, yet it does not have the most impressive specs of the bunch. I think the X7i has just always been a popular choice, so NordicTrack feels as though they can price it higher for that reason. The X7i does not have the most impressive specs or features, necessarily.
The motor is only a 2.75 CHP DurX™ Commercial motor, which is not very powerful at all. The deck is a lengthy 22″ x 60″ and it comes with a pretty impressive cushioning system, so this makes it a better bargain. And of course, the most impressive part of this treadmill is the incline and decline options. The X7i comes with a -3% decline and a 40% incline. If you want to really lose weight quickly, an incline trainer is the best way to go.
Overall, the X7i is a popular treadmill and this is why the price tag is so high. This treadmill comes with some pretty cool features, but it seems to fall short compared to the other options in the Incline Series lineup.
The feature list on the NordicTrack X7i is less impressive than other models in the X series. But for those who want a reliable and durable product that will make the fat melt away, it it a valuable tool. The incline is the primary center piece, and it turns this machine from just a treadmill to a full on body sculptor, burning a mass of calories with nothing but walking.
---
Features 7/10
Most NordicTrack models will include a standard set of features in their machines. You can see a number of pros that span across the different products, such as the speed settings, and the size of the running belt. This model kept a lot of the classic features we have come to expect from the brand. However, they decided to go the extra mile, making the X11i really shine.
Motor Size – The motor is the most disappointing part of this trainer, at only 2.75 horsepower. However, it is still powerful enough to offer workouts of any length, and the internal cooling fans keep it from overheating. It is louder than other NordicTrack models, but not nearly as loud as other brands.
Max Speed – You can ramp up the speed up to 12 MPH, all with a quick touch of a button. It is great for speed training, for those who wish to work their way up to runs.
Incline/Decline – The decline and incline are the best part of this trainer. The decline allows for anywhere between 0% and 3%, while the incline maxes out at 40%. The difference it makes in your results are astonishing.
Running Surface – One of the biggest complains of most incline trainers is the reduced tread size to compensate for the tilt. The X7i actually increases both the length and the width to 22″ X 60″.
Footprint (Folded) – Not Applicable.
Footprint (In Use) – The footprint is a bit on the large size, thanks to the increased belt width. It measures in at 70.2″ L x 39.6″ W x 69.7″ H.
Weight Capacity – The X7i can handle weights up to 325 lbs, making it one of the sturdier machines currently on the market.
Cushioning – This machine keeps your safety in mind, stretching reflex cushioning along nearly the entire length of the belt It absorbs shock and lessens the impact on your joints, reducing the risk of injuries.
---
Tech Specs 9/10
Display – The 7" backlit display makes it easy to read your current speed, distance, calories burned, and other important facts.
Pre-Installed Workout Programs – Choose from multiple pre installed workout programs that will help you reach your goals, such as different inclines, speeds and times. Or manually adjust your own based on their framework.
Apps – Select any of the 38 apps, each of which have been created by professional trainers.
Bluetooth – Use Bluetooth to connect to iFit, better customizing your experience, and accessing other workout programs and features.
Heart Rate Monitoring – Includes a wireless chest strap for accurate and easy heart rate monitoring, and target zone alerts.
Individualized Settings – Not Applicable
Other Tech Features
Adjustable holder for your tablet, for easy media viewing or app use.

iPod compatible system with speakers and headphone jack.

Two console fans to keep cool while you sweat off the pounds.
The technical features for the X7i are less showy than most of the incline trainers we review on this site. But not everyone wants complicated or extensive technical monitoring, and so for those wanting a simpler workout it is a better option. The incline feature more than makes up it, and the included apps ensure the best session possible.

---
Build Quality 8/10
Warranty – Like other NordicTrack products, the X7i has a lifetime warranty on the motor, deck and frame. For replacement parts they offer a five year warranty, and for service and labor a two year warranty.
Parts and Service – Finding both replacement parts and service for NordicTrack machines is relatively easy, both online, and through third party sellers.
Customer Support – Customer service is available online and by phone, 24 hours a day.
Return Policy – You can try the X7i risk free for 30 days, or return within those 30 days for a full refund.
Manufacturing Location – Logan, Utah, USA
When you look at the build of most treadmills, they leave a lot to be desired. Cheap plastic, thin metals, and unimpressive materials make up the bulk, and they look flimsy and sometimes even dangerous. This model is different, and you can tell right away that it is built to last. The warranties offer you added security, so you know they won't leave you with a broken piece of equipment should the worst happen.
---
Our Bottom Line Review of The NordicTrack X7i
Ultimately we found in our review that while this is not an advanced model by any means, it has a lot to be enjoyed. The feature list is decent, the tech is limited, but functional. Most of all, the machine itself is sturdy, and can provide a great workout thanks to the decline and incline. Our favorite features are:
The up to 40% incline for an extreme workout without the need for speed

OneTouch controls for intuitive customization

The 38 apps for trainer led workouts

A high weight capacity

Reflexive cushioning for less impact, even when running
If you are looking for something high tech, skip this one. But if you are looking for a major workout, customized options, and something that is going to last for years to come, you've found what you are looking for. The NordicTrack X7i is a heavy duty incline trainer that will help you reach your goals faster than you imagined.
Read More NordicTrack Treadmill Reviews:
Click our coupon link below, add the X7i to your cart and a $60 discount will automatically appear in your shopping cart!