ICON fitness has created iFit Coach – a virtual workout program – that has pretty much everything you need to ditch your gym membership for good. When it comes to using iFit on your treadmill, here's what you need to know.
iFit Coach Workouts
There are so many exciting workouts you can access through iFit Coach. Whether you are syncing a mobile device which has the iFit Coach app with your iFit-enabled treadmill or you are directly accessing iFit from the touchscreen console of your treadmill, iFit Coach brings variety back to treadmill running and home exercise.
Run Around The World With Google Maps On iFit
One of the more exciting features iFit Coach comes with is the ability to take fantastic runs around the world, all from the comfort of your home. By teaming up with Google Maps, iFit Coach provides a multi-level view of far-away areas such as the Ashikaga Flower Park in Ashikaga, Japan, and the Uyuni Salt Flat in Bolivia. You can take topographical views, satellite or street level, just as you would when using Google Maps.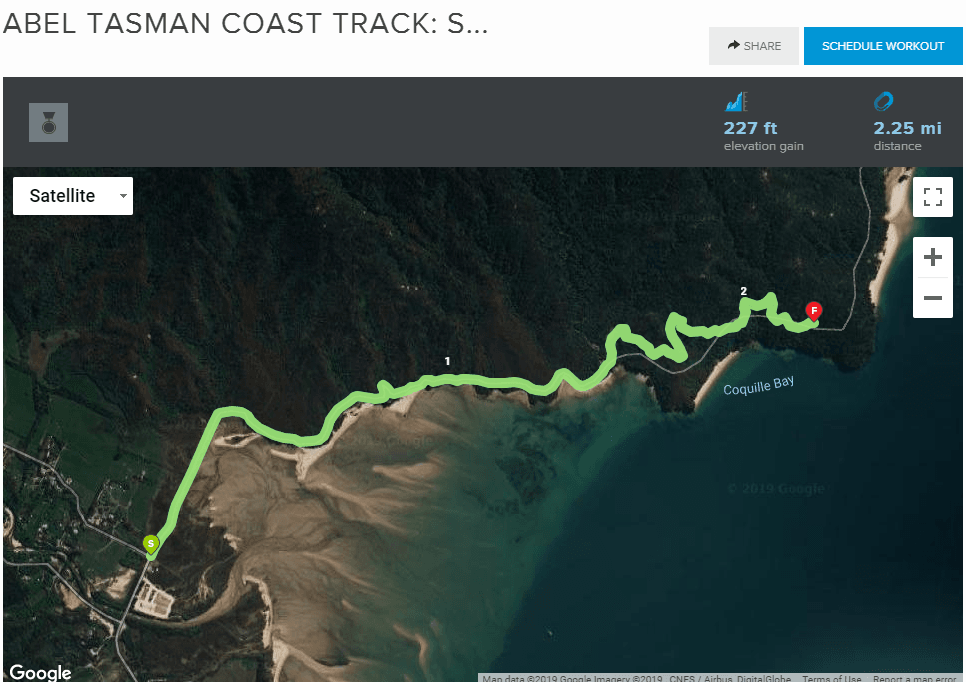 Aside from the immersive experience of using Google Maps, you can enjoy real-time experiences with the virtual run programs. Two of the key features of the virtual runs are:
Video experiences – Some of the Google Maps runs have an interactive feature, which will allow you to feel as though you are in the location on a run. You can pass people, hear ambient sounds, and enjoy the changing scenery as the treadmill workout progresses.
Topographical changes – On a normal outdoor run, people automatically adjust their speed and incline based on the topography of where they are running. When it comes to Google Maps runs, these changes can happen automatically on your treadmill so you can have a more genuine experience as you workout. You can choose to not have the adjustments made if you prefer to stick to a particular pace and incline.
Along with the Google Maps running routes created by iFit Coach, yourself and other iFit Coach members can create Google Maps runs! These maps can be shared or kept for yourself.
To start, you need to hover over the Create drop-down menu. The first option is to create a map-based workout, so click on that option.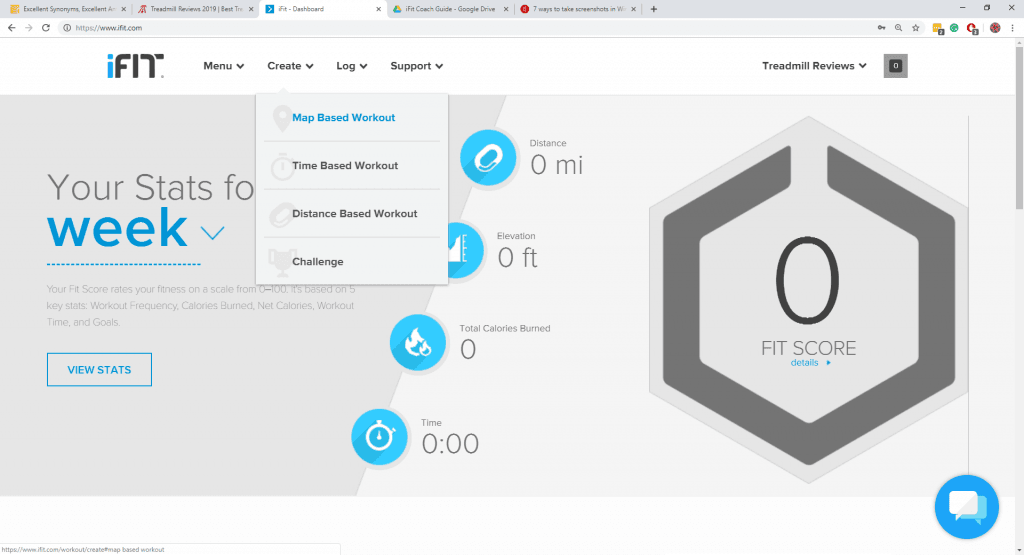 After you do, you will be taken to a page where you can name your workout, determine what kind of activity you are doing, and schedule the activity if you would like to have it on your iFit Coach workout calendar. There is also an additional option to write a description of the workout, which can be helpful if you make your activity public for others to try.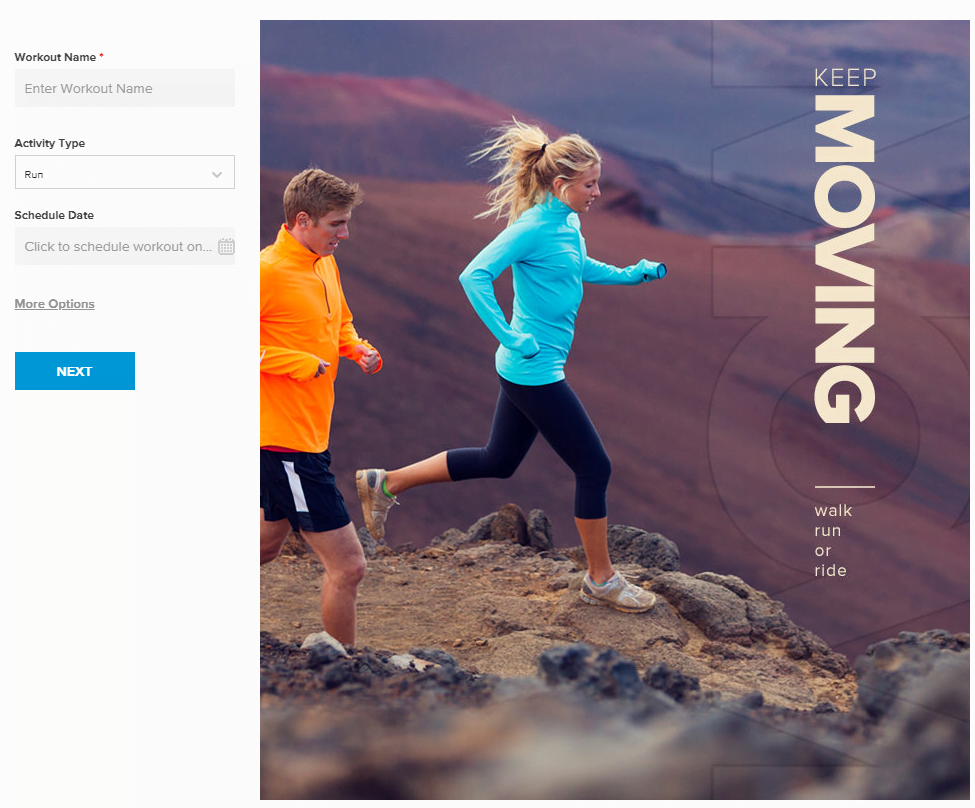 So, say you decide to make a run. You can start by searching for a location. From there, you can click on the map to set your start and click where you would like to set your endpoint. Be sure to play with the various tools, so you can craft your ideal map run.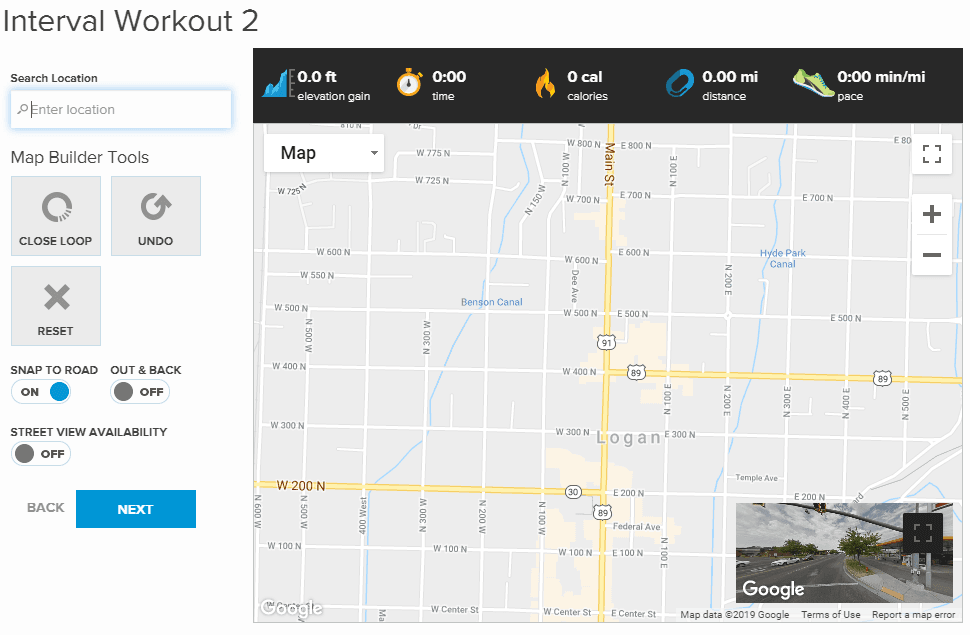 Say you wanted to set up a run in Boston, MA. Once you have set your course, you can see a basic outline of what your stats will be.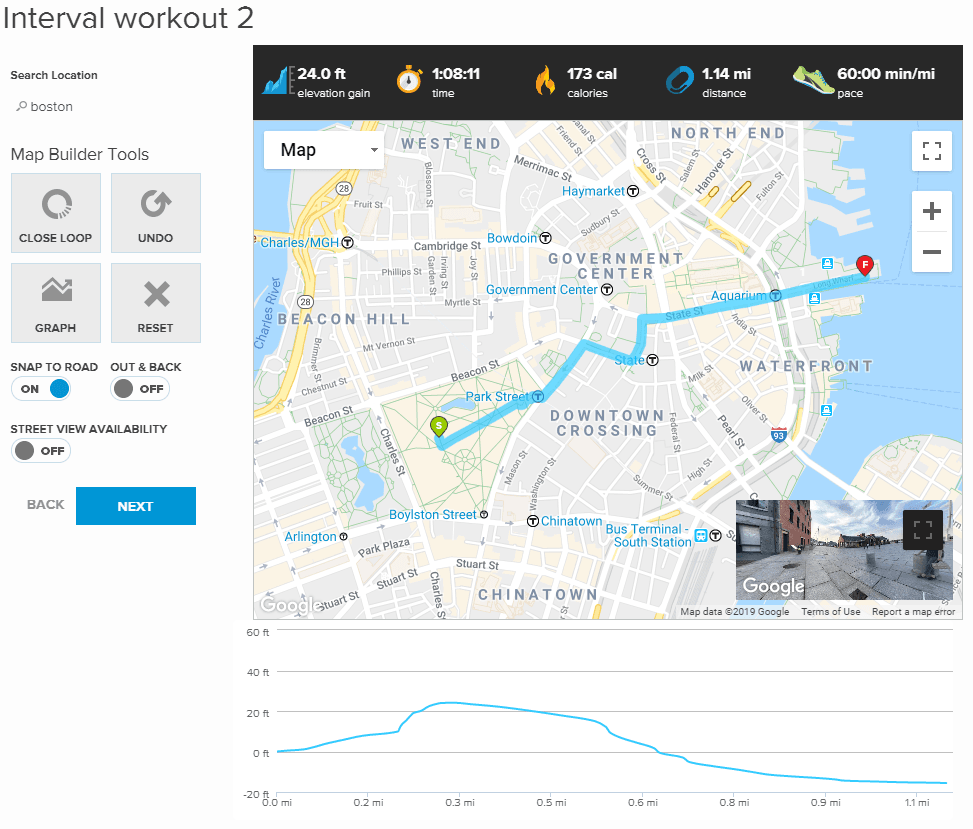 If you click on the graph tool, you will be able to manipulate your targeted pacing, creating custom pace and speed objectives.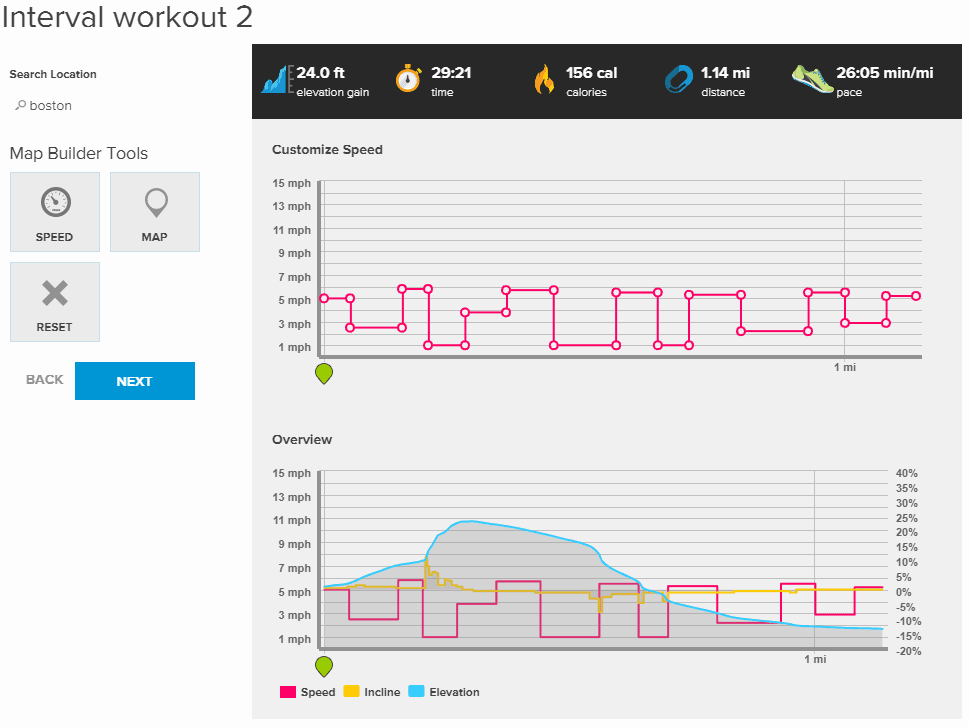 After you click on the button for the next step, you will be able to review your workout overall before creating it. If you scheduled your workout during creation, it should show up on your workout calendar.
You will need to download the various Google Maps you want to use, either to your iFit Coach-enabled device or to your treadmill, to be able to use this feature.
Do Cross-Training Workouts With iFit Coach Videos
Along with boosting up your treadmill workouts, there is a workout video library which you can access for all your cross-training needs. iFit Coach is continually adding to its workout video library, so you can keep exploring and find fresh workouts.
Here's just a small sample of the kinds of workouts you can find.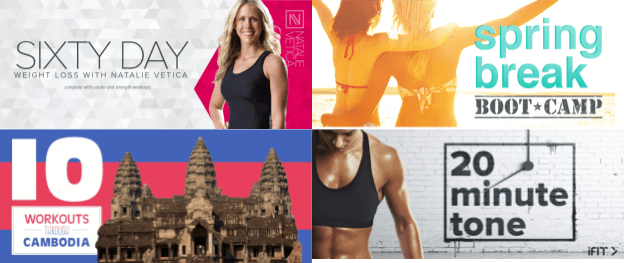 Craft Your Own Treadmill Workouts
Many treadmill manufacturers claim that they have the ability to allow users to create their own workout programs, but this usually amounts to the user only having the ability to set the initial incline and speed. But with iFit Coach, you can design your own custom workouts.
To start building a custom treadmill workout, go to either the time-based or distance-based workout creation. Once you are there, you will see a template you can use to craft your workout which will look just like the Google Maps starting template. Once you name your exercise and choose either time or distance, you can move onto fine-tuning your workout.
In this example screenshot, we chose to set up a distance treadmill workout. You start with a blank slate and can alter your workout from there.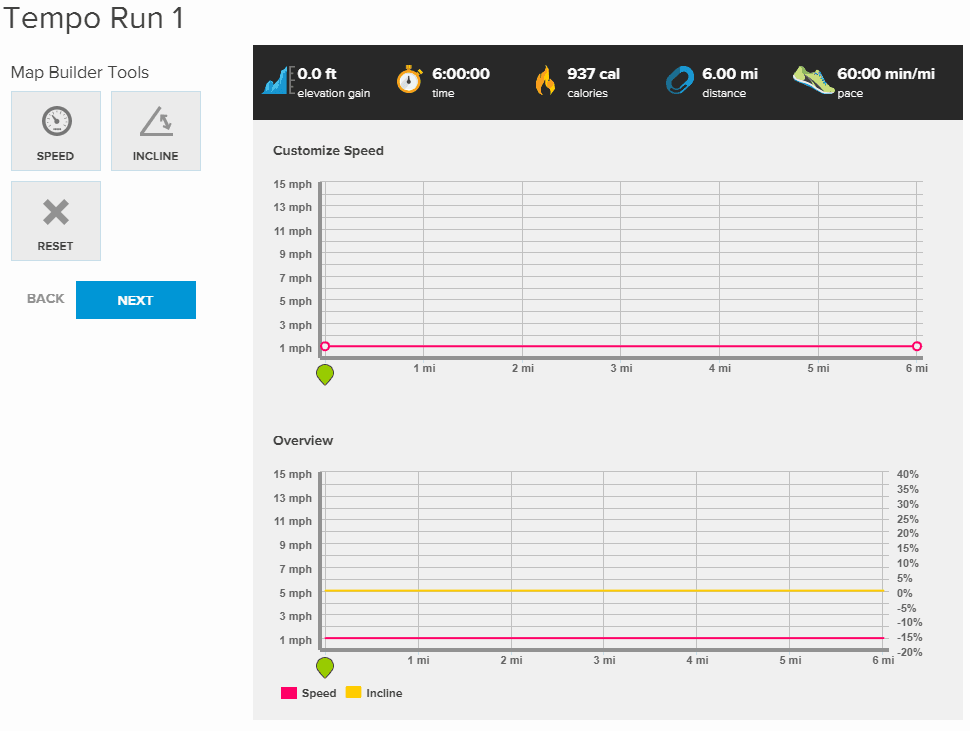 To alter the speed and incline, select the features you would like to set. As you set the speed and incline, the speed will show up on the template as a yellow line, and the incline will be pink.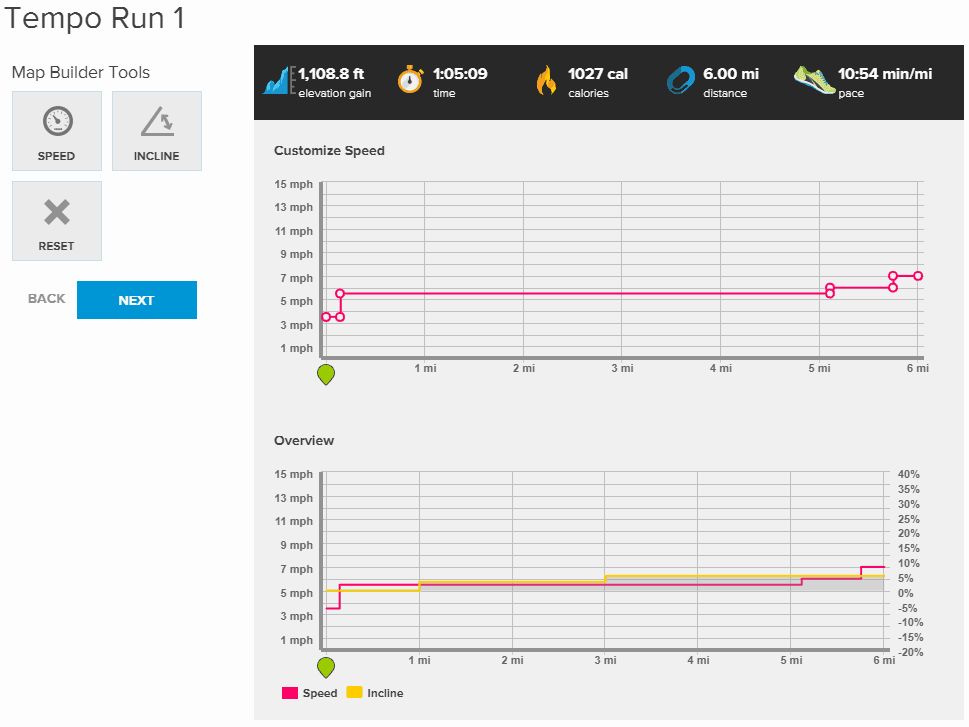 Once you set these features, you can continue on to the final overview before hitting the create button.
Your saved custom workouts can be kept private, or you can share it with other iFit Coach members and see how they like your workout.
Engage In iFit Coach Challenges
Challenges are another way iFit Coach keeps treadmill workouts lively and engaging. The challenges on iFit Coach come in two types – iFit Coach-create and user-created.
Creating Your Own iFit Coach Challenge
Along the iFit Coach toolbar menu, go to the create drop-down menu. It will show you four options: map-based workout, time-based workout, distance-based workout, and challenge. Select the option "Challenge" from that drop-down menu.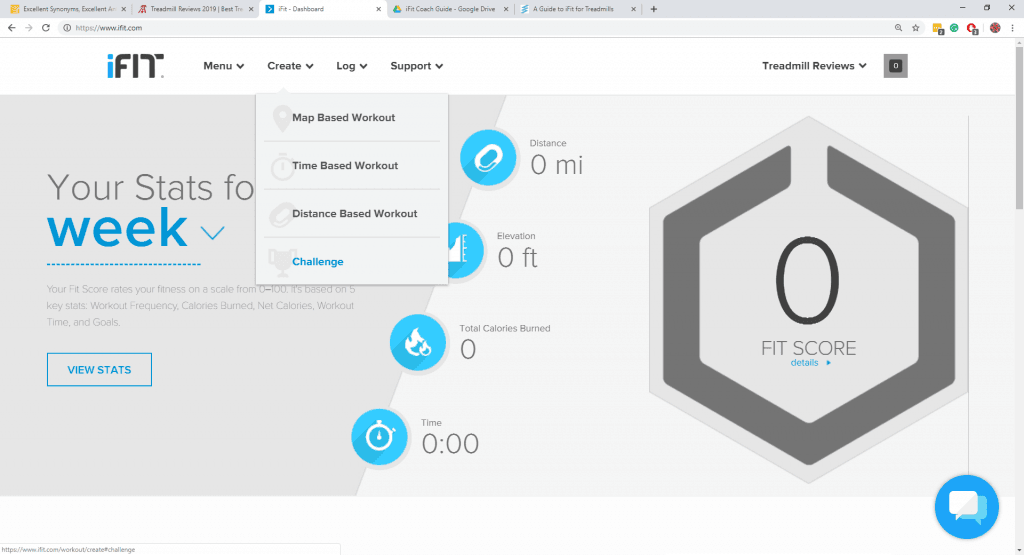 The starting template for the challenge is a little different than the other workout creations. You will need to set a start and end dates, as well as any other pertinent details. In our example, we made a new distance-based map.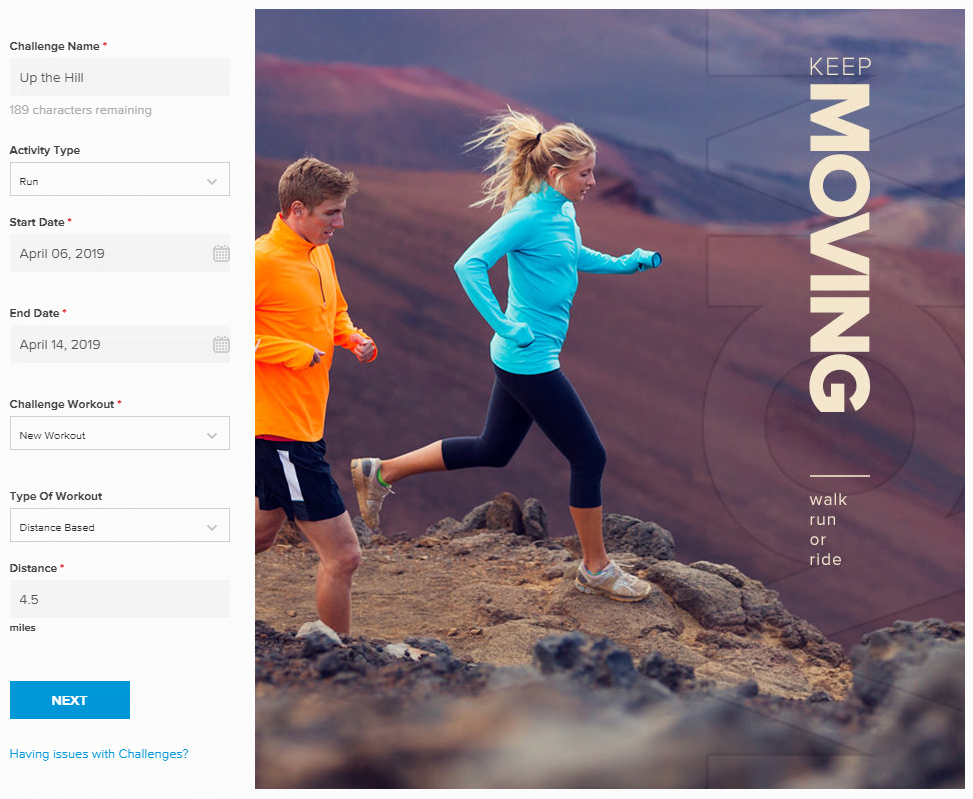 From there, you can create your map as you like and invite your friends to compete. You can keep the challenge closed between a specifically invited group or open your challenge to all the members by using the share button at the top of your challenge.

Joining An iFit Coach Challenge
Choosing to join and iFit Coach challenge is simpler than creating a challenge. There are three different ways to find challenges which are through your friends with iFit, people who follow your account, or you can join the challenges posted by the iFit staff.
Challenges can be found under the menu drop down area. Once there, look under the Social area for section labeled Challenges.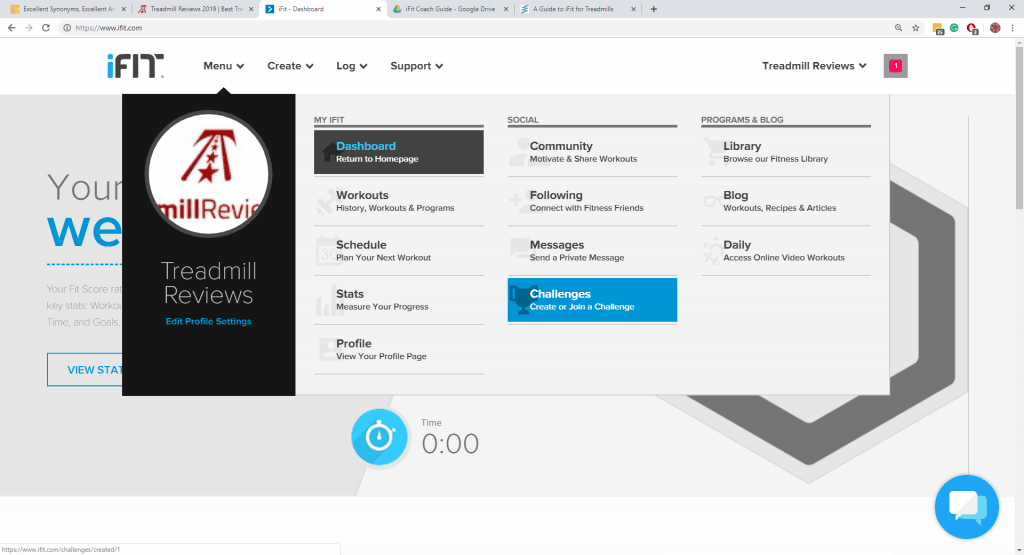 You can sort through the challenges by category. The challenges can be listed as "Public" for ones created by iFit staffers for all iFit Coach users, "Created" if you made the challenge, and "Invited" by followers or friends. There is also a section for completed challenges, so you can see how you ranked.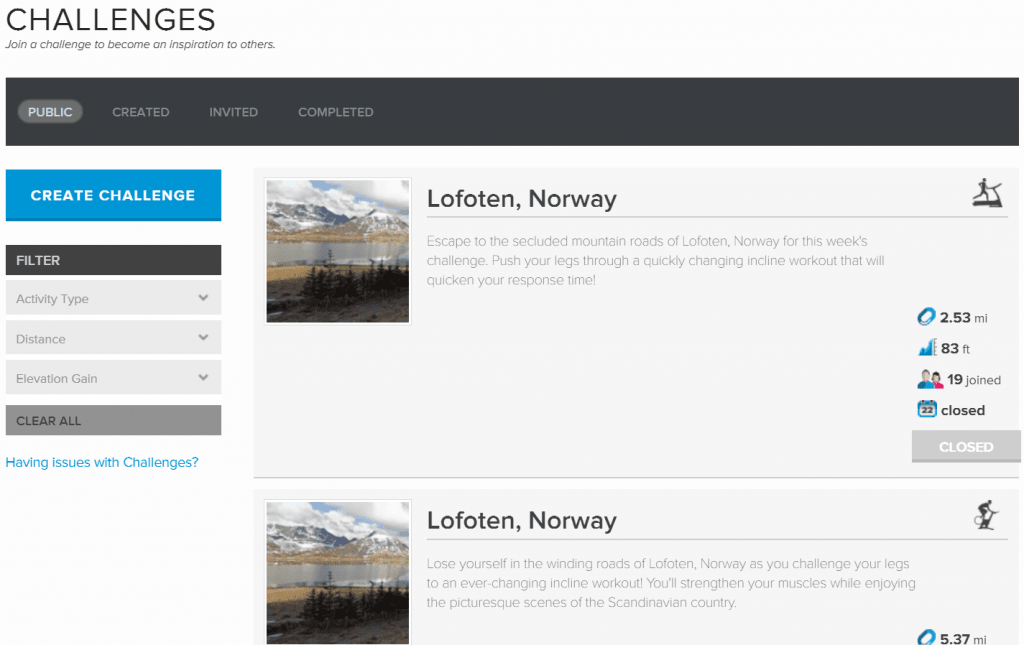 From the Challenges dashboard, you can track the progress of the challenge you are participating in.
Using iFit Info Tracking Off The Treadmill
You can track your health and fitness on and off of the treadmill, thanks to iFit Coach. Track your health habits can help you become more informed on your overall fitness, rather than just tracking your exercise. iFit Coach allows you to track your workout information, nutritional information, as well as your sleep and weight.
All this information can be accessed from the main menu drop down box under the area labeled My iFit. In that area, you can find the Stats section. You will want to create some goals so you can use your stats to track your progress towards these goals.
Goal Creation
When you first start iFit Coach, you can scroll down on your dashboard and find an area where you will be encouraged to make goals.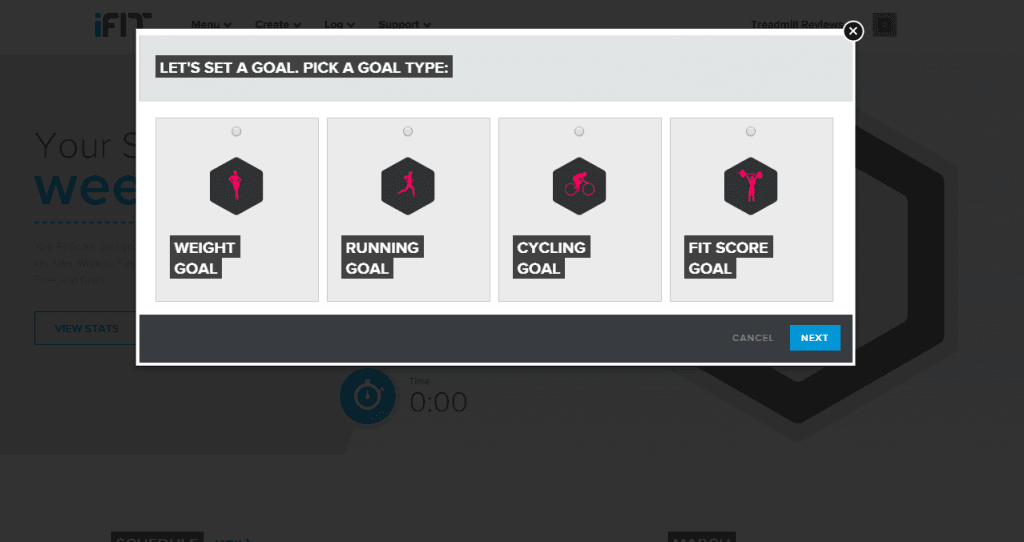 Depending on which goal you pick, you will be given a different set of prompts to help you set an effective goal.
Once your goals are set, the Stats section will display your weekly Fit Score. This score will be based on goal factors you are working towards. The score can range from 0-100, climbing toward 100% as you work toward your goals.
Track Your Workouts
Not all of your workouts will happen on iFit Coach-enabled equipment, but that doesn't mean they shouldn't count. You can log off-treadmill, runs and cycling workouts under the area labeled Log. There will be a section for workouts.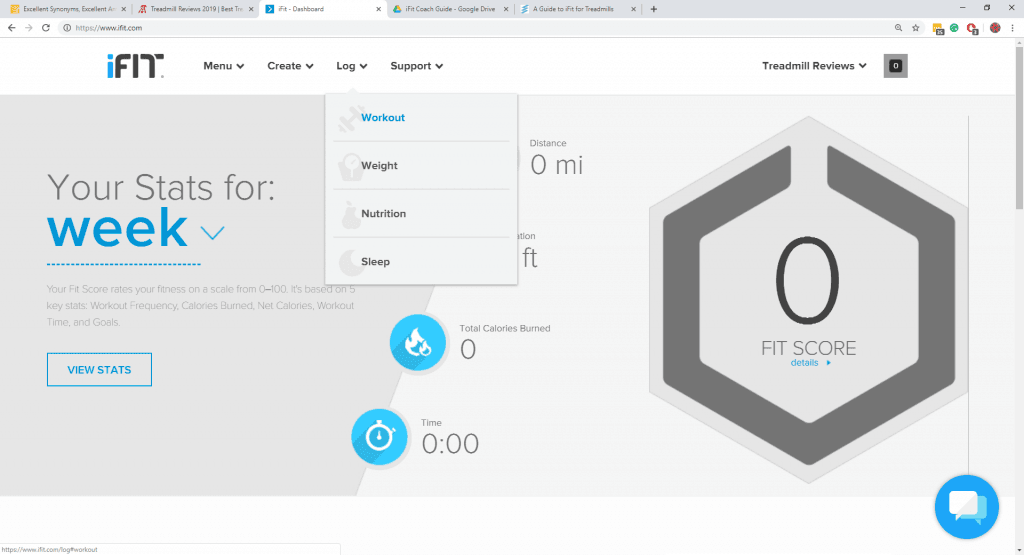 From there, you will be given a prompt to help you accurately log your workout.

Use iFit To Record Nutrition
Using iFit Coach to log your nutrition is fairly simple. Instead of choosing the workout option under the Log drop-down box, go to the nutrition area. From there, you can search for what you ate.

Say you wanted to input your lunch of a skinless chicken breast and side salad. All you need to do is search for what you need, then log.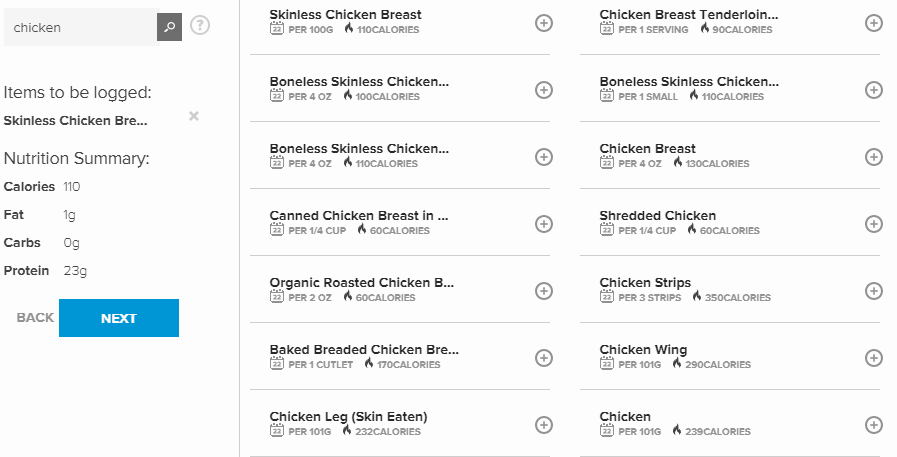 You will have a chance to validate the items you add to your nutritional log.
Log Your Sleep And Weight
The quality of your sleep can affect your workouts and overall health, which is why it is an important factor to track. You can log sleep manually from the Log area, where you will be prompted to list when you went to bed, when you woke up, and what date that sleeping cycle applies to.
Tracking your weight makes sense when you consider that the default calorie burn iFit Coach assumes is calculated based on a 185-lb user. If you want to have an accurate calorie burn, then you will need to keep your iFit Coach updated on your current weight.
All you need to do to track your weight on iFit Coach go to the Log area and click on the Weight option.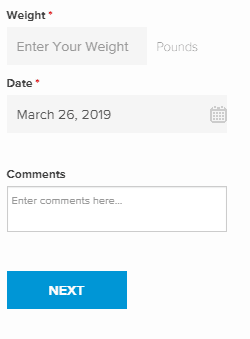 However, the nutrition, sleep, and weight tracking of iFit Coach isn't the most intuitive process. If you already have a preferred tracker like LoseIt or MyFitnessPal, you may want to stick with it.
Connect To Others Through iFit
For many people, working out with others can be highly motivating, which is partly why it can be hard to exercise at home on a treadmill. But with iFit Coach, you can connect with people all around the world. This way you can receive support and motivation from those you have chosen to connect with as well as offering it in return.
Set Up An iFit User Profile
To help you connect with other iFit Coach users, you can set up your iFit Coach profile. There is an area for a short biography which will allow other users to have a feel for who you are. Some of the things you may want to include in your profile are your fitness interests and goals. You can control who is allowed to view your content, but we recommend you keep from putting anything too personal in your profile.
To set up your iFit Coach profile, go to the far right corner of the iFit Coach directional menu. There you will see your name with an arrow beside it. After clicking on your name, you will see an area labeled Profile.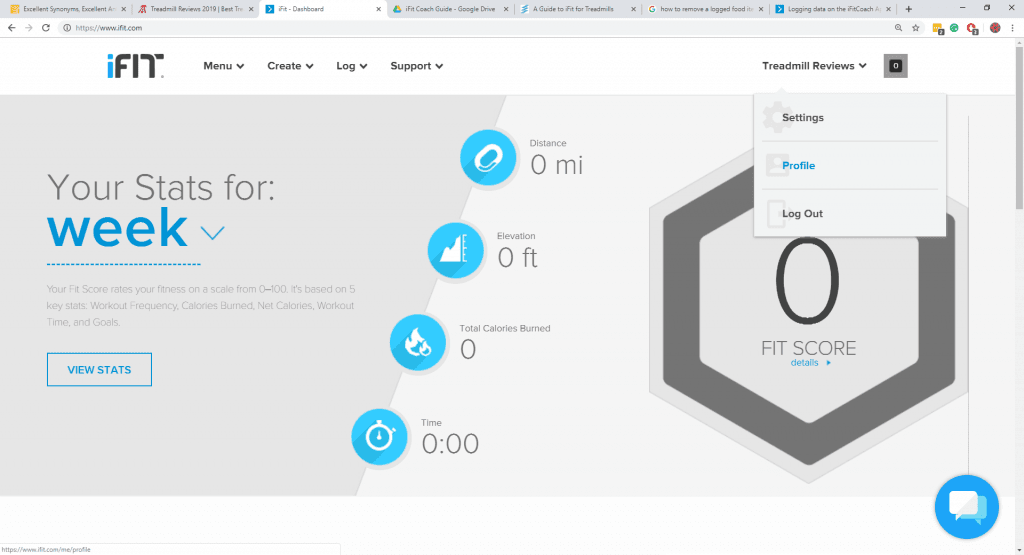 Select the Profile option then choose to edit your profile to set up your user bio with what information you want, such as your birthday, height, weight, etc. Once your profile is all set up, other members are more likely to reach out to you as both followers and with friend requests.
Finding Friends To Follow On iFit Coach
With your profile all set up, you don't have to wait for people to find you on iFit Coach. Connecting with others in the iFit community is pretty easy and a great way to expand your motivational pool.
Add Secondary Users To Your iFit
If you choose to have a family iFit Coach membership, you can add up to four different users to your iFit Coach account.
To invite other users to create an iFit Coach profile, you will need to go into your Settings or Profile. In both sections, you need to select the button that is labeled Secondary Users. From there, you can either enter your invitee's existing iFit Coach username or their email address to invite them to join iFit Coach.
Finding iFit-Enabled Treadmills
Many of the best treadmills of 2019 can sync with iFit Coach, allowing you to make greater utility of your treadmill. However, not all of the best treadmills are iFit-compatible. If you want to look at brands which the majority of their machines are iFit Coach-compatible, then check out NordicTrack, ProForm, Gold's Gym, and FreeMotion.