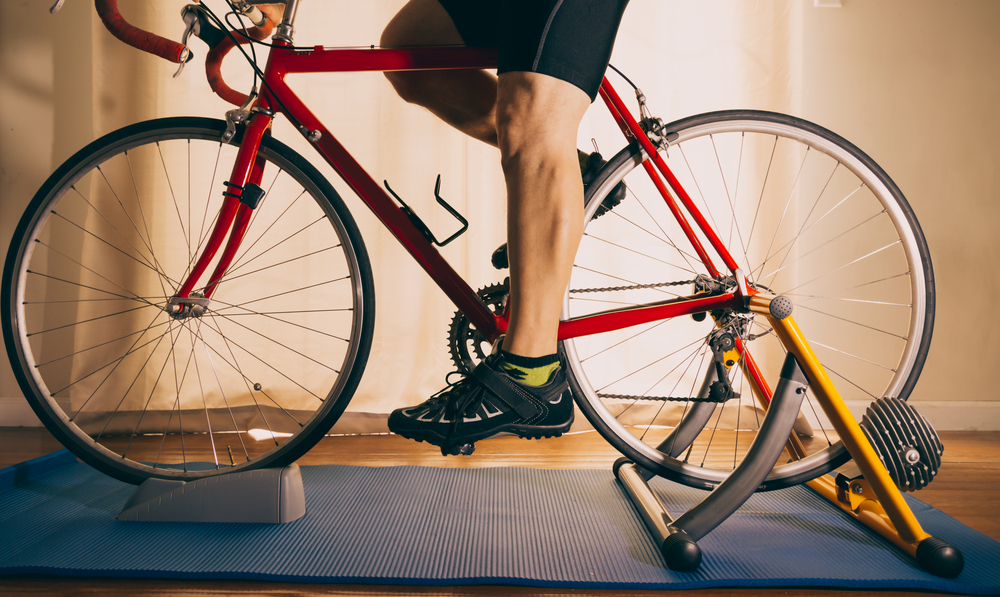 There are many great benefits to taking up indoor cycling. It provides a low impact cardiovascular workout from the comfort of your own home.
Plus, with state of the art programming and online communities riding a bike inside can feel like a giant virtual party. This year the number of people that use indoor bikes has snowballed, and you might be wondering which option is best for you. Today, at TreadmillReviews.com, we'll dive into the similarities and differences of the bike trainer vs. stationary bike.
What is a Bike Trainer?
An indoor trainer is a motor that you attach to an outdoor bike. Which type doesn't matter; it can be a road or mountain bike. The motor simply provides resistance so that you can use your bike indoors anytime.
When it comes to a bike trainer vs. an exercise bike, here is what to consider.
The Advantages Of A Bike Trainer
If you prefer to ride most of the time outdoors, this is a great way to have continuity with your workouts' feel. The resistance tends to feel more like real riding, and you will be in your normal biking posture.
It is also a better option for anyone tight on space or budget since it can be disassembled and used with a bike they already own. Lastly, it comes with great integration options for home workouts to keep your rides fresh, connected, and motivating.
Bike Trainer Disadvantages
The effort and time it takes to set up the bike trainer are quite robust compared to a stationary bike. So, if you're regularly tearing it down because you don't have a dedicated bike for your indoor workouts, it may not be worth the effort.
If you'd like to spend some time in a more comfortable posture while biking inside, you may find a stationary bike is better too. Another thing to consider is how many people in your household want to use the bike since there is less adjustability with a bike trainer.
What is a Stationary Bike?
Most people are familiar with stationary or exercise bikes. These bikes are specifically designed for indoor riding. They provide resistance via wind, direct contact, or electromagnetic fields.
The latter option can provide a ride similar to outdoor cycling, while the other two are more likely to feel different. When it comes to a spin bike vs. trainer, here is what to consider.
The Advantages Of A Stationary Bike
A stationary bike is hands down the most versatile option. It comes with easy adjustability for overall comfort and resistance levels. Setup time is quick and easy between users and different workouts.
There are even low-cost options that can help you get started immediately– even with a small budget. Plus, if you want a cycling community's support, there are also great online fitness options with programs like iFit, Zwift, and Peloton.
Stationary Bike Disadvantages
While access to programming and communities can be extraordinary, they can come with a hefty price tag. The bikes integrated with these options are often higher-tech and come with a price tag well above $1,000. Add the monthly membership fees, and your workout budget may be bust.
Additionally, stationary bikes can feel awkward for anyone that prefers real riding. And lastly, they require a dedicated space since they do not typically fold down and can be bulky to move around.
Which One is Right for You?
When it comes to a bike trainer vs. spin bike, there's no right or wrong answer. If you're feeling unsure, consider your fitness goals, budget, space in your home. Regardless of which you choose, the most significant benefit is that you are investing in your health to exercise regularly- so congrats!