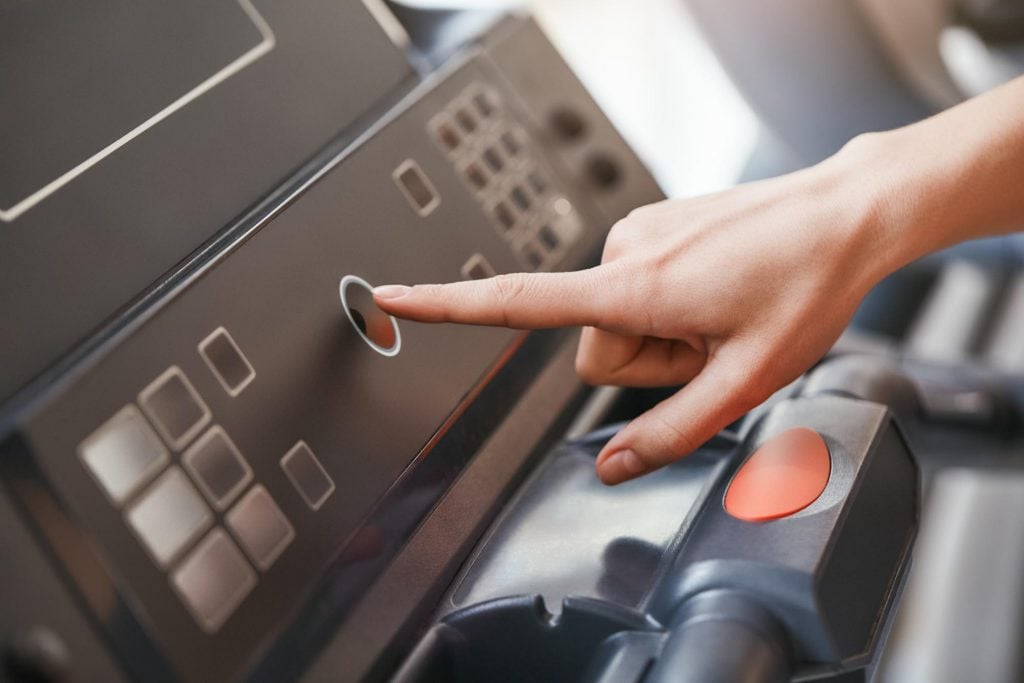 Using a treadmill can become routine, but if you have never used one before, it can be a little daunting to set foot on your treadmill for that first workout. From learning how to start your treadmill to picking out workout programs, your treadmill experts are here to guide beginner treadmill users to use your new machine.
How Do You Use A Treadmill For The First Time?
Before jumping onto your treadmill and sprinting away, let's start by reviewing the basics—is your treadmill completely assembled? A common issue for new treadmill owners is that they will have forgotten a step or left something disconnected—i.e., attached the console without connecting the wires—and then are upset when their treadmill doesn't work.
If you are sure everything is assembled and tightened, next, be sure your treadmill is plugged in. It sounds silly but not as silly as getting upset with the unresponsive treadmill that you don't have plugged into a wall outlet. Next to the power cord, there should be an on/off switch. Be sure it is switched to the on position before stepping on your treadmill.
From there, step on your treadmill and stand on the side rails. You should always stand on your treadmill's side rails before starting your treadmill to reduce the chance of injury. To get used to how it feels to use your treadmill, start at a lower speed, keeping it under 3.5 MPH. Some people are surprised how fast treadmills can be, so start slow and work up from there.
Steps To Familiarize Yourself With Your New Treadmill
Depending on your treadmill, there may be a range of features to familiarize yourself with as you use your machine. Some of the machines on our best treadmills list can have an extensive offering of features, so we want to help you get comfortable with fully utilizing your new treadmill.
Try Incline Levels On Low Speed
Most good quality treadmills come with at least 10 different incline levels for you to try out. With incline, you can boost the intensity of your workout sessions and burn calories faster, so there is plenty of incentive to get comfortable using your incline feature.
Your treadmill shouldn't jerk as it goes up in incline, but you may have to pick up your feet more to accommodate the slope. Start by using the incline levels at a low speed so that you can get used to how to move while walking uphill, before trying to run up an incline.
Go Up In Speed By Increments
As you increase your speed, you may want to start by using the incremental arrows. Most treadmills have a quick speed select, which allows you to choose to go up in speed by whole levels—i.e., 1,2,3,4, etc. With the incremental selection, you will go up in speed by 0.1.
Keeping your speed adjustments slow can protect you as you get used to your new treadmill. While there isn't a huge speed difference in 2 MPH to 3 MPH, jumping from 5 MPH to 6 MPH can be a lot for new users.
Determine How To Select Programs
The workout program selection on your treadmill can be very different from treadmill to treadmill, even if you are buying a treadmill from the same brand you owned years ago. For instance, if you had a NordicTrack treadmill that you bought 10 years ago and you just bought a new NordicTrack treadmill, you might be shocked by how much has changed.
Treadmills that have touchscreen displays, like ProForm and NordicTrack, can be easier to use when it comes to program selection. All you have to do is activate your free year of iFit Coach and scroll through the thousands of workout programs. But for treadmills that still have LCD or LED screens, you may have to consult the user manual on how to select a pre-made workout program.
Try Out Fan Controls
If your treadmill has a fan, you want to figure out how it works early on, as it can seriously help reduce the stifling heat indoor runs can produce. Some treadmills have simple on/off fans, while more advanced treadmills have multi-speed fans.
How Long You Should Run On A Treadmill
Lastly, how long should you be running on your new treadmill? Well, for many people, a 20-30 minute session is enough. But if you are a more serious runner and using your treadmill for training purposes, you may end up needing to spend more time on your treadmill.
Some treadmills have an automatic shut off point at the two-hour mark. It's not a huge issue, as you can just turn your treadmill back on, but it is annoying. But in most cases, as long as you have the ability, you can run as long as you like on your treadmill. There are even treadmill world records set for treadmill runs over 24 hours!
Hopefully, we have been able to help you get on your treadmill and start moving toward your health and fitness goals.