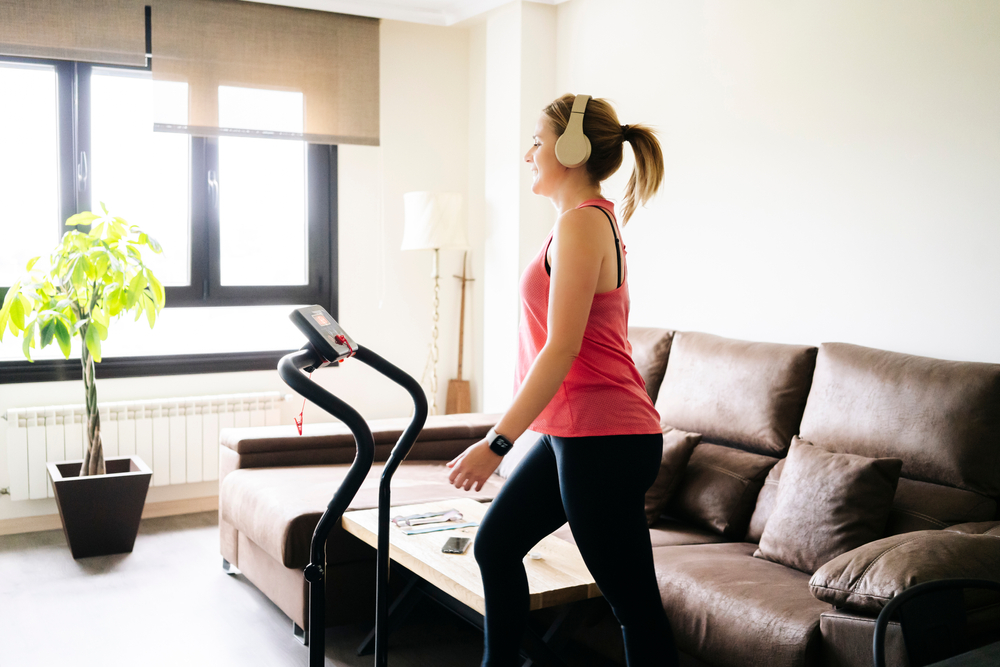 Getting out of your living room and up off the couch is one of the first of many steps to take in order to complete a 5k. A couch to 5k training program does essentially that: helps someone get from a sedentary state to being able to complete 3.1 miles, and typically within a 9-week span of time. That might sound like a long way to run, especially if you haven't been exercising, or are lacking the motivation to begin moving to begin with. Thankfully, that's how the couch to 5k on your treadmill program can help!
Who Should Try Couch To 5k
These beginner running programs were developed in 1996 by Josh Clark, and are designed to slowly ease someone into weekly workouts. These workouts will not only get them off the couch and moving but will have them complete 3.1 miles by the end of the 9 weeks. The couch to 5k program is specifically for those who are new to running (but can be utilized by anyone), or those who need help slowly building up a base of endurance. It's a perfect segway for anyone looking to jumpstart their workout routine and hit the pavement!
How To Do A Couch To 5k On Your Treadmill
This type of running program can also be done on the treadmill as well, which is convenient if you're living in an area with lots of adverse weather conditions or prefer to be inside while training. It can be slightly easier with a treadmill since the display can tell you your time and speed, while you'd need a watch while you're outside to keep track of your running time frames. Each workout in the couch to 5k program has a warm-up, a working phase of walking/running, and a cooldown.
What Pace Should You Be Running
So, how do you know how fast to go when you're training on the treadmill for your 5k? If you're walking, it should be at a pace that's moderate; that's typically around 3mph if you're keeping track on the dash of your treadmill. This can vary from person to person though, and you can change up your pace as you build up your endurance. As you begin to run, don't shoot out of the gate too quickly, this can lead to burnout or injury! Instead, pick a running pace where you feel as though you could speak in a sentence or two to someone, but not so hard that you're speaking in broken words. This running pace could be around 5mph, but can also vary from person to person.
Couch To 5k Treadmill Training Schedule
Let's take a look at a general breakdown of a couch to 5k program that you can follow to get you prepared for race day! Remember that for each of these workout days, you should warm-up at a comfortable walking or jogging speed for at least 5 minutes, and then cool down with a leisurely walk for 5 minutes (or more) after your work phase is done.
Week 1 – Monday/Wednesday/Friday: Run 1 minute, walk 2 minutes (repeat 10 times)
Week 2 – Monday/Wednesday/Friday: Run 2 minutes, walk 2 minutes (repeat 6 times)
Week 3 – Monday/Wednesday/Friday: Run 3 minutes, walk 2 minutes (repeat 4 times)
Week 4 – Monday/Wednesday/Friday: Run 5 minutes, walk 3 minutes (repeat 3 times)
Week 5 – Monday/Wednesday/Friday: Run 8 minutes, walk 3 minutes (repeat 2 times)
Week 6 – Monday/Wednesday/Friday: Run 11 minutes, walk 3 minutes (repeat 2 times)
Week 7 – Monday/Wednesday/Friday: Run 14 minutes, walk 4/3/2 minutes (repeat 2 times)
Week 8 – Monday/Wednesday/Friday: Run 22, 25, and 28 minutes
Week 9 – Monday/Wednesday: Run for 30 minutes, then run your 5k!
Regardless if you're inside on a treadmill or outside on the sidewalk, remember these tips as you begin your couch to 5k program: stay hydrated, wear the proper running gear and shoes, and make sure to take some adequate time for rest and recovery, especially if you are brand new to exercise. You can also switch up the days that you do your runs – you don't have to stick to a Monday, Wednesday, Friday schedule. So long as you can get your three days per week of training, you'll be well on your way to achieving that 5k run!