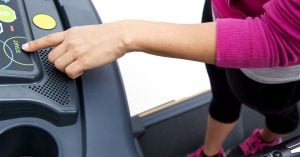 For many people, using a treadmill means they step on and only use the manual workout function. It's easy to fall into a rut when exercising this way and before you know it, your treadmill has become a coat rack.
To help your future treadmill avoid this fate, we want to let you know which of treadmills we've reviewed come with versatile exercise routines that can keep users engaged.
NordicTrack Treadmills Have Variety Of Exercise Programs
The best when it comes to providing its users with a wide variety of versatile exercise programs is NordicTrack treadmills. While there is a difference in how many programs you receive depending on the treadmill you buy, this program number can range from 20 workout programs on the NordicTrack C700 dor $799 to 44 programs on the NordicTrack X22i Incline Trainer for $2,925. A nice middle ground in both price and programs is the NordicTrack Commercial 1750 with its 38 exercise programs, costing buyers $1,579.
Also, a major benefit of the NordicTrack treadmills is that most of them come with a free 1-year membership to iFit Coach. This membership allows the users to access interactive running maps which displays the path of the far-away place for an engaging run. There are also running programs which have encouraging personal trainers added to the workout, which can be highly motivating.
Matrix Treadmills With XIR Ultimate Console Has Many Options
When it comes to the Matrix treadmills, the major difference between the offered treadmills is due to which console you choose, not the base treadmill. If you choose the XIR Ultimate console, you will have access to more workout program options than through the other two consoles. Some of the accessible programs on this console type are:
Manual
Incline intervals
Resistance intervals
Calories
Speed
Distance
Heart rate
Hills
Fat burn
There are also other exercise programs accessible on the Matrix XIR Ultimate console, such as the Sprint 8 console and Virtual Active Integrated, which is their answer to the iFit Coach program. While these extra programs don't quite compare with iFit Coach, the Virtual Active program allows users to display a running path on their television to allow people to feel like they are outside and the Sprint 8 is an eight-part HIIT program.
Horizon Treadmills Offers Versatile Workouts
Lastly, Horizon treadmills can offer a surprising number of versatile workout programs. Even the most affordable model, Horizon T101 for $699, comes with 30 different workout programs. These programs range from the basic manual setting to helpful calorie and step programs. Their best treadmill, Horizon Elite T9 for $1,899, comes with a whopping 44 exercise programs to allow for more variety.
Also, as Johnson Fitness owns Horizon and Matrix, the Horizon treadmills can also come with Virtual Active Integrated and Sprint 8, though not of all Horizon treadmills are able to work with these programs.
Overall, if you are looking for a treadmill packed with features and workout program options, we would strongly encourage you to read some of our NordicTrack treadmill reviews. Those treadmills are affordably priced and help elevate an ordinary treadmill workout.