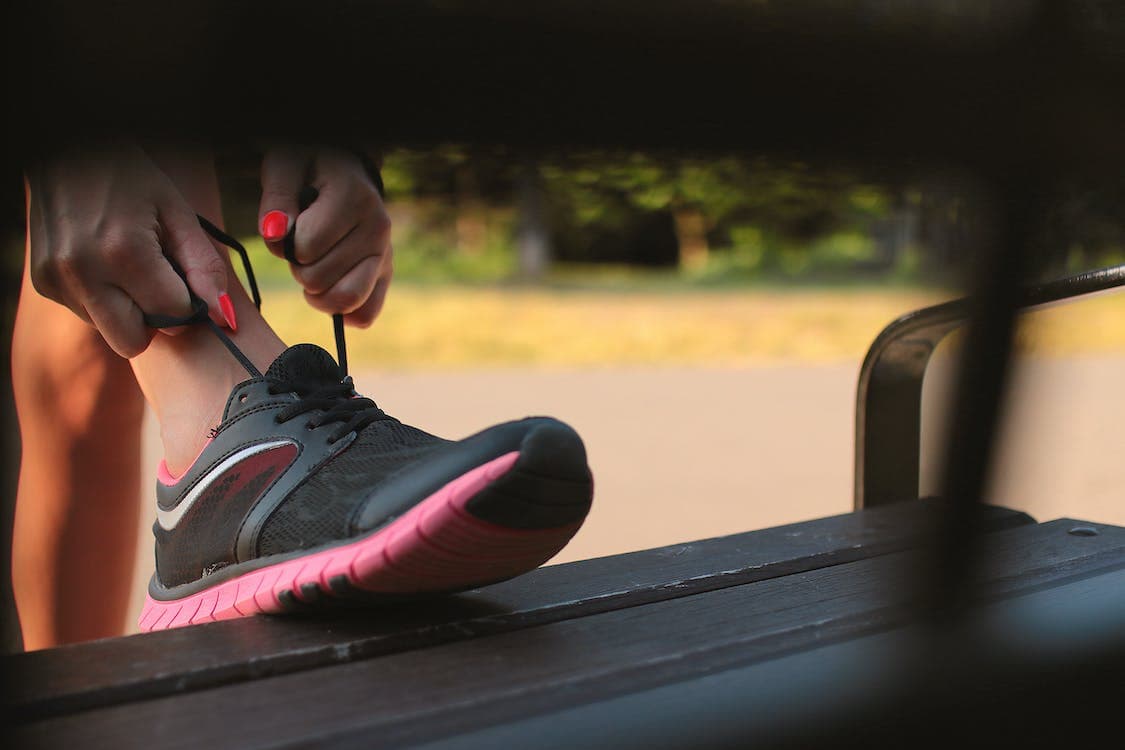 When looking for a new pair of running shoes, it's essential to find the right fit for your foot type. Not all shoes are created equal, and if you don't pick the correct type of shoe, you could be setting yourself up for injuries down the road.
In this blog post, we'll talk about the different types of feet and what shoes will work best for each.
The Different Foot Types
There are essentially three different basic types of feet: flat feet, high arches, and normal arches.
Let's dive a little deeper into each type:
If you have flat feet, your entire foot rests on the ground when standing (no visible arch). Most people with flat feet have very flexible feet and ankles and tend to overpronate (too much weight on the inner foot with weight bearing) when running or walking.
On the other hand, people with high arches have very visible arches in standing. It is also typically accompanied by stiff feet and ankles that don't bend or flex much with weight-bearing activity and can lead to over-supination (too much weight on the outer foot).
Finally, normal arches fall somewhere in between these two extremes. A "normal" arch is more of a range and will vary from person to person. It's important to remember that some pronation is a normal motion with running and walking.
The Best Running Shoe for These Foot Types
Now that we know the different types of feet, what's the best type of running shoe for each one?
For flat feet and overpronators
In general, you'll want to look for a stable shoe. Stability and motion-control shoes are designed with extra support in the midsole (the middle layer of the shoe) to help control excessive pronation.
Additionally, you'll want to ensure cushioned arch support in the shoe to help promote better foot and ankle alignment with running.
For high arches and oversupinators
If you have high arches or supinate, you'll want to look for a neutral shoe with adequate cushioning to help maximize shock absorption. Neutral shoes don't have extra support in the midsole and allow your feet to move more naturally.
Additionally, you'll want to consider the heel height of your shoes. You may want a more considerable heel drop if you have stiffer ankles (common with high arches). Otherwise, choose a more minimal option under 10 mm.
For normal arches
Finally, if you have normal arches, you can choose between stability and neutral shoes, depending on your preferences. Some people with normal arches may have foot or ankle weakness that'd benefit from a stability shoe, while others will prefer the feel of a neutral shoe.
In general, if you're injury-free, try to run in a shoe with the least amount of support that still feels good on your foot. That way, you'll adequately work the muscles of your feet and ankles and keep them strong.
Additionally, if you have normal arches, you have more flexibility regarding heel drop. Depending on what feels best for you, you can choose between a higher or lower heel drop- even trying a more minimal or barefoot style of shoe.
Other Considerations for Running Shoes
Aside from fit, there are a few other things you'll want to consider when choosing running shoes:
The surface you'll be running on: If you run primarily on the roads or a treadmill, you'll want a different type of shoe than if you run on trails. Make sure to pick a shoe that's designed for the kind of surface you'll be running on the most.
The mileage you run: If you're a high-mileage runner, you'll want to look for shoes with more durability. The outsole (bottom layer of the shoe) will wear down faster on high-mileage runners, and you may need to replace your shoes more often.
The climate you live in: If you live somewhere with hot weather or will primarily be running indoors, you'll want to look for a shoe with more breathability.
Your personal preferences: Ultimately, you'll want to choose a shoe that feels good on your feet and that you enjoy running in. Experiment with different types of shoes until you find the perfect fit for you. Or keep a few pairs of shoes in rotation!
Final Thoughts
The best way to figure out what shoe is best for you is to go to a running specialty store and get fitted by a professional or talk to a physical therapist specializing in running. They'll be able to help you find the perfect shoe for your foot type, gait, and running goals.