A high-quality stationary bike is an excellent addition to your home gym. That way, you can easily cross-train on days you aren't using your treadmill. Also, as treadmill technology has improved, so has exercise bikes, which can leave you with a tough choice to make.
Take the NordicTrack Commercial S22i Studio Cycle and the Peloton Bike for example. These two bikes offer similar engaging features, from personal trainer instruction to sleek, commercial-grade builds. Along with the similar price point these machines share, it can be hard to determine which one is better for your workout needs.
To help you decide between these two stationary bikes, we have compared them to see how their various features, technical specifications, and build quality stack up against each other. That way, you can see exactly what you will receive from each bike before you buy.
S22i & Peloton Bike General Spec Comparison
S22i
Peloton Bike
Cost

$2,000-$2,500 price range

Cost

$2,000-$2,500 price range

Weight Capacity

350 lbs

Weight Capacity

305 lbs

Customized Fitting

4 Settings

Customized Fitting

4 Settings

Available Programs

iFit Coach membership only

Available Programs

Peloton subscription only

Dimensions

54.8" height, 55" length, 21.9" width

Dimensions

53" height, 59" length, 23" width

Bike Drive System

Belt Drive with Inertia-Enhanced Flywheel

Bike Drive System

Belt Drive with Inertia-Enhanced Flywheel

Incline Range

-10% to 20%

Incline Range

N/A

Max Resistance

24

Max Resistance

0-100

Fans

Yes

Fans

No

Heart Rate Monitoring

Bluetooth chest strap

Heart Rate Monitoring

Depends on package

Bike Weight

200 lbs

Bike Weight

135 lbs
Click the link below to learn more about Peloton vs NordicTrack S22i.
Cost – While these bikes are in a similar price range, the S22i generally cost $1,999, and the Peloton Bike can cost between $2,245-$2,694, depending on what package you purchase. Some of the extras included in the higher Peloton packages, such as the chest strap heart rate monitor and hand weights, are already included with your purchase of the NordicTrack S22i, making it the better value.
Category Winner – NordicTrack S22i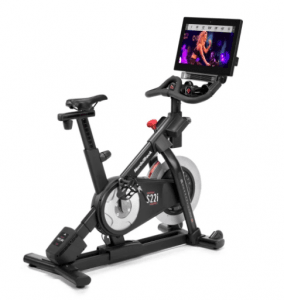 Weight Capacity – On the Peloton Bike, the max weight capacity for any user is 305 lbs. While this is a decent top weight, the S22i provides greater capacity, and a user who weighs up to 350 lbs can safely use the S22i.
Category Winner – NordicTrack S22i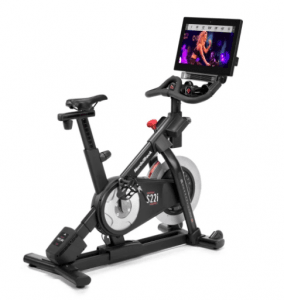 Customized Fitting – Both bikes can be adjusted from 4 different locations to fit your body.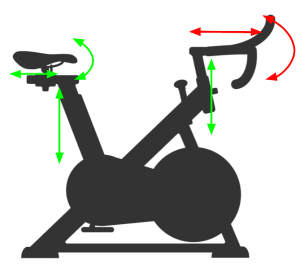 On a road or mountain bike, you'll make adjustments for a better fit. A stationary bike is similar. There are many ways you can adjust your stationary bike for a more comfortable ride and we recommend you do more research to see how this can be done. But adjustments you CANNOT make on either of these stationary bikes are worth noting. They include:
Crank Arm Length
Stem Angle
Handlebar Width
Handlebar Reach and Drop
Handlebar Rotation
Frame Size
We think that the stationary bike is lacking in a few crucial adjustment options because of the wiring required by the display screen. So to be fair, unless a company re engineers our current options for this type of stationary bike, you won't find the adjustment options in any type of stationary bike with a display screen.
Available Programs – Both of these bikes come equipped with their own subscription workout programs, with iFit Coach on the S22i and the Peloton Bike coming with Peloton exercise programs. As iFit Coach is a more established brand, they have a greater amount of on-demand workouts available and are continually building. There is also a wider diversity of workouts available through iFit Coach, from their on-demand studio classes to their location-shot workouts which pair you with (or without) an iFit Coach trainer.
On the other hand, Peloton is rapidly expanding their current offerings, and they have one thing that iFit Coach hasn't mastered yet—live classes. With these live classes, you can work out with other users around the world in real-time as the class instructor calls out directions and encouragements to participants, using their screen name.
The Peloton bike must be connected to the internet to access their programs, which also require a subscription. The S22i utilizes iFit and a subscription optional platform for added programs. But you can also access a number of cycling programs from the S22i without an iFit subscription.
The S22i clearly has a leg up on the Peloton Bike, as the S22i comes with a free year membership to iFit Coach and a large library of programs that do not require a paid subscription. After the free year ends, you can choose an individual plan for $12/month or a family plan (supports 5 user profiles) for $33/month. With the Peloton Bike, you pay for the subscription from the start, which costs $39/month. How many people who can use the Peloton subscription is unclear, as Peloton's membership terms leave it up to their determination.
Another benefit of the S22i cycling programs is that your bike will follow suit to the trainer leading the class and automatically adjust your resistance levels per the trainers instructions. This allows you to follow along with the class without tinkering with your resistance levels. You can also opt out of this automatic setting and manually set your own resistance levels during the class.
So, with the greater value of the S22i programs and the more expansive library, we are giving this round to the S22i, though we hope NordicTrack will implement live classes soon as Peloton has done.
Category Winner – NordicTrack S22i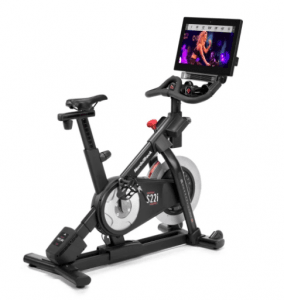 Dimensions – These exercise bikes are compact cardio machines and can fit easily into almost any home, from a basement home gym or small apartment living room. The Peloton bike measures 53" tall, 59" long, and 23" wide. While this is a good size, it is a little larger than the NordicTrack S22i, which measures 54.8" tall, 55" long, 21.9" wide. The height of the S22i is a little higher than on the Bike, but that is unlikely to be a hindrance, unlike greater length and width.
Category Winner – NordicTrack S22i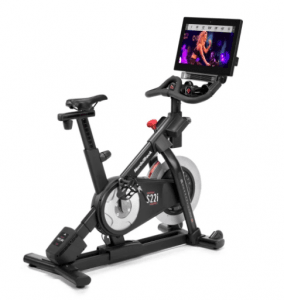 Bike Drive System – Equipped on both machines is a belt drive with inertia-enhanced flywheels. This drive system helps both bikes to run silently.
Incline Range – The Peloton Bike has no incline range, so it automatically loses this category to the S22i. To help simulate outdoor riding and add some difficulty to your workouts, the S22i has a -10% to 20% incline range.
Category Winner – NordicTrack S22i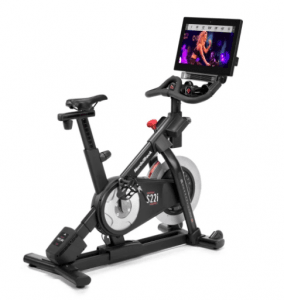 Resistance – On the Peloton Bike, there is a manual magnetic resistance system, and you will use a knob to alter the resistance level. For the S22i, you can change resistance levels digitally, ranging from 0-24 levels to choose from. But on the Peloton Bike, the manual resistance adjustments grant greater control over the resistance and range from 0-100. These resistance levels can't really be compared easily, as digital and manual resistance adjustments are difficult to quantify. So, while this round will go to Peloton, if you want an easier time when changing resistance levels, go with the S22i.
Category Winner – Peloton Bike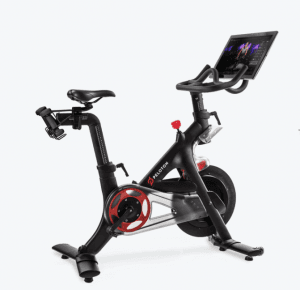 Fans – There is no fan on the Peloton Bike, where there is an excellent workout fan on the S22i which can be set to different speeds depending on your preference. Or, you can leave it on AutoBreeze, so the S22i fan will automatically adjust output to match your workout intensity.
Category Winner – NordicTrack S22i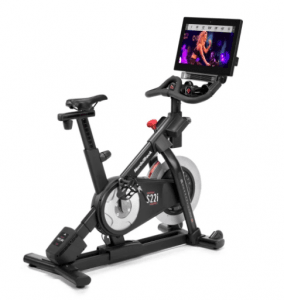 Heart Rate Monitoring – When it comes to your ability to monitor your heart rate on the S22i, you can put on the iFit adjustable chest strap which comes with your purchase of this machine. But when you are considering the Peloton Bike, you will need to buy one of the two most expensive packages to receive a heart rate monitoring chest strap.
Also, if you were hoping to work around the lack of chest strap on the cheaper Peloton packages with a Bluetooth chest strap, you're out of luck. The Bike will only pair with ANT+ broadcasting devices, so if you own a Garmin or similar ANT+ enabled devices, you can track your heart rate on the Peloton Bike.
Category Winner – NordicTrack S22i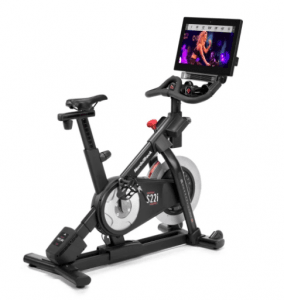 Bike Weight – Between the two bikes, the S22i is the heavier bike, weighing around 200 lbs, while the Peloton Bike weighs 135 lbs. A heavy bike can be more beneficial for sturdiness while a lighter weight bike is easier to move.
Look and Feel Of The Bike
Materials – Both of these bikes are of excellent quality, with commercial-grade frames and sturdy parts. The only part of these bikes that could present a potential issue is the plastic cover which extends from the pedals to the flywheel to protect the belt that turns the flywheel. Plastic components near high traffic or high impact areas of your exercise equipment will end up breaking eventually.
Sturdiness – You can enjoy a sturdy and secure ride as you use either the Peloton Bike or the S22i. Along with their high-quality construction, they both offer different ways to provide sturdiness. With the Peloton Bike, the stabilizing base is broader, with adjustable feet to help you achieve a level position. While the S22i has a narrower base, it has a metal crossbar which runs the length of the base, making the bike more sturdy.
Moving the bike – Both bikes have front mounted wheels, which makes them easy to move over most surfaces, aside from thick carpeting. However, since the Peloton Bike is lighter than the S22i, we have found the Bike is easier to move around.
Category Winner – Peloton Bike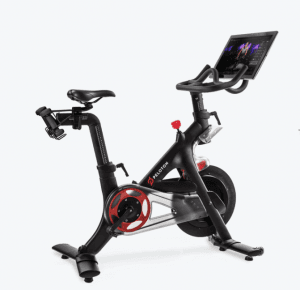 Seat – The seats on both stationary bikes are relatively similar in size, shape, and cushioning. If you are accustomed to the feel of a cyclist bike seat, then you should find the seats on these bikes comfortable enough. You can also swap out the seat for something more to your preference from the local bike shop as these components are removable features.
Pedals – The S22i uses a Jendel (JD-301) caged foot pedal. This gives you a secure footing when you use the cage or you can use the flip side of the pedal to avoid the cage. These pedals can also be easily replaced with a pedal style you're more comfortable with.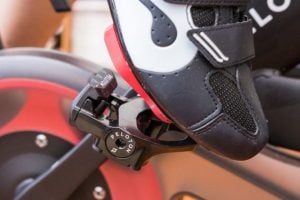 The Peloton comes standard with a clip in pedal. It does not have a flip side with a wide platform to accomodate a normal tennis shoe. The pedal uses a three bolt road cycling clip-in system. Specifically, the LOOK delta clip-in pedal. This pedal is compatible with the LOOK Delta cleat, and likely any three bolt cleat but we have yet to verify this. If you own this type of cycling cleat, great! But if you're currently using a two bolt clip-in system, or if you don't own cycling shoes, you're forced to make yet another purchase to use the Peloton bike. However, you can easily remove the pedal and replace it was any type of bike pedal you're comfortable with using.
While we agree with the recommendation to use clips while cycling, we feel the Peloton alienates a lot of potential customers by requiring a specific shoe for using their equipment. The S22i has a lower barrier to entry, making it a more useful piece of equipment as-is for a wide range of cyclists.
Category Winner – NordicTrack S22i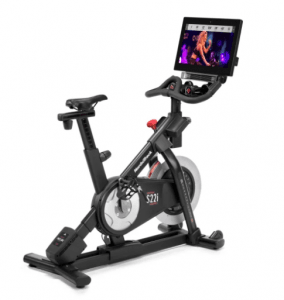 Assembly – With the purchase of a Peloton Bike, you automatically are given in-home assembly, so you never have to struggle to piece parts together. When it comes to the S22i, you can purchase white-glove delivery, which includes assembly, and it will only raise the price of the S22i to the same amount as the basic Peloton package. But if you want to save about $250 on the S22i, it is an easy bike to put together on your own.
User Interface
Controls – The controls on both of these stationary bikes are straightforward.
S22i
Left handle bar – (+/-) Incline Controls
Right handle bar – (+/-) Resistance Controls
Implement braking system using the knob located on the frame of the bike
Switch fan speeds with "+" or "-" controls directly under the touchscreen
Swipe through workout data by tapping on the touchscreen
Peloton Bike
Control resistance using manual knob located on the frame of the bike
Implement braking system by pressing the resistance knob
Swipe through workout data by tapping on the touchscreen
Fan Controls – Directly below the touchscreen on the S22i, you will find the fan control. The controls are a simple set of "plus" and "minus" buttons, and you can easily change the speed of the fan. The Peloton Bike does not come with any fan, so has no controls to review.
Category Winner – NordicTrack S22i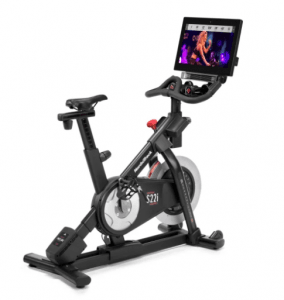 Program Selection – Both of these bikes have well-organized program libraries. Once you go to select a program on the Peloton Bike, you can sort via instructor, length of workout, what kind of workout it is, or just pull up a calendar of the live classes.
On the S22i, you can either select a program from the front page, which showcases new workouts and ones which match your previous interests or go to the iFit Coach library. In the library, you can sort whether you want to join in a studio class or an outdoor adventure with a trainer. All of the iFit Coach programs are neatly organized in series, and you can explore with a few taps of your finger to find your ideal workout.
Visual Display – Engaging and high-quality touchscreen displays come with both of these stationary bikes. Both displays are responsive to the touch, even if your hands become sweaty when you work out. However, the S22i has a 22" touchscreen, and the Peloton Bike has a 21.5" screen. While this isn't much of a difference, there are a few other differences which set the S22i above the Bike.
For one thing, the Peloton Bike display can only tilt up and down. This movement restriction can be an issue when doing off-bike workouts. In contrast, the NordicTrack S22i console can tilt up and down as well as pivot 360 degrees, so you can work out from anywhere in the room. Also, you can hook the S22i up to your TV with an HDMI cable (not included), while the Peloton Bike cannot connect to a larger screen.
Category Winner – NordicTrack S22i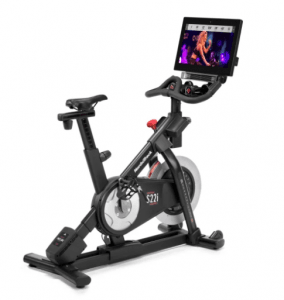 Speakers – Both of these machines have speakers built into them, and the speakers are positioned on the back of the touchscreen console on both bikes. However, the Peloton speakers lack clarity unless turned all the way up, while you can still hear and enjoy the music and trainer instruction on the S22i without maxing out the volume.
Category Winner – NordicTrack S22i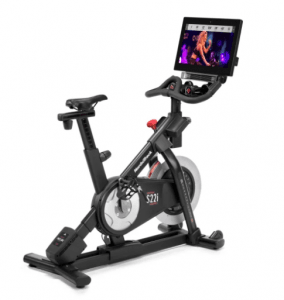 Data Tracking
Data Display – Data lovers will enjoy the S22i and the Peloton Bike. Both bikes provide more information than your average bikes, and thanks to their membership training models, that data is saved for you to review later, along with helpful graphs. However, the S22i gives you just a few more data points than the Peloton Bike.
S22i
Peloton Bike
Cadence (RPM)

x

Cadence (RPM)

x

Average Cadence (RPM)

x

Average Cadence (RPM)

–

Resistance

x

Resistance

x

Watts

x

Watts

x

Average Watts

x

Average Watts

x

Time Elapsed

x

Time Elapsed

x

Distance

x

Distance

x

Incline

x

Incline

–

Elevation

x

Elevation

–

Vertical Gain

x

Vertical Gain

–

Vertical Loss

x

Vertical Loss

–

Current Heart Rate

x

Current Heart Rate

x

Average Heart Rate

x

Average Heart Rate

–

Current Heart Rate Zone

x

Current Heart Rate Zone

x

Total Calories Burned

x

Total Calories Burned

x

Calories Burned per Hr

x

Calories Burned per Hr

–

Data Graph

x

Data Graph

x
Category Winner – NordicTrack S22i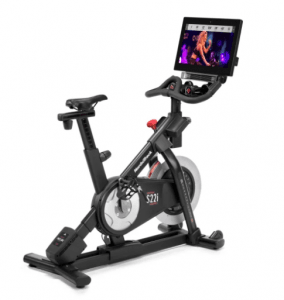 NordicTrack and Peloton Financing Options
Peloton Financing
Goes through a third-party financing company called Affirm
Minimal monthly payments of $58/month for 39 months
0% APR
No money down purchases
Peloton Membership ($39/month) purchase separate
You can pay off the balance at any time
Subject to credit approval
NordicTrack Financing
No money down purchase
0% APR for 12 or 36 months with equal payments
Interest is charged from the purchase date if the purchase amount is not paid in full within 12 or 36 months Standard APR 29.99%.
The NordicTrack financing program account is issued and administered by TD Bank, N.A.
Subject to credit approval
NordicTrack and Peloton Warranties
Peloton Warranty
30-day trial and return period. Full refund minus $250 shipping fee (or higher depending on location) with a potential restocking fee.
5-year warranty on frame, 12 months for parts, pedals, touchscreen, and labor. You can purchase extended warranties in addition to your Peloton Bike.
To be eligible for service under their warranty, you must contact the Peloton support team. You will be asked to provide the serial number of your Bike, and the dated receipt or other proof of purchase indicating the date purchased.
NordicTrack Warranty
A 30-day trial period for a full refund (minus shipping and 10% restocking fees)
Lifetime warranty on frame; 3 years for parts; 1 year for labor.
The warranty extends only to the original purchaser.
Repairs first need authorization. Shipping to service centers for repairs is at customers cost. Shipping for replacement parts sent to your home is also at your cost. For in-home service, the customer pays a minimal trip charge.
If you receive a machine that is damaged beyond repair, NordicTrack will be happy to send a replacement machine or give a full refund.
All non-UPS shipments are curbside delivery and require a customer signature.
NordicTrack allows a 30-day trial period on all products. You pay return shipping and a 10% restocking fee if you want to return it within the 30-day trial period.
Products being returned must be disassembled and packaged in the original box or comparable package. If you do not have a box, NordicTrack can provide one for you.
You can expect a refund in the same form of payment originally used for the purchase within 30 days of NordicTrack receiving your returned product.
Category Winner- NordicTrack S22i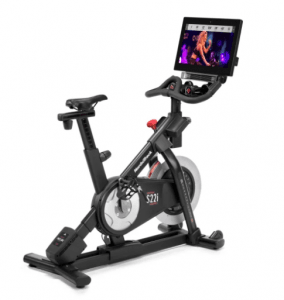 Overall Favorite
The NordicTrack Commercial S22i Studio Cycle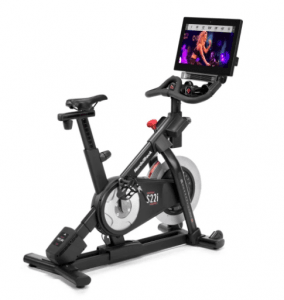 __________
Total Categories Compared: 25
Total Ties Between the S22i and the Peloton Bike: 10
Total Peloton Favored Categories: 2
Total NordicTrack Favored Categories: 13
Once you compare the Peloton Bike and S22i head-to-head, it is pretty clear which of these bikes are our favorite. The NordicTrack S22i has all the power of an established fitness brand behind its construction and comes with more features at a lower price point than the Peloton Bike. If you want to learn about other bikes, read our list of the best exercise bikes.
Click the link below to see current pricing for the NordicTrack S22i Studio Bike: