Updated: 9-20-2022
NordicTrack Exercise Bike
The NordicTrack S22i is a great stationary bike built for home use. The sturdy build supports up to 350 pounds and is adjustable to fit most body sizes. The flywheel mechanism makes for a very smooth ride with a braking system that stops your bike with very little effort. When compared to other home stationary bikes, the S22i is worlds ahead with the HD touchscreen and variety of Studio Cycle classes offered through iFit.
The NordicTrack S22i Is A Great Tool For:
Beginners in fitness
Indoor cycle training
Cardio
Leg strength
Planned routines and variety
Engaged training by fitness experts
Standout Features:
22" Pivoting Touchscreen
30 day NordicTrack iFit Membership included
iFit Bluetooth Chest Strap (heart rate monitor) included
-10% to 20% Incline Paired with 24 Digital Resistance Levels
Wide selection of Studio Cycle classes
Compatible with Standard Road Bike Pedals & Seat
Machine Specs:
Footprint: 55.0″ L x 21.9″ W x 54.8″ H Footprint
Product Weight: approximately 200 lbs
Weight Capacity: 350 lbs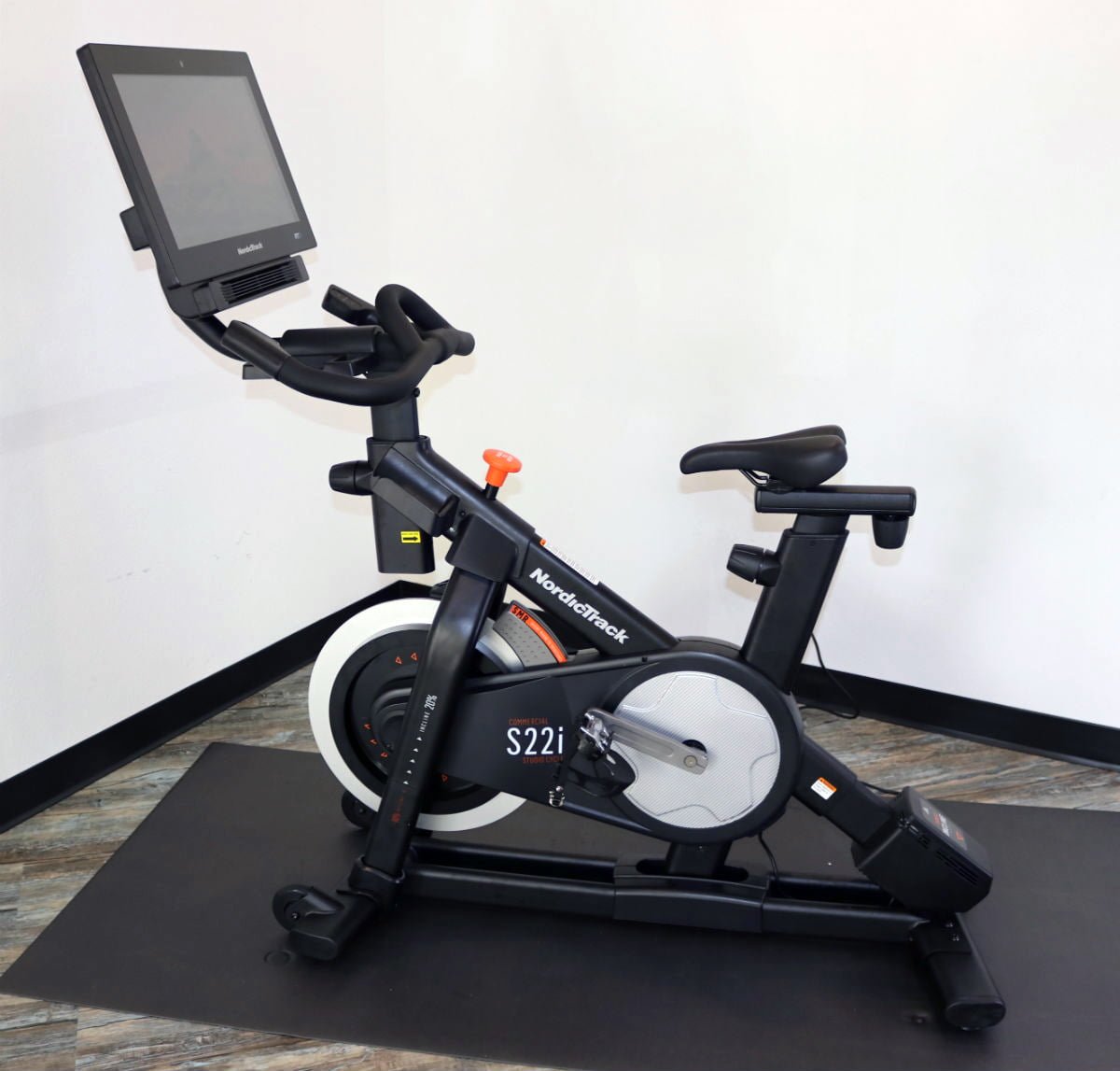 User Experience
Tilting/Rotating 22" Touchscreen
The 22" screen is great. This is a huge monitor so you get a really clear image of the trainer and the class they're leading. The touchscreen is super responsive and easy to navigate.
You can pivot the screen for exercises off the bike including instructor-led yoga. This is a feature unique to the NordicTrack stationary bike. Treadmills, ellipticals, incline trainers, and other equipment from NordicTrack do not offer this option.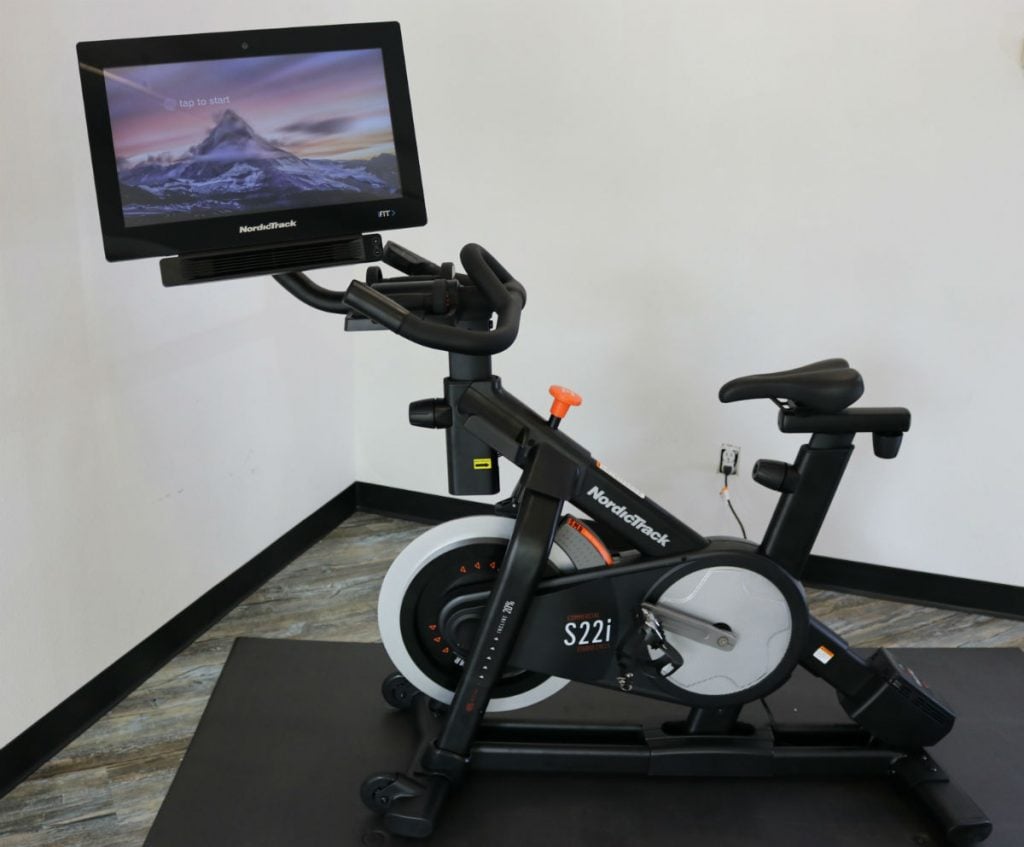 Using iFit On Your NordicTrack S22i
These videos are what make this piece of home gym equipment worthwhile. It's honestly just like attending a class at your local gym with the instruction, the motivation, and the music blasting. Only you get to take the class at your convenience.
One thing I struggled with was keeping up the cadence that the trainers are telling you to maintain. As they increase and decrease your resistance, I thought the cadence expectation was a bit high for the average user ( I sit comfortably around 85). But I'm sure with enough time spent on the bike, it's a bit more obtainable.
It would also be nice to see more variety in the training videos. A lot of them are pretty standard sprint and hill climb intervals. This form of training (especially if you are an avid cycler) can get a little monotonous. Could iFit start a new version of Soul Cycle? That would be great.
You can still use the bike in its manual setting, selecting your own resistance and incline levels. This is great to see! Sometimes users just don't want a video in their face or they have a set training routine they'd like to do. Even in that case, I'd still recommend the S22i.
3 Lb Dumbbells
Three pounds of weight is going to make a difference for some, but not for others. This is a personal preference. However, with regular use of this equipment, you'll quickly plateau and require heavier weight for any added benefits.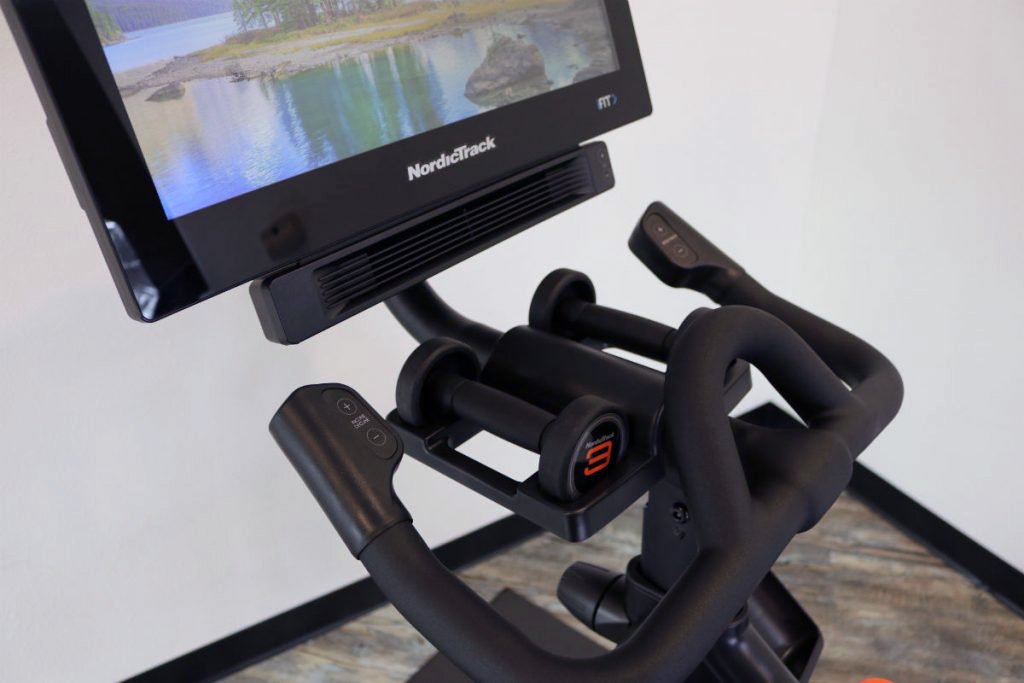 Compatible With Standard Road Bike Pedals & Seat
The saddle and pedals that come with the NordicTrack S22i aren't great. But unless you buy a high-end road bike, these are always items you end up replacing anyway. What's the point in increasing the cost of the equipment by fitting it with nicer seats and pedals when most riders replace these parts based on preference anyway? What is great is that you can replace the seat with something more suited to your needs (male or female saddles, more or less cushioning, etc). You can also throw on your own pedals with clips to conjure up more power from your legs.
HDMI and Auxiliary Ports
Project video and audio through the S22i's console OR a personal device. You can train using your wall-mounted big screen TV and your surround sound system if you'd like. This is a feature we're seeing more and more on NordicTrack's equipment. Most companies have figured out the benefit of supplying the audio port but the HDMI connection is a great addition.
1 month NordicTrack iFit Membership Included
This is a great feature. Icon Fitness created iFit and in their beginning stages, we were unimpressed with the app. But its evolved into a resource that ultimately replaces the need for a gym membership. You get access to tons of workout videos (virtual gym classes) plus calorie tracking, goal setting, and more. It is a great tool.
iFit Bluetooth Chest Strap & Heart Rate Monitor Included
This is a nice add-on as well. Tracking your heart rate is the best way to track your calorie burn. It pairs effortlessly and has incredibly accurate heart rate monitoring. All the data is automatically stored in your device.
One thing I wish iFit would sort out a little better: When you select the workout video you want to follow, it gives you general stats that include the expected time and calorie burn for the workout. So as you follow along with the video and see the display of your calories burned, it's not an accurate estimate of your actual calories burned. It's average. As the clock ticks, the calorie counter ticks along with it, preset to reflect the estimates given to you during the selection phase. I'd like to see iFit develop an algorithm that takes my stats (height, weight, gender, and current heart rate, since it has all of that information anyway) and projects my actual calorie burn based on my watts and heart rate during the workout.
Inertia-Enhanced Flywheel
This is the same mechanism used in the NordicTrack Fusion CST. Its a super smooth rotating wheel that provides even consistency to your peddling. This part of the stationary bike comes pre-assembled.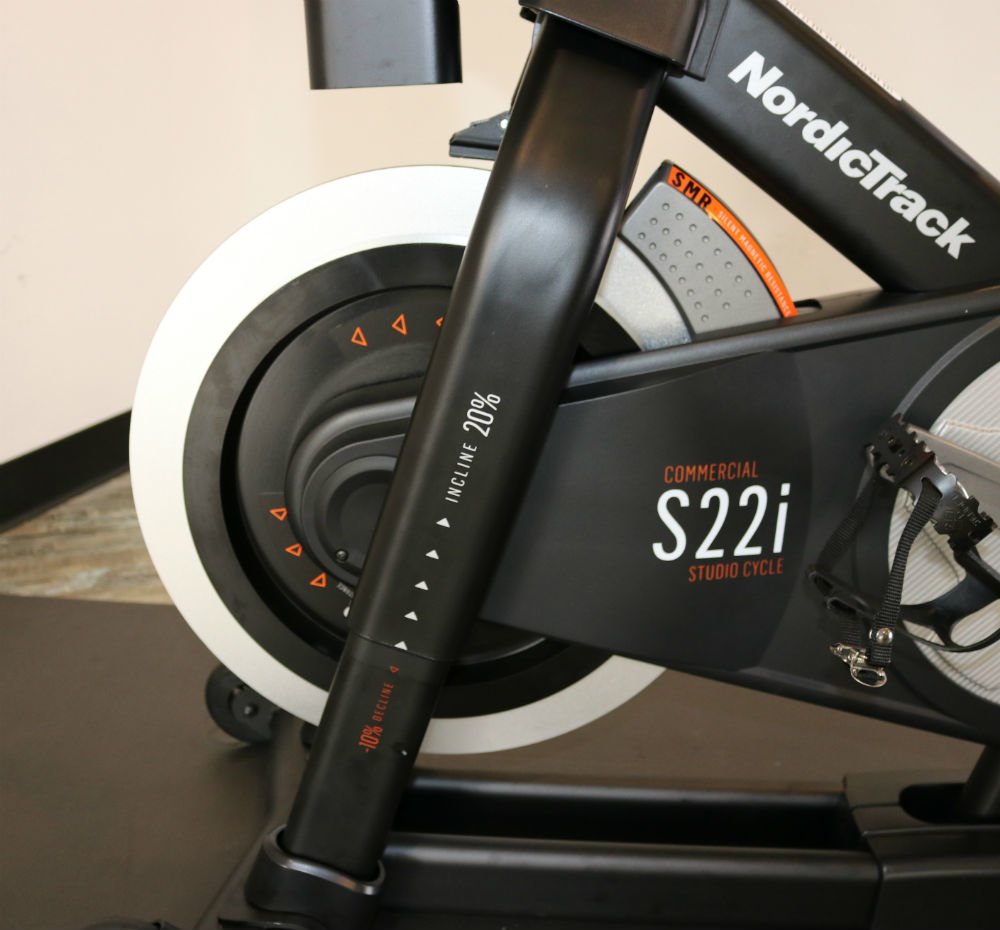 SMR™ Silent Magnetic Resistance & 22 Digital Resistance Levels
The magnetic resistance is pretty cool. Being digital, you know exactly what resistance levels you're working at. On a traditional stationary bike, your resistance setting is measured off of "feel" and a best-guess. During some of the Studio Cycle videos, the instructors use level 10 as a flat road resistance level. Going all the way up to 22, the max resistance offers a challenge to even the most experienced cyclists.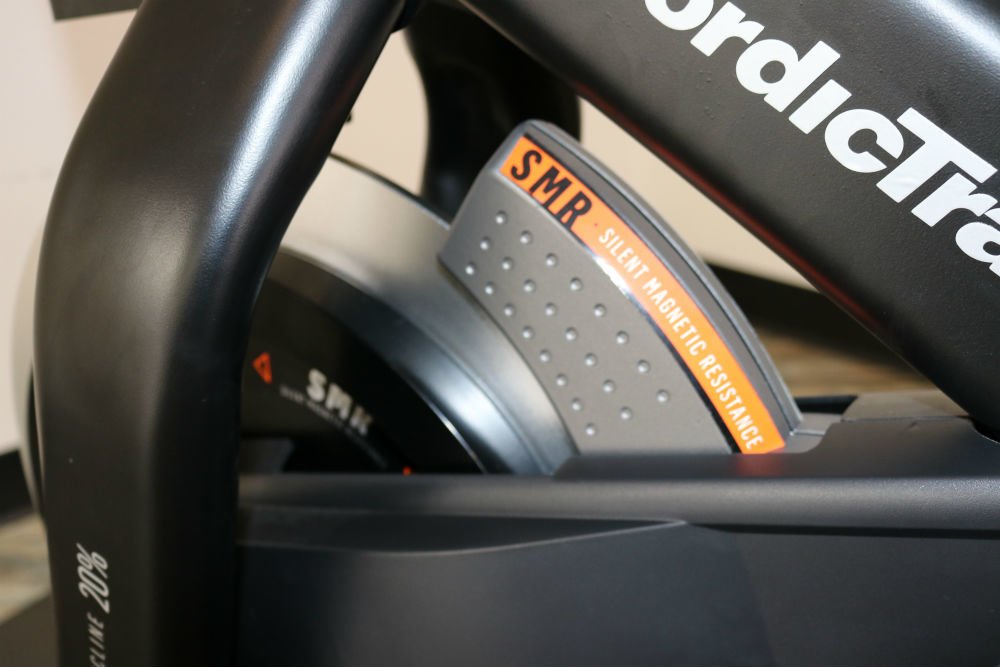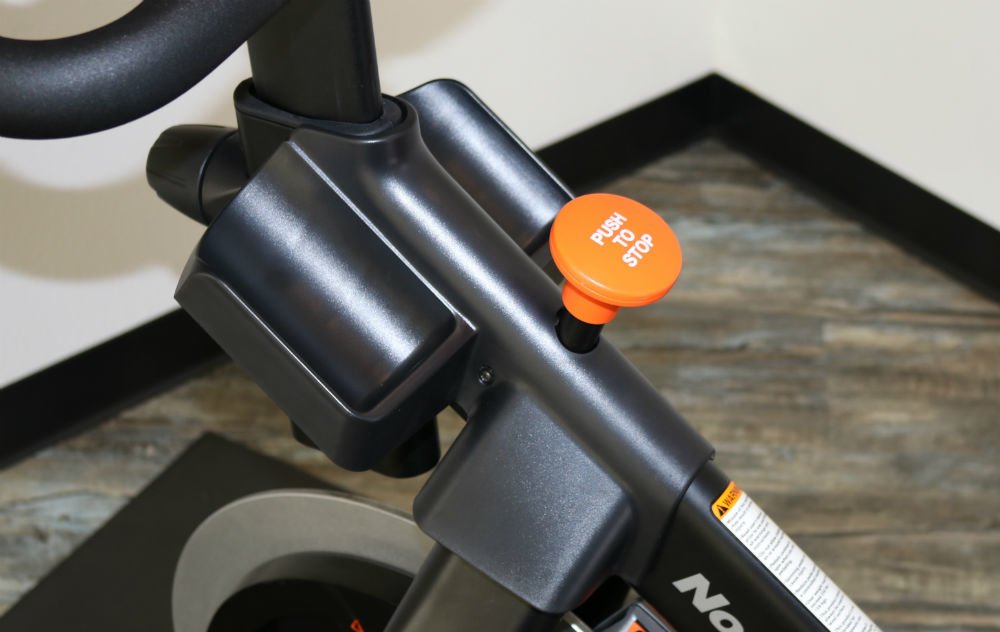 Dual Water Bottle Holders
These water bottle holders work just fine – unless your handlebars are at their lowest setting, then you cannot utilize the water bottle holders due to the lack of space. But considering the design of the bike, there isn't really a better place to put the water bottle holders. While this is inconvenient, it doesn't deter me from recommending the S22i. It's one of the best stationary bikes I've ever ridden.
Warranty
The NordicTrack S22i comes with a 10-year frame warranty, a 2-year warranty for parts and a 1-year warranty for labor. Remember though that the warranty is only activated if you register your machine on NordicTrack's website!
Ease of Use
It's all very self-explanatory making the learning curve pretty minor for this piece of equipment. Anyone familiar with using a tablet or smartphone will have no trouble navigating the monitor.
Machine Assembly
The S22i is a very simple bike to assemble. The instructions are easy to follow and all electronic pieces come pre-assembled. Only one person is needed to assemble this bike.
Read more reviews of NordicTrack home gym equipment here.