Last Updated: 9-20-2022
Released in 2020, the NordicTrack FreeStride Trainer FS10i elliptical is the latest addition to the FreeStride elliptical series. This elliptical has continued to improve on the offerings that are included with FreeStrider machines, from its commercial solid steel construction to the high-responsive touchscreen display. For those looking for an elliptical that can do the most, you should definitely consider adding the NordicTrack FreeStride Trainer FS10i elliptical to your home gym.
Buying The NordicTrack FS10i FreeStride Trainer
At this time, buying the NordicTrack FS10i will run you $2,499. Over the years that we have been reviewing treadmills and other exercise equipment here at Treadmill Reviews, we always see NordicTrack machines go regularly on sale.
Once that new machine pricing is brought down, you can save even more on your NordicTrack FS10i elliptical purchase by using our exclusive coupons. We have a number of discounts available for some of the top names in fitness equipment, and by using our coupon codes, you can bring your equipment home for the lowest price possible.
Who The NordicTrack FS10i Is Built For
Individuals who want variable low-impact workouts – When considering the FreeStride Trainer elliptical series, a significant draw is the ability to use the elliptical in more ways than a traditional elliptical. The FS10i is able to give users that smooth, gliding elliptical workout, but users can also switch to stair-stepping or treadmill motions, just by altering their stride. This variability makes the FS10i a more engaging machine.
Fitness enthusiasts who want the latest tech – If cutting-edge fitness tech is your jam, then the FS10i will be right up your alley. This machine is packed with the latest and greatest from NordicTrack, from a free month membership with iFit to 24 digital resistance levels, all of which you can control from the 10" smart HD touchscreen display.
The FS10i Is One Of the BEST BUYs for Ellipticals Between $2,000 – $2,500
The competition to be in this Best Buy category is pretty fierce, as the price tag demands that the elliptical be impressive to command this kind of pricing. Well, the NordicTrack FS10i definitely earned its spot. Two of the standout reasons why the FS10i earned as spot as one of our Best Buys in the $2,000-$2,500 range are:
Impressive technology built-in – The FS10i comes with the latest NordicTrack technology, such as the Bluetooth audio syncing and the automatically adjusting workout fan. Along with these convenient features, you can enjoy the 10" touchscreen with its smart, high-definition display, which makes navigating your exercise even easier. Also, when it comes to exercising, you can rely on the free iFit 30 day membership to make every workout more engaging.
High-quality construction – Along with the top-notch tech built into the FS10i, this elliptical is also incredibly well-built. The frame itself uses commercial-grade solid steel for its construction, providing you with a sturdy base for your exercise sessions. Also, with the center-drive design of the FreeStride Trainers, the FS10i allows you to engage in three different types of workouts just by changing your stride.
Overall, you likely can tell that we are fans of the NordicTrack FreeStride Trainer FS10i elliptical here at Treadmill Reviews. If you want to learn more about this machine—and why we like it—feel free to read through the rest of our review.
NordicTrack FS10i Build Quality 4.7/5
MODEL OVERVIEW
Weight Capacity: 375 lbs
Stride Length: 32" Auto-Adjustable
Footprint: 58.3″ L x 29.5″ W x 74″ H
Drive: Center-Drive
Flywheel: 20-lb, Inertia-Enhanced
Step-Up Height: 14.75 inches
Materials:
Oversized Levelers and Cushion Pedals
Commercial Solid Steel Construction
SoftTouch Upper-Body Grips
Transport Wheels
Resistance: Silent Magnetic Resistance (SMR™) and 24 Digital Resistance Levels
Power Requirements: 110-120-volt, standard three-prong outlet
Moving The FS10i
Like many of the NordicTrack machines, the FS10i is designed to be a tilt-and-roll machine if you are in need of moving it. The wheels of the FS10i are located on the back of the frame. You should be able to look right under the pedals to see where the wheels are positioned. However, you will need two people to move the FS10i safely.
It's not that the FS10i elliptical is too heavy for one person to tilt and roll. The issue comes in when you tilt the FS10i, and the elliptical pedals swing into your shins. So, to prevent getting smacked by the pedals, you might want someone to help you to move this machine or figure out how to control the motion of the pedals.
Software Updates
The FS10i isn't your standard workout machine. Thanks to the high tech touchscreen, this machine needs to be updated much like you would update your smartphone or computer. Without the proper software updates, you may have trouble even connecting your elliptical to your home's WiFi.
You will receive prompts asking if you want to update your FS10i. So, when these prompts pop up, be sure to accept. That way, your FS10i elliptical can perform as expected.
NordicTrack FS10i Features & Accessories 4.7/5
Display: 10" Smart HD Touchscreen
On-Board Workouts: With iFit Subscription 100+ On-Board workouts, with thousands more available for download
Speakers: Yes
Fans: 2
Handles: Moving
Incline/Decline: 0% to 10%
Other:
Tablet shelf
Aux plug
Water bottle holder
Display – One of the eye-catching features on the FS10i elliptical is the 10" touchscreen that is embedded into the console. This touchscreen provides crisp HD video quality so that you can enjoy your workouts to the fullest. It is also able to tilt and accommodate the height of a range of users.
Also, the touchscreen is sweat-resistant, so you don't have to worry about sweat hitting the screen, and it is still responsive when you have sweaty hands. Just try to avoid splashing large amounts of water on your touchscreen, and you should be good.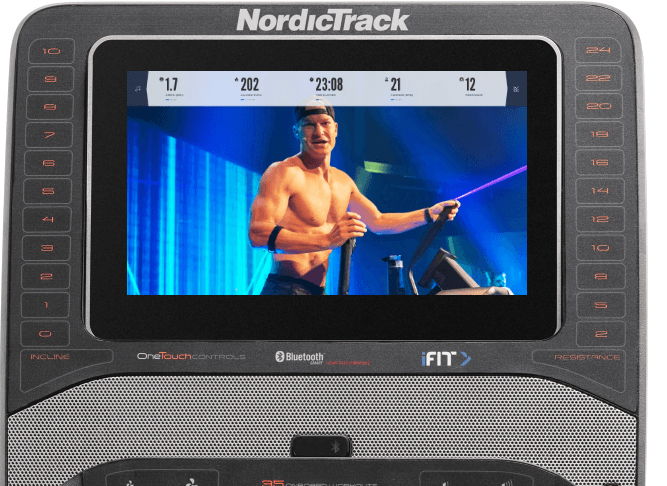 On-Board iFit Workouts – With the purchase of the FS10i from NordicTrack, you will receive a free month of membership with iFit. This membership gives you access to the extensive library that NordicTrack iFit offers, which includes thousands of workout videos for you to choose from.
Fans – There is a fan located at the base of the console on the FS10i. You can choose from multiple speeds so that you can keep the air moving and the sweat at bay. Also, you can set the fan on auto, which will allow the fan to automatically adjust to your workout intensity.
Resistance and Incline Range – Controlling your FS10i elliptical is easier than ever as there are three areas to control. Most obvious are the controls along the console sides, then the adjustment controls at the base of the console. There are also controls at the top handles of the elliptical, so it is even easier to control your incline and your speed.
NordicTrack FS10i Subscription Service 5/5
Name: iFit
Brief Description: Subscription-based personal training program, iFit brings top-notch personal trainers into your home in the form of pre-recorded video workouts.
Cost: $39
User Profiles: $180 per year for one user profile OR $39 per month for up to 5 user profiles
Class Varieties:
Cycling
Running
Bootcamp
Outdoor
Strength
Yoga
Etc.
Community: Share results, create and join challenges, post to message boards
Subscription Limitations: We're crossing our fingers that iFit can make their UX more user-friendly and intuitive. Currently, the learning curve is a little uncomfortable, and it is often easier to use the desktop version to schedule workouts.
NordicTrack Warranty Info
The standard warranty that comes with the NordicTrack FS10i elliptical protects your investment. All you need to do is be sure to register your warranty with NordicTrack online, and you can enjoy the promised coverage, which is:
10-year frame warranty
2-year parts warranty
1-year labor warranty
NordicTrack FreeStride Trainer FS10i Review – Final Thoughts
As the FS9i elliptical is being phased out by NordicTrack, the FreeStride Trainer FS10i is here to fill the gap. It does have an engaging array of features, from the touchscreen to the high weight capacity, but the price tag is also pretty steep.
If you are looking to outfit your home gym with the latest and greatest from NordicTrack, it would be tough to beat the FS10i. But, if you don't mind slightly paired-down features, the FS7i might be a better option price-wise, as it comes with many of the things the FS10i has for a much more manageable price.
Buying The FS10i Directly From NordicTrack
When it comes to where to buy your NordicTrack FS10i FreeStride Trainer, you should go to the source—NordicTrack. By purchasing from NordicTrack, you can ensure that you receive the right machine, which some consumers reported receiving the wrong machine when buying from a third-party.
Also, by choosing to buy directly from NordicTrack, you can be sure that your warranty will be honored. With a registered warranty, you can protect your equipment investment for years to come.