Updated: 9-20-2022
The NordicTrack FS14i is the largest and most advanced model of the FreeStride series, which are low-impact elliptical machines with 3-in-1 movement range for full body workouts. While it is the most expensive, the FS14i comes with the largest console of the FreeStride series, allowing for greater comfort and interactivity while following NordicTrack's premium training programs. While we haven't gotten to hop on and physically test this machine yet, here is what we love and some questions we have about this machine here at TreadmillReviews.com.
NordicTrack FS14i FreeStride Trainer Cost
The FS14i is the most expensive of the Freestride models, retailing for $3,299 brand new. NordicTrack does offer a 39 month payment plan option with 0% APR, making it a bit more affordable. Furthermore, the FS14i includes a 30 day iFit membership plan. Purchasing the FS14i through NordicTrack will allow you to get the machine delivered right to your doorside, and a Bluetooth chest strap heart rate monitor will also be included with your purchase.
Who The FS14i Elliptical Is Built For
Low impact exercise equipment users: Aging, disabilities, disease, and sore muscles are just a few reasons why you might need to rely on low impact equipment to train your body. With the FreeStride Elliptical, the FS14i will help you train your whole body without pushing it as hard as other traditional exercise equipment.
Tech heavy users/large electronic compatibility: Exercising is a lot more fun when you have music, podcasts, and other programs to listen to or watch. Connect to the FS14i's speakers and screen via Bluetooth, and you'll keep yourself entertained while working out your body.
Those seeking varied interactive training classes: The FS14i comes with a 30 day renewable subscription to iFit. With iFit, you can join in on streams from some of the top trainers in the world, or watch thousands of archived streams and programs while you train. If you don't want to renew, the FS14i also comes with 35 built in programs for guided training with the machine.
Cross training athletes: The 3 in 1 movement of the FreeStide will help you train all of your body muscles, giving you a well rounded workout. You can even switch up your movement style mid-workout, allowing you to target all of your major muscle groups during the same session.
Premium build (and budget) customers: FS14i is built with premium materials, ensuring that it looks great in your home gym. The FreeStride Elliptical is also compact as well, so you won't need too much space to use it either.
What We Like About The NordicTrack FS14i
Low impact alternative to treadmills. Allows for exercising without excessively stressing and targeting weak joints.
Multi-purpose and configuration machine that will target different muscles for different workouts.
-10% to 10% incline control. 32'' auto adjustable stride. Comfortable to use for a range of adult heights.
Large iFit streaming library and 1 month subscription included. 35 programs for non-subscribers or streamers.
375 lbs high weight capacity with small overall build that fits in well in a home gym.
Very solid overall construction. Oversized, cushy pedals and large 14'' touchscreen.
What We Don't Like About The FS14i
20 lbs flywheel does not provide a lot of resistance. Beginner oriented elliptical machine.
The $3,300 dollar price tag is very high for an elliptical. Premium machine with a premium price.
Motion switching isn't easy and can lead to lock ups in the middle of a workout. Best to stick with one range of movement until the workout is completed.
The machine build is mostly compact, but due to the stride length you need several additional feet in front of and behind the machine to make full use of it.
FS14i FreeStride Trainer Build Quality & Model Overview
Weight Capacity: 375 lbs
Stride Length: 32''
Footprint: 58.5″ L x 29.5″ W x 74″ H
Drive: Center Drive, 20 lb Flywheel
Step-Up Height: 14.75 inches
Materials:
Commercial Solid Steel Construction
Oversized Cushion Pedals
Transport Wheels
Resistance: 26 Resistance Levels, SMR™ Silent Magnetic Resistance
Power Requirements: Nominal 120-volt circuit, the machine must be grounded
Warranty:
Frame: 10 Years
Parts: 2 Years
Labor: 1 Year
3 in 1 Training:
The 3 in 1 training means that you can engage in three different movement styles in order to get a full body workout on the FS14i elliptical machine. Moving your feet up and down will allow you to use the machine like a stepper, while doing small front and back steps will allow you to emulate walking on a treadmill with the machine. Most of the time you'll be using the elliptical as it was inherently designed, making big strides with your legs while pushing your arms back and forth.
Three 3 in 1 design allows for a great full body workout, but it can be tricky at first trying to incorporate all three styles in the same workout. A little bit of practice will make it easier to change your movement style, but the machine itself can also lock up time to time if you quickly try to switch from one movement style to another. If you're going to switch movement styles, we recommend coming to a complete rest for a couple of seconds before switching. Not only will this be easier on your machine, but will help prevent your muscles from being locked up as well as you target different areas of your body to train.
Premium, Yet Compact Design:
The mid-drive elliptical is built tough, and with a great design that will make it look like you acquired the NordicTrack FS14i from a high class gym. The center flywheel is only 20 lbs, which makes the machine easier to move but does limit the overall resistance offered compared to other NordicTrack elliptical machines. Even so, most users will be thrilled by the 26 resistance levels, with the machine very quiet due to NordicTrack's SMR™ technology.
The footprint of the machine is compact, especially for an elliptical, though you'll actually need a bit more space than just the machine footprint. The 32'' stride allows you to effectively train your muscles, but due to the 3 movement styles you'll effectively need an extra 3' around the whole machine to make full use of it. While it isn't as compact as the footprint makes it appear to be, it is still a compact machine well suited for many home gyms.
Great Weight Capacity, But Easy To Move:
The NordicTrack FS14i has a 375 lbs recommended weight capacity, and with oversized pedals it is a great machine for larger and smaller users alike. The FS14i is also easy to move once assembled, as you just need to lift the front metal handlebar to get the wheels on the ground. One person could lift and roll the FS14i by themselves, but we suggest relying on two people to safely guide the machine and set it down without pumping into furniture. The pedals also have a tendency to swing about while moving the machine, so keep an eye on them as well when lifting the FS14i.
Software Updates/Warranty Information:
One common complaint when it comes to using NordicTrack ellipticals is that their user interface is glitchy or freezes often. Most of the time, it's because users have failed to properly update their machine. If you find your FS14i control display to be slow or locking up during workouts, be sure to check that your machine has been updated to the latest software version. For any and all other issues, we suggest contacting NordicTrack directly by phone or live chat on their website.
All FS14i machines come with a 10-year warranty for the frame, 2-year warranty for its parts, and 1-year warranty on delivery and labor that came with setting the machine up. Extended warranty policies consist of the following:
UTS Maintenance Service 3-Year Plan/5-year Plan: Annual preventive maintenance and performance check that you can schedule. Unlimited in-home repairs. Extends coverage of all parts, labor, and wear and tear. Extends your warranty by 3-years for $339.99, or by 5-years for $489.99.
UTS Standard Service Plans: Unlimited in-home repairs. Extends coverage of all parts, labor, and wear and tear. Extends your warranty by 1 year for $179.99, 2 years for $209.99, or 3-years for $239.99.
FS14i Features & Accessories
Display: 14" Smart HD Touchscreen
On-Board Workouts:
35 On-Board Workouts
With iFit Subscription
Speakers: Yes
Fans: 2
Handles: Moving
Incline/Decline: -10% to 10%
Heart Rate Monitor: Bluetooth chest strap included with purchase
Other:
Auto-adjust Resistance and Incline Control
Aux plug
Water bottle holder
Display
Outside of a different size, the major difference in price from other FreeStride models is because of the 14'' touch screen display. The display is fantastic for watching and interacting with workouts, but the extra few inches do drive up the price by over $1,000 dollars. If you are interested in a NordicTrack FreeStride elliptical machine but don't care about the display as much, you can save money by considering the FS7i or FS10i Freestrider instead.
One other important difference between the models though are the buttons. Whereas the FS7i and FS10i have some limited screen interactivity, they are largely operated by side buttons around the display. The FS14i is entirely screen based, and for many users simpler and easier to control because of it. The lack of buttons also helps the FS14i look nicer overall, besides giving you more space between your hands and the display as you push forward on the elliptical handles.
On-Board Workouts: There are 35 programs included for training with the FS14i independent of whether you have a iFit subscription or not. While we highly recommend iFit, these 35 programs give enough variety that you shouldn't feel bored or forced to perform the same routine when using the FS14i.
Fans: The high performance AutoBreeze™ Workout Fan actually makes a difference during a workout. Whether you're engaging in a low or high intensity workout, the fans will help you stay cooler and comfortable, especially when combined with the Soft Touch™ Upper-Body Grips.
Auto-Adjust Resistance and Incline Control: Having to manually adjust your resistance or incline control while you're using a machine can cause things to lock up, or can even cause you to pull a muscle. The auto-adjusting resistance and incline control keeps it simple, while also ensuring you can maintain your cadence and workout without any disruptions. By simply adjusting your stride, the FS14i will make the proper adjustments you need to continue to train, without you having to worry if you've set the incline or resistance to the correct number.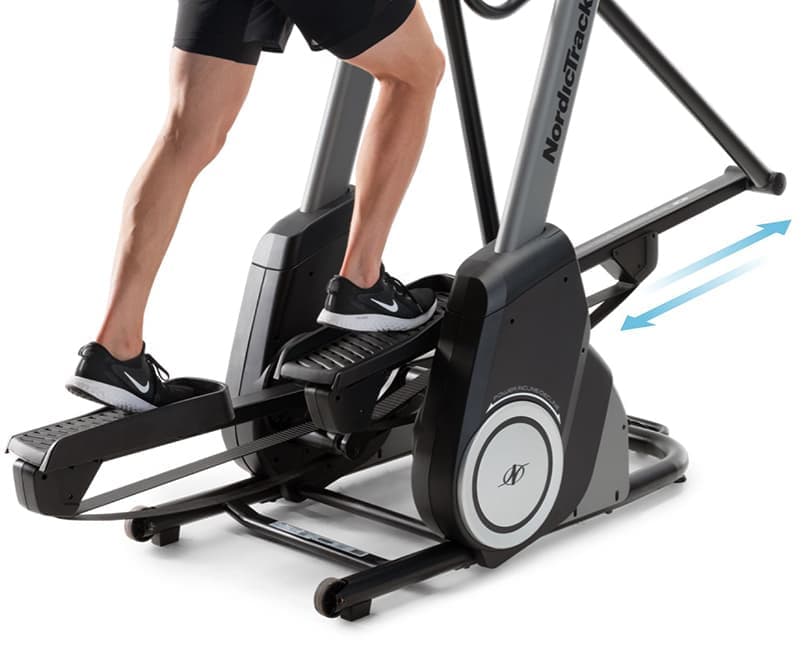 Subscription Service: iFit
Name: iFit
Brief Description: Stream thousands of workouts filmed around the world, with elite trainers that will guide you from Greece and Thailand to Tahiti, Zambia, Boston, and more. Your training program will modulate your resistance and incline for you, and you can track your stats and compete with others as you train. Follow along daily recommended workout regiments, or create up to four different profiles so that other members of your family can create their own workout plan.
Cost: $39 per month
Class Varieties:
Cycling
Running
Bootcamp
Outdoor
Strength
Yoga
Subscription Negatives: The user interface isn't the easiest to use, and the lack of a simple, easy to follow tutorial means it takes a few sessions to become truly familiar with how to use iFit.
NordicTrack FS14i Home Delivery and Set Up
Due to recent events, NordicTrack does not currently offer White-Glove delivery and assembly. Two other delivery options are available for the FS14i:
Curbside Delivery: This is the standard, free delivery option for the FS14i. The delivery company will drop off the package on your curb.
Threshold Delivery: For $99 dollars, you can have the delivery company drop off the total FS14i package on the threshold of your home. Delivery companies will not be able to bring your package through your doorway, in part due to health restrictions throughout the world.
The NordicTrack FS14i has been designed so that it can be put together in 60 to 90 minutes, or less if you are familiar with NordicTrack machines. An instructional manual is included, with additional instructional videos detailing how to assemble the FS14i available online. You will need a Phillips screwdriver and a wrench to complete installation, and it is highly recommended that you have at least two people working together to assemble the machine.
Important Note: Do not plug the FS14i in until assembly is complete. Please remember to remove the power cord before moving the machine as well. Failure to do so can lead to injury, especially if you tamper with the grounding pin.
Bottom Line Review
At nearly $3,500 dollars, the NordicTrack FS14i is the most expensive of the FreeStride trainer elliptical series. The major difference in price between the FS14i from the FS7i and FS10i will be the size and configuration of the display. If you really want the best display you can get, the FS14i is for you. If you don't care too much about the display, you'll save quite a bit of money by going with one of the other FreeStride models. However, we love all of the NordicTrack FreeSTride Trainer Elliptical models, and highly recommend them for those looking for a premium low-impact machine!