Last Updated: 9-9-2022
We took a good hard look at NordicTrack's elliptical series and the Freestride Series was very impressive. As far as NordicTrack elliptical reviews go, the Freestride Series is the one to pay attention to. Freestriders are a home cardio machine that combines the fluid motion of a low-impact elliptical with the up and down movement of a stair-stepping. With the Freestride elliptical, you can work more muscle groups, get a great cardio experience, and do it all with little-to-no impact on sensitive joints like your knees and lower back.
This Freestride Trainer review focuses on the FS7i, the mid-range model of NordicTrack's Freestride series. The FS7i has earned our BEST BUY award for home ellipticals between $1500 and $2000. While this home elliptical isn't "cheap", the cost is well worth it. Read the rest of our review to find out exactly why we love the FS7i.
You'll Love The FS7i If:
You are looking for a low-impact/high cardio experience – The FS7i combines the best of three cardio worlds: stair steppers, ellipticals, and treadmills. With so much versatility in one piece of equipment, you'll get the most bang for your cardio buck with the least impact on your joints.
You want the latest in workout technology – The FS7i isn't a cheap elliptical. But the additional cost lends to a more high-tech experience with an HD touchscreen display and access to iFit. So many fitness equipment manufacturers are developing subscription services to access fitness training from the privacy of your home. NordicTrack offers iFit with all of their equipment so you have one on one instruction for using the machine as well as endless workout videos to follow along as you use the equipment.
Why The FS7i Earned Our BEST BUY Award for Ellipticals between $1500 – $2000
The FS7i earns 5 stars because of it's sturdy build, available features, and extra accessories. When we compare it against other models in this price range like the Sole E95 and ProForm's SMART Pro 16.9, it shines just a bit brighter!
Huge Stride Length – A 32-inch stride is impressive for a home elliptical. This huge stride will take up a bit more space in your home, but it will accommodate a user of any height.
More Engagement – Most ellipticals, including ellipticals that cost a lot more, will come with a standard set of on-board workouts (10-20 options) with an LCD display showing your progress. The FS7i has an HD touchscreen that displays interactive elliptical classes and other engaging videos to follow as you exercise. With auto-adjusting incline and resistance, you can rely on iFit to provide a truly interactive and engaging workout.
More Versatility – By combining the movements of three popular home cardio machines, you get a well-rounded workout for more parts of the body. We especially love that this elliptical can replicate the workout you'd get on a stair stepper. This is great for booty, leg, and lower back strength.
While spending around $1799 on an elliptical is a costly commitment, this price point isn't outrageous. We feel the cost and benefits are an equal match, making the FS7i a very practical purchase. Take a look at the specs…
---
NordicTrack FS7i Freestride Elliptical Build Quality
MODEL OVERVIEW
Item Weight:
Weight Capacity: 375 lbs
Stride Length: 32 inches
Footprint: 58.5″ L x 29.5″ W x 74″ H Footprint
Drive: Center Drive, 20 lb Flywheel
Step-Up Height: 14.75 inches
Materials:
Commercial Solid Steel Construction
Oversized Cushion Pedals
Transport Wheels
Resistance: 24 Resistance Levels, SMR™ Silent Magnetic Resistance
Power Requirements: nominal 120-volt circuit, machine must be grounded
Stride Length – One thing we like about the FS7i is its stride length which is 32 inches. This is a longer stride length than a lot of home ellipticals out there. But there is a downside to having a long stride length for some users… If you have a naturally short stride (meaning you're a shorter-than-average person), you have to work a little harder to make sure you aren't overstriding. Ellipticals with a shorter stride length will help a user with a smaller stride stay within the confines of the machine while the FS7i gives you more room to stretch.
The FS7i uses polyester webbing (seat belt material) and a glide belt (sturdy plastic/rubber) that move across either side of the roller.
Drive: The FS7i is a center drive elliptical. This unique engineering allows the foot pedals to come closer together, more accurately representing the way our feet move closer together as we move at higher speeds.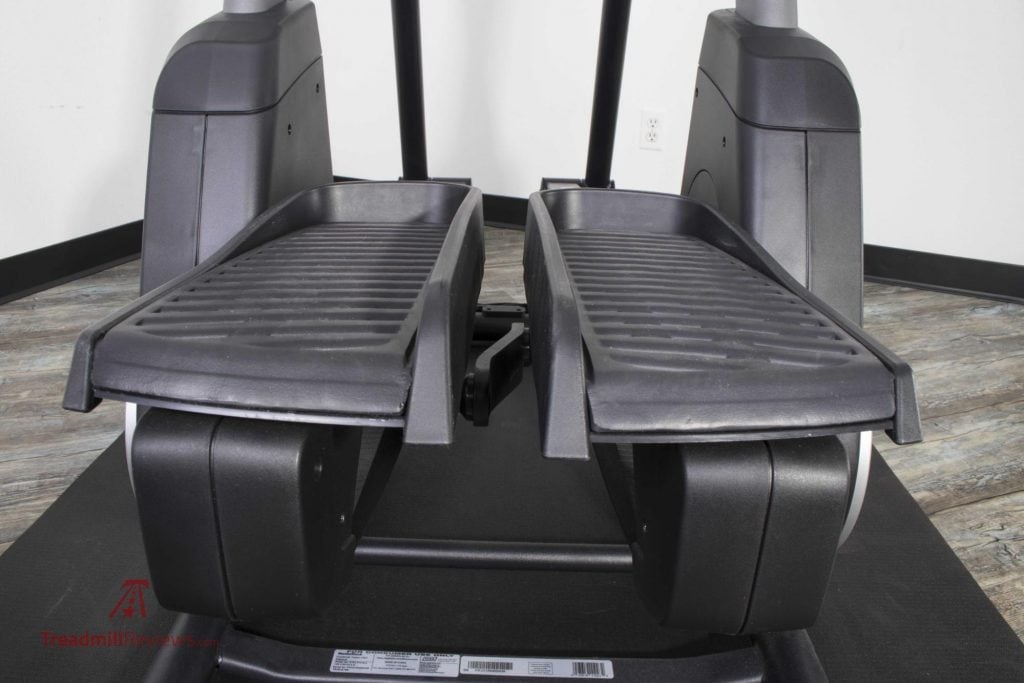 Moving The FS7i – Moving the FS7i is a little tricky. It's totally possible to move it to another location if you need to but plan on having a few people around to help. Tilt the elliptical on its back end and roll it to its new location. This will probably take two people to lift. There is a metal handlebar on the base of the elliptical on the front end to hold for lifting. We found that securing the foot pedals so they can't swing back and forth makes moving the huge machine longer distances a little easier. Watch out for doorways and walls!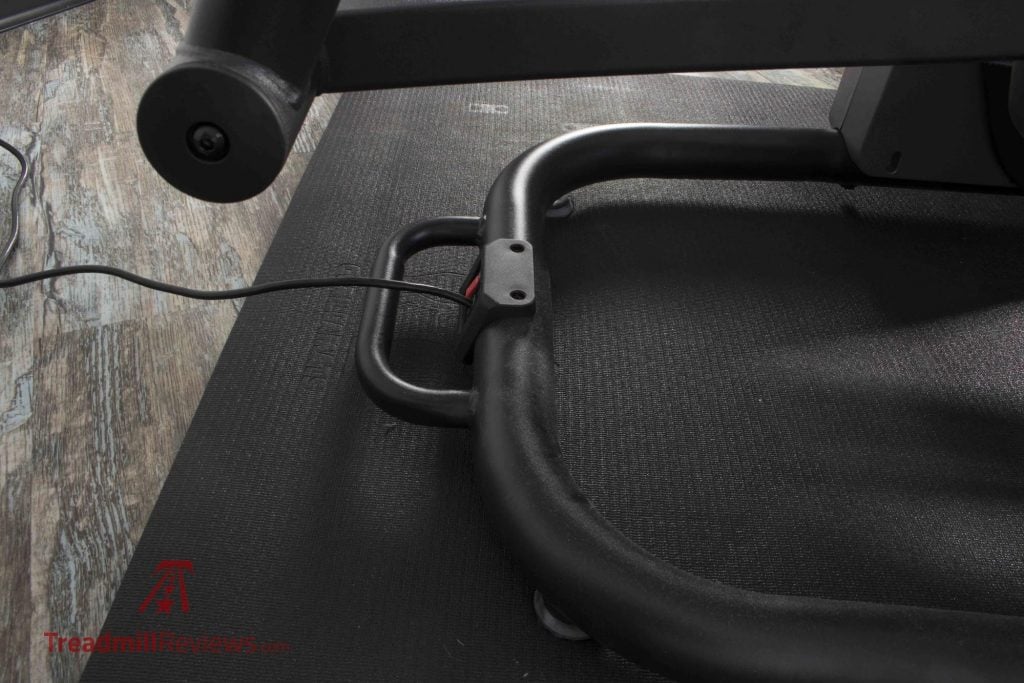 ---
NordicTrack FS7i Freestride Elliptical Features & Accessories
Display: 7" Smart HD Touchscreen
On-Board Workouts: One free 30 day iFit trial, Manual mode, 50+ Onboard Workouts
With iFit Subscription 100+ On-Board workouts
Speakers: Yes
Fans: 2
Handles: Moving
Incline/Decline: 0-10%
Heart Rate Monitor: Bluetooth chest strap included with purchase
Other:
Auto-adjust Resistance and Incline Control
Display – At the gym, and on many home ellipticals, your display has an LCD screen with basic data display. You track your progress by watching how much of the blinking bar graph you've completed. You can monitor your power output, calorie burn, or time. Perhaps there are a few other details you can track. But the FS7i display is leaps and bounds more developed and technical.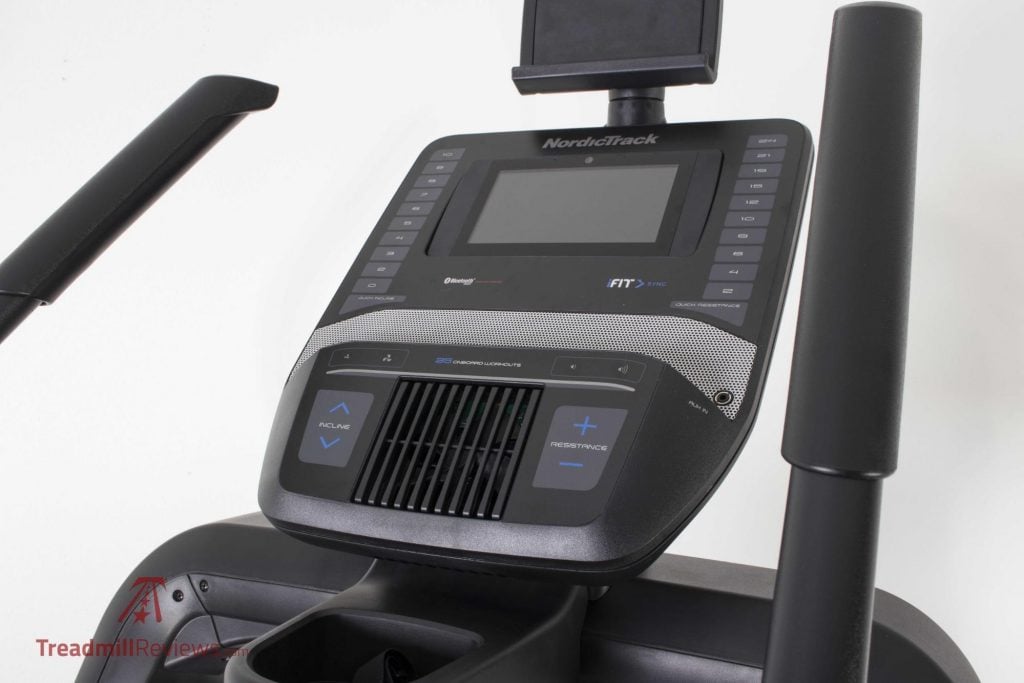 You can watch HD workout videos while you exercise. Data for current and average heart rate, calories burned, RPM, distance, time, elevation, etc are all on display during and after your workout. With the added tablet holder, you can pair another portable device with the FS7i for a secondary display screen. The touchscreen can also tilt up and down, making it adjustable for users of varying heights.
On-Board Workouts – iFit isn't required for using this elliptical. You'll get free access to iFit for 1 month which you can choose to use, or not. If you decide not to use the iFit subscription, you can access the library of onboard workouts when you bypass the login screen.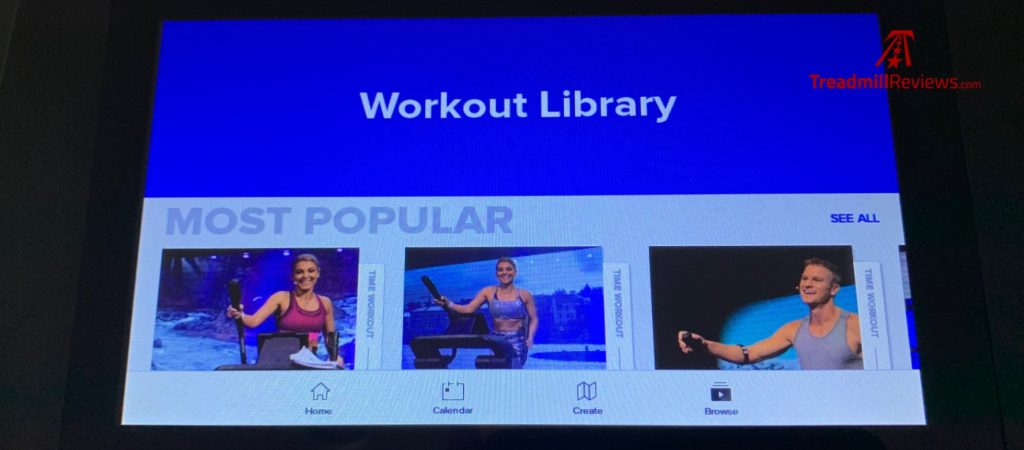 We feel that the onboard workouts that come standard with the FS7i are more engaging than what we're used to seeing.
We're all used to seeing ellipticals with this type of display. The text and imaging resemble more of a calculator than anything else. Workout options and workout data is limited.
The display on the FS7i gives you better imaging. You can watch HD workout videos and view your workout data from multiple vantage points.
You can also view your workout in the form of a more detailed line graph that tracks your speed, resistance, cadence, incline, and heart rate during the workout.
Fans – Not all manufacturers build fans into their cardio equipment but NordicTrack does! We love this about them. Not only are they in the equipment, but they actually make a difference when you turn them on. Being able to lower your body temp is a huge plus for pushing past your comfort zones to achieve a better workout.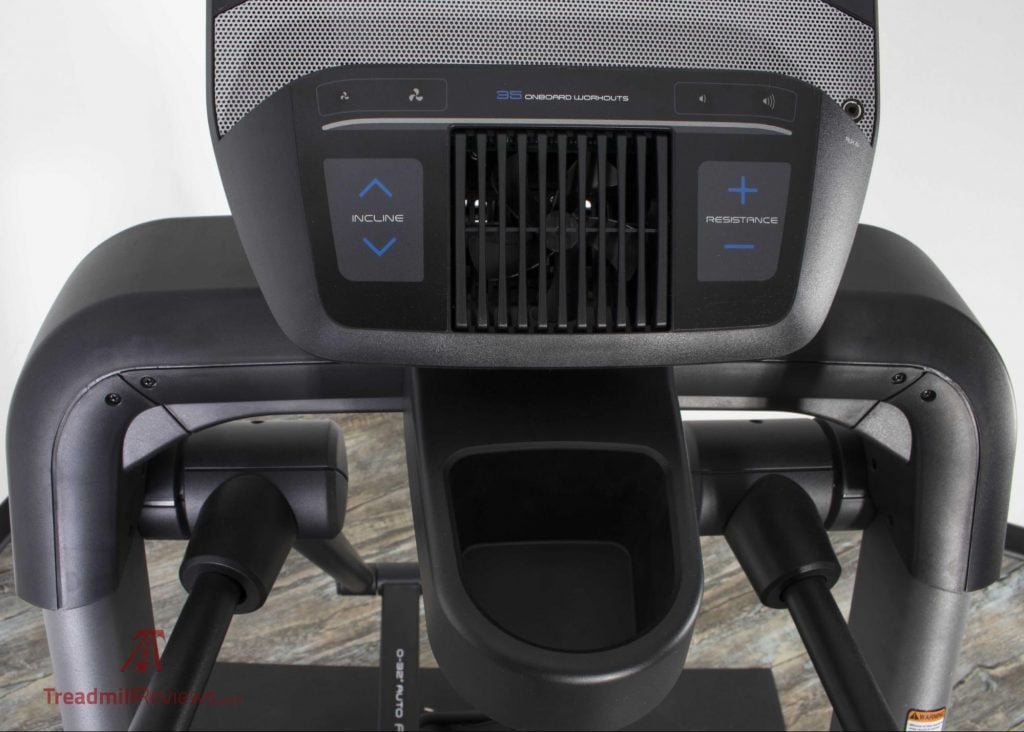 Incline/Decline – You'll find many ellipticals with an incline ramp. This ramp is set manually by adjusting the incline before you hop on the machine for your workout. The FS7i can raise and lower with the controls on your console so you can make adjustments during your workout, as needed. Another bonus to the FS7i is that iFit will auto adjust these features for you as you follow along with the iFit workout videos.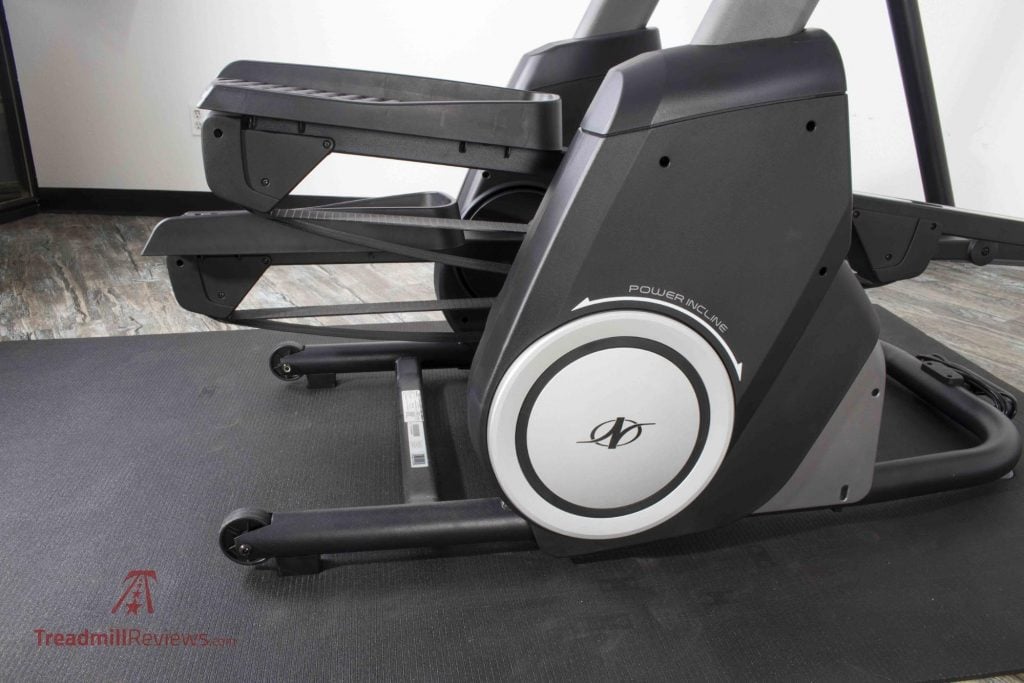 Heart Rate Monitoring – A lot of home ellipticals rely on EKG heart rate monitors located on handrails. But you can get a much more accurate reading of your heart rate, at all times, by using a chest strap heart rate monitor. The FS7i provides a great heart rate monitor with the purchase of your equipment.
---
NordicTrack FS7i Freestride Elliptical Subscription Service
Name: iFit
Brief Description: View an expansive library of studio elliptical classes, outdoor running, walking, and hiking tours, google maps, and more. iFit classes control your elliptical to change your incline/decline and resistance to mimic real-world terrain and training scenarios.
Cost: $39
User Profiles: $39 per month for up to 5 user profiles
Class Varieties:
Cycling
Running
Bootcamp
Outdoor
Strength
Yoga
Community: Share results, create and join challenges, post to message boards
NordicTrack FS7i Home Delivery and Set-Up
---
Curbside delivery is free with the FS7i.
In-home delivery is an additional $99.
White glove delivery and assembly is $250.
We assembled the FS7i ourselves and it was relatively easy. The instructions are very easy to understand. You do want to plan on having an extra set of hands around to hold items in place while assembling the FS7i. A major tip for assembling NordicTrack equipment – Hand-tighten all bolts at first. Once all of the pieces are in place, then you can tighten the bolts with a wrench. If you tighten the bolts with a wrench as you go, you'll likely find that certain bolts/holes don't line up. We've assembled and disassembled lots of NordicTrack equipment and 9 times out of 10, our issues could have been avoided if we had only hand-tightened bolts as we went.
NordicTrack Warranty Info
---
The warranty that comes with your purchase of the NordicTrack FS7i provides lifetime protection of the frame, 5-year coverage for parts, and 2-year coverage for labor. You also have the option to purchase extended warranty coverage from NordicTrack.
3 Year Extended warranty $179.95
With the extended 3-year warranty, you still have lifetime coverage of the frame. But your warranty for parts will be 8 years and labor will be covered for 5 years.
3 Year Maintenance Service Plan $339.99
Purchasing the 3-year maintenance service plan will result in having a technician come and check your equipment once a year for three years to make sure everything is working correctly.
NordicTrack Freestride Trainer FS7i Review – Final Thoughts
---
Other Freestride Trainer FS7i reviews share a similar sentiment to ours – we really like the FS7i. With iFit's engaging fitness classes specifically created for the Freestride equipment and the Freeride's ability to act as a stair stepper as well as an elliptical, we think it's a pretty great piece of home cardio equipment. All the bells and whistles totally justify the price tag, in our opinion.
Here are the runner's up in the $1500-$2000 price category for home ellipticals:
Sole E95 – $1799.99 – 4.5 Stars
ProForm SMART Pro 16.9 – $1599 – 4.4 Stars
Are you open to other forms of Home Cardio equipment? Check out our list of BEST TREADMILLS.
We Recommend Buying The FS7i Directly From NordicTrack
NordicTrack is slowly started to pull out of retail locations and sell its equipment exclusively through its company website. This benefits the customer in a number of ways. Customers can view and choose between NordicTrack's full line up of equipment online while retail locations only sell a handful of one-off NordicTrack models. Buying online simplifies your customer service experience. You can speak directly with NordicTrack company employees who have all the answers concerning your equipment. Also, cutting out the retailer cuts costs for NordicTrack and the buyer so they can invest more in developing the product. Visit NordicTrack.com to see current pricing for the NordicTrack FS7i.