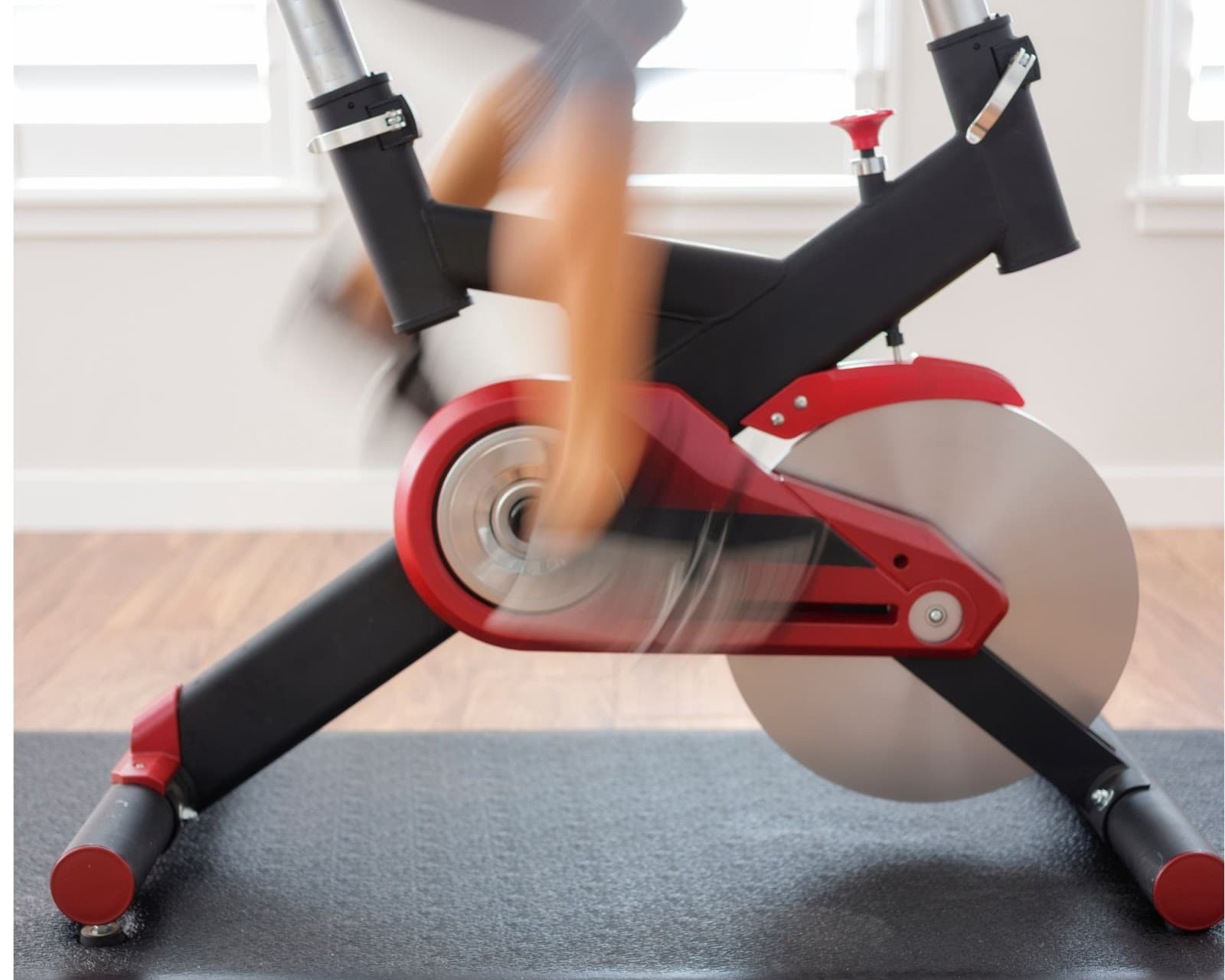 If you want to take your home workouts to the next level, you may have considered a cycling machine. With all the great benefits of cycling, including leg/core strength and cardio, a bike can be a great addition to your home gym.
However, you may have found yourself wondering what is the better option for you: a spin bike or stationary bike? Today, we will dive into the benefits of each so that you can make an informed decision when purchasing a new bike.
The Stationary Bike
This piece of equipment is excellent for any general health and fitness goals. It is a great option for anyone wishing to improve their cardiovascular health, lower body strength, and get more fit. Plus, it's easy to set up, adjust the resistance, and start a workout. Even the most basic models these days offer pre-programmed workouts. While on the other end of the spectrum, you can get a high-tech stationary bike, such as the Peleton, that offers an HD screen interface for access to a supportive virtual community, live workouts, and competitions.
The Spin Bike
You have probably seen a group of spin bikes set up in your local gym for group fitness classes. These bikes are more commonplace in group workout settings or for people that also ride road bikes or mountain bikes outside during certain seasons.
The spin bike offers the same benefits as the stationary bike (cardio and leg strength) and further upper body and core strength. Thus, a spin bike is an excellent option for serious cyclists looking for training specificity or anyone wanting a more intense full-body workout. The most basic spin bike comes without any kind of screen interface. At the same time, more recent hybrid models offer the same access to an online community and interactive workouts like stationary bikes do.
What to Consider
There is no definitive answer when choosing which exercise bike to purchase. Today's exercise bike options offer a lot of hybrid options. For example, the NordicTrack S22i Studio Bike is technically a spin bike but has a lot of the functionality and ease of use of the stationary bike. At the end, which choice is best for you comes down to finding a balance between the following factors:
Your budget. Decide how much you want to spend on your exercise bike. Many bikes with higher price points offer monthly payments if you're open to considering that. Home exercise bikes can range from a few hundred dollars to thousands depending on your intended use. Always choose an option with a price tag you are comfortable spending.
Your fitness goals. What goals do you want to accomplish with the purchase of your bike? If you're a cyclist or want a more intense workout, the spin bike is a no-brainer, whereas you will probably enjoy a stationary bike model with goals like getting stronger or losing weight.
Your preferences. Most importantly, you should choose a mode of exercise that you will enjoy. This will keep you motivated and moving forward to reach your health goals. More practically, some people find the seat and positioning of a spin bike more uncomfortable than a stationary bike, which may be a consideration.
Your spine health. Finally, if you have any spine issues, such as low back pain or neck pain, this may help determine which bike is better. Most often, people with spine pain have a hard time tolerating the position necessary for proper spinning.
Choosing a Bike
After reviewing this article, you should know whether a spin bike or stationary bike is best for you. With a little more research into specific models, you can say yes to better workouts from the comfort of your own home.