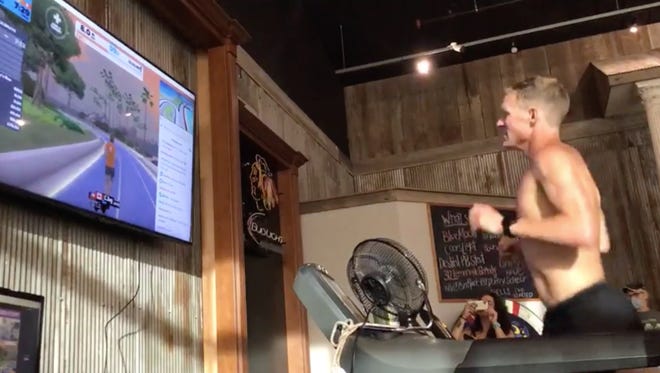 Photo courtesy of PJStar.com
For an ultra runner, there are typically many different races available for running 100 miles each year. However, the year 2020 (and beyond) has made running races of all distances sparse.
This is precisely why runner Taggart Vannetten decided he would attempt to break the treadmill 100 mile run from the comfort of his hometown. On May 1, 2021, he was able to smash the old record set by Zach Bitter. Congratulations Taggart!
Who is Taggart Vanetten?
Taggart grew up in a farm town in Illinois. Growing up, despite his dad being an excellent runner, he never expressed any interest in running. He admits he despised it. Instead, he enjoyed participating in a variety of sports like basketball, baseball, and wrestling.
However, he realized he did like running at the end of his high school career, which landed him a short collegiate track and field career. From there, as a young adult, he transitioned to triathlons, marathons, and beyond. Outside of his running career, Taggart is a full-time teacher.
Jumping Headfirst Into 100 Mile Races
Initially, Taggart was training for a marathon in 2020, intending to clock an Olympic Qualifying Time (OQT). However, with all the races canceled that year, he turned his sights to a 100-mile race.
Despite never having run this type of race before, Taggart signed up for a 100-mile outdoor race, known as the Tunnel Hill Race, that earned him the second-best record time to date. He decided to train and attempt to break the 100-mile treadmill record held by Zach Bitter of 12:09:15.
How Did Taggart Train for His Race?
For the 16 weeks leading up to Taggart's treadmill run, he built his weekly mileage from 130 miles to over 200 miles. Running indoors on a treadmill was ideal for training since Illinois winters and springs can be cold and brutal.
With his schedule as a teacher, he was up and running most mornings by 3:45 am and in bed at night by 8 pm. He trained on a NordicTrack Exp7i most days. He also frequently used the training app Zwift (he found he liked participating in races more than anything) during his runs to stay engaged.
Additionally, to keep his body strong and adequately fueled, he focused on eating a nutrient-dense diet filled with whole foods, particularly whole grains and other complex carbs. To keep up with his diet, his mom helped him with his meal prepping as well.
Race Day Strategy
The 100 mile treadmill race took place at a bar in Morton, Illinois. He tracked most of his mileage with his Zwift app (except for the short distances he took to the restroom) and used the virtual Mayfield track for the entire run on a large TV screen in front of him. He used a Matrix T5x treadmill that needed to reset itself every 99 minutes. He used these short breaks as an opportunity for bathroom breaks as needed. During the race he stayed hydrated with water and ate something approximately every 4 hours to stay energized, ranging from waffles and bananas to Gu gel. His official time came in at 11:33:35, over 30 minutes faster than Zach's record. He celebrated with champagne and a big hug from his mom.
What's Next for Taggart?
From triathlons and marathons to 100-mile races, Taggart has shown the world that he is a versatile and talented athlete and runner.
What's next? He still wants to run an OQT in a marathon race this year. Plus, he's now got his sights set on breaking the outdoor 100-mile race record too. Best of luck!