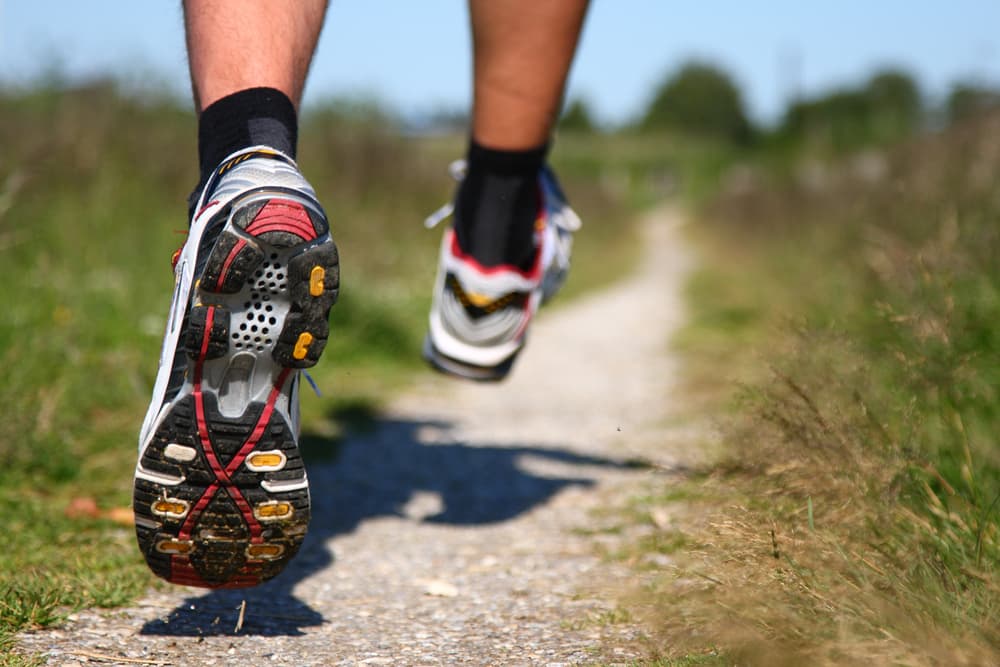 There are many reasons why you might find yourself wearing your trail running shoes when you're about to hop on a treadmill. Whether you run on a treadmill often or only occasionally, you might be wondering what effect the running belt will have on your running shoes (and vice versa). Today, we'll dive into whether it's okay to have trail shoes on treadmills.
The Difference Between Trail Shoes and Other Running Shoes
There are a few key differences between trail shoes and other running shoes on the market geared for less technical trail running, indoor running, or treadmill use.
The Specs of Trail Running Shoes
Trail shoes are a robust shoe designed to support your feet and ankles on gravel, dirt, mud, rocks, or anything else nature might throw at you. Thus, their soles and fabric tend to be dense to protect your feet from the elements while minimizing the wear of the shoes. Other possible features include sticky rubber, gripping teeth, protective toe boxes, and extra support in the ankle to prevent rolling and sprains.
Which Shoe is Right for You?
With all the extra protective features of a trail running shoe, you can expect it to be a little heavier than your average shoe. However, a lot of lighter trail running shoes have flooded the market in recent years that can still give you a lot of versatility. On the other hand, shoes designed for running on a treadmill, walking, and other exercises tend to have a more flexible and comfortable sole. Thus, they also tend to run a bit lighter. If you spend most of your time in a gym, a lighter, more flexible (and usually cheap) option would definitely be the better choice.
Can the Treadmill Wear Out Your Shoes?
Essentially, you can run on a treadmill with any pair of shoes you are comfortable running in. This is because treadmill running is essentially frictionless for the bottom of our shoe. The only time excessive friction could be an issue is with a running belt that doesn't have a motor to keep it spinning. However, these treadmills are not at gyms and are not a common piece of equipment. Thus, you don't have to worry about wearing out your trail running shoes when you hop on a treadmill for a workout.
Aren't Trail Shoes Overkill on the Treadmill?
If you're concerned about the "overkill" of trail running shoes on treadmills, you really don't need to be worried. If your trail shoes are particularly robust, the only issue you may encounter is feeling the tread in your shoes. Simply use what shoes are available to you. If you're in the market for some new shoes anyway, you can find a lot of great hybrid options. You can find a lightweight and moderately flexible shoe that will work great on a variety of surfaces.
What Else Are you Doing at the Gym?
There are a few factors to keep in mind what shoes you want to wear to the gym. If you're training for a face, you'll want to wear the shoes you will be racing. If you are lifting, any supportive shoe will do. On the other hand, if you want to participate in aerobics, trail shoes can feel very awkward because of the added weight and gripping power. This makes it hard to pivot and jump on the hard surfaces in a gym atmosphere.
The Bottom Line
Ultimately, there is no harm in wearing your trail shoes to the gym. You can definitely save money if you don't want to invest in a pair of shoes specifically for the gym. Yet, if you are always running in muddy conditions, it may be easier to have a dedicated clean pair of shoes for the gym. In the end, which shoe is best for you depends on your budget, running goals, mileage, and more.